On the weekend Caspian and I went to Denmark to visit family. As you might know, if you are a regular reader of the blog, my mum went to hospital before Christmas with a burst appendix. It was all very touch and go, but luckily they managed to get it out just in time. Despite it being a fairly routine operation the fact it was perforated leads to a much longer recovery time. Not surprisingly she's been sleeping more than normal, though the tiredness aside she was looking forward to seeing Caspian.
Unfortunately, our little boy wasn't 100% either and both of us have been suffering an annoying cough for several weeks. That combined with teething meant Caspian's immune system was down and he developed another ear infection. Now on antibiotics he is quickly picking up.
DRESSING COMFORTABLY WITH SENSE ORGANICS
When you feel a little under the weather there's nothing better than dressing comfortably. Luckily we had been sent a selection of clothes from German brand Sense Organics. They specialise in fair trade organic cotton and produce some truly stylish pieces for children age 0 to 6. Not only is it organic, it's also animal cruelty-free and vegan-friendly.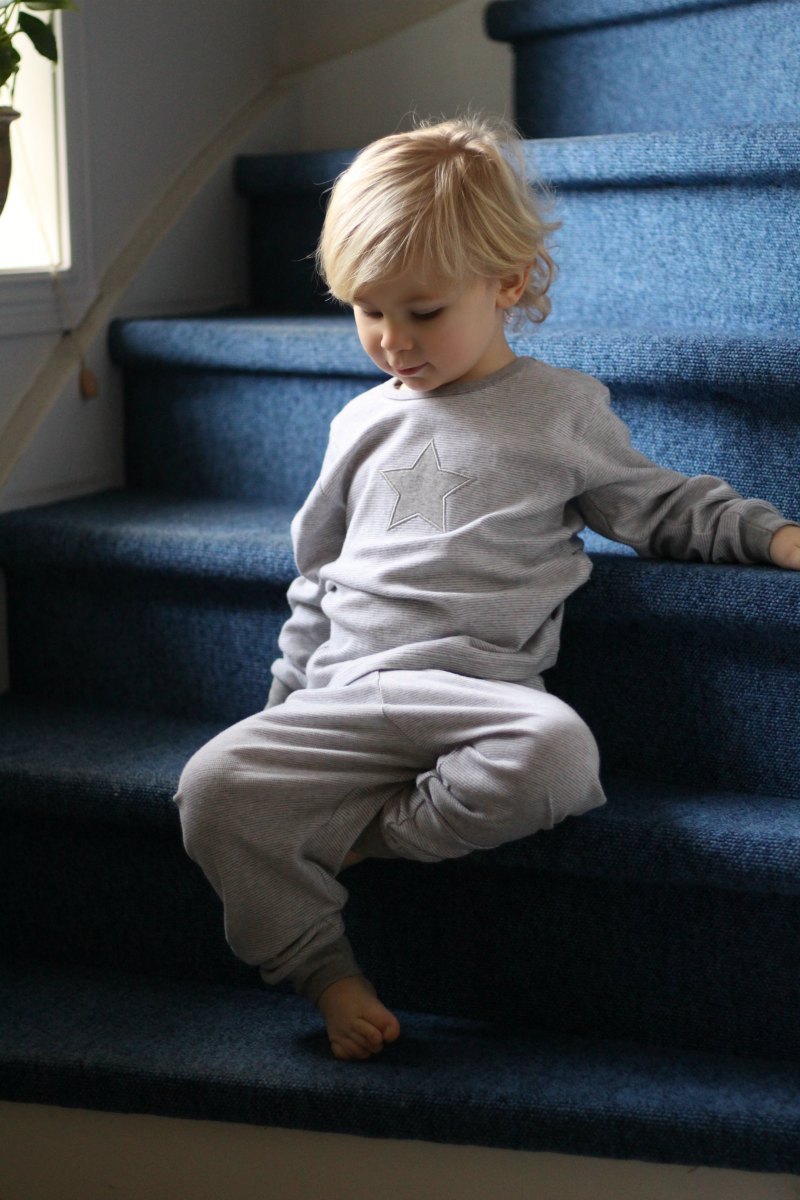 These grey PJs are part of Sense Organics' basic line. It's a Peter Pan style cut which means that even though there's plenty of room for Caspian to grow, as I chose a size 3-4 years, they still fit him now if a little baggy.
He was obviously very comfortable and picked up enough energy to play with the wonderful toys my mum had bought for him.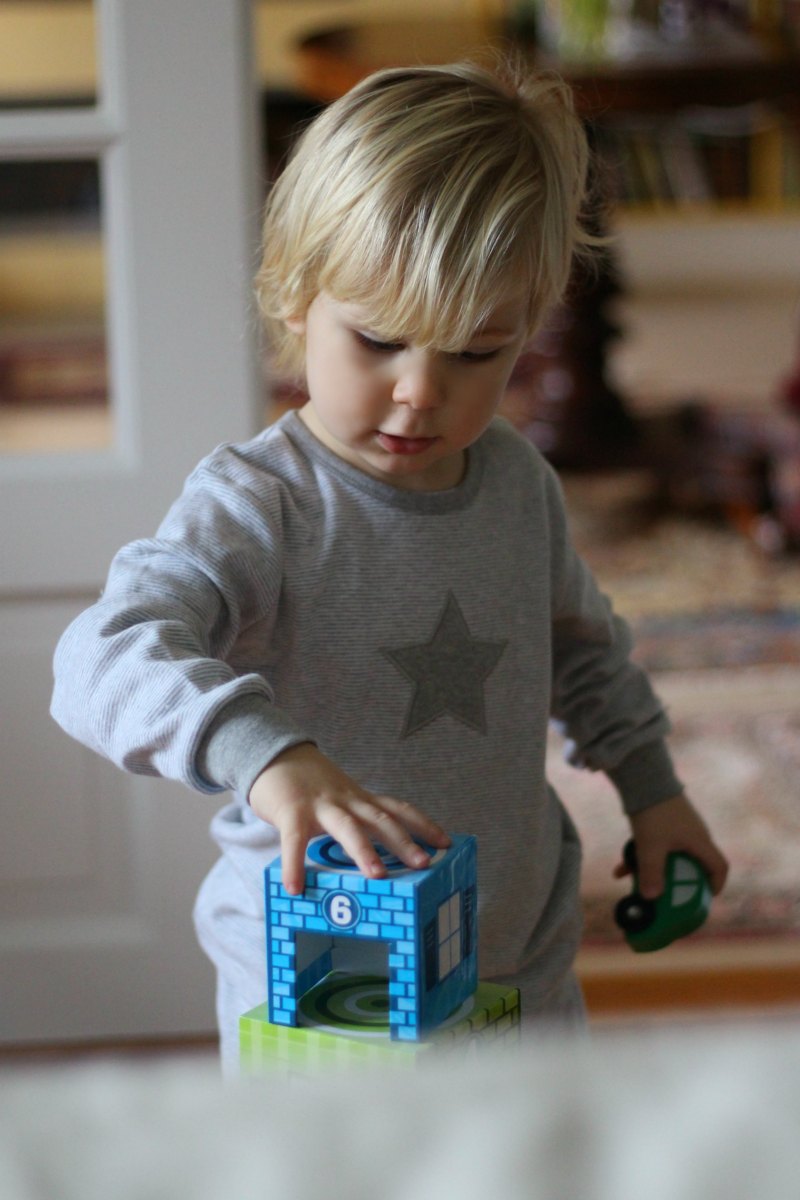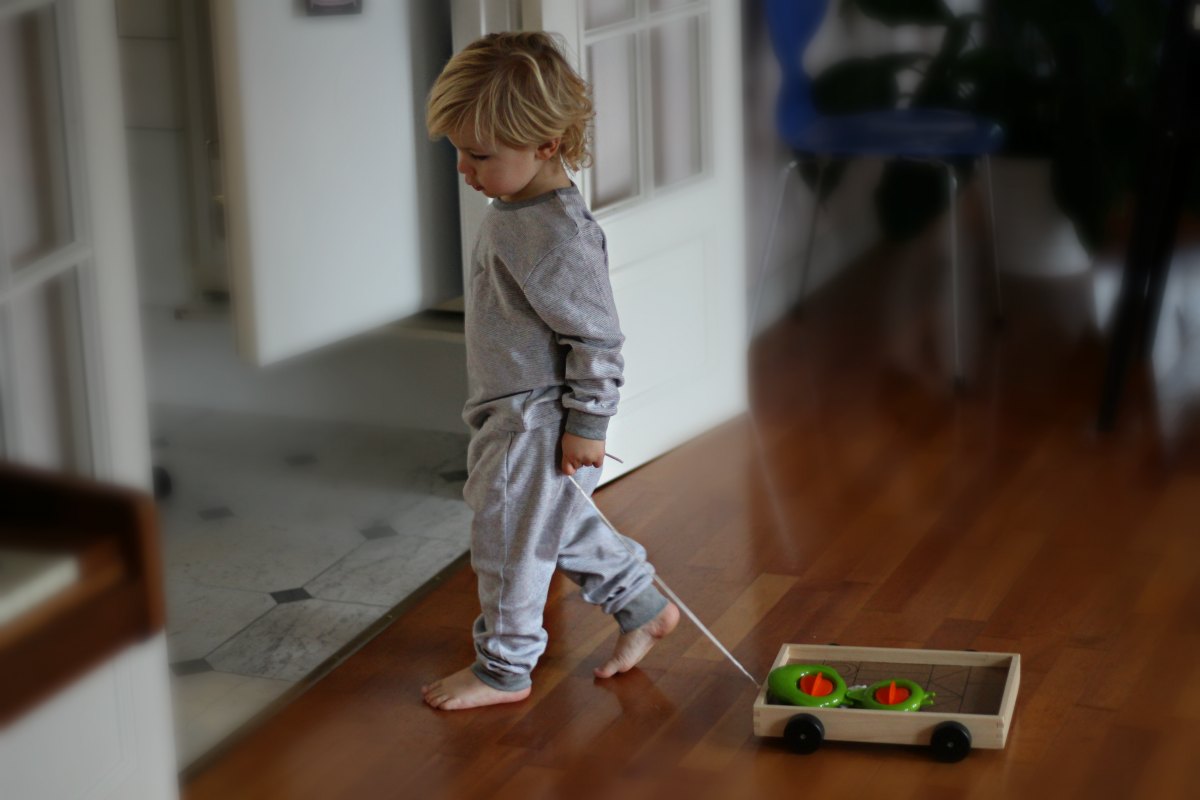 A SUPER STYLISH SWEATSHIRT
As I browsed the Sense Organics site this beautiful wolf sweatshirt immediately jumped out at me. I love the navy blue print on the sleeves and Caspian and the wolf share the same eye colour. It's got a great fit and couldn't be softer. It's currently in the sales at only £10 down from £20, so a great bargain.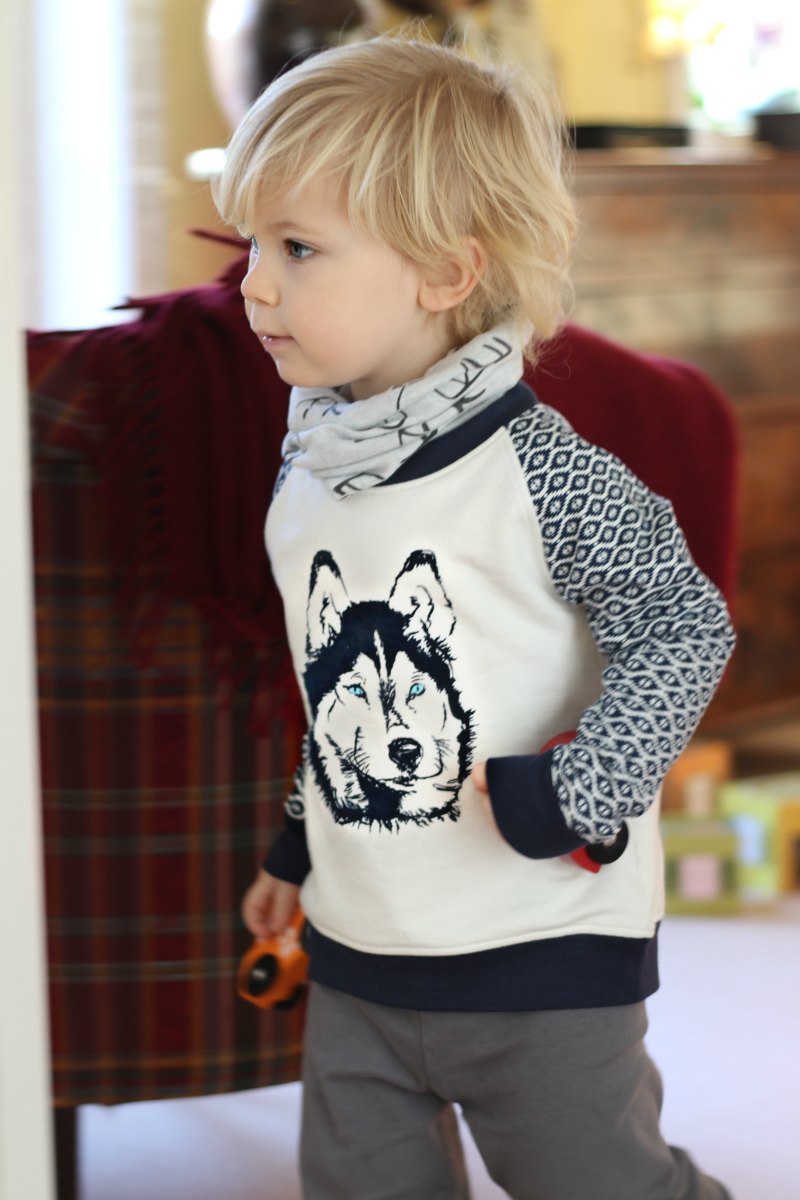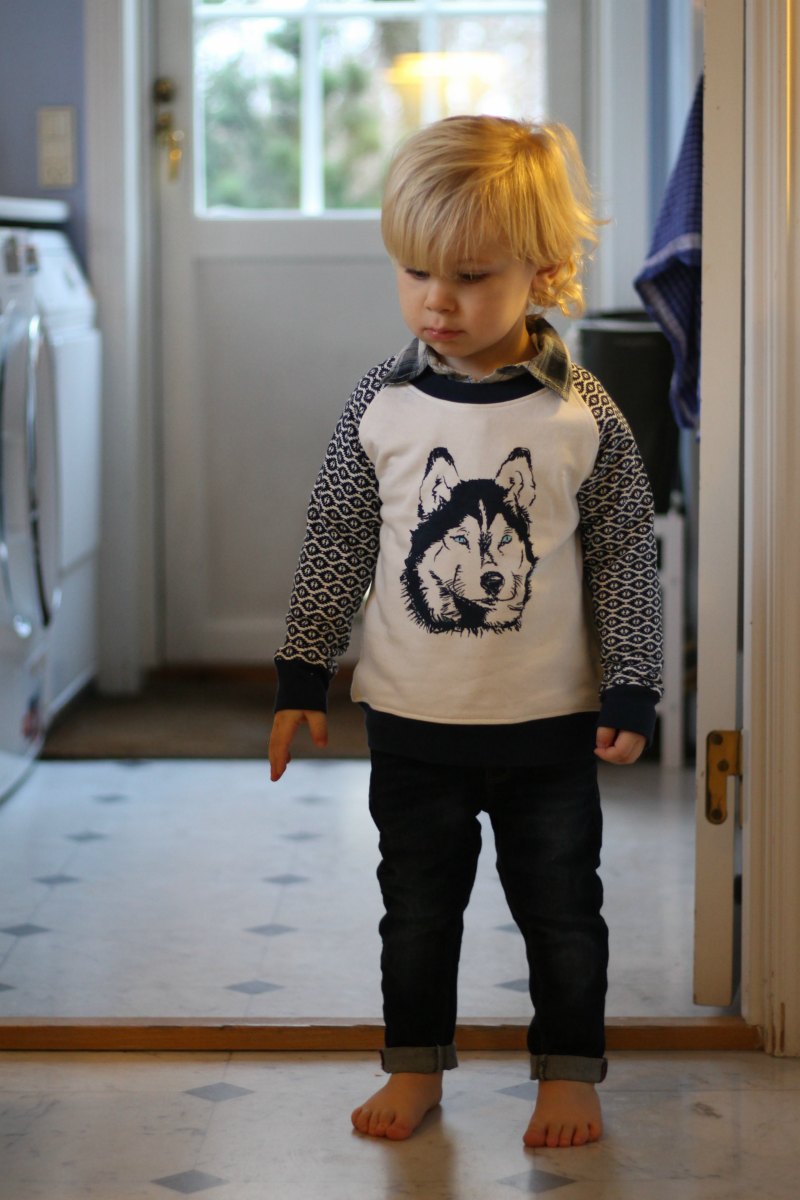 It also looks great paired with a shirt and jeans. Don't let the pouty lip fool you, Caspian was having a wonderful time despite being a bit poorly. Though he had just thrown his Peppa Pig toy phone on the floor. I can't say I blame him.
CASPIAN'S FIRST SNOW
What better than wearing a coat with Eskimos on to experience your first encounter with snow. Knowing it would snow in the UK while we were away I initially thought we would miss it, but a change in weather meant that the frosty flakes found their way to Denmark, too. Caspian hadn't seen snow before, so I was very excited to show him.
Expecting a big reaction to this new element, Caspian didn't take much notice and like so many things he just took it in his stride. We were only out for a short time and the coat is still a little big so it should be more useful next AW season. It's water repellent and is made from poplin and single jersey, but with some woolly layers underneath it will keep the cold at bay.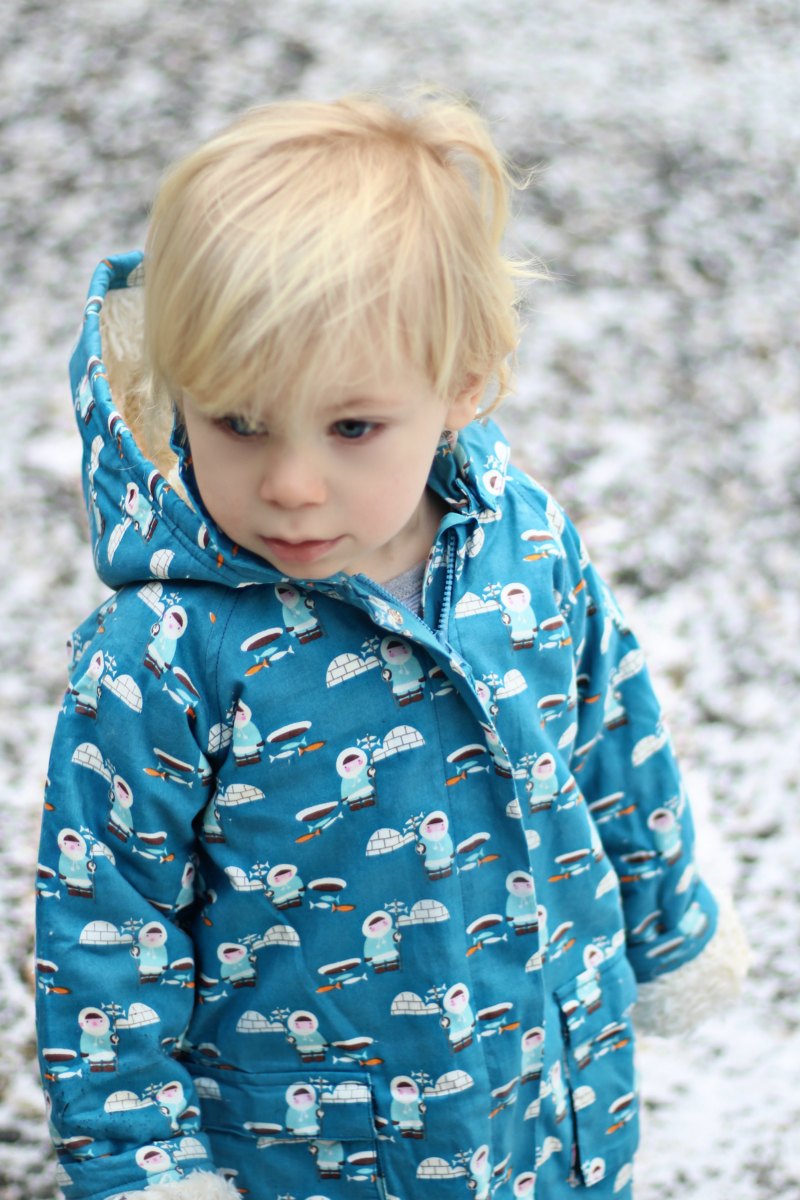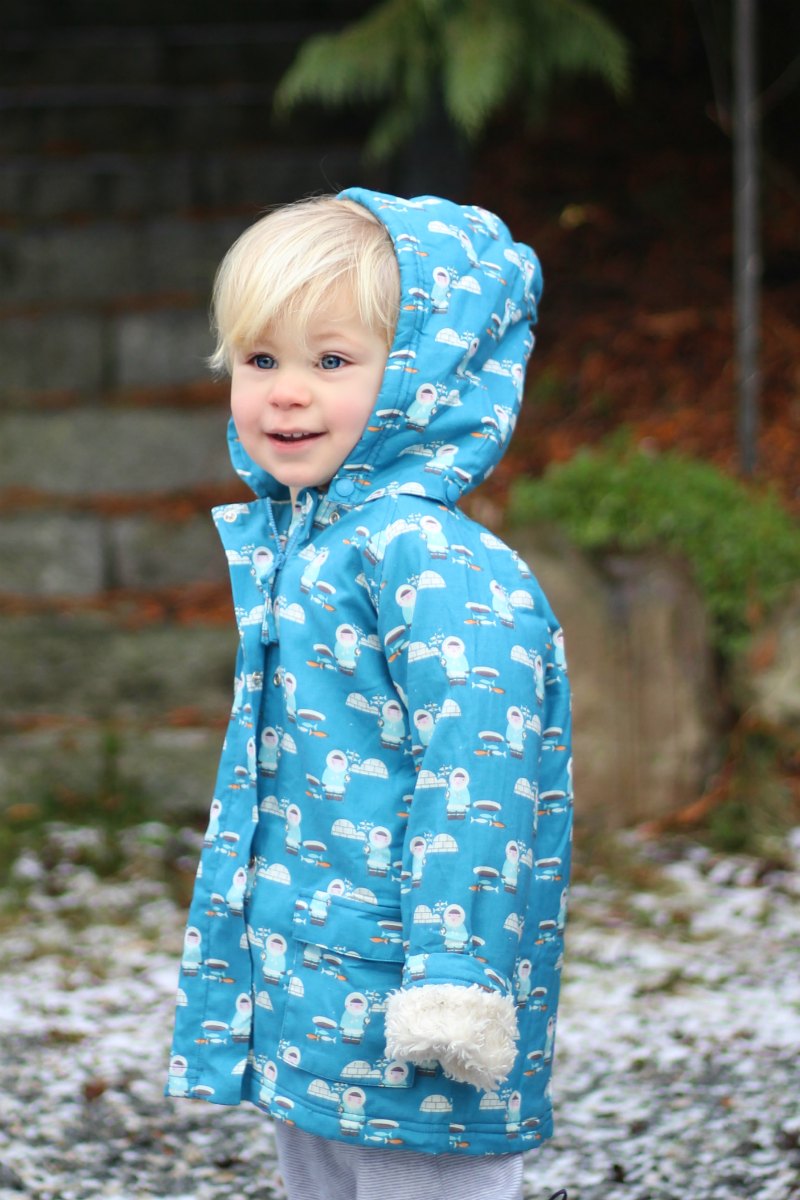 Their fair trade organic cotton winter coats are also in the sales.
To celebrate Caspian's 2nd birthday next month we've teamed up with Sense Organic to give one lucky reader £50 to spend online. All you have to do is follow the instructions given in the Rafflecopter widget below. Good luck or as they say in German Viel Glück!
Terms & Conditions:
The closing date is 00:00 am UK time on Sunday the 19th of February 2017
The prize is £50 to spend online with Sense Organics. No cash alternative
The competition is open to UK and Northern Ireland only
Entrants must log in and follow the directions given via the Rafflecopter widget
All entries will be verified
The winner will be chosen at random using Rafflecopter
The winner will be notified within 5 days of the closing date. The winner must respond within 30 days of receiving the email  to claim their prize
The prize will be dispatched directly from the brand
The competition is not affiliated with Twitter, Facebook, Instagram or Youtube
Please note we were gifted these products. All words and opinions are my own. Prices correct at time of publishing.