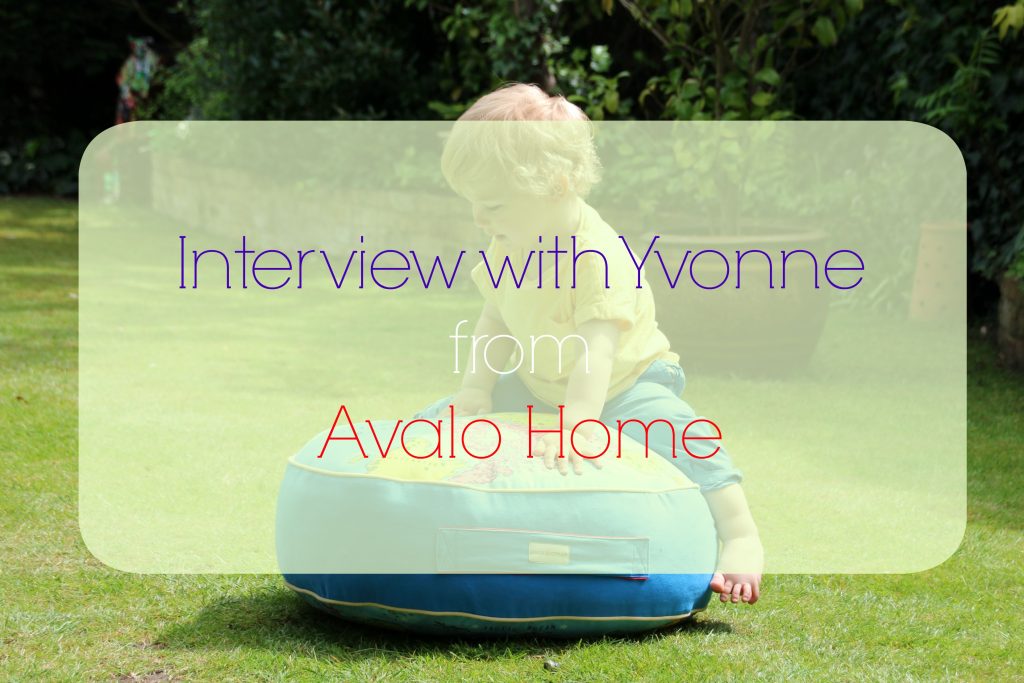 Welcome to the second part of my new series of interviews with female entrepreneurs. If you missed the first one with the lovely Carla from online baby boutique Mama et Moi you can find it here.
This month I'm talking to Yvonne who's the mumtrepreneur behind the interior design brand Avalo Home. They specialise in floor cushions especially aimed at children. It was such a pleasure speaking with Yvonne and learning more about what drives her. We were also kindly sent one of her fabulous cushions for Caspian, and he absolutely loves it as you can see from the pictures below.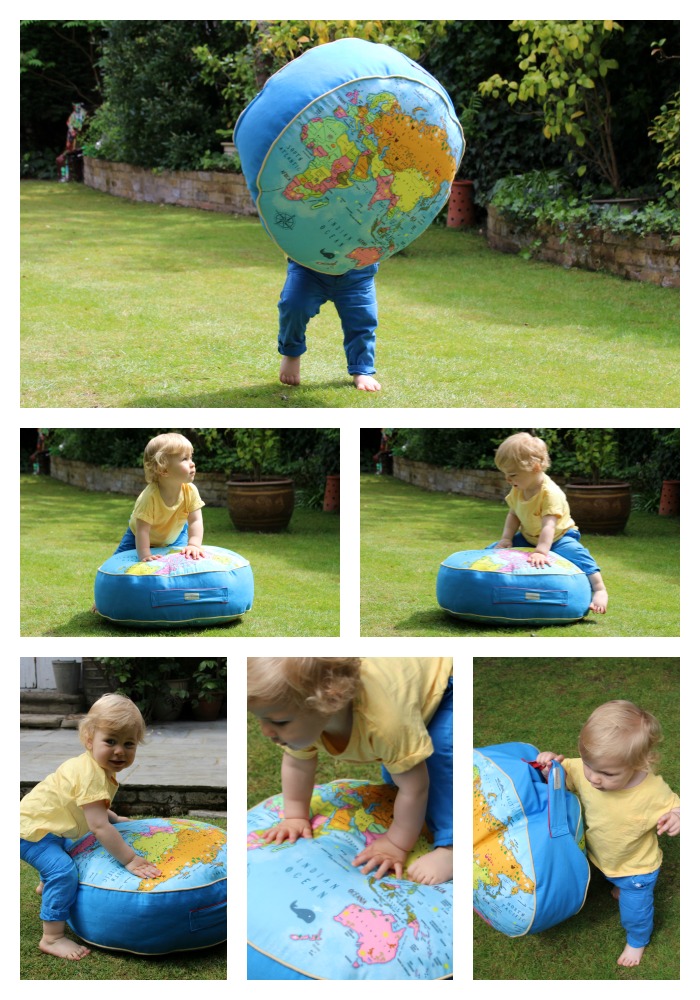 They are super light making them ideal for kids to carry around and they are made from thick quality materials so they can withstand all the rough and tumble. The cover is washable and slips off easily.
We've also shot a little vlog to show the cushion in action, as it's really a great investment for toddlers and children both for indoor and outdoor use.
More videos will be added soon, so make sure you subscribe to ScandiMummy's new YouTube channel. Now on to the interview.
ScandiMummy: "Hi Yvonne, welcome to the blog. I've been looking forward to talking to you. So tell me, what made you start Avalo Home?"
Yvonne: "Avalo Home was inspired by an idea I had whilst I was on holiday in Devon with my family in July 2013. We were staying in a small cottage and my daughters couldn't find anywhere comfortable to sit and relax  as the sofa and arm chairs were a bit stuffy.
I suddenly had an idea for a range of portable comfy cushions aimed at children and adults. Could I turn this idea into a reality? I always instill in my daughters that there is no such word as cannot so I set myself a challenge. I was going to bring to market a range of modern comfortable cushions.
This was a new world to me which encompassed fabrics, designs, factories and design specifications. My background is working in investment banking as a part time Change Manager as well as being a mum of two gorgeous girls (Ava 6 and Lois 4). I had to think long and hard, could I handle juggling another ball – a new business venture? The answer was simple. I was turned 40 in 2014, so I set a goal that I had one year to research and bring to market a new range of soft furnishings. They say life begins at 40, well, it did for Avalo Home!"
ScandiMummy: "I think it's wonderful to teach your girls that they can do anything they set their mind to. What does the word Avalo mean?"
Yvonne: "Following my initial idea I conducted some research into the soft furnishing market and decided there was space for a new dynamic brand and hence Avalo Home was conceived. The company brand name came to me quite early-on as it's a combination of my daughter's names and I believe it represents the core values I want my products to hold: Fun, colourful and quality products produced in Great Britain!"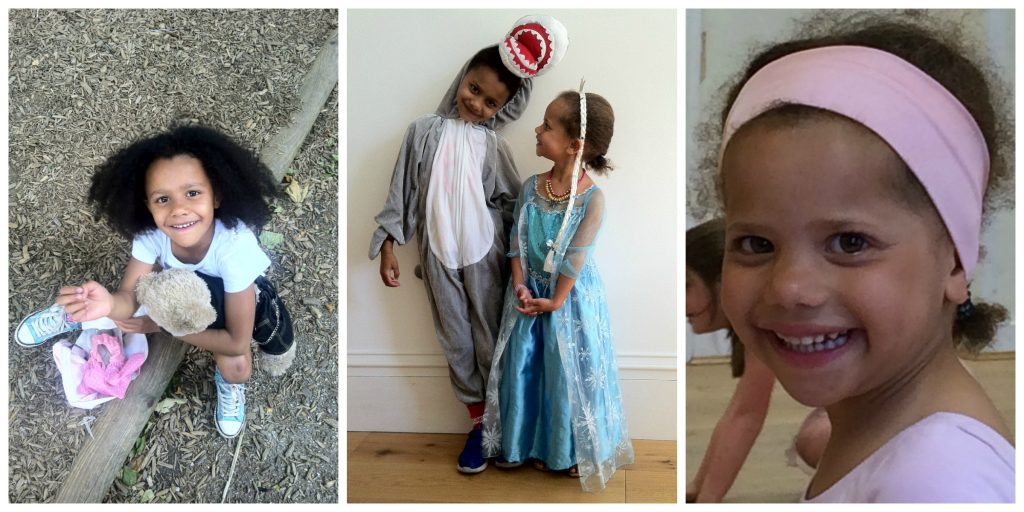 Yvonne's gorgeous girls, Ava and Lois.
ScandiMummy: "They are gorgeous girls. What is your inspiration behind the designs?"
Yvonne: "Using my business background I work closely with a designer Alison (another mum and friend) to produce a range of designs which reflect my children's heritage which is truly global.
One of our designs, Abbey Road Migration, illustrates a herd of Sri Lankan elephants representing family and strength and the Abbey Road which is in London where my girls were born. Ava and Lois are my biggest influence and help me when I am thinking about designs and they're great at testing products for durability. I hope I make them proud and show them that when you work hard, your goals can be realised."
ScandiMummy: "Where do you see yourself in the future?"
Yvonne: "I  hope the business, like my children, will grow with me – I hope to develop new designs and to take my products into new markets. But in the short term, my aim is to push my business into the digital world and gain some new customers."
ScandiMummy: "Your focus has been the UK and your products truly are BRITISH made. What made you choose to have them produced here?"
Yvonne: "I wanted my products to encapsulate everything great about Great Britain and this wasn't just about the designs. We should encourage business at home – it may cost more but I think the quality is second to none. It also means I can have a close relationship with my suppliers – and it's not unusual for me to have a cuppa with my seamstresses."
ScandiMummy: "What is the hardest thing about balancing motherhood and starting a business?"
Yvonne: "I have to remind myself frequently that the aim of the business is to spend more quality time with my girls. Sometimes this is difficult to do when I have to attend meetings and run fairs. I have to take a step back and think about my priorities as I don't want to miss out on bed times or attending the girls sporting events. To make it work I tend to work evenings when the girls have gone to bed or I get up early! It's a constant juggle."
ScandiMummy: "I can relate to that. What's been the best thing then?"
Yvonne: "The best thing has been seeing my dream turn into a product which I know can be found in many houses including the Cameron household. I was fortunate enough to hold a stall at 10 Downing Street where I got to meet the Prime Minister. When the girls tell people about this experience, I hope I make them proud and have shown them that they can be whatever they like when they grow up."
ScandiMummy: Thank you so much for having joined us her on scandimummy.com. It's been a pleasure learning more about you and your business.
Yvonne: "You are very welcome! Thank you for having me."
If you want to see more of Yvonne's designs you can visit Avola Home here. Which print would you choose?
[affilinet_performance_ad size=728×90]
Please follow and like me: