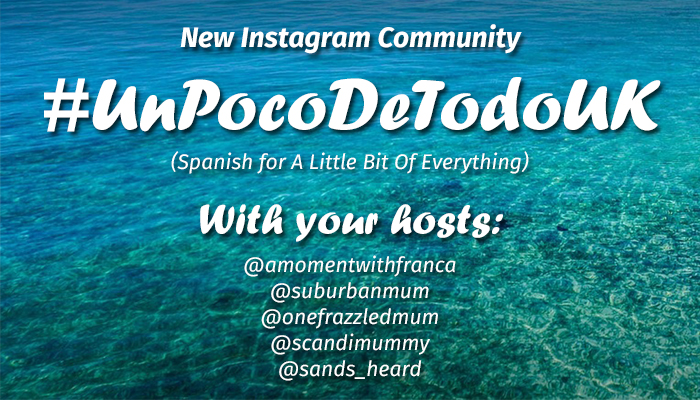 I'm so excited for Monday. With the wonderful ladies that are Franca, Maria, Tracey and Sandy I'm launching a new Instagram Linky on the 5th of September.
As a rather international group we've unsurprisingly chosen an international name. #UnPocoDeTodoUK which means a little bit of everything in Spanish. The brain behind this linky, Franca, definitely doesn't do boring so hang tight while I explain how it all works.
Unlike other Instagram Linkies there is more than one theme. Because we are 5 hosts, we have come up with 5 themes. They change every week.
The different themes are as follows:
Parents in the Picture (this will be any photos of you with your children)
Kids (this will be any photos of your children or of any child)
Outdoors/Nature/Objects (any photo of beautiful places, beautiful views or some objects that you found fascinating enough to photo)
Food (any photos of yummy or excotic dishes or simply your toddler's brekkie)
Things that we love (this can be anything that you love)
We will rotate the themes, so that after five weeks they'll change around (just to keep you on your toes!). Though the order of the hosts will remain the same and is as follows:
Week 1: Franca
Week 2: Maria
Week 3: Tracey
Week 4: Nadia
Week 5: Sandy
For our launch the order will therefore be:
Week 1:  5th September: Parents in the picture – Franca
Week 2: 12th September: Kids – Maria
Week 3: 19 September: Outdoors/Nature/Objects – Tracey
Week 4: 26 September: Food – Nadia
Week 5: 3 October: Things we love – Sandy
After week 5 it goes back to Franca. We'll let you know a month in advance so you can prepare the rota and you can think about your photos in advance.
Each week will be a separate linky party that you'll need to link up your instagram photos to. This way we have an overview of the people who have joined us so that we can track that everybody is following the rules.
The idea behind this Instagram Linky is to be able to get more traffic to all our Instagram accounts. We want to make sure we all get likes and comments and of course make sure to follow each other.
#UnPocoDeTodoUK will be an Instagram Community where will be able to share our photos and challenge each other with a different theme each week. This will bring diversity to your Instagram Feed and will give you some ideas of what photos to take. We know that allowing anything at any time would have been the easiest approach, but after mulling it over we came up with the idea of incorporating 5 themes so we can have a wider range of what we share.
If you would like to increase your Instagram following or growth your Instagram in terms of likes and comments then this is the linky for you! We simply ask that you actively join in and spread the love which is the most important part of all.
Each week we will come together and choose our 5 favourite photos, which would be added as a link back to you as we will share them in the following weeks linky post. This will give you a chance to increase your DA. We will also feature a 6th photo of the person that has spread the love the most.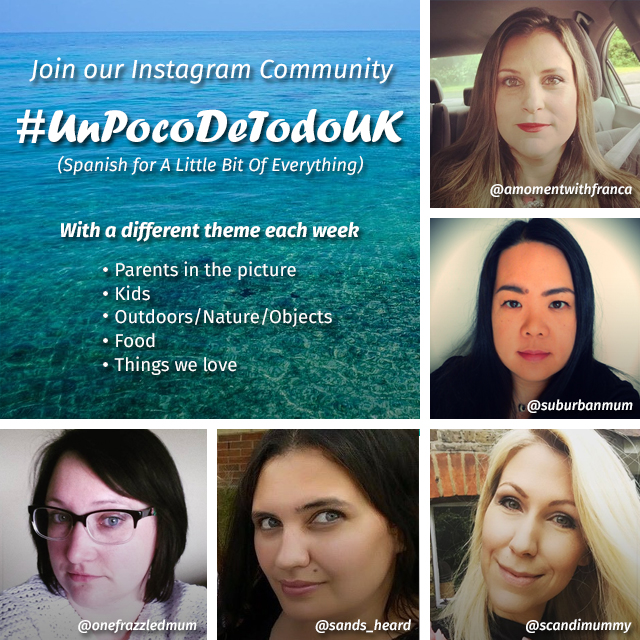 RULES:
1. If you fancy, put the #UnPocoDeTodoUK badge in your sidebar to increase awareness of this new community. The code for this can be found below or on my sidebar. Simply copy the code from the box below the badge and place it on your blog sidebar.
2. You can link up to 2 photos per week.
3. You will need to follow the themes of each week.
4. Follow the Instagram Account of the hosts and also the Instagram Account of the person that has linked up immediately before yours. This is as a minimum requirement. Of course I would love if you follow as many as you can but this is up to you.
5. Comment on the hosts photos on Instagram. Then comment on the photo of the person that has linked up immediately before yours and finally any other photo that you would like to comment on. That way everybody receives some love!  I will say the more you spread the love the better! If you link up 2 photos and they are next to each other, you will need to follow, like and comment the 2 previous photos that have linked up immediately before your photos.
PLEASE always remember to start with the comment of the photo linked up before yours first and then go around as much as you would like. Also use the hashtag #UnPocoDeTodoUK when commenting (this is indeed very important so I can then see how many comments you are doing) as one of the photos that we will be featuring will be from the person that have been the most generous.
6. This linky will be open every Monday from 8:00 am and will remain open for one week until Saturday at 11.59 pm.
7. If you would like us to tweet your photo that is absolutely find just tweet me @scandimummy, Maria @suburb4nmum, Tracey @frazzledmumblog, Sandy @Sandy_Heard and/or Franca @WithFranca with your link and we will retweet it. Please remember to use the hashtag #UnPocoDeTodoUK.
8. Finally, if you could please follow us:
WE ARE SO LOOKING FORWARD TO HAVING YOU AND SEEING ALL YOUR PHOTOS! 
Grab the linky badge here: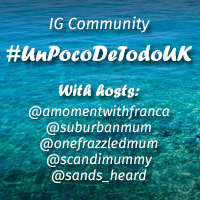 <div align="center"><a href="http://www.scandimummy.com" title="IG Community: #UnPocoDeTodo"><img src="http://scandimummy.com/wp-content/uploads/2016/09/UnPocoDeTodo-blog-badge.jpg" width="200" height="200" alt="IG Community: #UnPocoDeTodo" style="border:none;"/></a></div>
Please follow and like me: