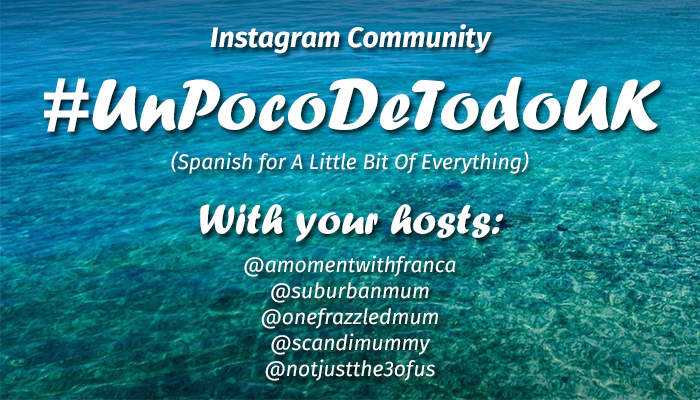 The 8th week of our Instagram Linky #UnPocoDeTodoUK (Spanish for "A Little Bit of Everything) came to a close on Friday night. Thank you so much to all that joined us! Maria, Tracey, Franca and I really enjoyed checking out all your photos from last week. We had a total of 21 link ups! We hope to grow this number so we can keep supporting each other. You can also find out more about this linky in the #UnPocoDeTodo Linky Page.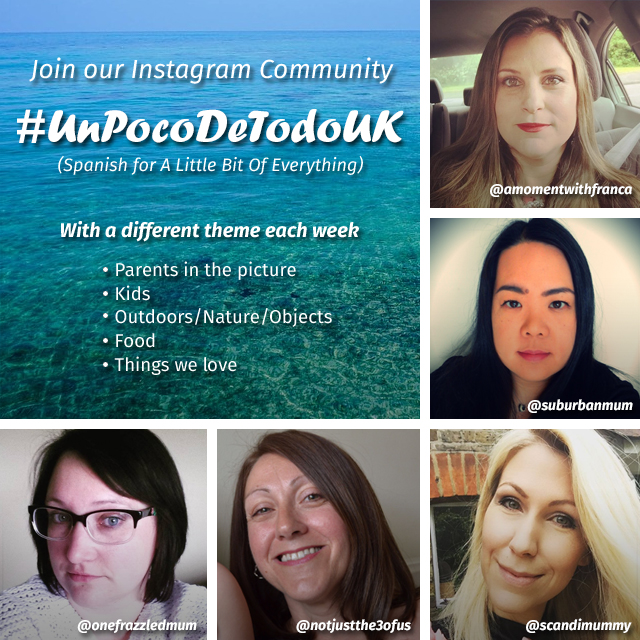 We have Nicky from Not Just the 3 of Us officially joining us this week as the 5th host. Please give her a warm welcome some love and follow on Twitter and Instagram.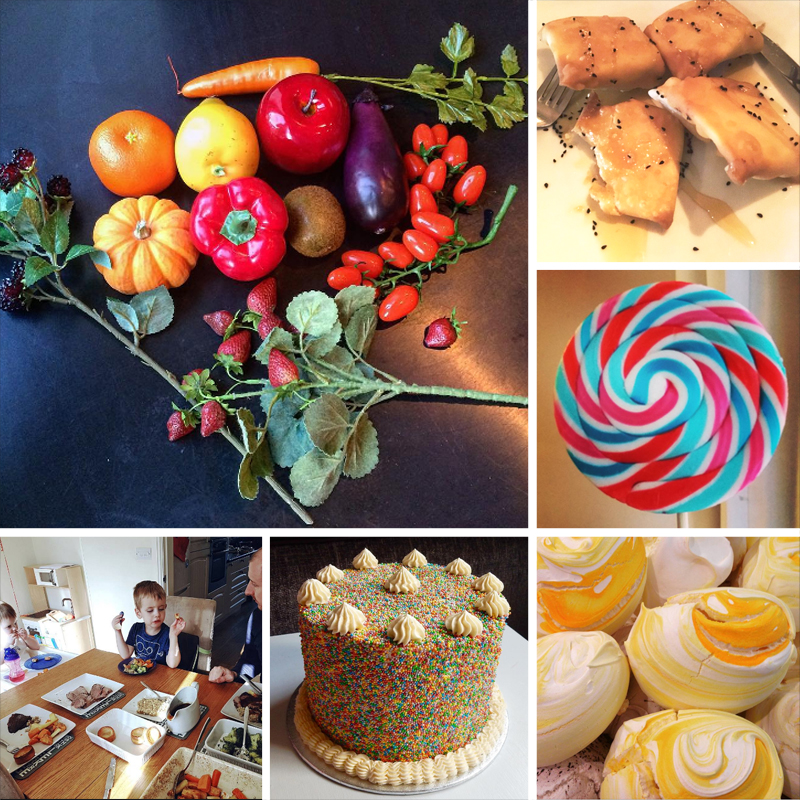 Each of us has chosen our favourite photos and we also have a 6th photo for the person who has commented the most. You can see our featured photos below.
TOP COMMENTER
We had 4 people who commented the most (actually on all the photos) this week: Sarah from Arthurwears, Karen from The Mad House of Cats & Babies, Danielle from Someone's Mum and Claire from A Life in Practice. We have given Sarah (our reason is below) the top spot and featured Karen, Danielle and Claire.
This week we have chosen SARAH from Arthurwears, as our top commenter because we loved the bright colours of her photo. Her fruit and vegetable shot was really gorgeous even if only one of them was real… did you spot it? It would be great if you can check out her Instagram account and if you can also follow her that will be much appreciated!
FEATURED PHOTOS
Our featured photos for the week are then as follows:
1. KAREN from The Mad House of Cats and Babies. Please also check out her Instagram account.
2. DANIELLE from Someone's Mum. Please also check out her Instagram account.
3. CLAIRE from A Life In Practice. Please also check out her Instagram account
4. JANE from Maflingo. Please also check out her Instagram account
5. KIRSTY from Winnettes. Please also check out her Instagram account
PINTEREST BOARD
We have been pinning all your photos onto our Pinterest Board for #UnPocoDeTodoUK. Please go and have a look at all the lovely photos that we have had so far. It looks like a great collage of photos. It would be lovely if you follow our board
WHAT YOU GAIN
When linking up to #UnPocoDeTodoUK you can expect to get at least 6 comments on your photo. If your photo is chosen as one of our favourites that week you'll get not one but FIVE individual back links to your blog which helps boost your DA score as all five hosts will feature your photo, your Instagram account AND your blog.
LINKY TIMES
The #UnPocoDeToDoUK linky will open on Monday 9pm until Friday 11.55pm Please do remember that to fully participate you need to link up your Instagram photo to the linky each week. This ensures you get love and receive comments from everyone who is joining in. Also, when commenting please remember that we only count the comments to the photos that are linked AND have used the hashtag.
The theme this week is FOOD. They can be of anything food related like for example. photos of your children eating, dishes from restaurants, meals you cook, food you love, eating out, anything you like. I am your linky host this week!
So you can prepare for the following weeks, the themes will be as follows:
Week 8, 24 October: Food – Tracey
Week 9, 31 October: Things we love – Nadia (This week)
Week 10, 14 November: Outdoors/Nature/Objects – Franca
Week 11, 21 November: Food – Maria
Week 12, 28 November: Things We Love – Tracey
RULES:
1. If you would like to support us please put the #UnPocoDeTodoUK badge in your sidebar to increase awareness of this new community. The code can be found under the badge in my sidebar. Simply copy the code and place it on your blog sidebar.
2. You can link up to 2 photos per week.
3. You will need to follow the themes of each week.
4. Follow the Instagram accounts of the hosts and also the Instagram account of the person that has linked up immediately before yours. This is as a minimum requirement. Of course, we would love it if you follow everyone, but this is up to you.
5. Comment on the hosts five photos on Instagram. Then comment on the photo of the person that has linked up immediately before yours and finally any other photo that you would like to comment on. That way everybody receives some love!  The more you spread the love the better! If you link up 2 photos and they are next to each other, you will need to follow, like and comment the 2 previous photos that have linked up immediately before your photos. It might seem like a lot, but it's quickly done.
PLEASE always remember to start with the comment of the photo linked up before yours first and then go around as much as you would like. Also use the hashtag #UnPocoDeTodoUK when commenting (this is indeed very important so I can then see how many comments you are doing) as one of the photos that we will be featuring will be from the person that have been the most generous.
6. This linky will be open every Monday at 9 pm until Friday 11.55 pm. Please note that we will count the comments on Sunday at midday, so remember to get yours in before then if you want to be featured as Top Commentator.
7. If you would like us to tweet your photo that is absolutely find just tweet me @scandimummy, Maria @suburb4nmum, Tracey @frazzledmumblog, Franca @WithFranca and Nicky @nickykentisbeer with your link and we will re-tweet it. Please remember to use the hashtag #UnPocoDeTodoUK.
8. Finally, if you could please follow:
By adding your Instagram photo(s) to the linkup you're agreeing to be notified of subsequent linkups. To link up simply add the  link to your Instagram photo. You can also add the badge on your sidebar. We would love your support.
We can't wait to like see all your photos!
Loading InLinkz ...
Please follow and like me: