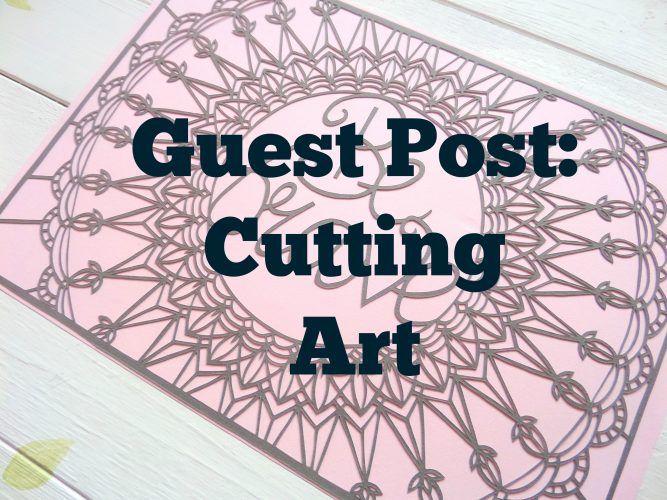 Sometimes you come across something so beautiful, that it just stops you in your train of thoughts and transports you to another place. That happened to me when I first caught a glimpse of Gemma Esprey's work. She's a papercutter, though what she creates are stunning little pieces of art.
I was fascinated by her work and wanted to learn more about her as a person and a business woman. As you might know from my interviews with Carla from Mama et Moi and Yvonne from Avalo Home I enjoy hearing about and supporting female entrepreneurs.
I asked if she would write a guest post here on the blog, and fortunately she said yes. She also generously sent us one of her King Fisher prints, which I now proudly display in our guestroom.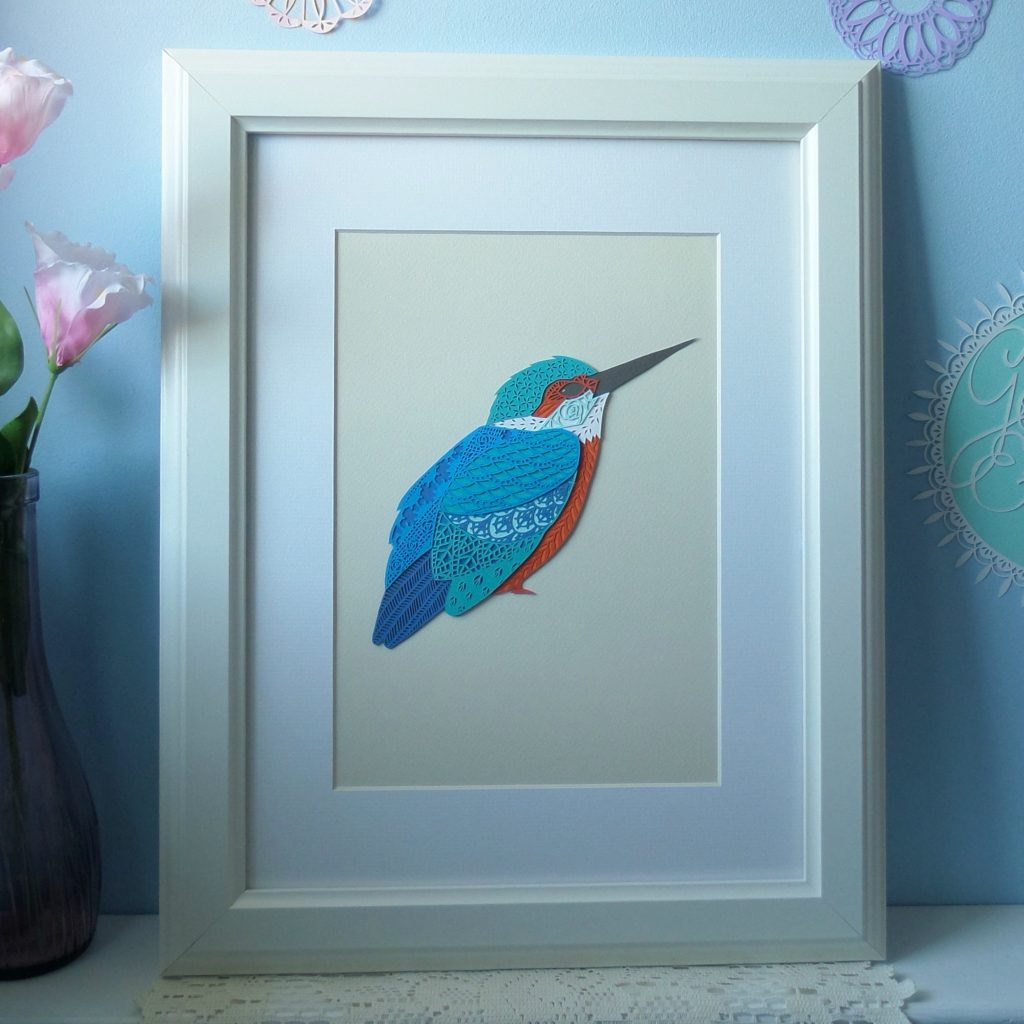 I hope you'll enjoy reading Gemma's story and please visit and support her online shop if you are looking for something unique and beautiful whether be it a card for someone special or one of her giclée prints as a gift for a loved one.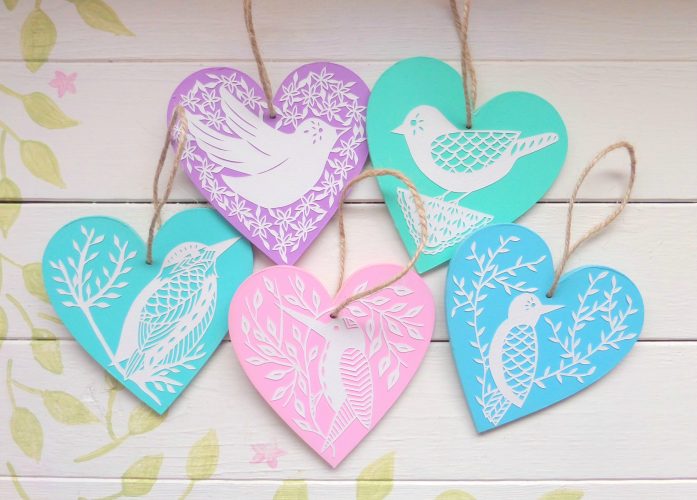 "I'm Gemma Esprey, papercutting artist at Gemma Esprey Designs, and I'm honoured to have been asked to write my first guest blog post for the lovely Nadia of Scandimummy. I've been selling my papercuts and related works since 2012. My aesthetic is all things pretty and lacy. I'm inspired by my love of vintage lace and crochet as well as British wildlife.
I live in Staffordshire with my husband and seven-year-old daughter. Growing up, I was always interested in arts and crafts. I would draw pictures and colour at every opportunity. I loved writing stories and drawing the pictures to match. When I was about 8, my mum (an avid knitter and crocheter), bought me a little red knitting bag and I started with a scarf. I went through fads of knitting, cross stitching, making friendship bracelets and even made drawstring bags on my mum's sewing machine with my friends to sell at school.
Through high school, A-levels and university I was drawn into academic subjects, particularly English and the sciences. When I wasn't doing homework, I usually had my nose in a book; a passion I've never lost!
It wasn't until the birth of my daughter in 2008 that I became interested in crafts again. I retaught myself to knit so that I could make her hats, booties, mittens and then cardigans. I started making cards for family and friends, and picked up cross-stitching again.
However, I didn't feel that I was hitting the mark, creatively. Something was missing for me. I would wander around craft fairs picking people out who seemed to have a certain something extra, wondering how they did it, what that certain something actually was. Later, I realised that they had a distinctive style all of their own and that was what made them stand out.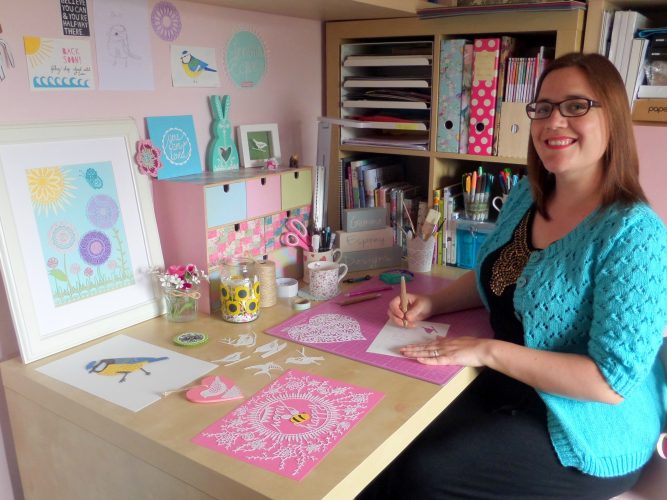 I began papercutting in 2011. My mum had asked me to make her an 18th birthday card for my cousin. I couldn't find a stamp or a cross stitch pattern that seemed appropriate and I had been looking at the papercuts of Supercutetilly and By Charlie's Hand and was amazed to find out that they cut their designs out of paper with a scalpel. It looked impossible. And on a whim, I gave it a go. I used a really thick piece of card and a blunt, sticky craft knife and gave myself loads of blisters. Needless to say, things improved after that point! It was so gratifying to draw something myself without using a pattern. I realised that this was what I was missing.
Having no background in art, I struggled to feel worthy of designing my own work. I think this was one of the biggest battles for me and my confidence still comes into question sometimes. It has led to me taking huge breaks away from my business in the past as I felt out of my depth. But I truly feel like I have put these fears aside now and I'm enjoying my work so much. I've been challenging myself to do more intricate detailed cuts and layered pieces.
I decided to try something a bit different this year with papercut wooden hearts. There is so much scope and I have hundreds of ideas to work though in the future. I feel like my mind is constantly buzzing with ideas and plans and I just have to try and keep up with it.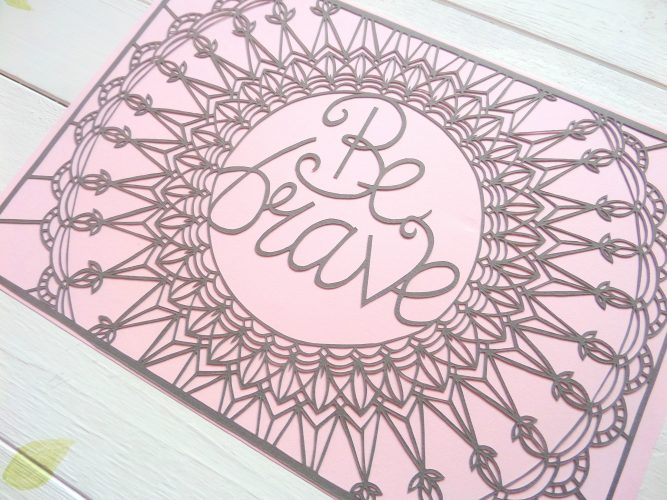 Running a small business throws massive curveballs at me nearly every day. There is so much I have to learn so that I can grow and develop. I'm also juggling it with a part-time administration job so time constraints are a big obstacle. I'm lucky to have a very supportive husband who doesn't mind helping me to pack cards or cook the dinner and share the housework. I couldn't do it without him and all his encouragement.
I work from our spare room which we have turned into a studio (and laundry room!). I used to work in there alone but two years ago I changed it all around so I could fit in a desk for my daughter who loves arts and crafts too. She has more supplies than me! It's lovely to share the space with her and it means I don't have to shut myself away. If I have a big job on, we'll spend the weekend in there listening to an audiobook and creating our hearts out. She loves a good crafternoon.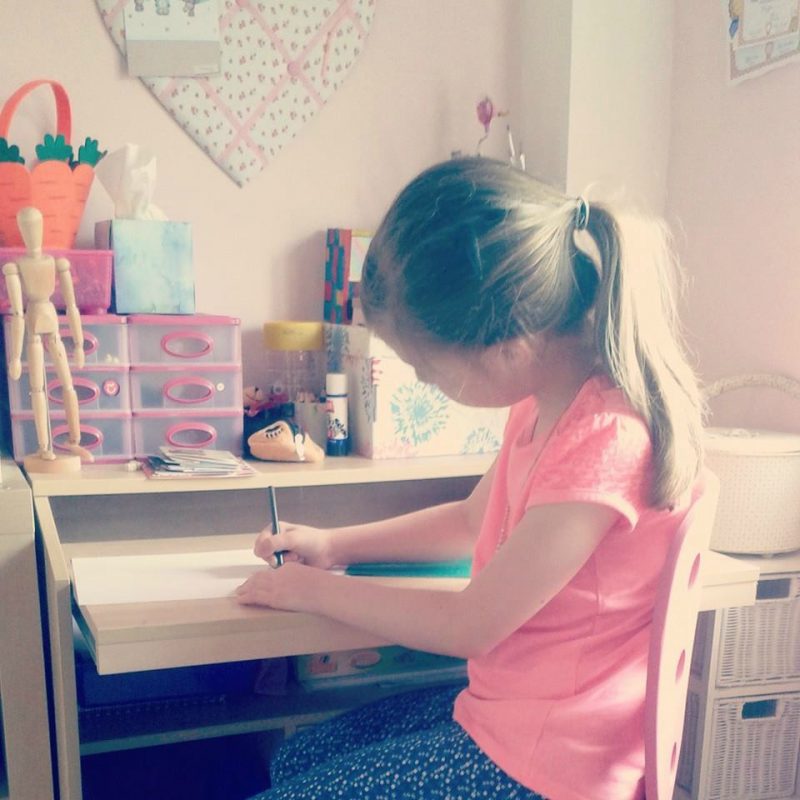 She inspires me so much. I want to be a positive role model to her and show her that you can follow your dreams no matter what obstacles stand in your way. Do what you love and work hard – then see what happens. That's my plan anyway!"
I loved reading Gemma's story and hope you did too. Do you enjoy arts and crafts?
Please follow and like me: