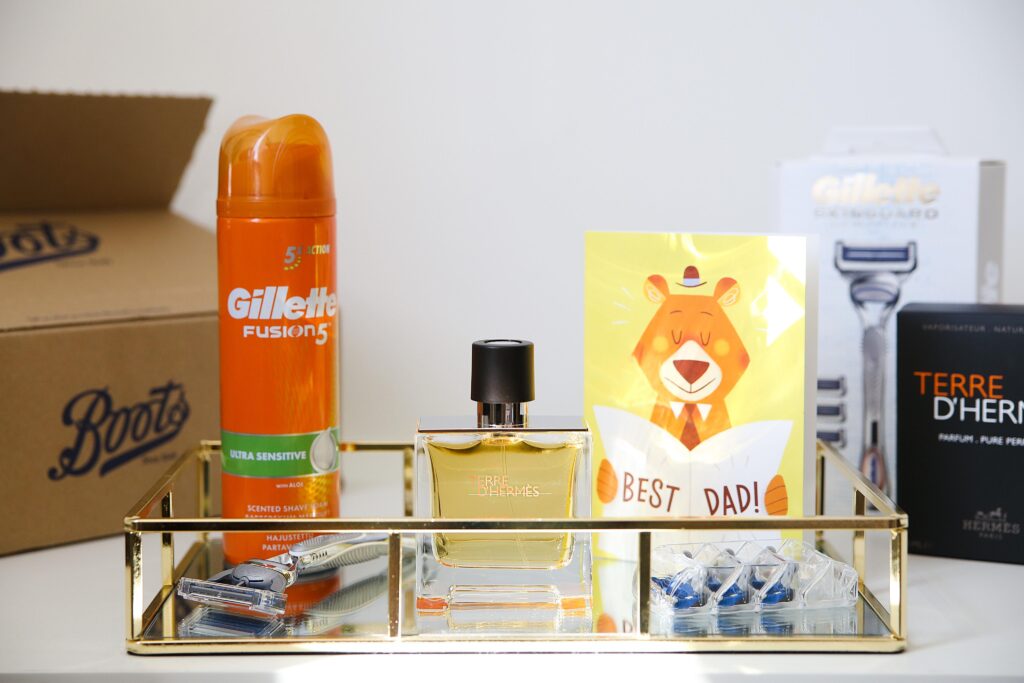 With Father's Day fast approaching have you thought about what to get for that special dad in your life? Choosing a scent is something very personal. It can make a truly unique gift. They are so many interesting fragrances on offer and if your dad or partner is anything like mine they'll have their favourite. As an aftershave mix with a person's own scent, it becomes unique. Like your dad. This Father's Day I've teamed up with Boots to remind you to Think Dad, Think Different.
TERRE D'HERMES EAU DE PARFUM
When I first met Daddy Long Legs one of the things I noticed was his scent. In all the years we've known each other he's worn Terre d'Hermes. It's a luxurious men's aftershave with notes of Sichuan pepper and green bergamot creating a spicy, dry fragrance. It's manly yet elegant and that sums up Daddy Long Legs perfectly.
Now he hates being made a fuss of yet he adores this aftershave so I know he will really appreciate the gift. He loves a bath, time to lounge. Something not often afforded parents. He likes to do a hot shave and just relax so along with the bottle of perfume we're also treating him to a new Gillette razor and shaving foam. This will be how he'll be spending Father's Day. Breakfast in bed, a chance to recharge with a pamper and then getting dressed, spraying his favourite aftershave before the boys and I take him out for lunch.
FINDING AN IDEAL FATHER'S DAY GIFT AT BOOTS
All year round Boots provide great gift inspiration. Father's Day is no exception. Whether you are looking for a body spray, an aftershave or a luxurious Eau de Parfum they have so many brands on offer. They also specialise in gift boxes plus all essentials. You are sure to find the perfect Father's Day gift. Maybe the special dad in your life, whether your own, the father of your children or simply a man who means a lot, likes skincare, body care or hair and beard products you'll find it all at Boots. It's easy to shop online or in one of their 2300 stores nationwide.
THINK DAD, THINK DIFFERENT THIS YEAR
Think about what makes your dad special. What makes him unique and different. Maybe you take inspiration from his interests or hobbies when you choose your gift? Does he like exercise? Being outdoors? Maybe from his job and how he needs to present in everyday life. You might approach it practically, that as a busy parent he doesn't have much time but might still like to look after himself.
Knowing you've put extra thought into his gift will make it that bit more special. Or like Daddy Long Legs if he already loves a specific aftershave it makes it even easier and you know it will be cherished.
WIN TERRE D'HERMES EAU DE PARFUM ON INSTAGRAM
Together with Boots, I'm giving away one Terre d'Hermes Eau de Parfum. Simply enter via the post on my Instagram for your chance to win. Good luck and I hope that you have a wonderful Father's Day if you are celebrating. T&Cs can be found on the Boots' website.
Disclaimer: This is a sponsored post. All words, opinions and photographs are my own.