Every year I love checking out the very best gift ideas for children. While I'm a huge fan of experiences there is no denying that little ones love a good toy. It is important to me that the toys I give the boys will keep their interest peaked for more than just the Christmas holiday. This year we have teamed up with Huffy bikes. I can't wait to surprise Caspian with his very first proper bike. As he's always been tall for his age it's been tricky to find a good starter bicycle. The Huffy Revolve Pro to the rescue. Once he's had a chance to learn and we've properly tested the bike I'll share a full feature. For now, you can read more about Huffy and their amazing range of bikes along with the other cool brands included in this gift guide below.
LEATHER SHOES FROM BOBUX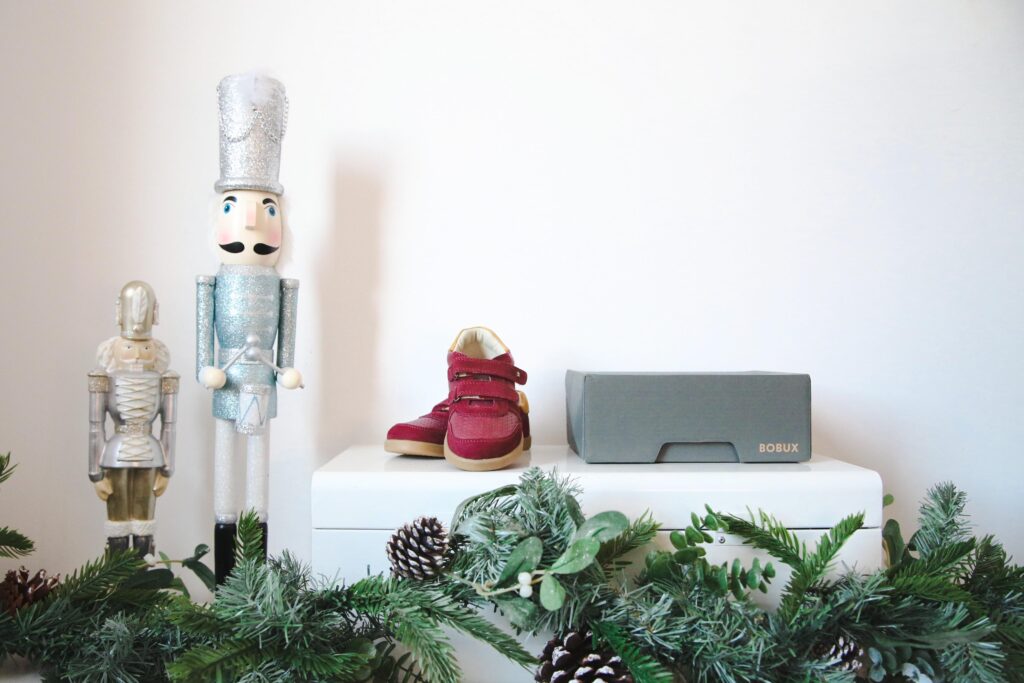 We have been fans of Bobux and their amazing children's shoes for years. They are made for little feet keeping them comfortable and protected as they take their first steps and explore the world around them. From soft soles to proper winter boots, Bobux has got you covered. Now, this might be more of a practical gift yet Orsino absolutely adore shoes so don't dismiss a good pair under the tree this Christmas. The Riley in Boysenberry + Chartreuse is our current festive favourite. Easy to put on or for your child to get on themselves. This style looks very smart with a cool retro twist. Plus the model comes in five different colourways.
BICYCLE FROM HUFFY BIKES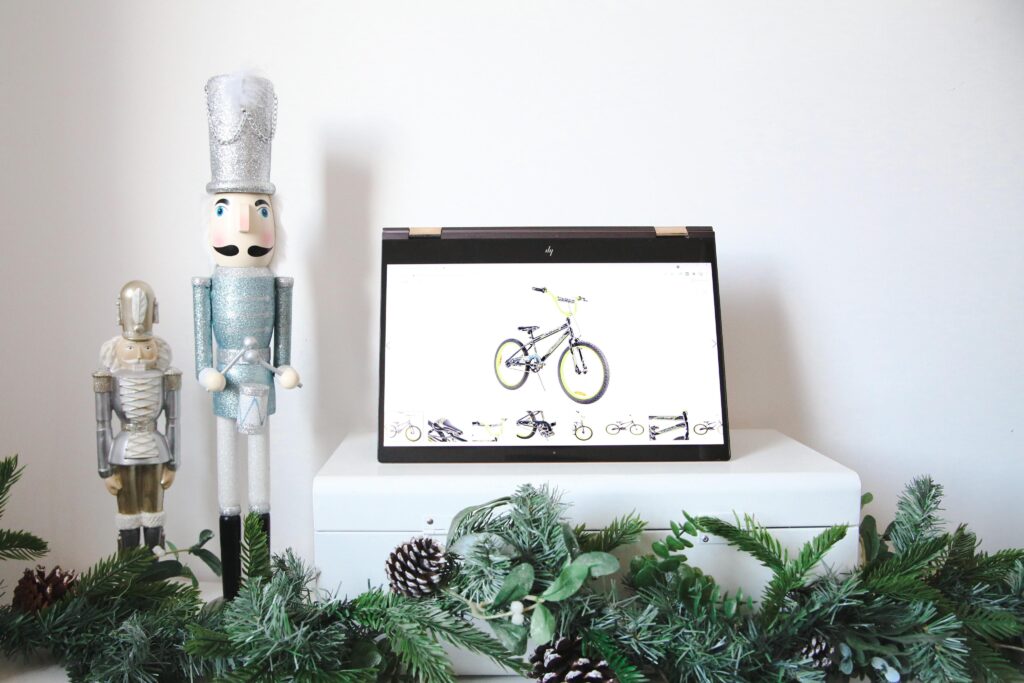 Coming from Copenhagen where everyone rides a bike I've always dreamt of the boys learning from an early age. Yet, it's only recently that there has been more focus on road safety here in London. We are now seeing more bike paths and that is very encouraging. Also, Caspian has always been tall for his age so we've struggled to find the right bike for him. I'm so excited for him to open the Revolt from Huffy Bikes on Christmas morning. In the past 6 months, he's grown in confidence and has gained a lot more control over his long limbs so he's definitely ready to ride into 2022 on this super swanky BMX. We will, of course, share our journey with you but if you are currently looking for a bike for your child this Christmas head to Huffy bikes and explore their fantastic range.
BIOPLASTIC TOYS FROM DANTOY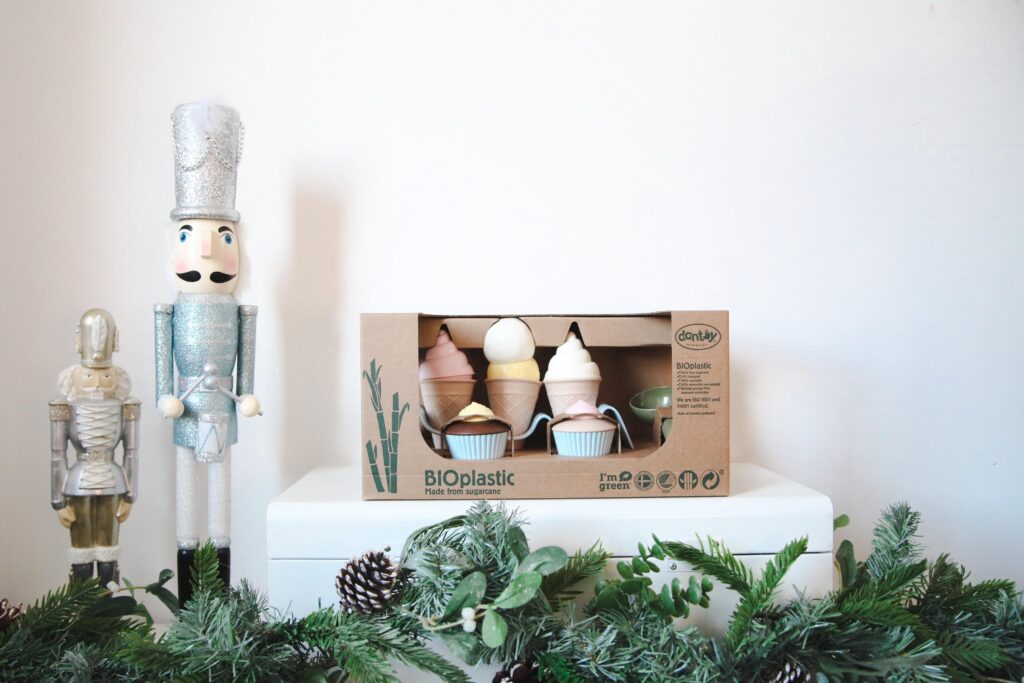 Both boys absolutely love the adorable bioplastic range from Dantoy, an amazing Danish brand. Their green range is made from sugarcane and I love that they are creating this sustainable line. I used to play with their toys as a child in my grandparents garden, so it's brilliant to see the boys enjoy their newest products. This ice cream toy set is sure to be a huge hit on Christmas morning. Orsino loves creating pretend food for me to eat. Plus both boys are obvious fans of ice creams so I can't wait for them to play with this. I love the pastel colours and this set can be used at home as well as taken out to the park or beach.
PERSONALISED BOOK FROM LIBRIO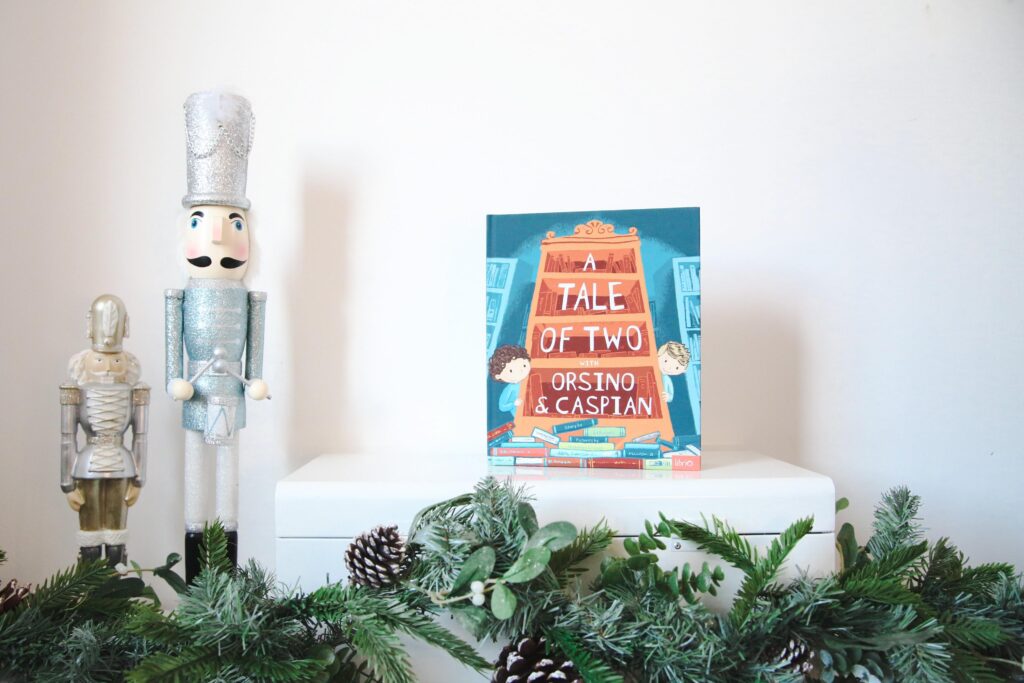 Over the years we've explored a few personalised books. It's always a great gift idea. I'm completely blown away by 'A Tale of Two…' from Librio. It's a wonderful story of the boys playing a game of hide and seek. They end up jumping into well-known literature works so not only will they have fun recognising themselves on the page but it's also a super way to introduce classics. You can then go on to reading those with them afterwards.
The site is very easy to navigate and with a few clicks, I had both my boys in front of me ready to print. Caspian with his blonde hair and Orsino with his beautiful darker curls. I'm sure this will be a firm favourite for bedtime for years to come. Check out their full range of personalised children's books. When you buy books from Librio you also help their vital charity work where they donate books to children through Room to Read. They also plant trees through Trees for the Future and have currently donated over 250.000 books and planted 250.000 trees.
SILVER POKEMON PLUSH CELEBRATING 25TH YEARS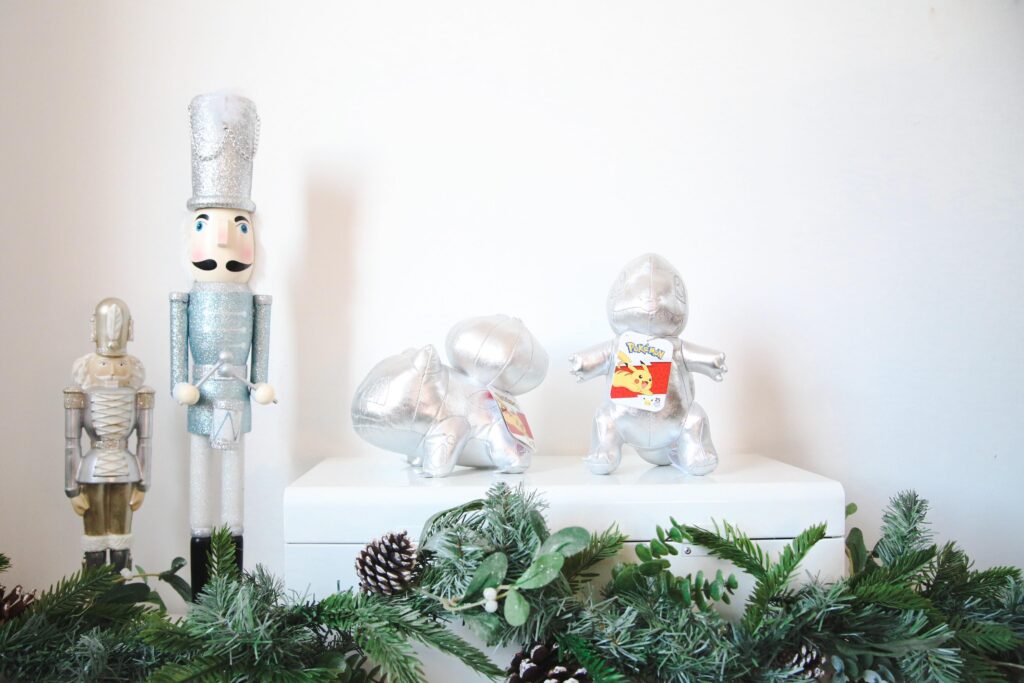 This gift guide wouldn't be complete without Pokemon. Caspian has been obsessed this year and it's fascinating to see these little creatures still having a magical effect 25 years down the line. I think Orsino's first word might even have been Pikachu. While Caspian is loving exploring the games on his Nintendo Switch he still loves a good cuddle with a teddy and these are very cute. The silver makes them that bit more special and there are four different ones to collect. Choose from loved favourites Pikachu, Bulbasaur, Charmander and Squirtle. Available from major toys stores here in the UK.
PLAY WITH LOVE MONSTER AND HIS FRIENDS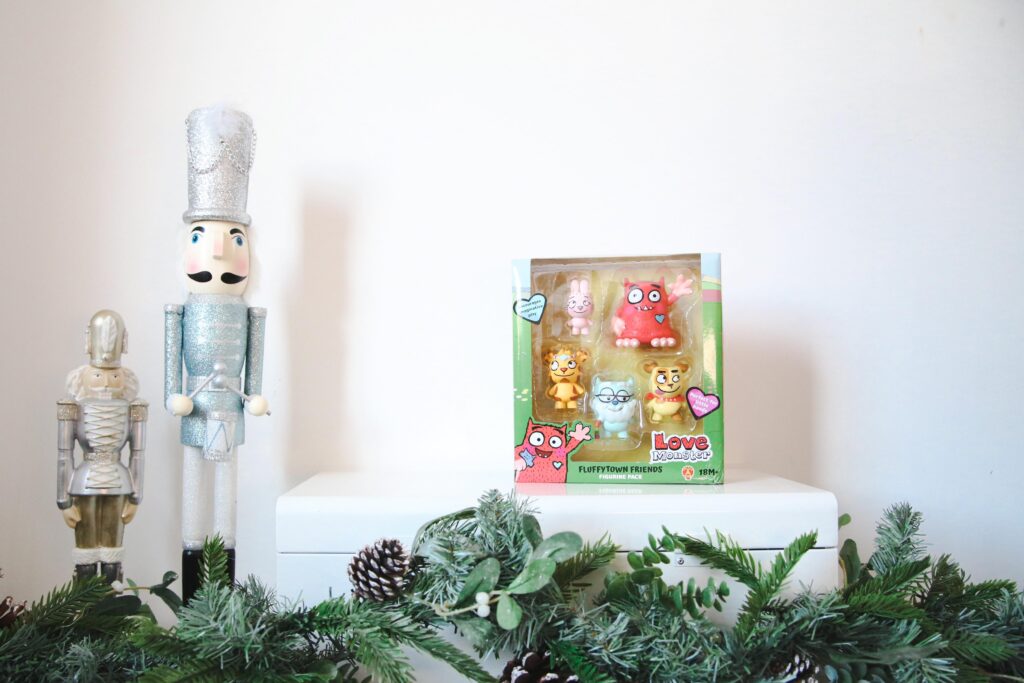 If your toddler loves Love Monster and his Fluffytown Friends as much as Orsino then this playset will be the ultimate gift this year. Five of the well-known sweet characters to have hours of fun with. A great size for little hands to hold and explore. Plus they make great buddies when it comes to watching the show. I love seeing Orsino engrossed in imaginative play and this pack will be a perfect addition to his little creative adventures. You can find the Love Monster Fluffytown Friends pack at major UK toy stores and online.
MECHANIC GRAVITY LOOPS & TURNS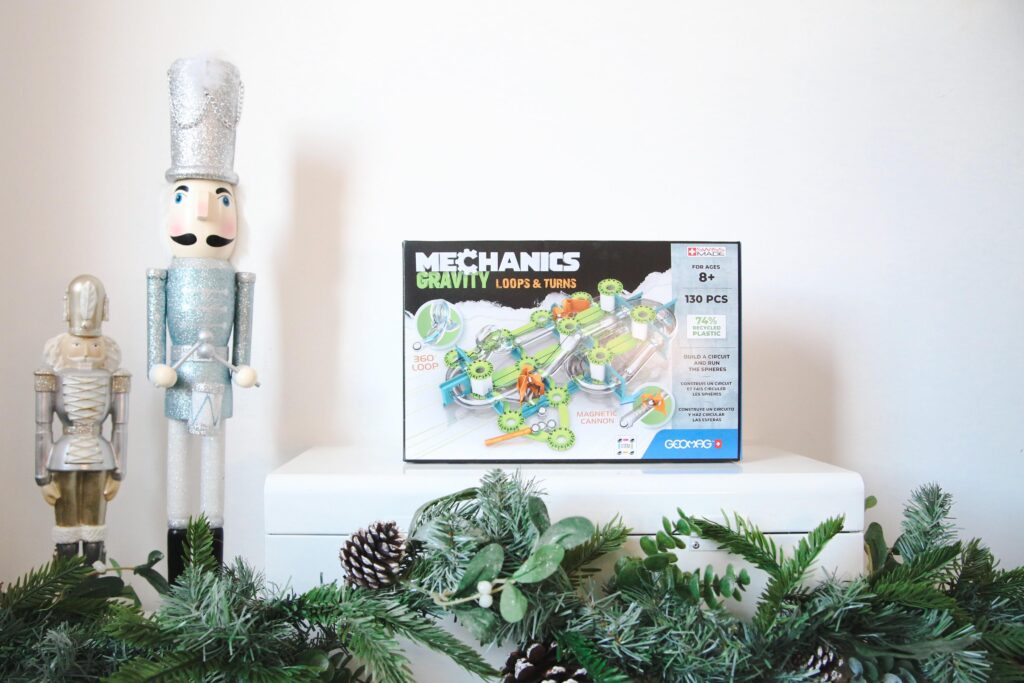 If you are looking for a gift for slightly older children then Mechanics Gravity is the one to go for. Allow them to explore and build a circuit driven by the invisible forces of magnetism and gravity. The magnetic cannon uses the force of attraction to accelerate and push the spheres. The movement is generated without the use of electric motors or batteries. Plus it's made from recycled plastic. This set gives them a great opportunity to learn the basics of magnetism and how to create controlled magnetic reactions. Stimulates creativity, imagination and intellect The Geomag products are winners of numerous awards. These have helped children of all ages to develop imagination and curiosity through the science of magnetic constructions. I'm certain Caspian will absolutely love this and it will be hours of fun creating.
Disclaimer: This guide contains gifted products. All words, opinions and photographs are my own.