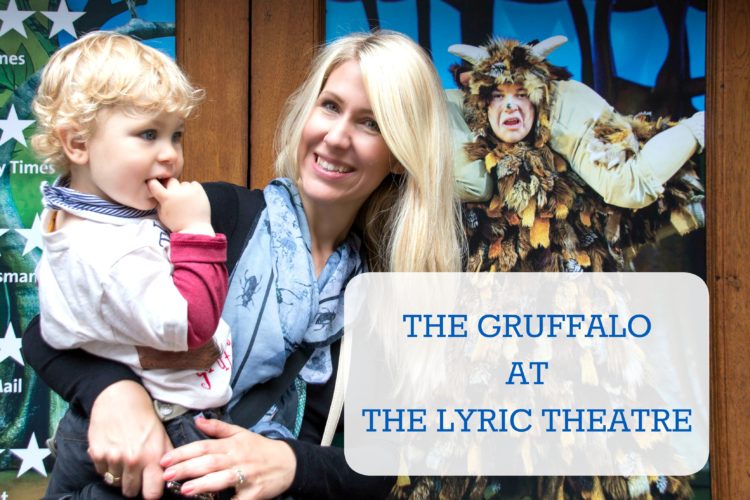 Yesterday one of my dreams came true. As an actor I've pictured taking Caspian to the theatre probably since the day I found out I was pregnant. Introducing him to this magical world, that captured my heart many years ago is a must for me. But he is still only 17 months, so I was a bit apprehensive, as we made our way into the West End on Sunday morning. I, myself, haven't been to a show since before we had him.
We were invited to the press showing of the much loved The Gruffalo currently playing at The Lyric Theatre on Shaftesbury Avenue. This well-known children's story by Julia Donaldson has been adapted for stage. It's aimed at children from the age of 3+. But it seemed an opportunity too good to be missed. So not only did I brave the journey into central London, but I also kept my fingers crossed that Caspian would sit through the 55 minutes the play lasts. And more importantly enjoy himself.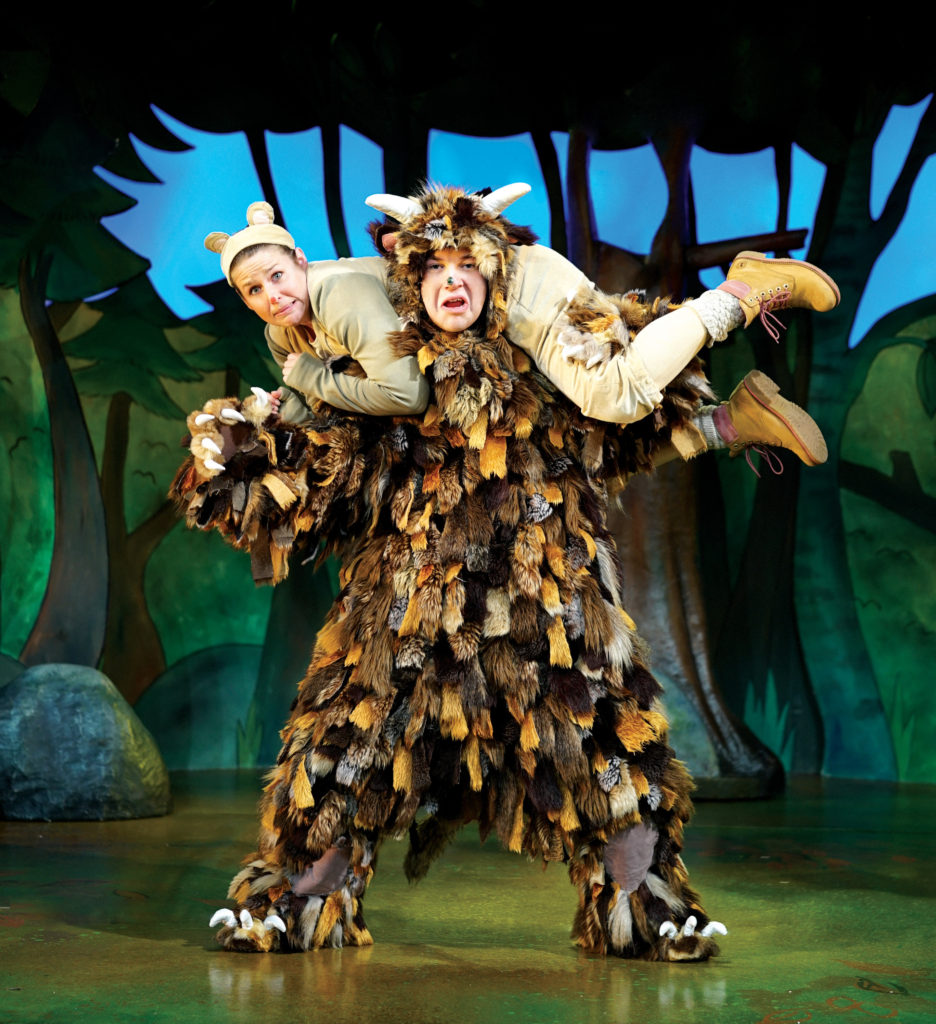 Photo: Tall Stories
And enjoy himself he did! Both the fabulous actors and my little boy put my worries to shame. He was mesmerized for the first 20 minutes, then got a little fidgety but kept his attention on the stage and it was only at the very end that he turned his attention more to me. He laughed, clapped along and happily roared as The Gruffalo made his entrance, and wasn't scared at all.
Three actors take on the various characters and sing and dance their way through this adorable story of the little mouse, who becomes the king of the deep, dark woods through clever rhetoric.  The costumes are fairly simple allowing for quick changes. I love that the set and costume designer has taken into account that children will happily use their imagination. A pair of ears and a piece of rope for a tail will genuinely make them see a mouse. I thought it was very cleverly done indeed.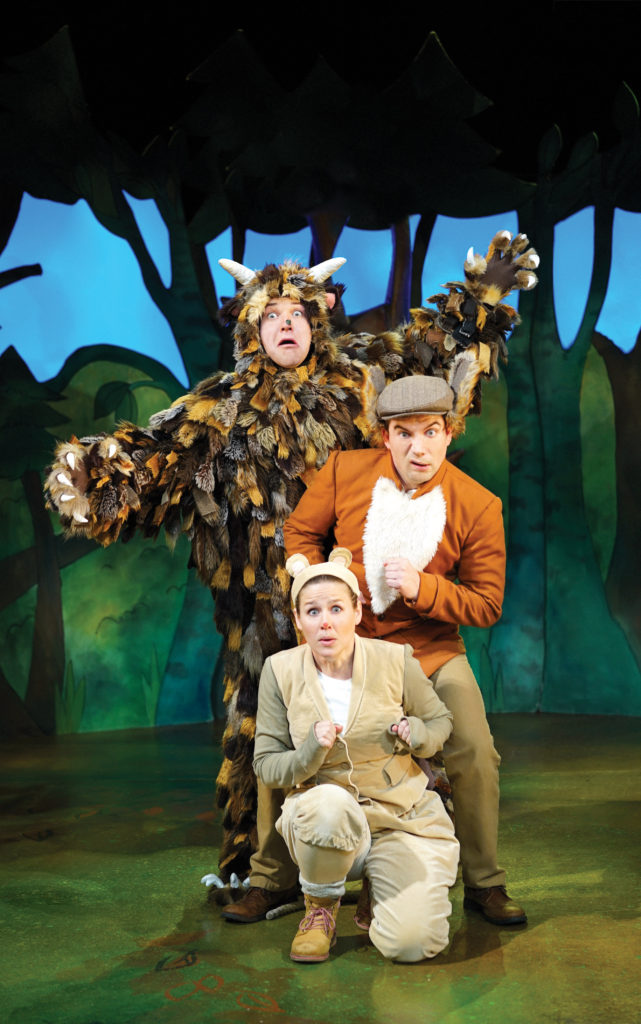 Photo: Tall Stories
I liked that they had incorporated music, too. This definitely helped in getting the kids engaged. Everyone around us seemed like they had a wonderful time as well. I can't wait to take him to another show soon.
Caspian was dressed to impress in his Gruffalo top. Here he is showing us how the scary beast roars after the performance was over.
I highly recommend taking your children to see this show especially if they are already fans of The Gruffalo. The script and ad-libbing by the actors make it highly entertaining for adults as well.
Have you seen the show? Would you take young children to the theatre?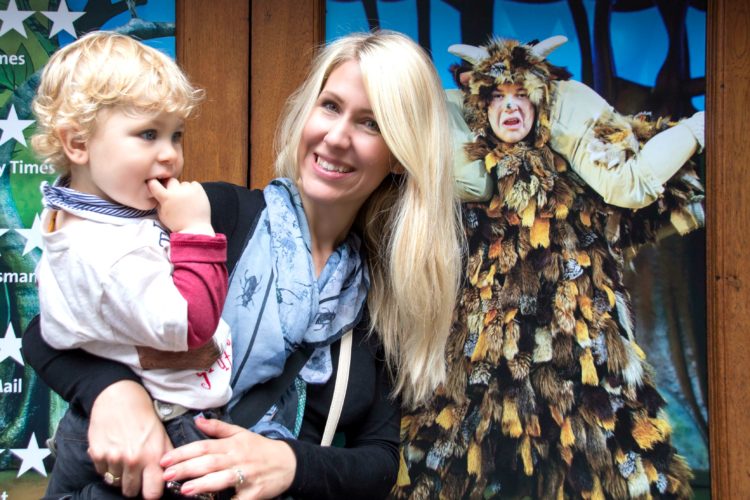 My lovely fellow blogger Cassie from Lily's Little Learners kindly snapped this photo outside the theatre after the show.
A bit more information if you're planning to go:
Prices start at £14.50
Runs: July 2016 to January 2017
Tuesdays to Fridays at 11 am and 2 pm
Saturday and Sundays at 10 am and 12 pm
Duration: 55 min. with no interval
Age Guide 3+
Babes in Arms Policy: Complimentary babes-in-arms comps available for children under 18 months for all performances. To be collected by customer from the theatre box office upon arrival.
There's a buggy park next to the main entrance, so you can bring a stroller.
Lyric Theatre, Shaftesbury Avenue, London, W1D 7ES.
By Tube-Piccadilly Circus (Bakerloo, Piccadilly)
By Bus-14, 19, 22B, 38, 53, 88, 94, 159
SPECIAL PERFORMANCES
British Sign Language 22nd July 2pm
Audio-described 28th July 11am
Relaxed Performance 9th August 2pm