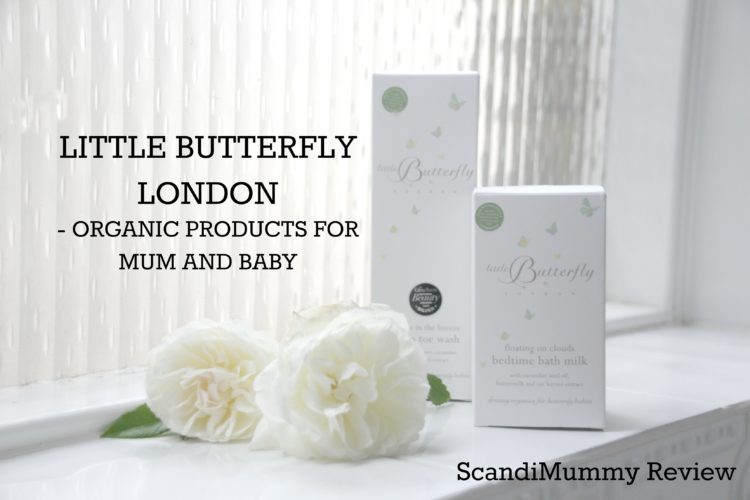 I think we're unfortunately yet to see what effect all the chemicals, micro beads and parabens in our beauty products has on our health. When I felt pregnant I became better at choosing products without all of these. I wouldn't say that I've gone 100% organic, but I definitely prefer the more natural ones for both Caspian and myself.
We have been sent some bath products from Little Butterfly London to try. I'd heard about this company before. They are stocked online and at Mama et Moi, who I recently interviewed here on the blog.
Little Butterfly London is founded by mumtrepreneur Gudrum Wurm after the birth of her son. She couldn't find the organic and natural products she needed both for him and for her, so she decided to educate herself and create them.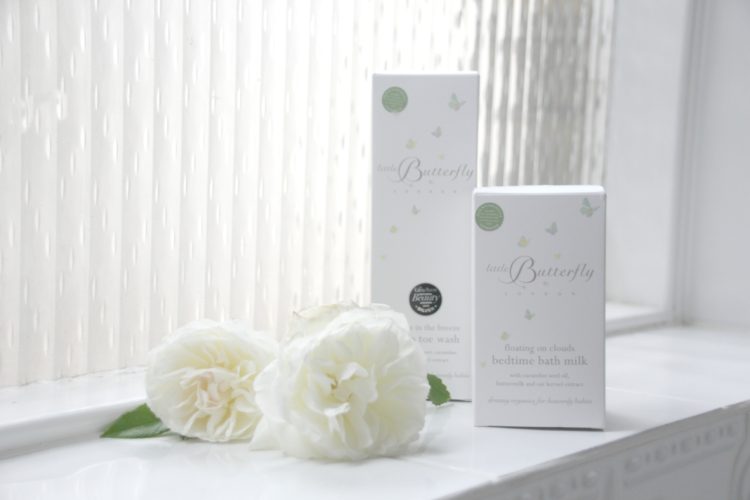 As you can see the packing is serene and simply beautiful. Would make a perfect gift for new parents. Much more useful than baby clothes, that the newborn will quickly outgrow. Great for pampering and I found it leaves your skin soft and cared for (yes, I've used it too).
We've tried the Floating on Clouds Bedtime Bath Milk, which is meant to help calm body and mind. Caspian has so much energy, so not sure if it made a difference, but it leaves the water nice and creamy. The scent is not too overpowering and it must taste good, as well, as he keeps trying to drink his bath water.
The other product we tested is Bubbles in the Breeze Top to Toe Wash. It creates a good amount of delicate bubbles and again the scent is light and fresh. An added plus is no skin irritation or stingy eyes, as it's very mild.
I like that all their formulas live up to these promises:
certified organic by Ecocert.
hypoallergenic and dermatologist approved for very sensitive skin.
suitable for newborn and eczema-prone skin
highly effective for dry and reactive skin.
safe during pregnancy & breastfeeding.

recommended by medical experts and midwives.
exclusively made in Great Britain.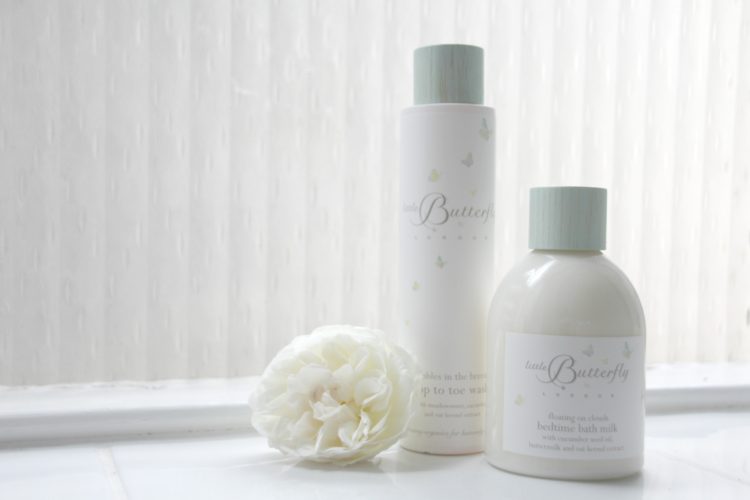 The range is high end with the Bubbles in the Breeze retailing at £19.50 and the Floating on Clouds Bath Milk at £25.50. But you only need a tiny amount for your little one, so with these products at least you have peace of mind that you are giving them the very best care.
Have you tried any of the Little Butterfly London products?
NB! Please note that we were sent these products for the purpose of this review. All words and opinions are my own.