Two weeks ago I took Caspian back to Denmark for the first time. Daddy Long Legs was tied up with work, so I was destined to do the trip alone. Everyone warned me about what the pressure does to the poor baby's ears (he was absolutely fine!). No one warned me about what the pressure does to the poor baby's tummy! Someone should have, but that's for another post as this one is about love!
The trip through Heathrow Airport went really well. A lovely gentleman working there spotted us as we arrived and took us directly to a special check-in. Then a quick feed and Caspian fell asleep in his ergo baby carrier as we walked through security. "No, I don't have any liquids in my bag, thank you very much!" shaking my see-through make up bag with an indulgent if slightly smug smile at the silly security man asking such an unnecessary question – "OH… that?! Sorry, forgot about the hand sanitizer, the nappy rash cream, the teething gel and the Calpol" It's used to be just perfume, lip gloss and mascara – it is a new life travelling with a baby!
We were allowed on board early and managed to settle in our seat quite comfortably. Caspian still sleeping. I had this under control (the nappy explosions were yet to happen!). I noticed a couple in the row in front also travelling with a baby boy. Turned out he was the same age as C. We exchanged sympathetic smiles.  Then a guy walked on. Oh, the look on his face when he realised he was stuck in the window seat next to me.
I don't blame him. No one wants to be trapped between young children on a flight, even if it is only for an hour and a half. The situation got a bit tense as he eyed up my potential screaming bundle of joy. But to his surprise and my relief neither Caspian (nor the little boy in front!) made a peep the entire flight. Caspian actually just made friends. He's such a flirty social butterfly already smiling at everyone around him… I wonder where he gets that from?! Anyway, back to this story of love.
In an attempt to get on his good side (in case Caspian did kick off) I engaged in conversation with my new neighbor. And I'm so happy I did. It turned out, Mario, was from the French part of Canada, and on his way to Denmark to meet with his wife, who happened to be named Nadia (small world!). Nothing too unusual about that, you might think. But not only had they not seen each other for six whole months, they had originally met online and only ever met in countries neither of them were from.
Nadia is from Algeria, a country, Mario, described as unsafe for someone like him. The look of sadness in his eyes stuck with me. They have applied for a visa, so that she can come to Canada, but that seemed like a lengthily process. So for now they save up and meet every four to six months somewhere new. This time it was Denmark. He told me they had hired a car and were going to drive around for two weeks exploring my native country. I couldn't help but think how lucky I am, that I get to live with the one I love without any restrictions despite us being from different places.
As I strapped Caspian back in the carrier, I stepped aside to let Mario out first. The sweet, Swedish air-hostess on board our SAS flight said I should take my time with the baby, not noticing Mario's desperate need to get off the plane. When I pointed out that the poor guy hadn't seen his wife in six months, she jokingly asked if she should open the emergency exit. We all laughed.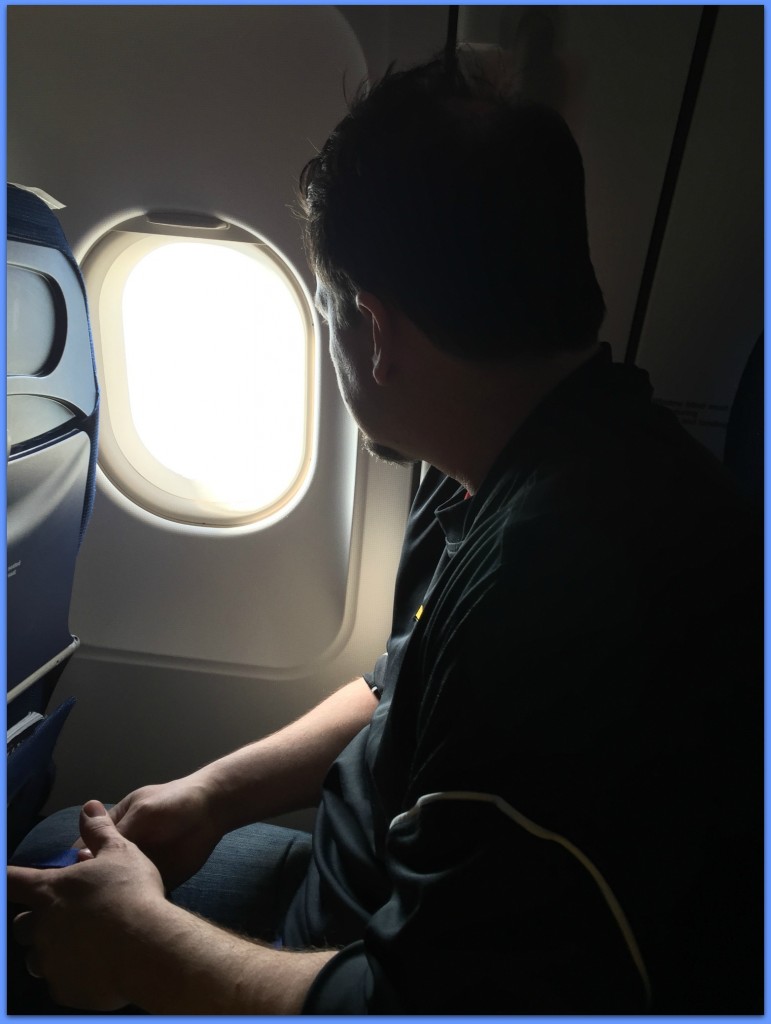 Mario staring longingly out the window as we approached Copenhagen Airport.
I didn't see Mario again, I don't know his last name, but I hope they had a beautiful time driving around the Danish country side. That their time in Scandinavia made them forget their complicated situation at least for a little while. And I wish him and Nadia all the happiness in the world and hope they are soon allowed to be together every day!
If you enjoyed this post why not check out Expressing My Fears! Or subscribe to never miss a post again.
I've linked up with the beautiful Honestmum for: