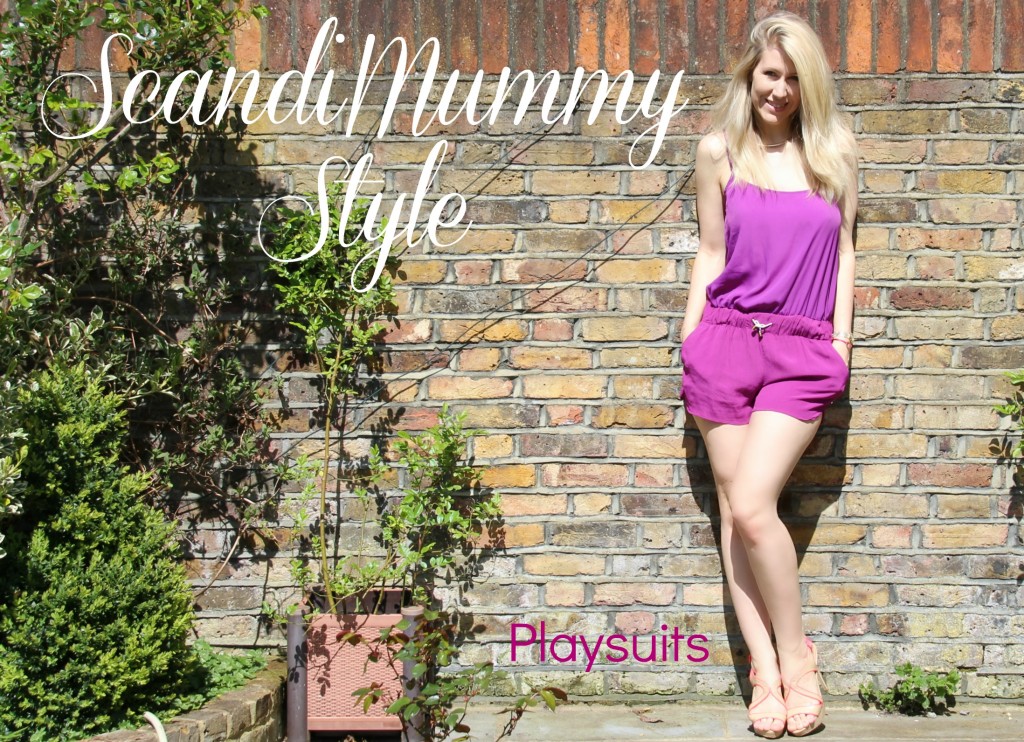 Without sounding big headed I thought it time to feature more of me on the blog. I love writing about Caspian and parenting, but after a year in the mother-hood I'm slowly starting to feel like myself again. Maybe a more sleep deprived, but much happier and in a lot of ways wiser (if you take baby brain out of the equation) version of myself. I've long wanted to write about style so I thought I'd set up a new series showcasing mine in all it's quirky glory. I'll also introduce some of my favourite brands both Scandinavian and British.
I'm by no means an expert, but I've always loved clothes and fashion, and as an actress I love dressing up. Surprisingly I feel more comfortable in my own skin since becoming a mum. And that's despite my wonky boobs. My left is alive and kicking, full of fun, where the right one has quiet given up on the milk front and succumb to a deflated destiny. Someone needs to design a customisable bra for breastfeeding mums like me, where each cup is fitted to the individual breast. Maybe with the option of adding an insert to balance out the two?!
This could be why I'm loving play and jumpsuits at the moment as they often have a looser fitting top, so the difference's not so obvious. And they are perfect for spring and summer.
So in best blogger fashion I've taken to classic brick wall posing. We're too far from Hackey for me to find an authentic background, so I've made the one in our garden work for now.
The first outfit I'm wearing is a jumpsuit from Zara. It a classic style in a gorgeous print and would work well for everyday use, though I have the problem that I can't breastfeed in this one, so will have to save it for child free days. Here I've paired it with some wedges from Dune and a Lipsy across body bag. I would team it with a navy blazer for more formal functions or work engagements.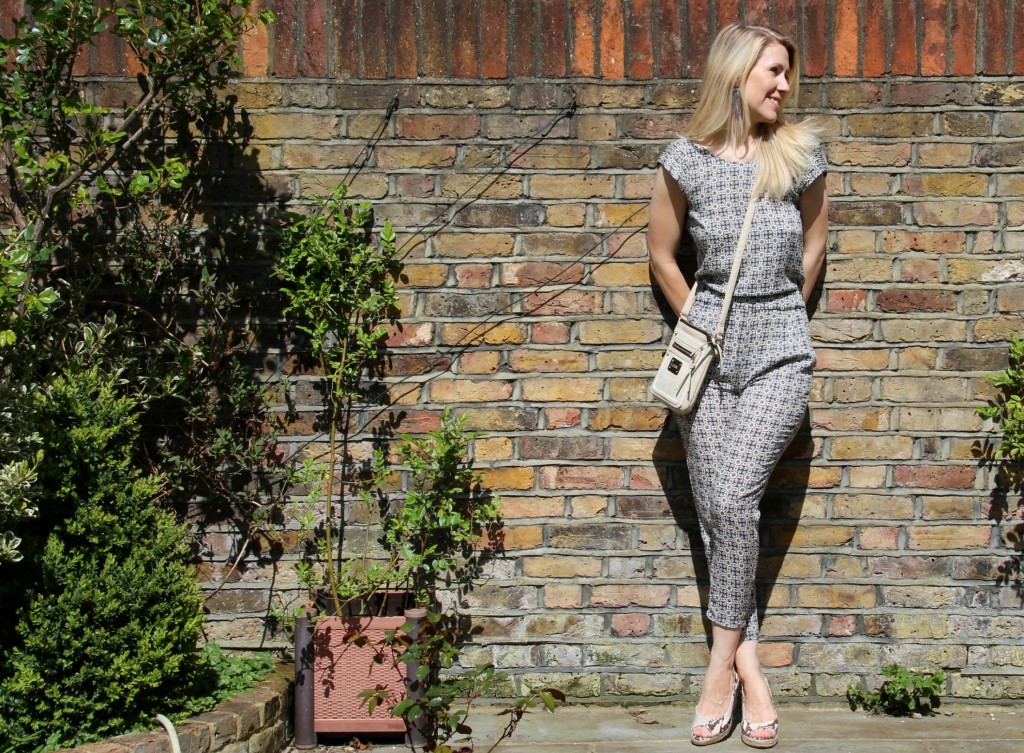 The next one I simply adore. I love the bright purple colour and the cut is very flattering. I suspect it might be handmade as there's no label in it. I found it in our local charity shop for £4 (!!) and I can't wait to wear it this summer. I'll team it with flip flops and a denim jacket for a day of playing in the park and with heels like here for a night out (wishful thinking!!) I've chosen simple gold jewellery and found my Merci Maman bracelet from last year's BritMums Live event matches perfectly.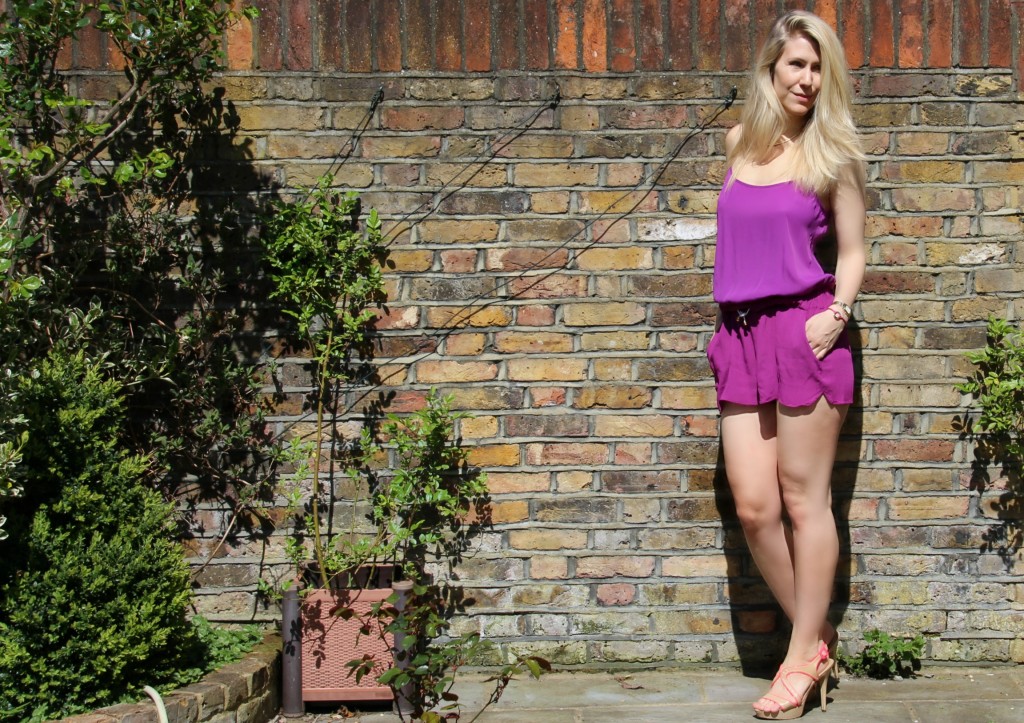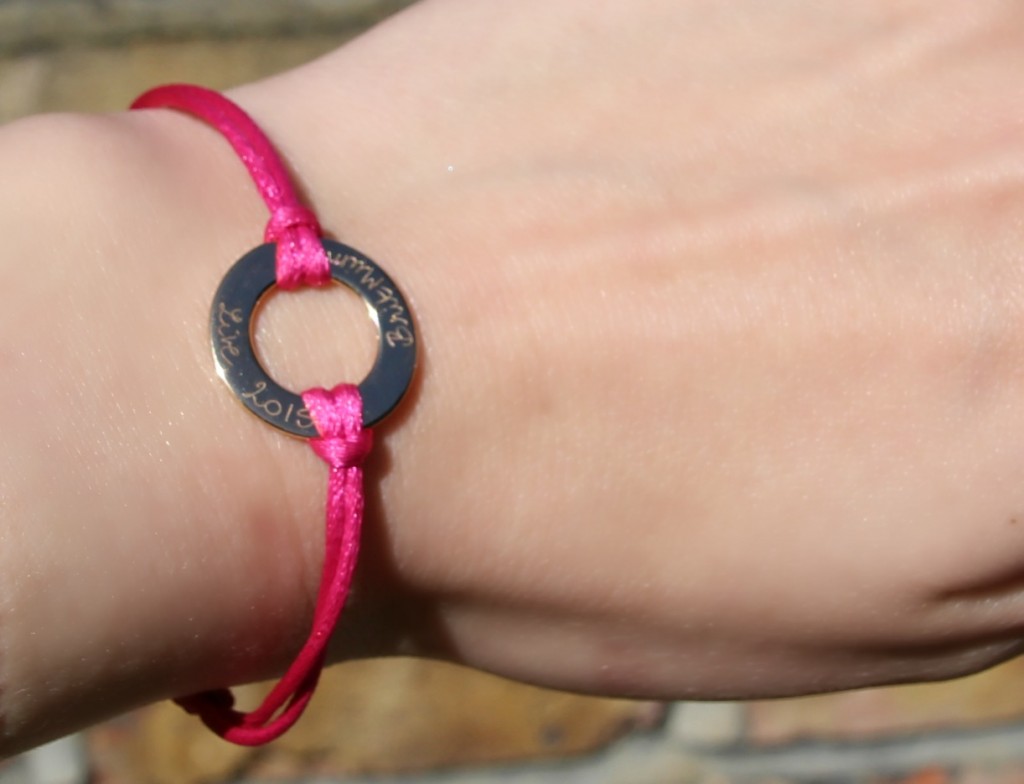 The last one is a funky Topshop denim playsuit, that's probably not so much my style anymore. I think it would be great at a festival with wellies and trusted Ray Bans or for a beach holiday, but I can't see myself strolling down the high street wearing this literately little number.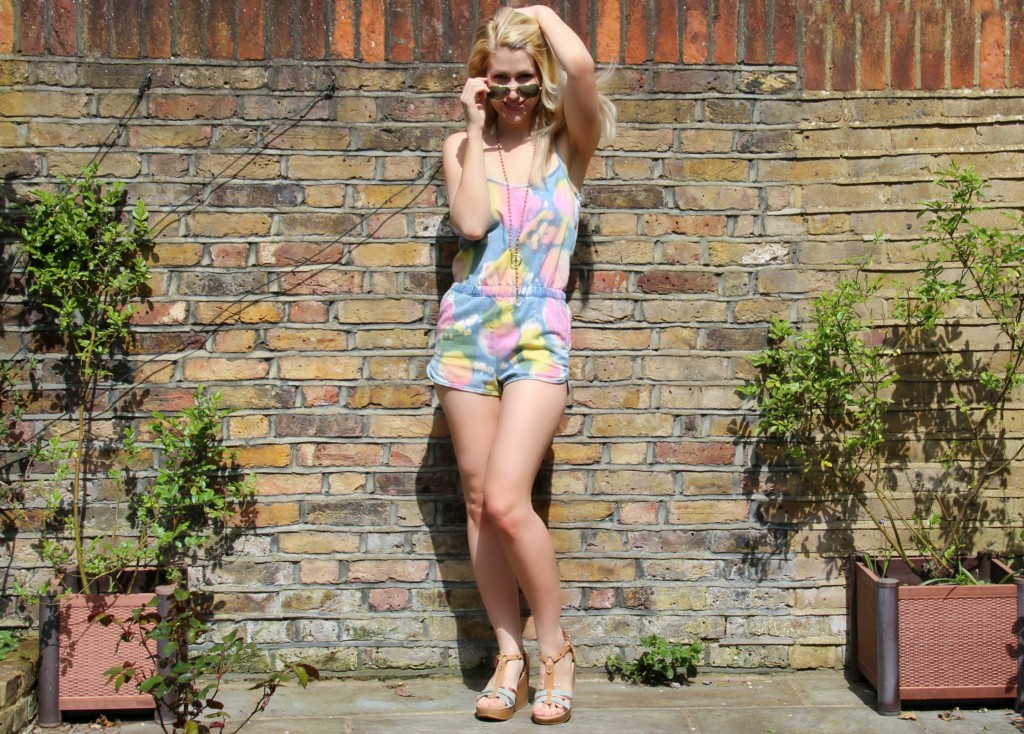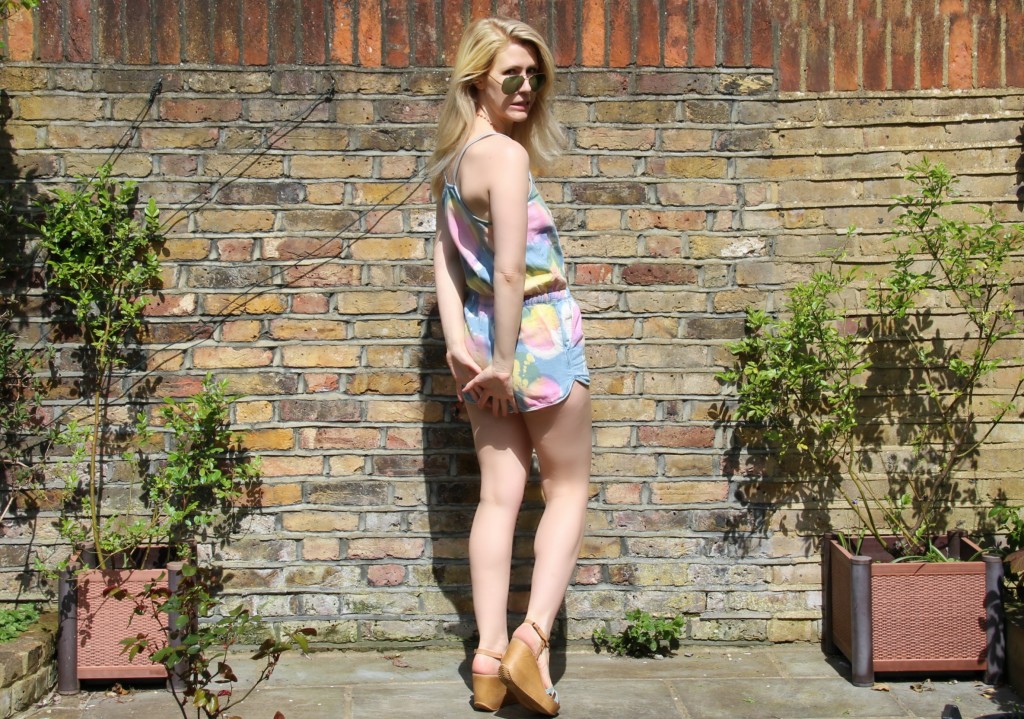 Between work and spending time with Caspian I rarely hit the shops so a lot happens online. I had a browse and here are some of my favourite play and jumpsuits available right now from high street retailers. What do you think?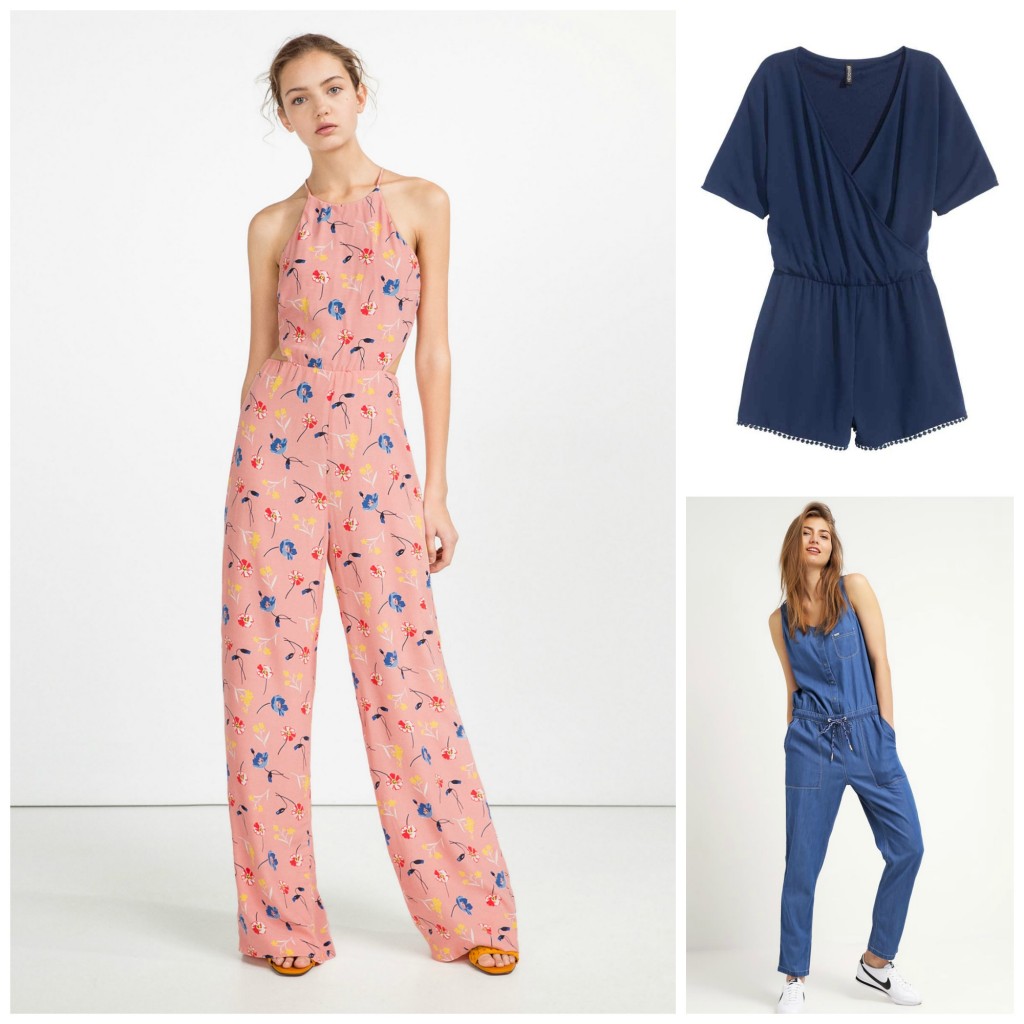 The pink jumpsuit is from Zara at £39.99 and perfect for a summer party or even a wedding, if you are not into dresses. The short navy playsuit from H&M is super cute and comes in white too (with a toddler I know that would never work for me though!) and is £19.99. Lastly the Lee denim suit is great for casual chic and with the buttons down the front it's perfect for breastfeeding. It's £105 on Zalando.
Do you wear jumpsuits? And what is your favourite piece of clothing?