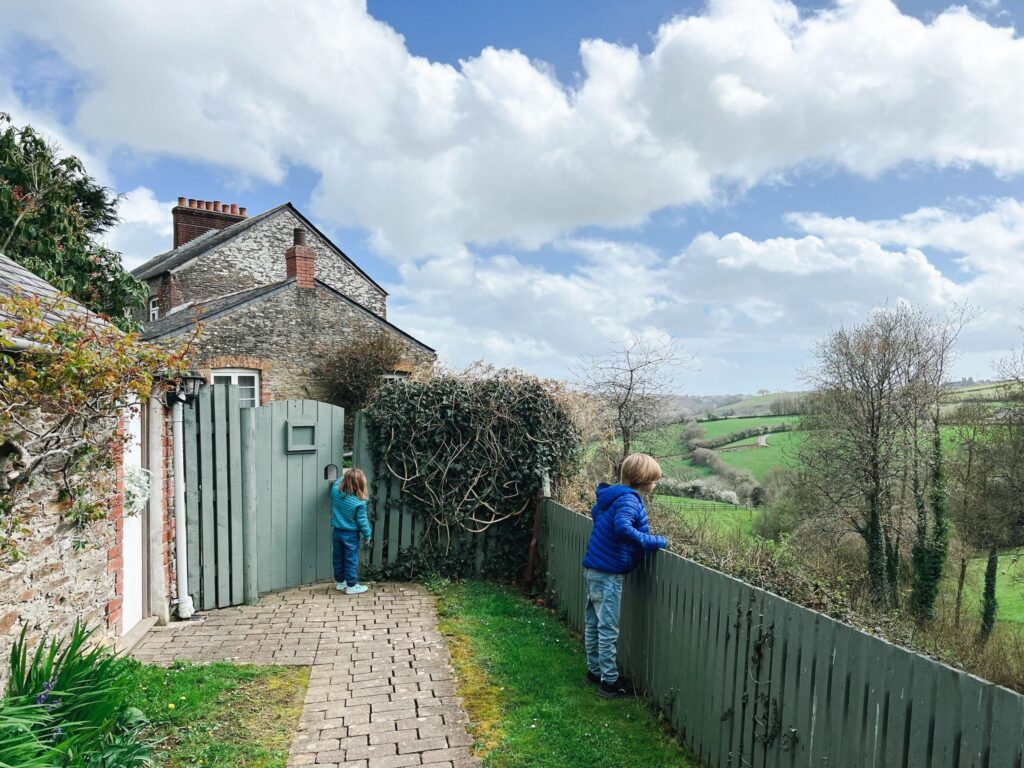 If you are looking for the best self-catering holiday in Cornwall, look no further than Treworgey Cottages. This place is truly a home away from home. A place to explore. A place to have fun. Somewhere to reconnect as a family while allowing each member their own space. This farm offers so much for everyone. Whether you are planning a summer break with your children or want a getaway as a couple. It's even dog friendly if you want to bring a four-legged family member. Treworgey near Looe in Cornwall offers tranquillity and everything you never knew you needed. Mention SCANDIMUMMY when booking and receive 10% off your first stay! Check availability for Treworgey Cottages.
We drove down from South-West London and while it was Easter weekend we didn't encounter any significant traffic on the M3 allowing for a smooth journey. There was something so magical crossing the Tamar Bridge and the Cornish countryside greeting you with its green rolling hills. As we approached Treworgey between Looe and Liskeard the boys were ready to stretch their legs and breathe in the fresh air. The restored award-winning Victorian cottages and farmhouses are beautiful and welcoming. A wonderful self-catering holiday in Cornwall and certainly worthy of their 5-star rating!
COTTAGES OF DIFFERENT SIZES WITH PRIVATE GARDENS
There are different sizes of cottages to choose from depending on your family's needs. From up to six bedrooms over several floors to one bedroom like Honeysuckle where we stayed. This is traditionally set up for two people but Treworgey were very accommodating in providing a foldout bed so the four of us stayed there comfortably. All cottages come with private gardens. These are fenced off which is ideal when you are travelling with young children as they can safely run around outside your holiday home.
A lot of care has gone into maintaining the gardens with gorgeous flowers in bloom. The lawn was freshly mowed when we arrived and there are several options for outdoor seating, not to mention dining when the weather allows. The views are just breathtaking and with a babbling brook on your doorstep this is a place to relax and wander, soaking up not only sunshine but the spectacular nature.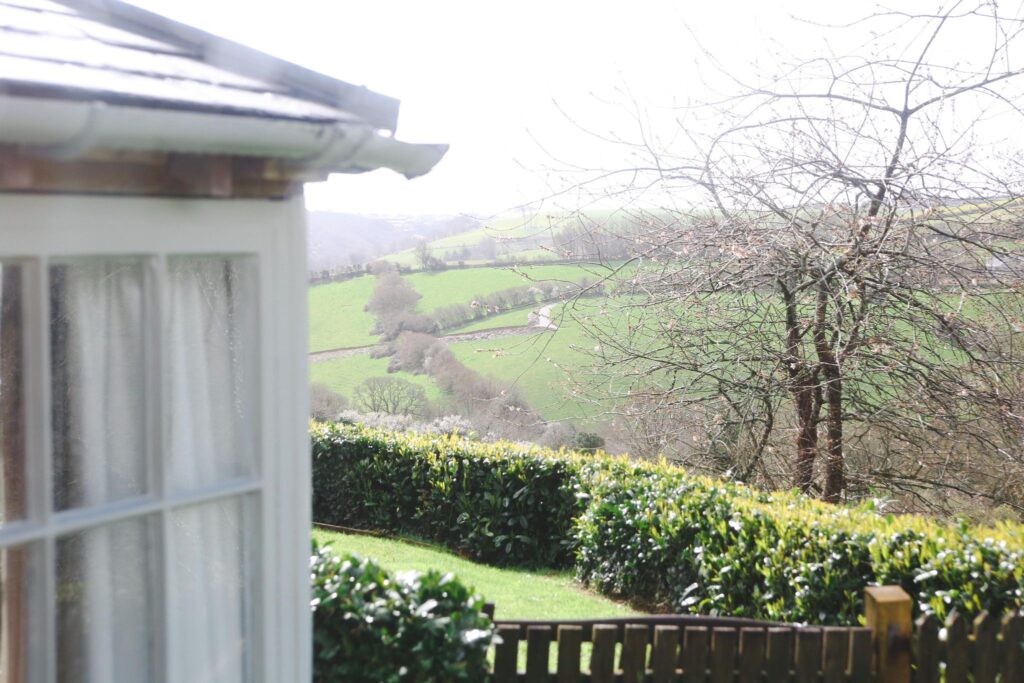 BEAUTIFULLY RESTORED VICTORIAN COTTAGES THAT FEEL LIKE HOME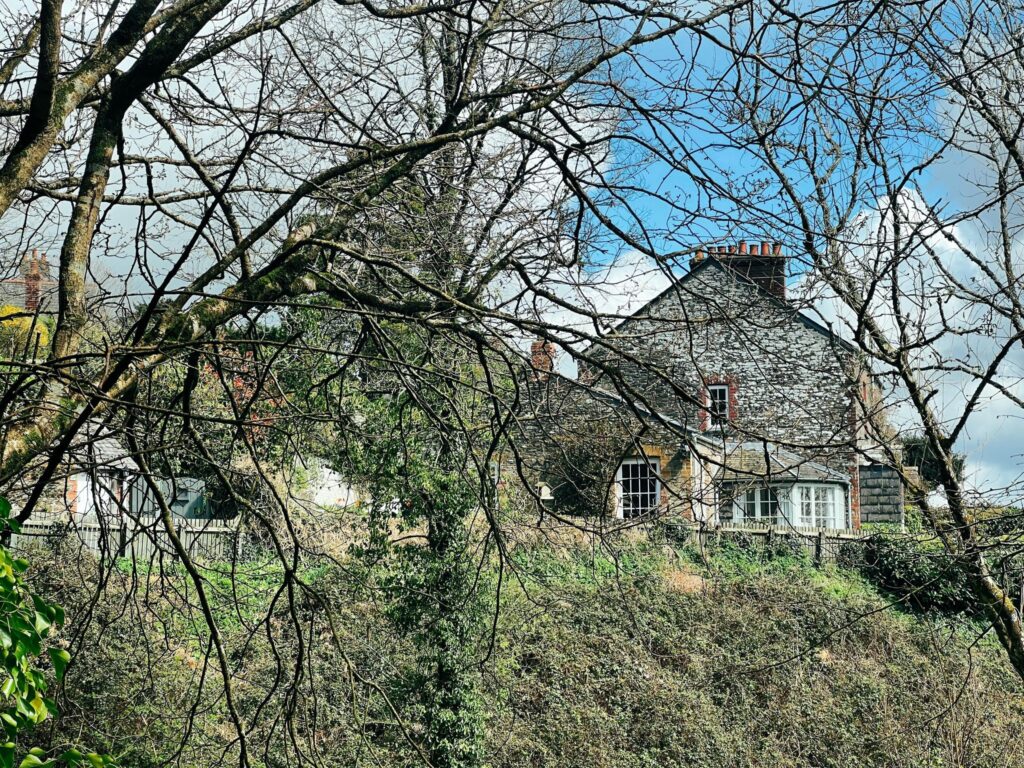 When you first enter you are greeted by a cosy living room with a working fireplace. A complimentary tea tray awaits you with a lot of Cornish goodies and homemade buns. Plus there's milk in the fridge so you can start your stay with a treat and a cuppa. Around the cottage, you'll also find fresh-cut flowers arranged in antique vases. Just a beautiful gesture that adds to the homely vibe of your holiday place. The first thing we noticed was how clean and well-organised everything was. Take your time to explore all this place offers just within your new living setting not to mention what awaits you throughout the farm.
We quickly settled in. There's good wardrobe space so you can unpack. The boys set their eyes on the huge four-poster bed and Daddy Long Legs was quick to get a fire going. Everything is supplied and there's log storage just around the corner from the cottage so you can help yourself to wood and kindling. As the April weather this Easter was a bit temperamental we loved being able to snuggle up by the fire when the rain fell outside.
DECOR, BEAUTIFUL LINEN AND FLUFFY TOWELS
The cottages are wonderfully decorated with antiques mixed in with more modern furniture. They ooze warmth. Whilst enchanting, not so precious that I didn't feel comfortable with the kids bouncing around. Lovely colours reflect the beautiful nature outside and you can spot a nod to the Cornish seaside as well. The bed was extremely comfortable and the linen can compete with top five-star resorts of the world. Thick, soft and perfectly ironed. Not to mention the huge gorgeous fluffy white towels. Both are provided for your stay and you can either bring your own beach towels or rent via Reception. There are lovely soaps and lotions in the bathroom and with a roomy shower and a full-length bath the bathroom is superb.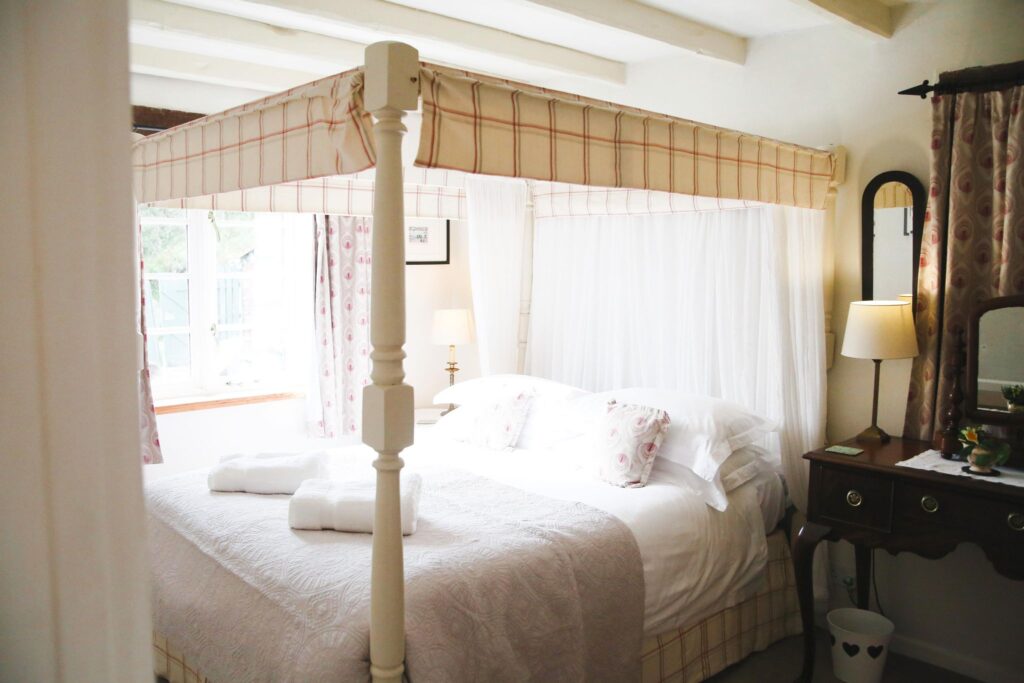 The set up of the cottages means you have a very private space yet should you wish to socialise it's easy to engage with your neighbours. Caspian was quick to make friends with the two lovely children next door and they had a blast playing tag in the gardens throughout our stay. It would also allow bigger families, several generations or friendship groups to come together and enjoy a week in each others' company here in Cornwall.
A KITCHEN WITH ALL MODERN APPLIANCES FOR THE PERFECT SELF-ACCOMMODATION STAYCATION
The kitchen is a clean and welcoming space. All cleaning supplies are there and most are eco-friendly which was lovely to see. You might not want to cook much while you are on holiday and Treworgey offers premade food through a collaboration with local service Coombe Kitchen. However, if you prefer to make your own, this place is extremely well-equipped. We decided to cook a lamb roast for Sunday lunch while staying at Honeysuckle Cottage and were pleased to find items such as a garlic press and potato masher. There's even a spice rack so you don't need to bring your own. Everything feels like new and was in perfect working order.
Modern essentials like a dishwasher, microwave and coffee machine and milk frother are all reasons this is on another level compared to some holiday homes. The title of Self-catering Accommodation of the Year at the Cornish Tourist Awards is more than well-deserved. This is exactly what you need for a fantastic self-catering holiday in Cornwall. There's even an AEG washing machine and dryer. Very practical when your children have spent the whole day outside. There's also a washing line if you prefer to dry your clothes and swimwear in the Cornish countryside air.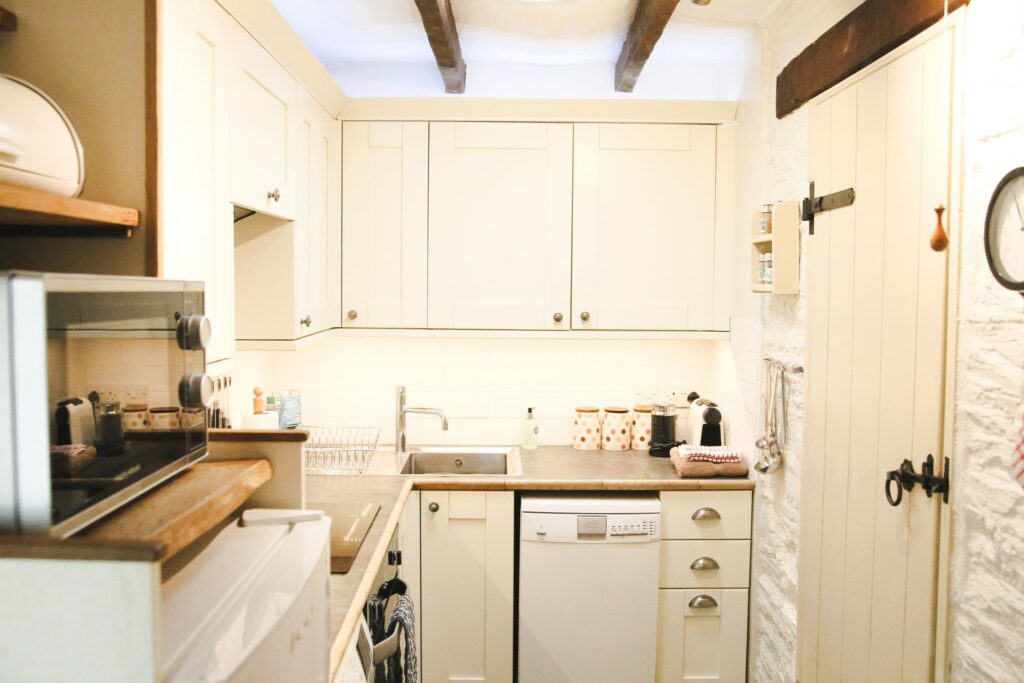 FARM SHOP AND CORNISH TREATS FOR YOUR SELF-CATERING HOLIDAY IN CORNWALL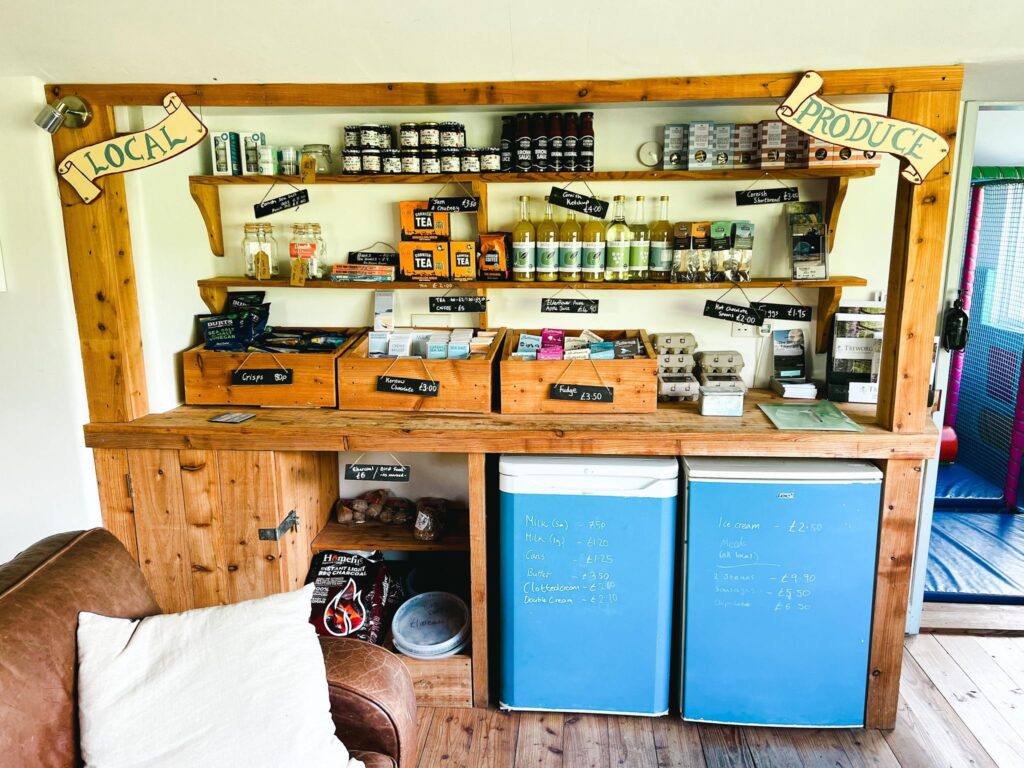 You can pre-order food to be delivered from all major supermarkets direct to your cottage. Or you can opt to try the homemade dinner options from Coombe Kitchen that then stocks your freezer prior to your stay. Not to mention provide a gorgeous cream tea and cakes every Friday. You can book breakfast hampers and Cornish hampers. There is also an impressive Farm Shop within the premises of Treworgey. Here you can buy essentials like fresh milk and eggs. Sausages, bacon and even streaks are available in the fridge for you to prepare at your cottage. Indulge in all the traditional Cornish treats like fudge and Cornish Ice Cream which is sold in individual tubs and many flavours. A big hit with the boys after a play session.
We also tried the homemade jams and Cornish Tea. Then there's juice, fizzy drinks and not to mention laundry pods if you didn't bring these and need to use the washing machine during your stay. Again so much thought has gone into everything to ensure you want for nothing during your break in Cornwall.
HEATED SWIMMING POOL AND HOT TUB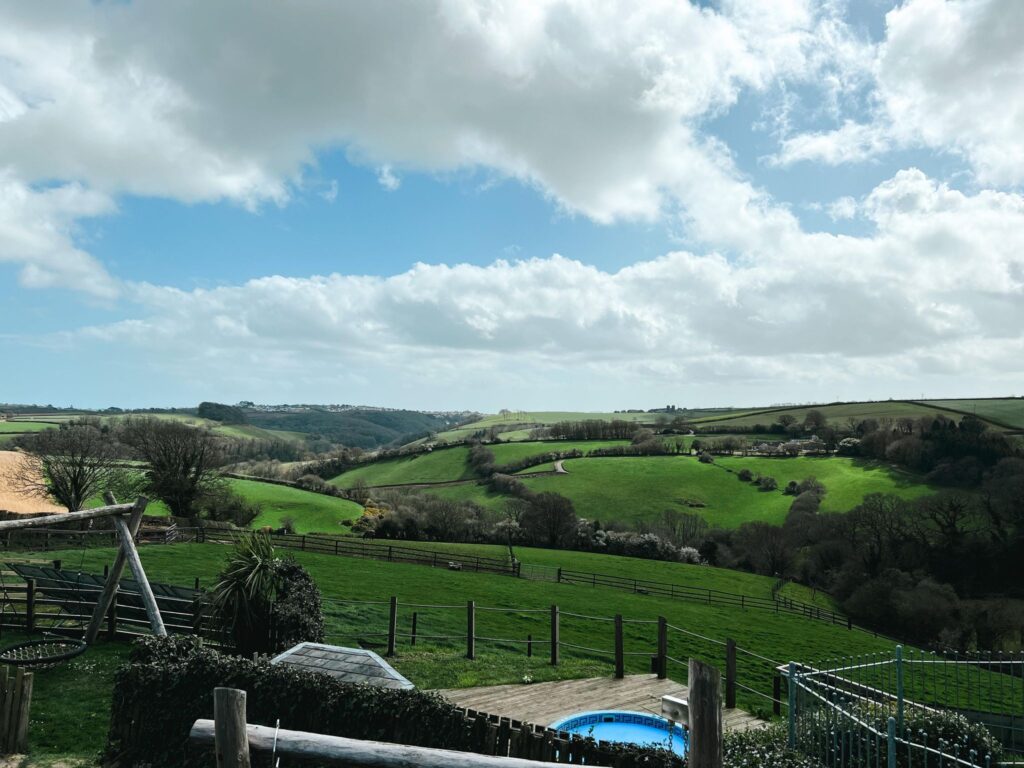 My boys love being in the water so the fact that Treworgey has a pool and hot tub is a big draw. The heated pool opens in mid-May and is available all through to the end of September. The hot tub is open year-round. It's situated near the sauna and steam room so you can comfortably get changed inside. It has a toilet and shower. Even a fridge with refreshments. The hot tub is very clean and well-maintained. Through a very easy online booking service, you secure your hourly slot. It's open between 9 am and 10 pm. Up to you if you book in the early morning and enjoy the spectacular views before breakfast. Or the late evening and get in the bubbles under the stars.
If you want to book some extra pampering during your stay at Treworgey they have their own spa room and therapist. Here you can have luxury facials and massages and feel even more refreshed.
OUTDOOR AND INDOOR ACTIVITIES FOR THE WHOLE FAMILY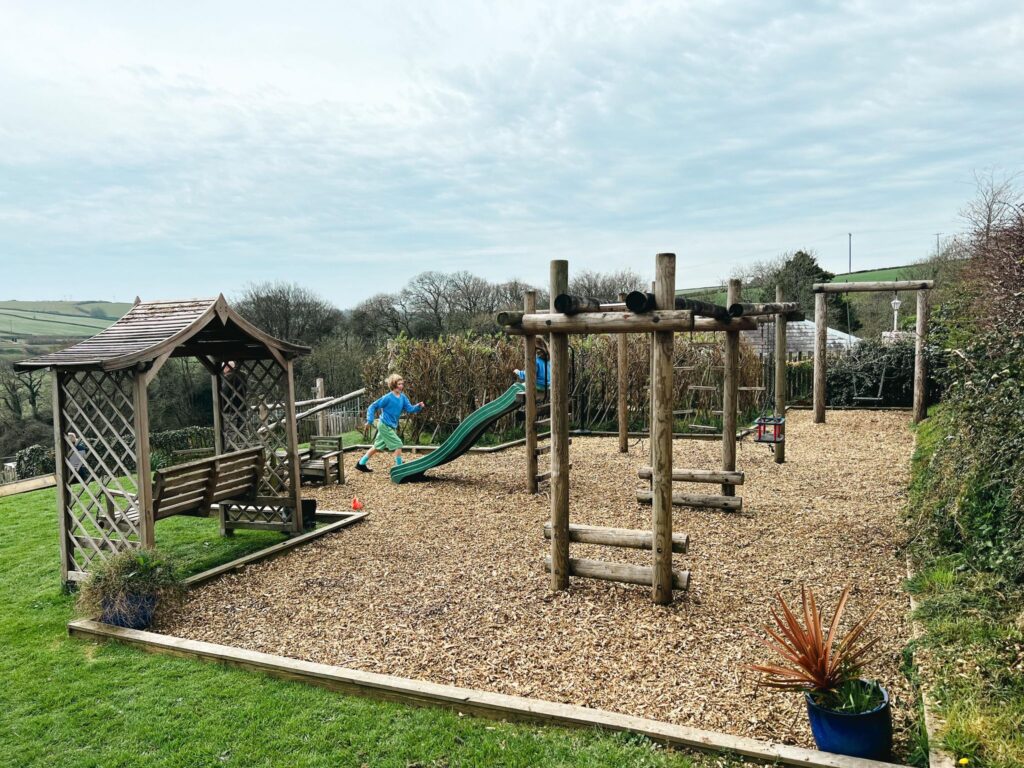 One of the boys' favourite areas was the huge playground. This play area has everything a child's heart could desire. Several types of swings. Two slides. A sand and water play setting. Plus a fun Wendy house. I love that it's primarily wooden constructions so it compliments the surroundings. The best part though is the views. I've never been to a playground where you look out on such a beautiful countryside. While they had fun playing it would often make the boys stop in their tracks and just take it in. There's also a swinging bench where you can rest and admire the views while keeping an eye on your children.
The way the whole farm is designed means that no area is ever overrun even when they are fully booked. Yet, it's perfect for the children to engage with and make new friends if they wish. After the wonderful Easter Egg hunt which Treworgey put on for free during our stay all the children went to the playground and played for hours.
PLAYROOM, SOFT PLAY AND AN INDOOR BEACH
Not only do they have so much to offer outside they also have several options for indoor entertainment. The huge playroom with a reading and games corner welcomes you with its impressive wall mural. You can borrow books and board games and bring them to your cottage. A large train track and a Wendy house with a play kitchen are also set up for your children's enjoyment. Plus there's a pool and a ping-pong table which we all enjoyed.
Next to the information room and the farm shop you find a soft play area, which Ossie loved. They have a garden play where kids can dig and a whole fleet of ride-on tractors. If all of that wasn't enough Treworgey has transformed an old barn into a huge indoor beach. Climbing walls and slides galore. Diggers and beach toys. Plus a huge net so you can practise your badminton, beach volley or tennis skills in the sand. Rackets and balls are there for the taking. This is ideal on colder days but I can see it being a great retreat on really hot summer days where you want to keep younger children out of the mid-day sun but still keep them entertained.
ANIMALS AT TREWORGEY FARM
Treworgey wouldn't be what it is without the amazing animal characters you meet during your stay. Whether it's a fast pheasant or an adorable wild bunny in your garden. The sheep in the field just below your cottage. Smokey, the farm cat, who comes to greet the visitors and if you are lucky curls up next to you on the sofa. Here you'll become acquainted with Moana and BamBam the pigs, the curious and naughty goats, the cuddly Guinea pigs and hilarious ducks, geese and chickens.
Every morning at 9 am you can help feed the farm animals and on a Tuesday Treworgey hosts Animal Antics led by the knowledgable Zoe who guides the children in how to care for them. They'll get to brush down the goats and pick grass for the pigs. They learn that the trotters love banana skins but not to feed them by hand as they can bite. For my two 'city-boys' this was great fun. I caught them 'communicating' with the sheep outside and Caspian braved hand-feeding the goats.
If you are a horse enthusiast then Treworgey is certainly the place for you. As a licensed riding school they offer riding lessons, Pony Club and Trotting Tots for children to join as well as a great introduction to life with horses. The surrounding landscape is ideal for exploring on horseback. Not to mention you can even bring your own horse if you have one.
INFORMATION ROOM AND SPORTS AT TREWORGEY
At Treworgey there are also other ways to keep fit. In the Information Room located opposite the Reception, you find everything you need from pamphlets on local attractions to maps and walking trails. Many wonderful routes start on your doorstep. Here you can also borrow fishing and crabbing gear to take to the piers in the nearby fishing village Looe. There's a boule set not to mention tennis rackets for the whole family. Like with the hot tub, it's easy to reserve the outdoor tennis court.
Here you'll also find a vast collection of films and DVDs to take back to your cottage for a movie night. Don't forget to open all the drawers which hold many fun surprises. There is even a large telescope if you want to study the night sky.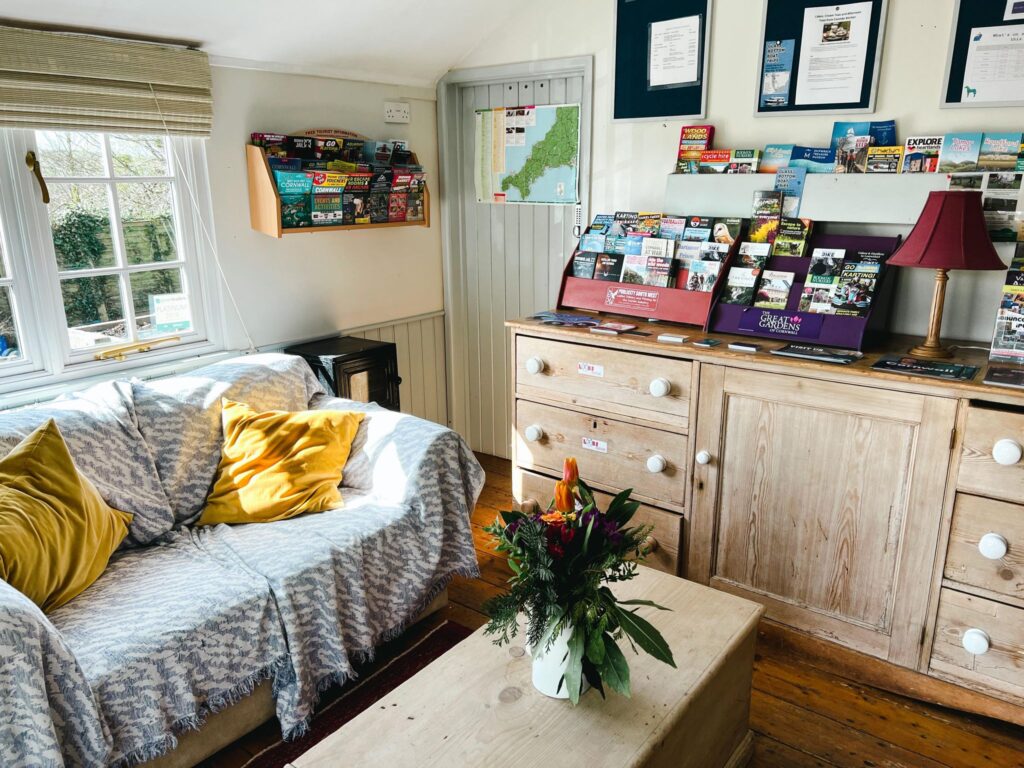 SUSTAINABILITY AND SURROUNDING NATURE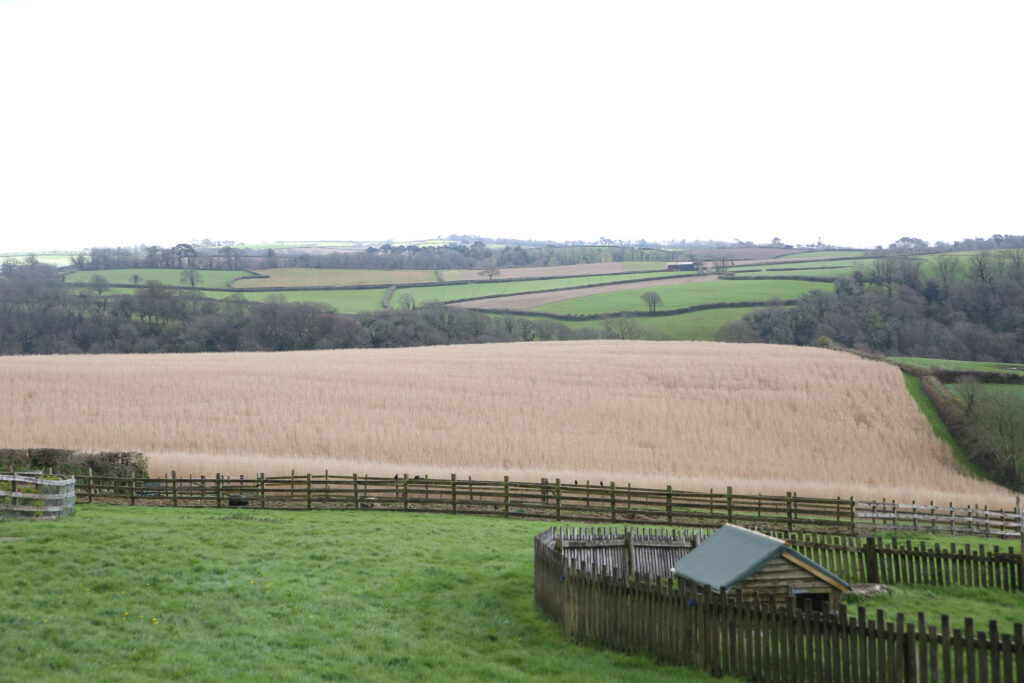 We were incredibly impressed with our stay at Treworgey Cottages. Like many of their guests, we will return. As a self-catering accommodation, they have thought of everything. Also, nothing ever seems like too much of an ask. When we realised we had forgotten to get garlic for our leg of lamb a whole bulb was presented at our door within minutes. Next time I'll be sure to go and simply forage the wild garlic which surrounds the farm and smelled divine. Everyone who works here is friendly and helpful. There is a true family feeling which fills the farm with the most welcoming of atmospheres.
Yet the thing that makes this place extra special is its focus on sustainability. They have a vegetable garden where you can help yourself in return for a bit of gardening. How amazing to teach your children and allow them to use locally grown produce for their dinner. I spotted rhubarb on offer so a crumble would be fun to make.
Treworgey Farm grows its own biofuel. This, along with solar panels that help heat the hot tub makes them completely self-sufficient when it comes to energy consumption. They also have a wind turbine making this place geared for the future. With strong WIFI supplied to all cottages, you are well-connected during your stay.
Mention SCANDIMUMMY when booking and receive 10% off your first stay! Check availability for Treworgey Cottages.
Disclaimer: We were invited to stay at Treworgey for the purpose of this feature. All words, opinions and photographs are my own.