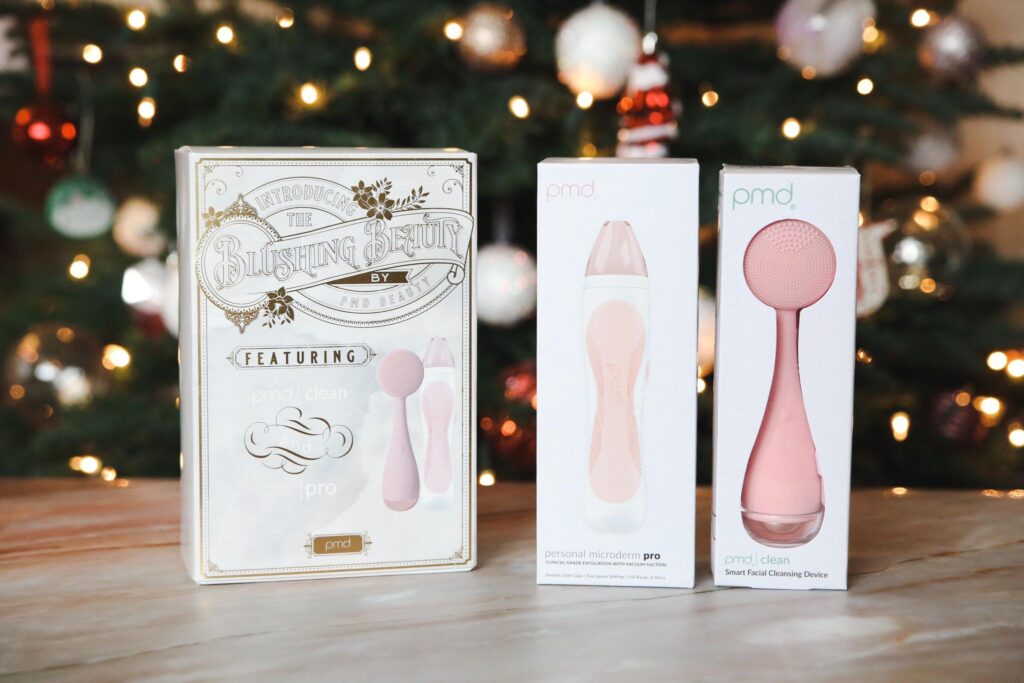 As we start the month of December I want to share with you some unique Christmas gift ideas. I'm very much for not giving for the sake of giving. Instead, find useful and unique presents that the receiver can use again and again. Something that will make their life easier. Give a gift of love that will benefit their well-being. Something that will make them smile every day.
We are fortunate to collaborate with wonderful brands and I love trying out new products and bringing you the very best. This year we will just be the four of us. Travel has yet again become a bit complicated. I hope that 2022 brings us lighter days in every sense of the word and that we can all celebrate with friends and family soon. If you are not seeing loved ones this Christmas you can still show them you are thinking of them by sending many of these gifts directly.
GIVE GLOWING SKIN THIS CHRISTMAS WITH REJUVENATED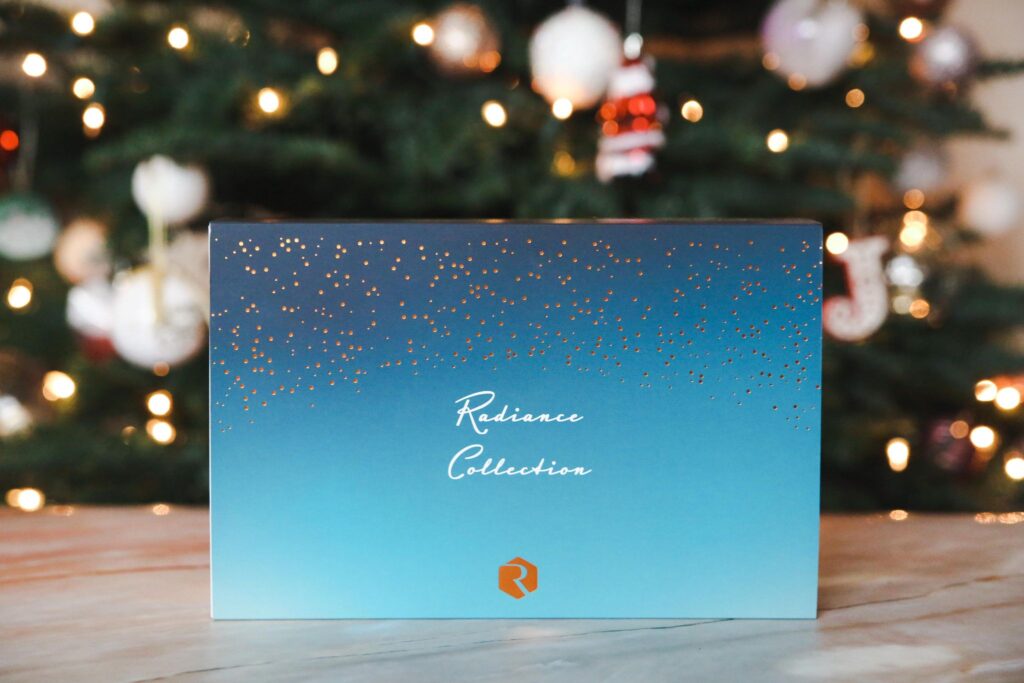 This has been one of my best discoveries of 2021. The stress of everything plus not prioritising myself meant my skin looked tired even after the summer sunshine. I've been testing out the Radiance Collection by Rejuvenated for the past couple of weeks. My skin has never looked this glowing in winter before. It's more plump and soft to the touch. If you want to see the transformation head to the highlight on my Instagram profile.
Included in this beautiful gift box is their multi-award winning Collagen Shots, the revolutionary supplement drink H30 Hydration, the H30 Night Repair and their Skin Perfecting Complex capsules. In the past, I haven't been good at regularly taking supplements. Probably because I didn't see any results right away. With Rejuvaned and their Radiance Collection, it's been easy and I can say I haven't skipped a day. The results speak for themselves and this would make a wonderful gift to see anyone through the tough winter months.
THE BLUSHING BEAUTY SET BY PMD BEAUTY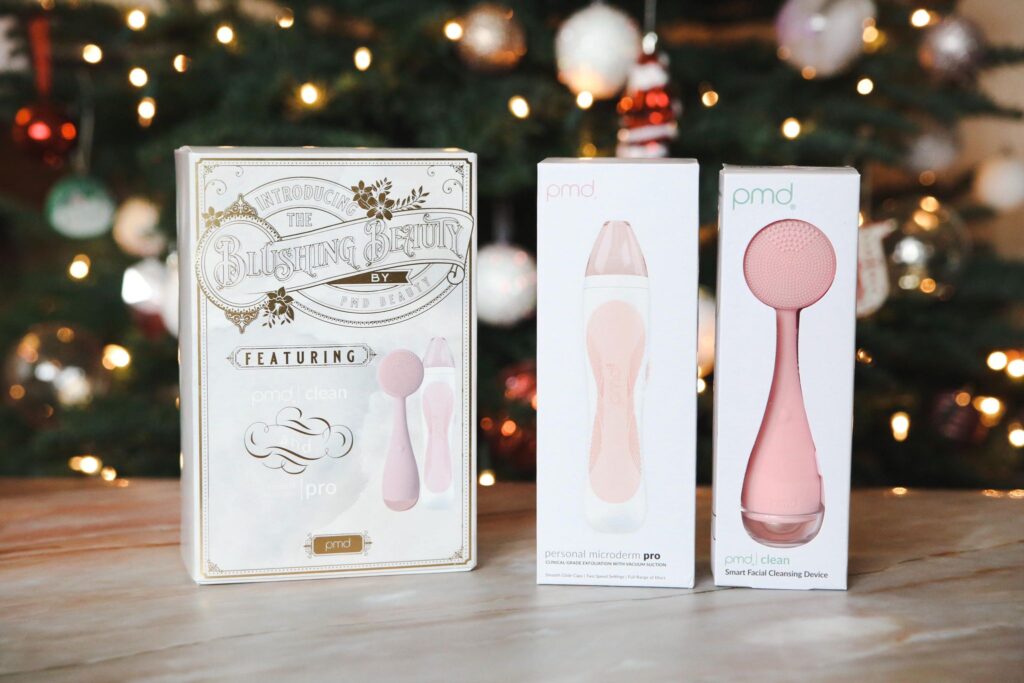 Another element I've added to my skincare routine is the Blushing Beauty set by PMD beauty. This brilliant gift box contains two advanced skincare gadgets. PMD is renowned for its expertise when it comes to at-home microdermabrasion. The quality of their tools replicates that used at salons. This allows you to achieve glowing skin within the comfort of your own home. The PMD Clean is designed to be used on a daily basis and the Personal Microderm Pro is for weekly exfoliation. I love the PMD Clean and it's also ideal for massaging serums into your skin. The set is suitable for all skin types and even recommended for blemishes. I have some dark spots which I'm hoping to tackle over the winter months. This gift set is exclusively available from Harrods.
SKINCARE SET FROM GRUM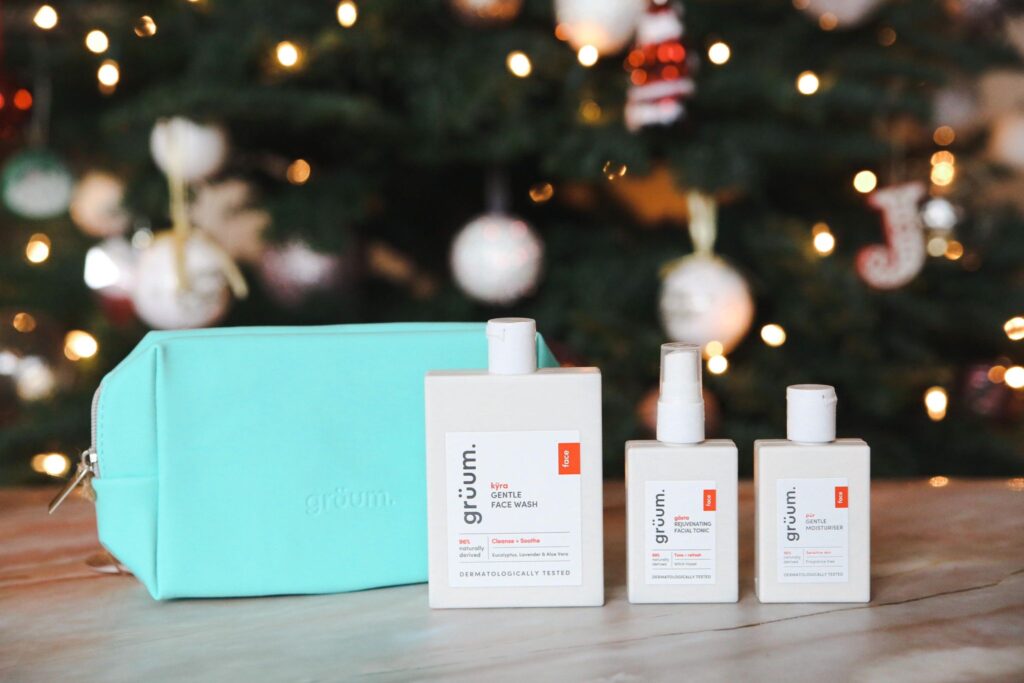 Replenish and rejuvenate your complexion with the grüum Skincare Saviours Gift Set. This gorgeous gift set contains a gentle face wash, face tonic, gentle moisturiser and a sustainable wash bag. Presented in a beautiful gift box you can send this straight to a loved one.
The gentle foam cleanser helps to nourish your skin while leaving it feeling clean and refreshed. The gösta Facial Tonic is infused with witch hazel, this powerful tonic helps to minimise the appearance of pores while toning your skin. Lastly, the pür Gentle Moisturiser is a lightweight formula that gently envelops your skin in moisture leaving you with a healthy-looking complexion. The sustainable washbag is made from 12 reclaimed plastic bottles. An ideal place to store your skincare essentials both at home and when travelling. I love that the products are unisex and the minimalist design is beautiful and easy to display on your bathroom shelf.
ENJOY MORE BUBBLES WITH DRINKMATE
Speaking of sparkling then Drinkmate is sure to be a bubbling hit in 2022. With this clever machine you can not only make sparkling water at home you can do so much more. It's such a clever machine that is easy to use. It takes up limited space yet will cater to all your family's needs. Their specially engineered system lets you carbonate almost anything. Now you can easily add tasty sparkle to water, juice, iced tea, cocktails, wine, and more! With Drinkmate, you can be creative and explore new sparkling drinks that weren't even possible to make before. And you control what goes in them, so you can avoid excessive sugar and harmful chemicals.
With two young children who like most kids enjoy carbonated drinks I like that I can control what they drink. Instead of them having sugary beverages I can now make healthier choices that they still think are fun and bubbly. Also, perfect for the holiday seasons when friends and family come to visit.
CREATE AN AMAZING HOME SPACE WITH INK & DROP
I've been a fan of Ink&Drop for years and you can spot their print in shots from my office over on my fashion site Dressed for More. They create high quality, beautiful art prints for your home and office. Their styles range from street art, botanical art, customisable prints, to Scandinavian minimal prints. There is something for everyone.
Their posters are all designed in-house by their own designers and artists, with backgrounds in graphic design and fine art, so you can be sure the artwork on your walls will be as unique as the rest of your home. I fell in love with these vintage bird prints. I can't wait to surprise Daddy Long Legs on Christmas morning and for the boys to try and spot the same birds out in the garden. Ink&Drop also offer a framing service so your prints arrive ready to hang.
SAVE TIME AND FIND YOUR THINGS WITH TILE
Studies have shown that many of us have suffered brain fog due to the pandemic. This will often result in forgetting what we were doing and where we've left our belongings. If you are anything like me you'll misplace your keys, bag or phone several times a day. Nothing worse than chasing these as you are about to leave the house. Tile will become your new best friend and their new power pack with both a tile and a thin tracker for wallets, cardholders and handbags mean you'll never lose anything around the house again. A huge selection of funky designs to choose from like this gorgeous green Jewelscape.
WIRELESS REBEL EAR BUDS FROM HOUSE OF MARLEY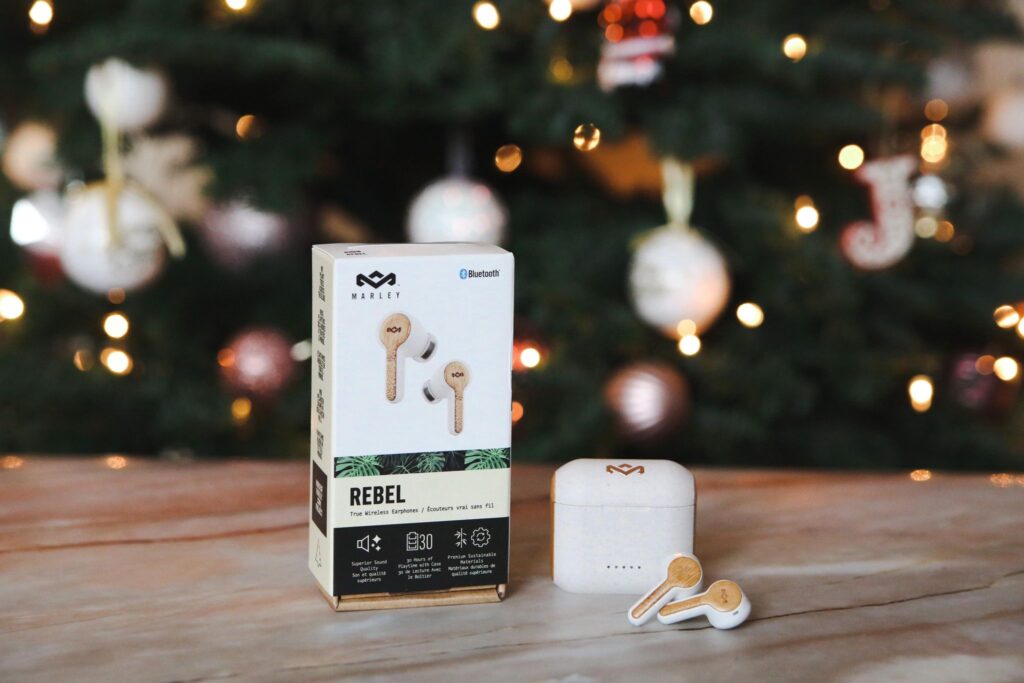 While working more from home with the kids and Daddy Long Legs around I've realised that wireless earphones are a must. It's much easier to jump on a call, listen to podcasts or simply take a moment and watch a bit of Netflix without being disturbed. These wireless earbuds from House of Marley are not only beautifully designed they are highly functional, too. Crafted using sustainable materials they hold up to 8 hours of battery life and 30 hours with the case. They are sweat and water-resistant and have ear housing touch control. Not to mention call noise cancellation and wireless charging.
CARRY EVERYTHING YOU NEED WITH THE LUCA LUNA SLOUCHY TOTE FROM FENELLA SMITH LONDON
I was recently introduced to British brand Fenella Smith London. Stylish bags made from vegan leather. From elegant to more modern and always practical. This is the perfect everyday go-anywhere bag. It's certainly big enough to fit anything from books to a laptop, your make up bag and if you are a mum like me your kids' toys. Choose from soft cream, brown or black. The bag comes with an adjustable strap and cotton lining with a zip pocket and all kept secure with a single zip fastening. The Luca Luna Slouchy Tote is a winner.
SHOP STYLISH ACCESORIES FROM DANISH DESIGNERS AT TRENDHIM.COM
If you are looking for great design then nobody does it better than the Danes. Trendhim.com is a site with the best belts, gloves, scarves and other accessories for any stylish gentleman in your life. I've ordered Daddy Long Legs are beautiful pair of leather gloves and a new belt which he desperately needs. The site is easy to navigate and they have a superb selection for any occasion.
GREAT READS FOR THE NEW YEAR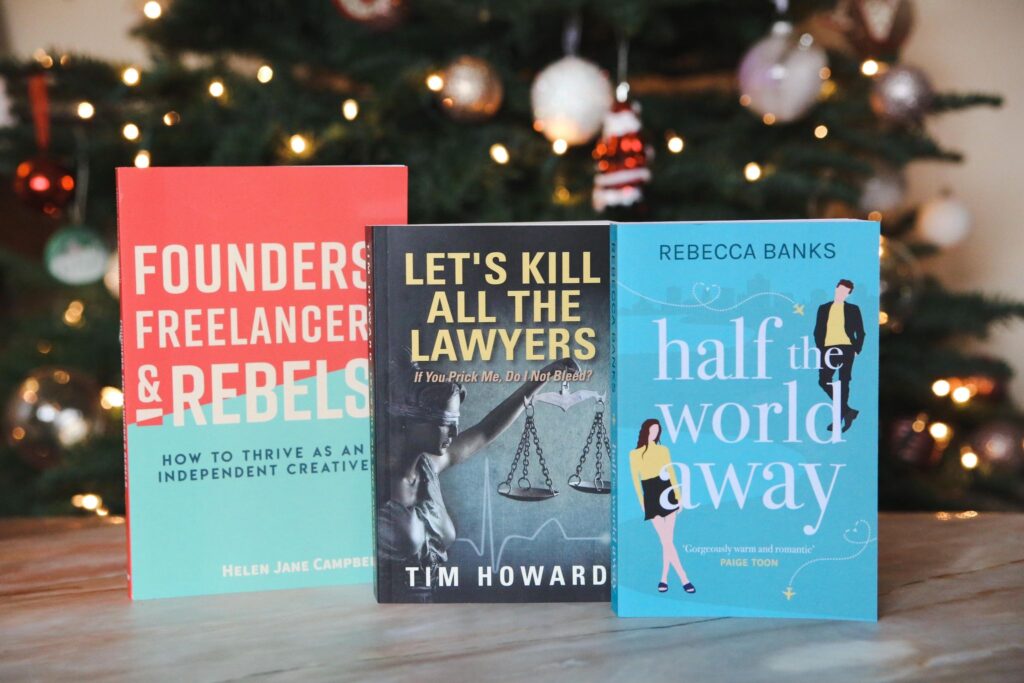 One of my vows for 2022 is I want to read more. These three titles are a great start if you are in the same boat. Whether you know an entrepreneur that could benefit from some inspiration or someone who enjoys a good romantic comedy with a few twists these new books have something for everyone.
Freelancers, Founders & Rebels by Helen Jane Campell is a series of interviews with inspiring, brave and creative experts across the UK and US. Bringing us some incredible insights and pulling them together into this friendly guide, that offers support which everyone working for themselves need from time to time. If you or someone you know need fresh perspectives and their fire ignited for the new year, this book is the best way to start 2022.
Let's Kill All Lawyers by Dr. Tim Howard is a thrilling and intricate story. It explores the difference between the law, justice and fairness, and how it affects the lives of ordinary people who are doing their best in difficult circumstances. This is a story about failure loss and final resolution, both personal and professional. I personally love stories about humans, in all their glory and with all their flaws. A perfect book to keep the receiver entertained over the holiday season while also questioning what is right and what is wrong?
Half the World Away by Rebecca Banks is a life-affirming and warm romantic novel. Following the ups and downs of Abbie Porter, we are taken on a journey as she discovers herself, love and life. Author Rebecca Banks owns a boutique public relations agency specialising in sports and entertainment and has 20 years of experience in PR and events. She is also a freelance journalist. For over a decade she has written features from celebrity interviews and human profile pieces to motoring and travel reviews. Half the World Away is her debut novel. Grab a cup of tea and snuggle up this winter with this heartfelt portrayal of a woman and her life choices.
HAND SANTISISER TO TAKE YOU INTO 2022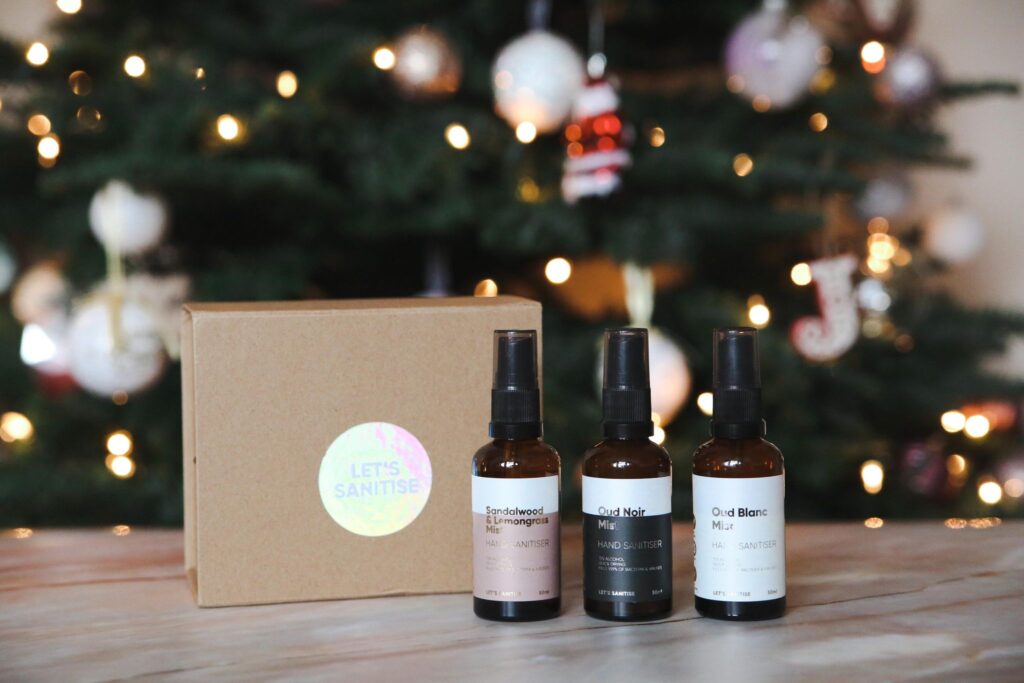 Hand sanitiser has become one of those things that we all now carry. In these strange times, how can a gift guide be complete without hand sanitiser? Yet, the ones from Let's Sanitise are no ordinary sprays. These smell divine and look super chic. Sandalwood is Daddy Long Long's favourite scent so this luxurious gift set is perfect for him. Made with75% Ethanol the sprays kills 99.9% of bacteria and viruses. They are also vegan-friendly and made here in the UK. Gentle on the skin they are also approved by the World Health Organisation. A beautiful and very practical gift that the receiver can use every day.
Disclaimer: This guide includes gifted products. All words, opinions and photographs are my own.