I meet many people who dream of visiting Scandinavia and in particular my hometown of Copenhagen. I don't blame them, it's as wonderful as the song says. I tend to recommend going in the summer, as the city has so much to offer then, especially if you are travelling with kids. Though it is not entirely fair to exclude the capital of Denmark (or any of the other Nordic countries for that matter) as a holiday destination in the colder seasons. And there is something truly magical about the place at Christmas time.
In Copenhagen you'll find a beautiful Christmas market in the world's oldest amusement park, Tivoli Gardens. And if you visit Stockholm, Oslo or Helsinki in November or December you'll find beautiful stalls with handmade decorations, traditional sweets and Christmas cakes.
But if you are not able to travel abroad this year you can still get a taste of Scandinavian tradition and seasonal style by visiting one of the Christmas markets right here in London. Even though we're a couple of months off actual Christmas, I have put together this guide of dates and places in November for the chance to enjoy a glass of Glögg (traditional mulled vines) and an Æbleskive (apple dumpling) or a Klejne (Danish Christmas cookie) while browsing beautifully crafted decorations and winter garments for old and young a like.
FINNISH AND NORWEGIAN SCANDI MARKET @ Albion Street
Taking place from the 20th till 22nd of November, this is the biggest and most well known of the Scandinavian Christmas markets. It stretches between the Finnish and Norwegian churches on Albion Street in East London, and you'll find anything from delicious treats to life-size Moomins walking about. Inside both churches you'll also find stalls and entertainment. It's definitely worth a visit if you are after Scandi design.
SWEDISH CHRISTMAS MARKET @ Svenska Kyrkan on Harcourt Street
Starting on Thursday the 19th of November and running until Sunday the 22nd with the exception of Friday the 20th you find delicious Swedish food like varmkorv (sausage) and pepparkakor (Christmas cookies) as well as decorations and gift ideas you will not see on the high street.
For more information and specific opening times please visit the website.
Admission is £2 though children under 12 go free
DANISH CHRISTMAS MARKET @ KFUK London
Taking place on the weekend of the 28th – 29th of November from 11 am – 5 pm (closes at 4 pm on the Sunday). Address: 43 Maresfield Gardens, Hampstead, London NW3 5TF.
Here you'll find all the traditional Danish yuletide treats and can join in the hygge, our special word that is so hard to translate and basically needs to be experienced in order to be understood!
Admission is £2
SCANDI CHRISTMAS MARKET @ The Sparrowhawk Pub, Crystal Palace
Lastly, if you have visited the bigger and more traditional markets previously and you're looking for something a bit different this year, you might want to check out this trendy newcomer. It's an intimate affair run by a group of London mums with Scandinavian roots. Set in The Sparrowhawk Pub in Crystal Palace on Saturday the 21st of November you'll find unique brands like:
BoNordica, a Scandinavian interior design store
Nativ Scandinavia selling beautiful and stylish children's wear
Karin Dahl Backa designing gorgeous art prints
Ada Nuttajarvi specialising in origami gift items in leather and paper
Laura Glassar designing jewellery
You can munch on some yummy handmade cakes and buy decorated gingerbread houses from Billie's Home Made Cakes while enjoying a glass of Glögg or bubbly. And entertainment will be provided by Danish music duo Crush.
Admisson is free!
Find all the information you need on the poster below.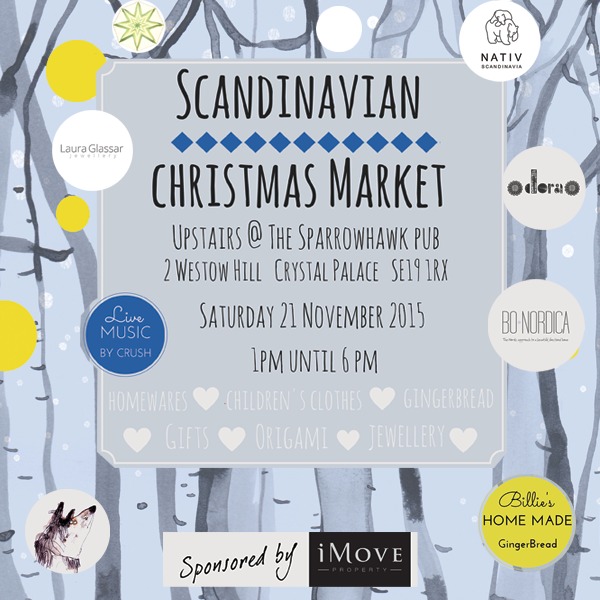 Will you be visiting a Christmas market this year?