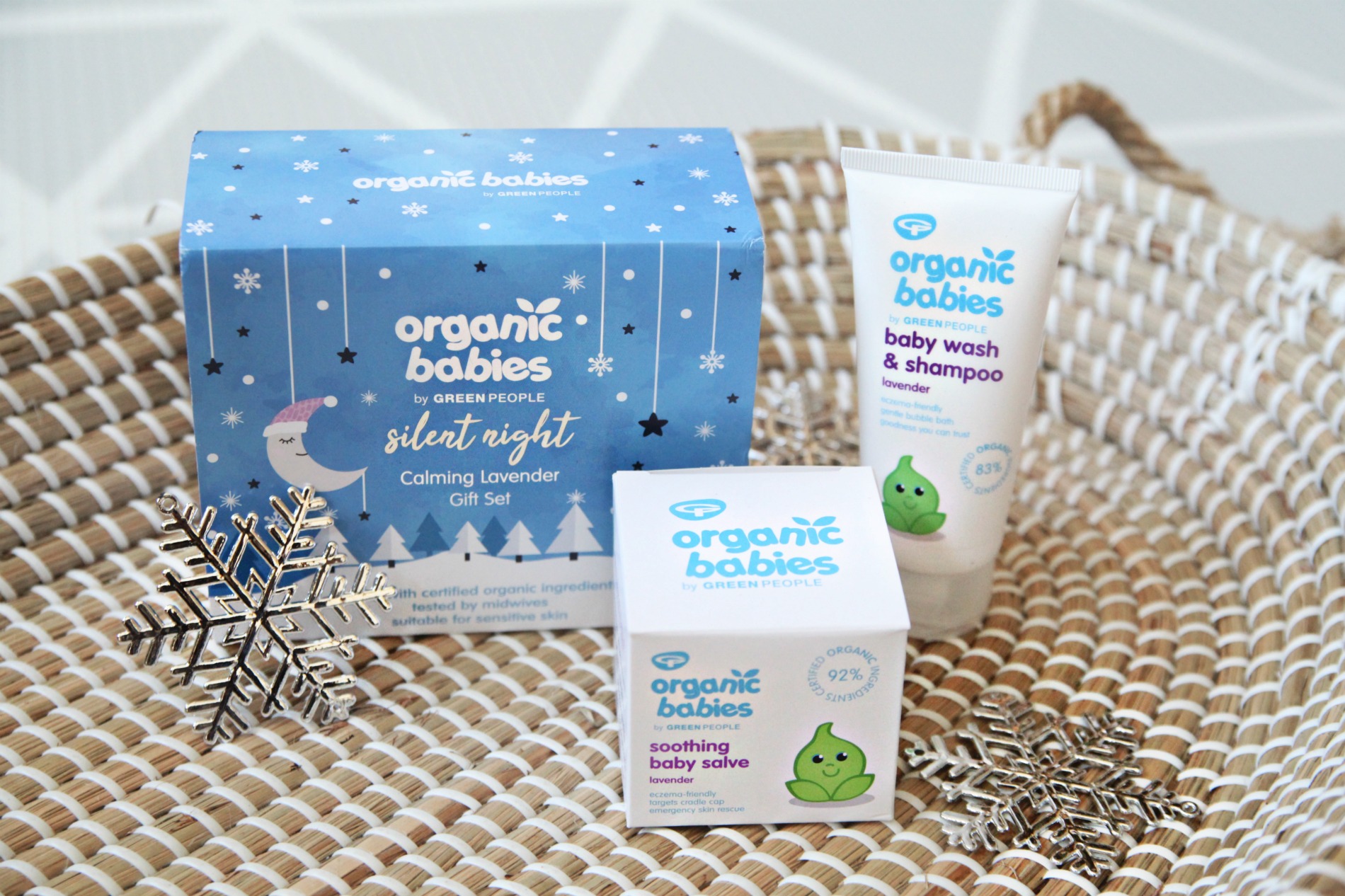 With Orsino's arrival this summer I'm suddenly looking at finding gifts for two little boys this Christmas. Now let's be honest babies are none the wiser on the morning of the 25th (or the eve of the 24th if you celebrate in Scandinavia) but if you love getting into the Christmas spirit like I do it's more fun if there is a little something for them, too. Plus if you have older children, like we have Caspian, they will love getting their little brother or sister a gift and help them open it. This guide is a mix of practical and fun from some of our favourite baby brands.
CUTE GIFTS FROM REX LONDON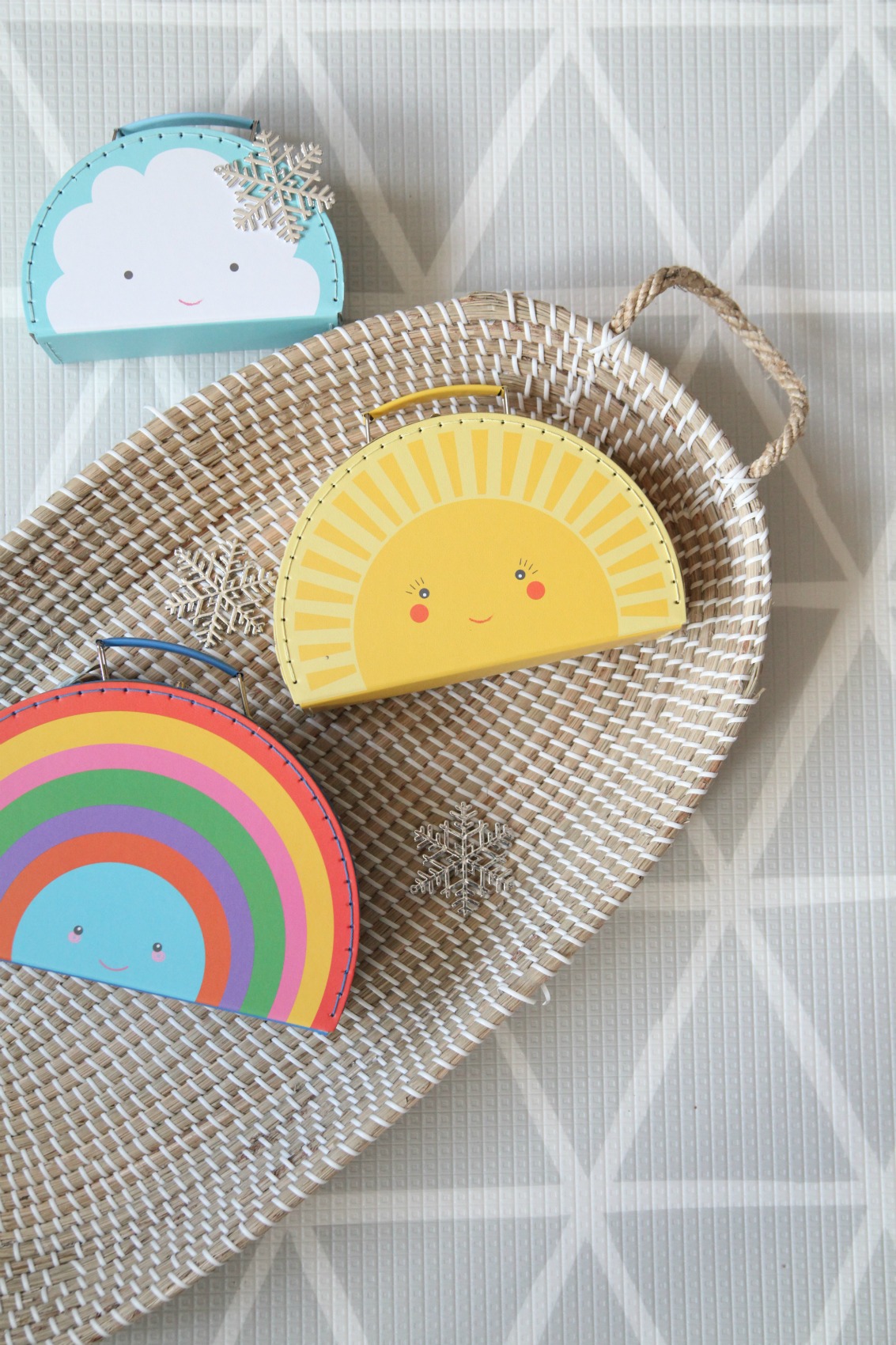 We've been fans of Rex London's adorable designs for years. They started out on Portobello Market in Notting Hill and is now an established name when it comes to cute gifts for children and adults alike. Their trio of suitcases is a great addition to a nursery and can be used for storing toys later on. Another sweet stocking filler for a baby would be their animal music box. It plays a little tune and we know that music is always a winner.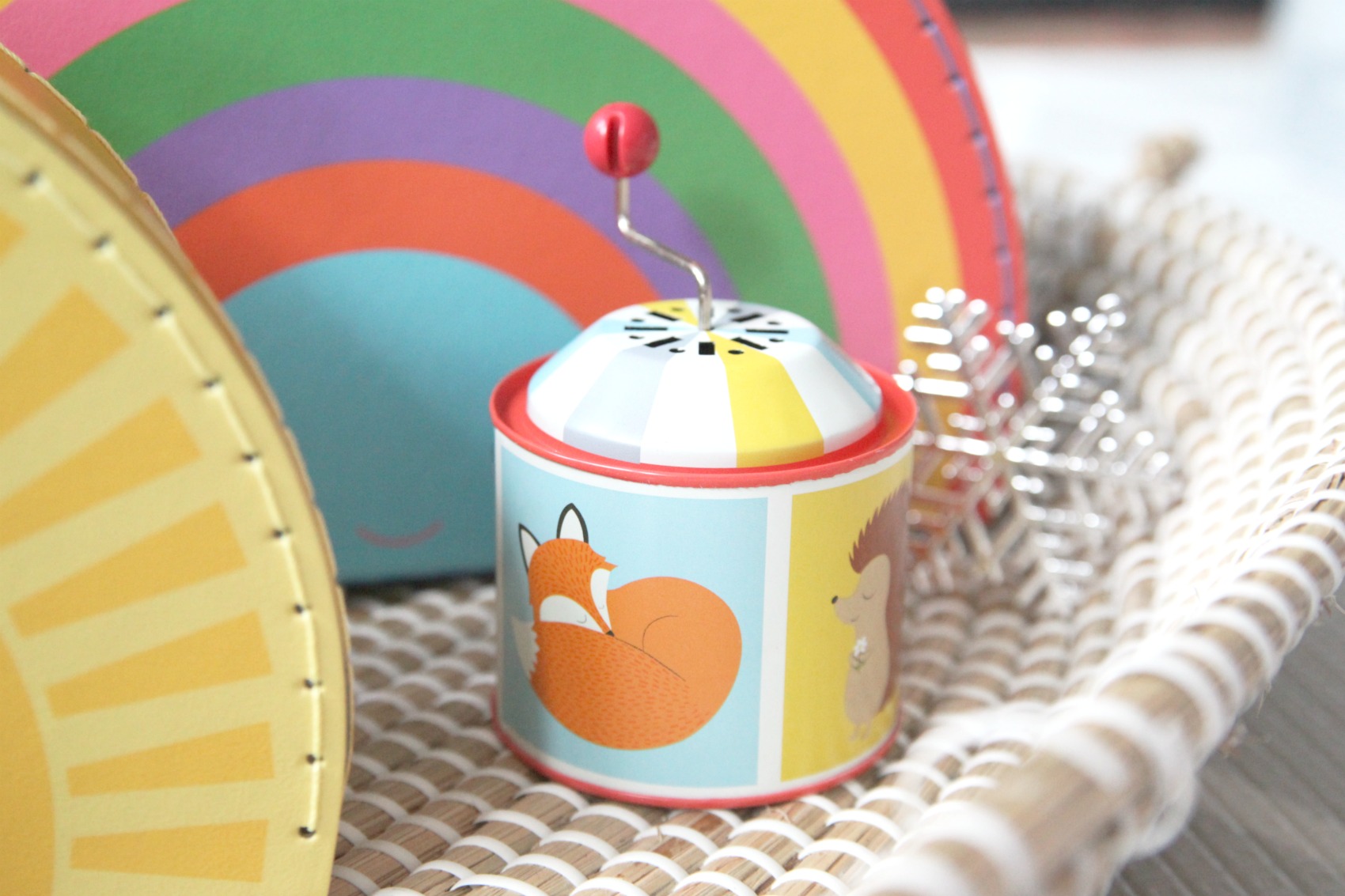 WOODEN TOYS FROM HAPE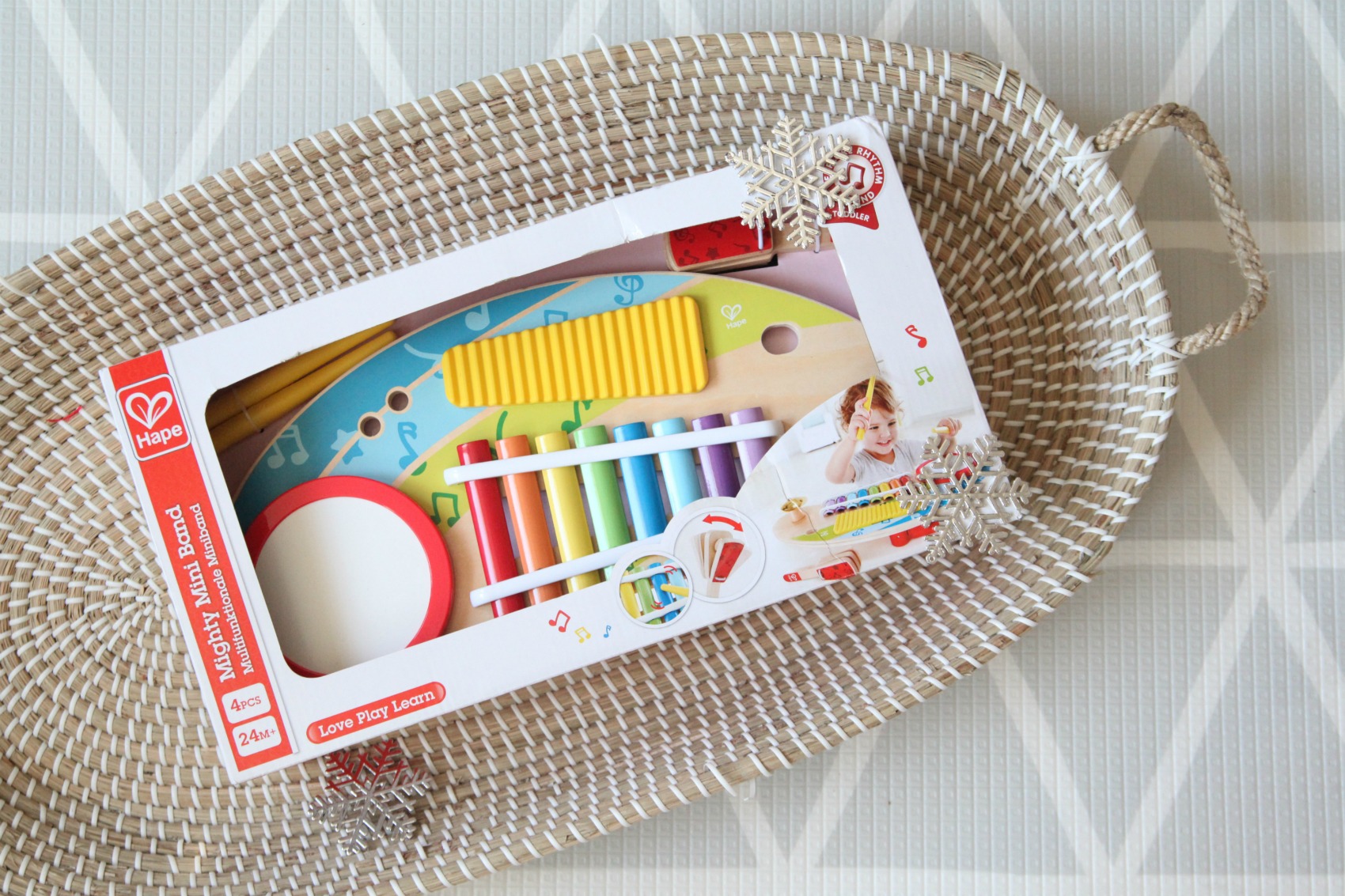 We have a lot of Hape toys. From train tracks to marble runs and the quality is always excellent. I love that it's mainly made of wood and their toys allow little hands to explore. The Mighty Mini Band might not be the toy you get out early on a Sunday morning but it will provide hours of fun. Allowing babies to play and learn about music and rhythm is an amazing gift. Rock stars in the making here!
Another sweet yet educational toy for little ones to play with is the Hape Dante Push and Go. This cute kitten will soon become their favourite friend on wheels. Great for exploring hand-eye-coordination, too.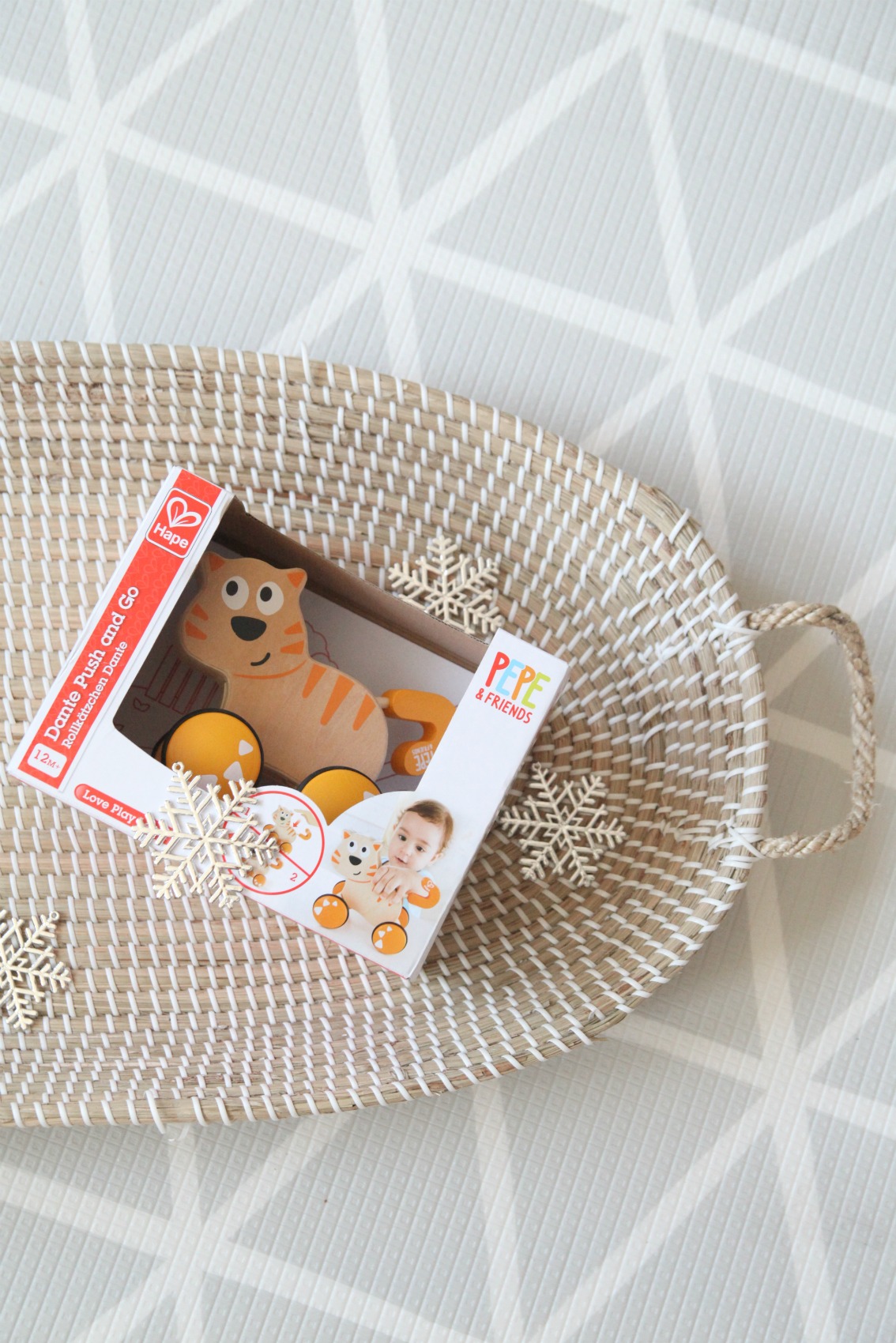 CHICCO NEXT-TO-MOON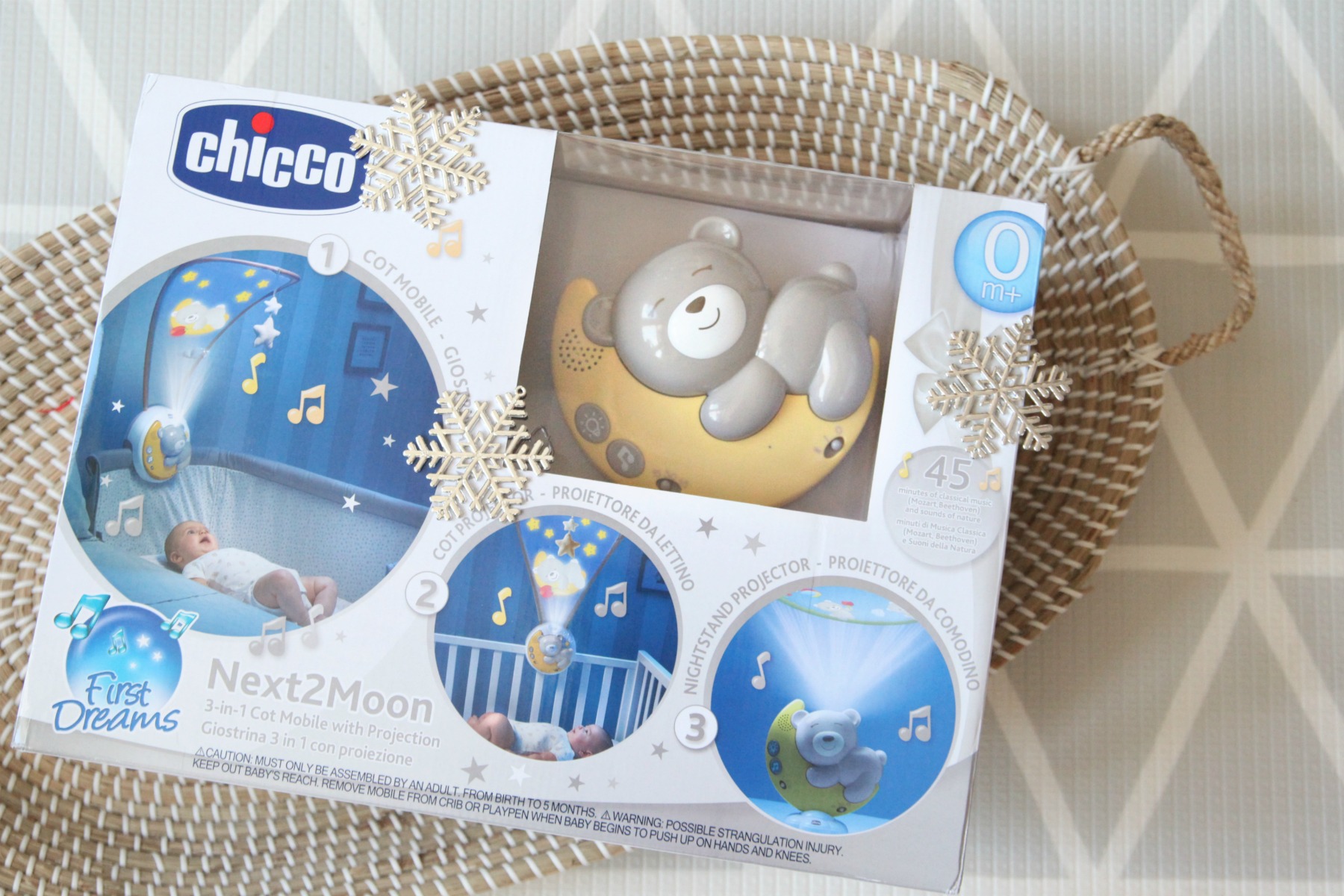 This adorable mobile and projector from Chicco is a fantastic way to give your little one a sparkly and musical experience from the comfort of their own bed. It plays sounds and notes developing your baby's sensibility to rhythm with music by Mozart and Beethoven. It also develops your baby's visual capacities by following moving objects and by distinguishing shapes and colours, attracted by lights and bright colours.
PETER RABBIT SOFT TOYS FROM ENECSO
We adore Peter Rabbit in this house and often read the little books by Beatrix Potter about him and all his friends. Gifts by Enesco have a fantastic collection of soft toys. One favourite for us is Jemima Puddleduck and a gorgeous plush toy is a perfect companion for bedtime stories. Only to be used under supervision and obviously not left in the cot during the night it will be one of those soft toys they'll find it hard to ever let go off.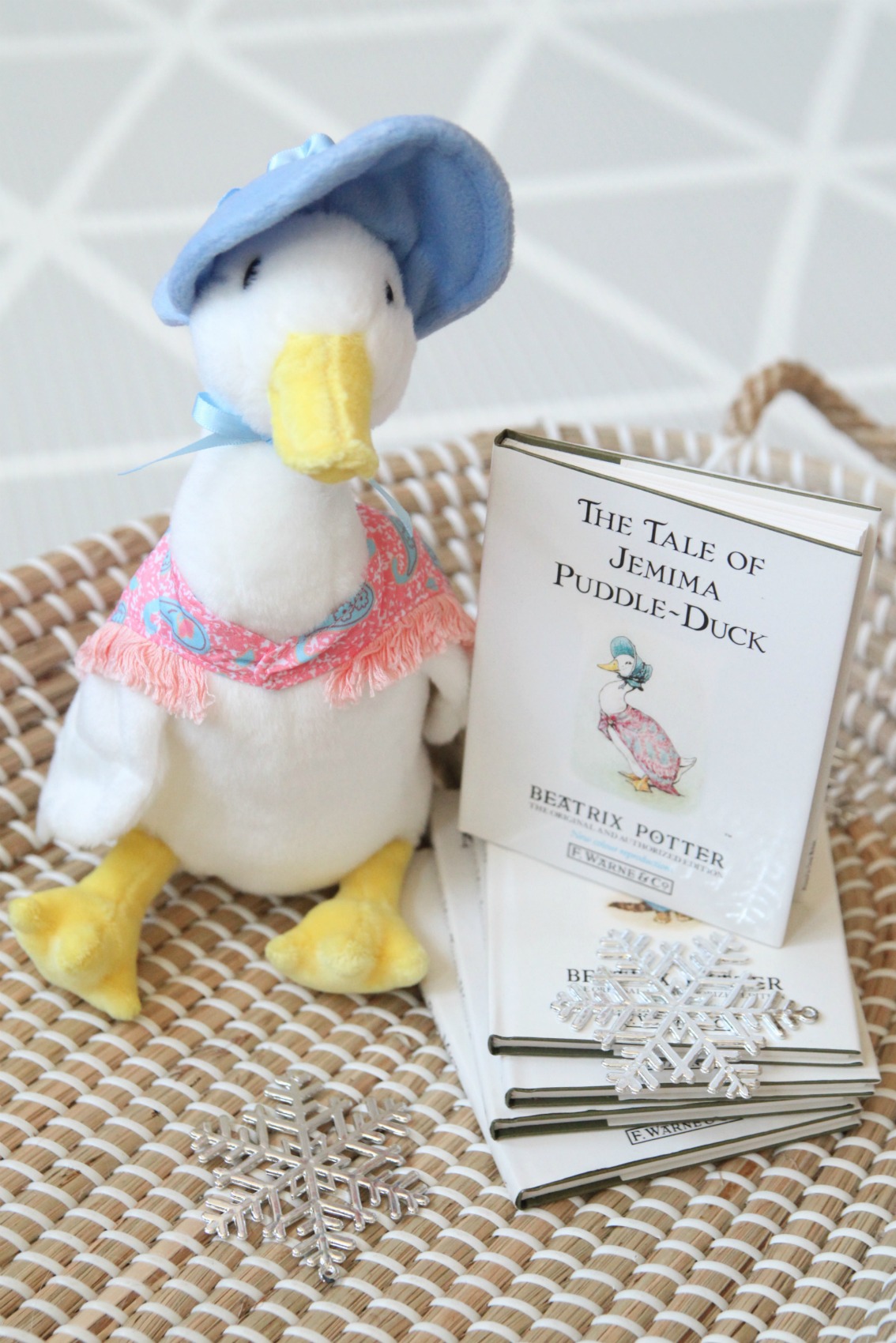 SOFT SOLE SHOES FROM BOBUX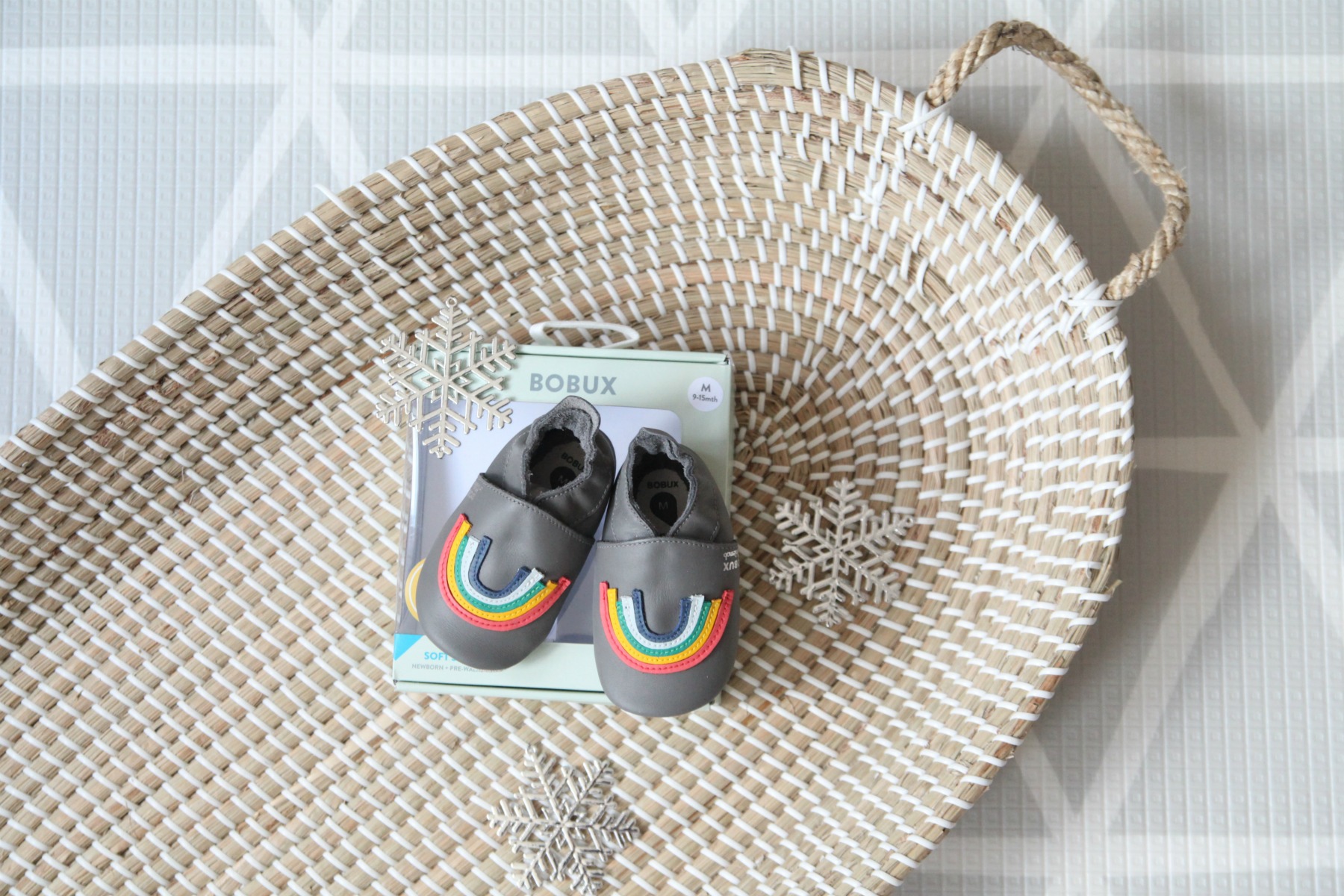 The soft sole shoes from Bobux come in a world of designs and one of their latest additions are these rainbow ones from the Bobux x The Bonniemob. Great for protecting little feet especially during the colder months. With Orsino being our rainbow baby these were a perfect choice.
AMAWRAP SO YOU CAN KEEP YOUR BABY CLOSE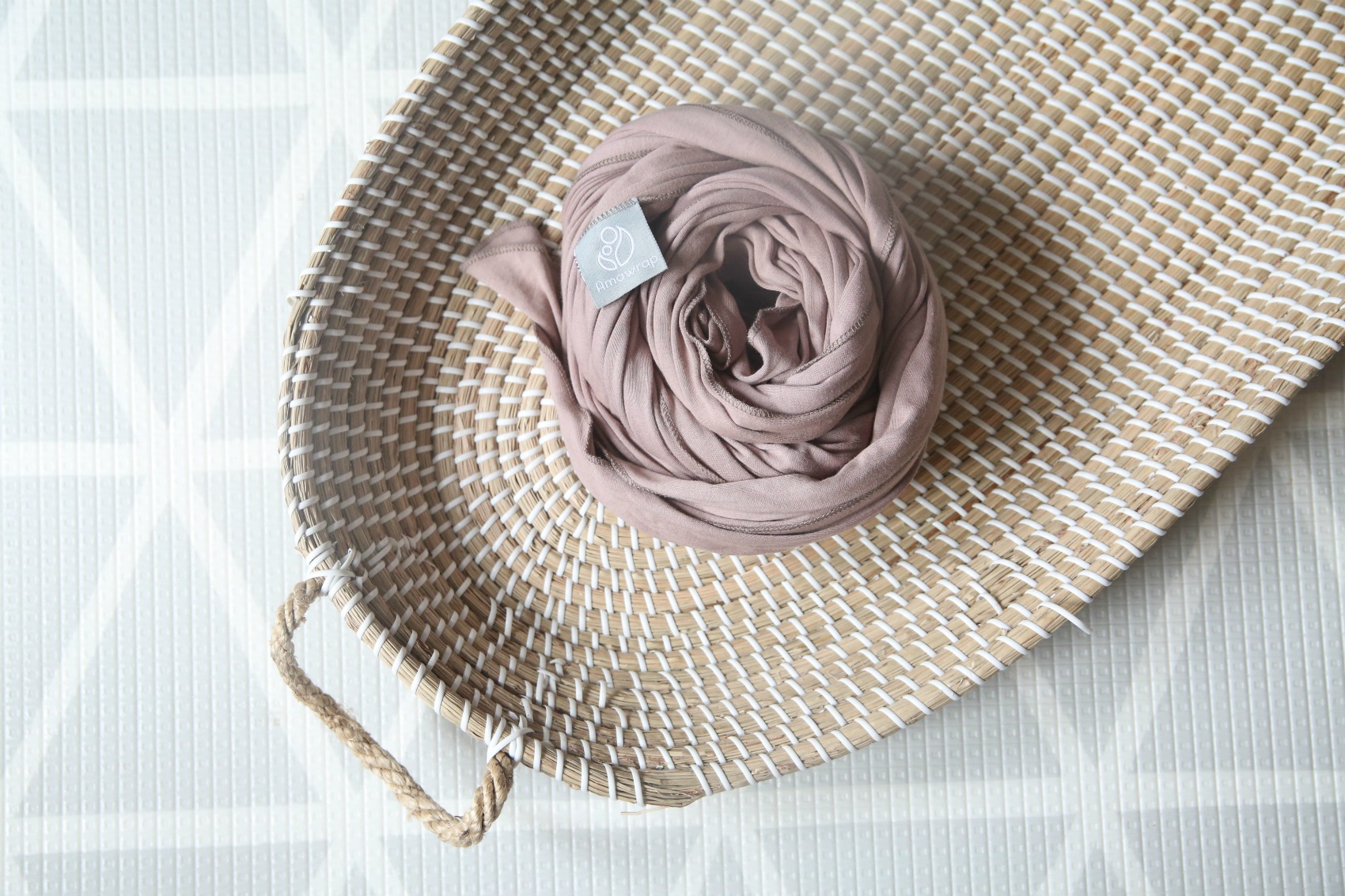 You can give your baby no greater gift than keeping them close. The soft stretchy wrap from Amawrap is perfect for carrying your new baby. They hear the comforting sound of your heartbeat and feel safe on your chest. It's practical, too, and allows you to have your hands free. You can also easily move around which is great if you enjoy walking but your little one isn't happy away from you.
These wraps are made from 100% natural cotton here in the UK.  They have great selection of colours and prints to choose from.
ORGANIC SILENT NIGHT SET FROM GREEN PEOPLE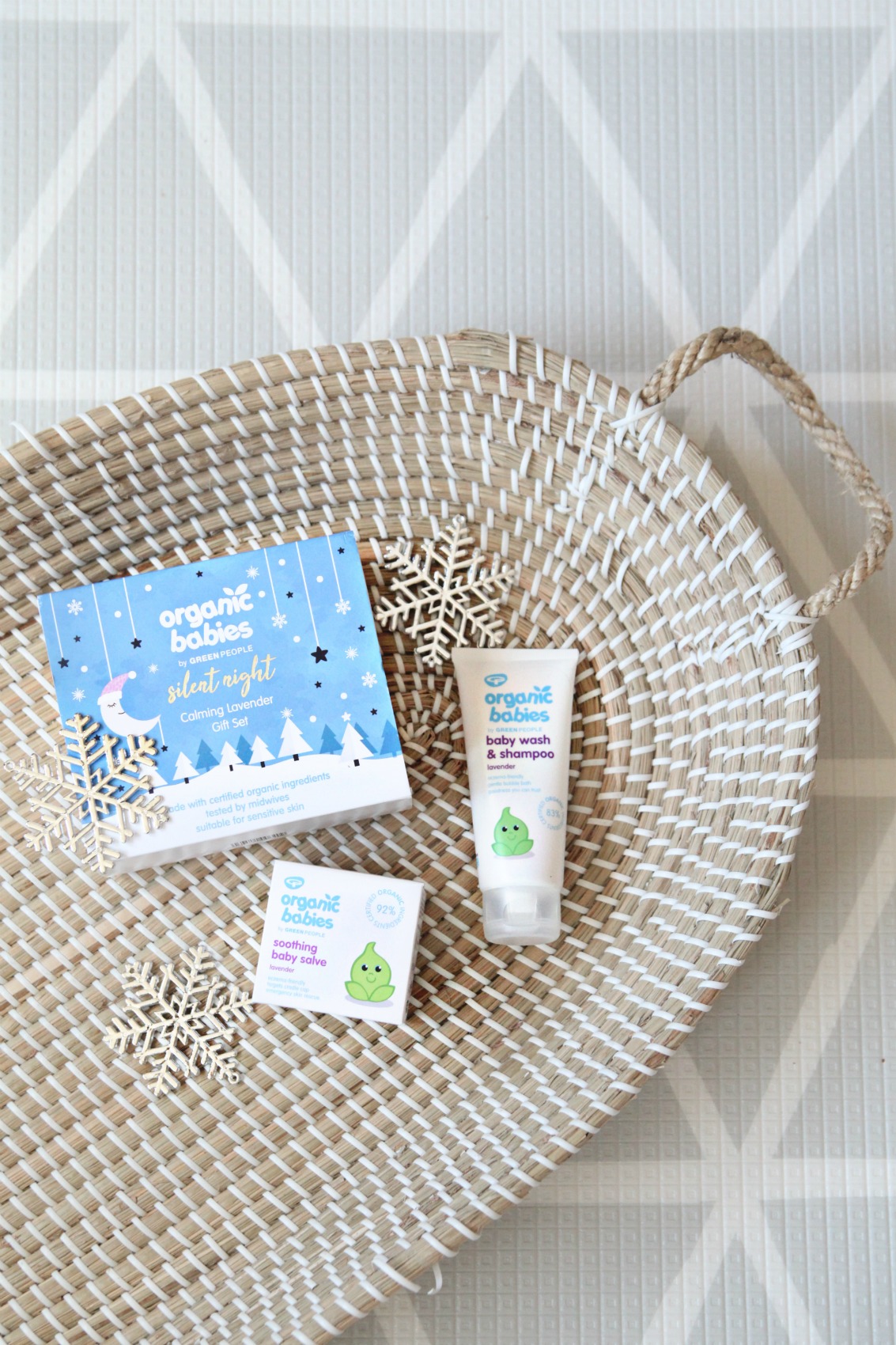 I love Green People's products for myself and for the children. Their Silent Night set is a gorgeous gift for new babies. It comes in a gift box with a body and shampoo wash and a soothing baby salve. It's organic with no perfume or parabens so ideal for little bodies.
TEETHING BABIES WILL LOVE THE GIFTS FROM MATCHSTICK MONKEY
Orsino has started teething already. This doesn't surprise me as Caspian had his first two bottom teeth at 19th weeks. There's a lot of dribbling going on at the moment and this easy-to-grip Bear from Matchstick Monkey is perfect for little hands. It's also not too heavy which means even at 4 months Ossie can hold it himself and lift it to his mouth. It also acts as a toy and fits easily into a changing bag for on the go. They started out with just a range of monkies in different colours but have now introduced other animals. The Bear was our favourite as Orsino means 'little bear' in Italian.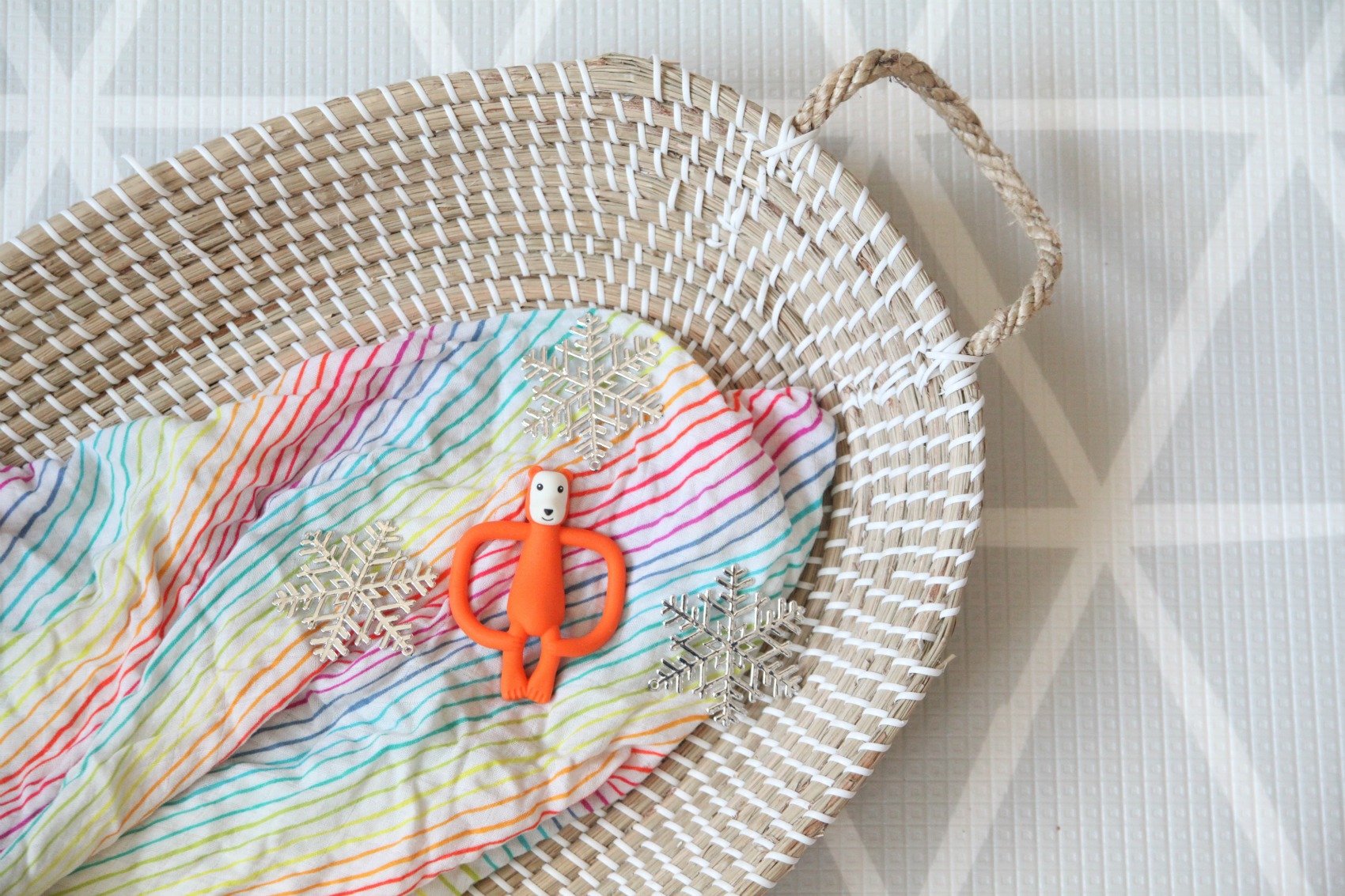 A PRACTICAL GIFT FOR LITTLE HANDS FROM BABYCUP
These four colourful baby cups are a super stocking filler for babies from 4 months and up. Caspian never took to a bottle well and I feel these would have been a great alternative for getting him to drink expressed milk. They are small and easy to hold and helps your child drink independently. They are also kind to new teeth but make mealtimes more fun and ideal for weaning.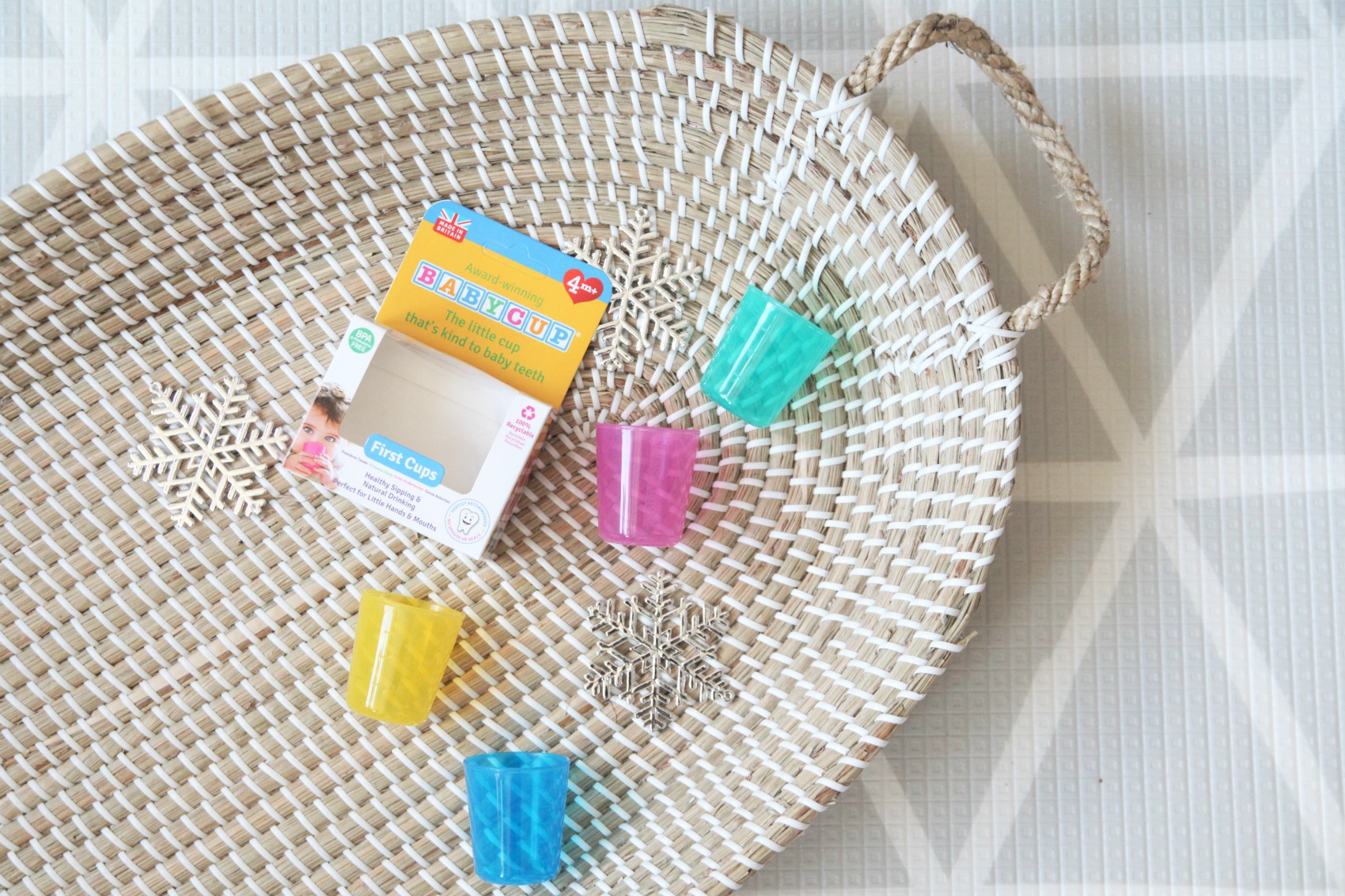 A PEPPA PLATE PERFECT FOR WEANING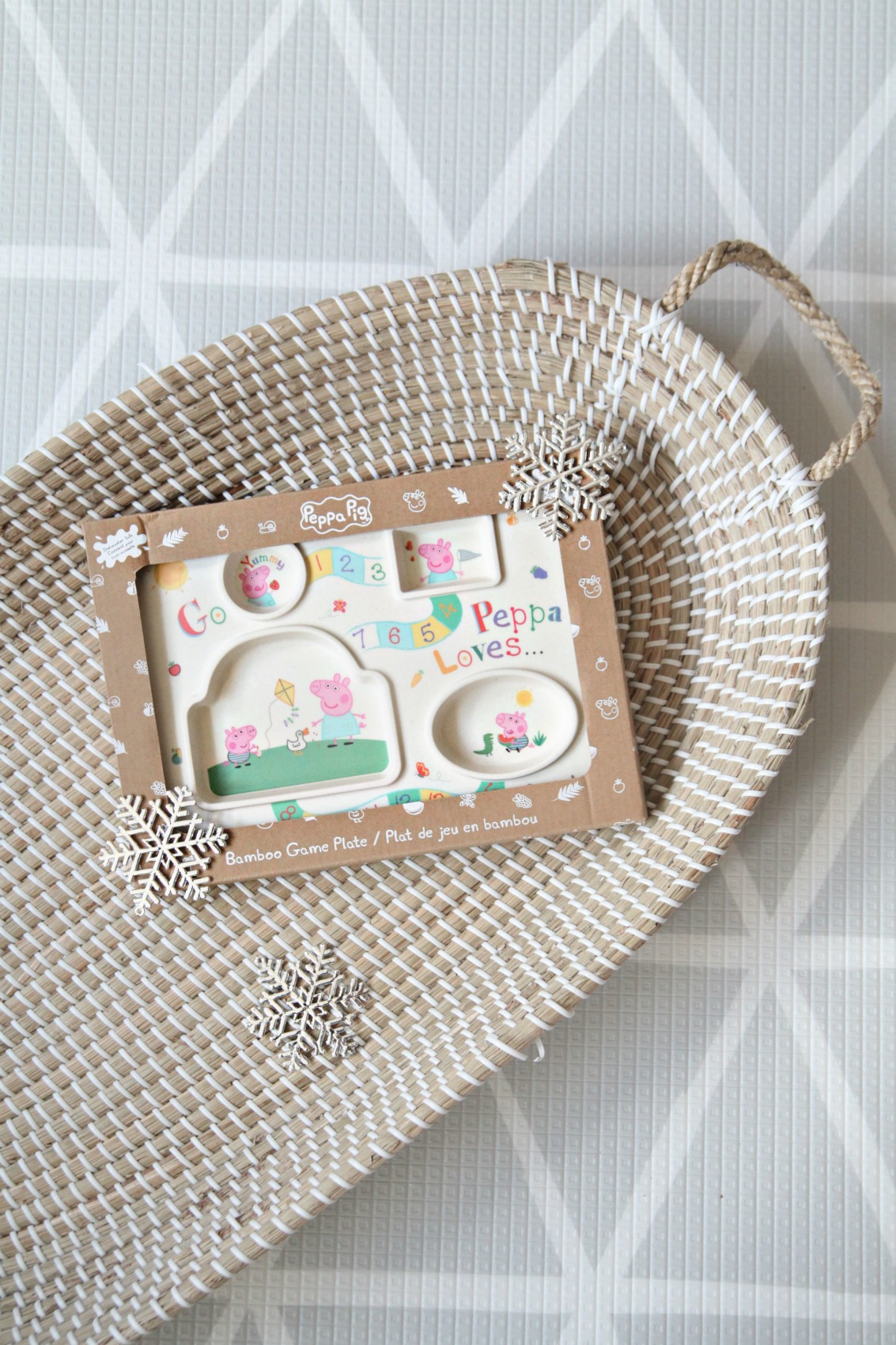 This cute game plate with one of the most beloved children's characters will be a bit hit with your little one. It's from Gift Giving All Wrapped Up and made from Bamboo it's such an adorable gift that will be both practical and fun. It will make trying new foods so much easier and more enjoyable.
Disclaimer: Most of these items have been sent to us to review. All word, opinions and photographs are my own.