Strollers have become the new fashion accessory for parents it seems. Though for the amount of money you pay you definitely need them to work and make your life easier. Over the past couple of months, we've been testing out the Dubatti One, a new Dutch design that caters to anyone with exquisite taste and a love of luxury.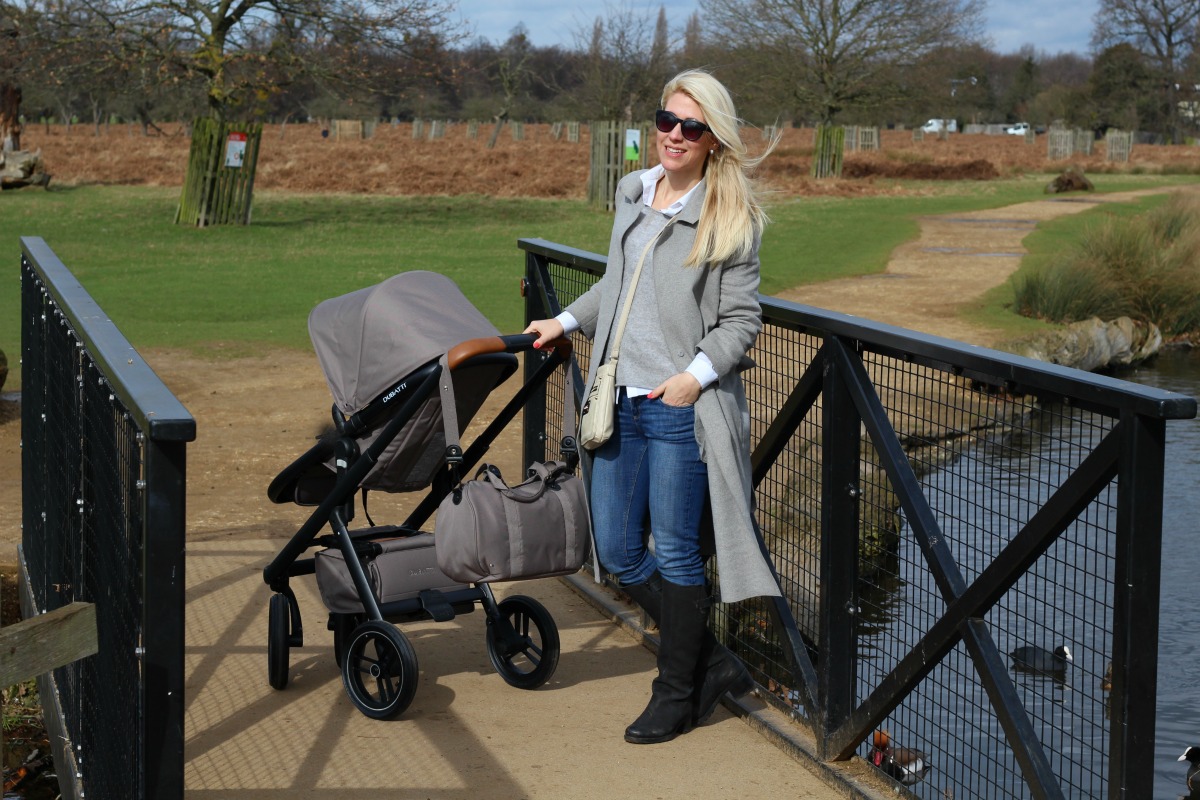 DESIGN YOUR OWN DUBATTI ONE
One of the unique features of this particular stroller is that you basically design is yourself. You can choose the colour of the frame, the colour of the fabric and the colour of the leather as well as the type of wheels you'll need, either all-terrain or city-life. Compared to other strollers we have tried it seems quite light and glides along perfectly. We went with the all-terrain wheels as living near beautiful parks we require it to be able to handle many different surfaces. I chose the gorgeous sand tone for the fabric paired with cognac coloured leather.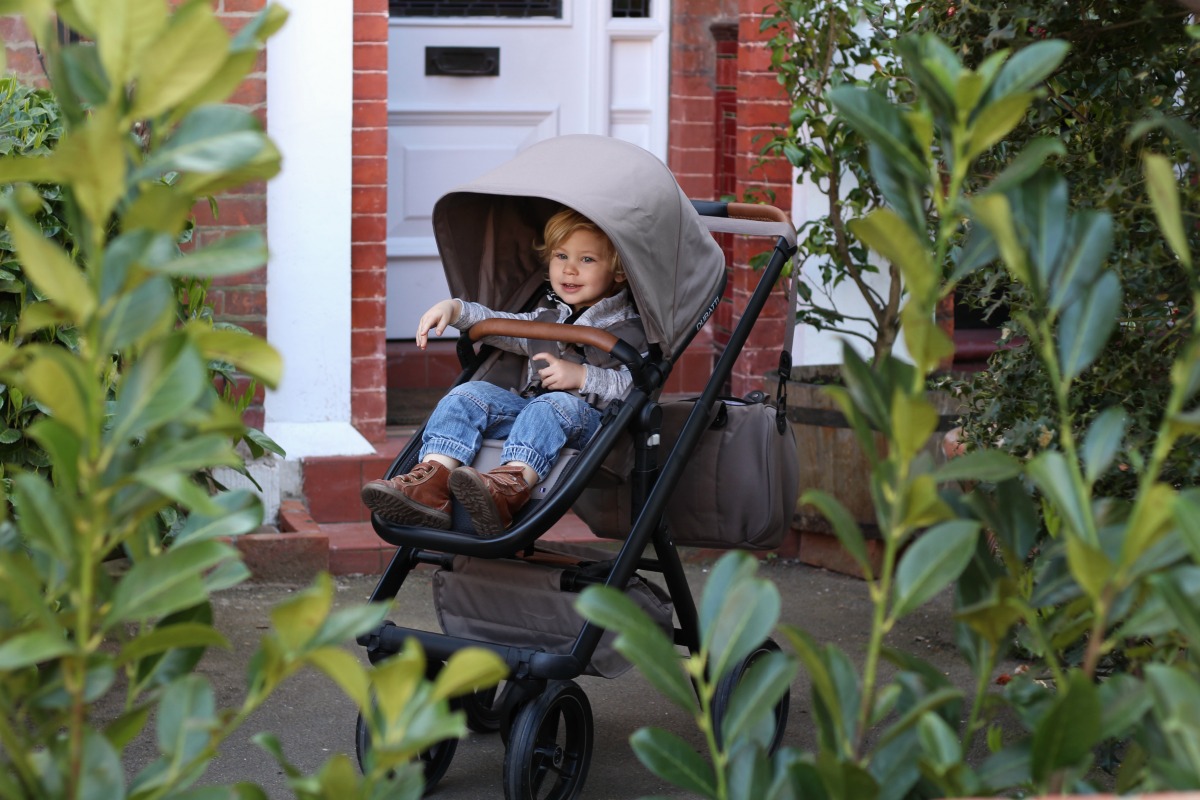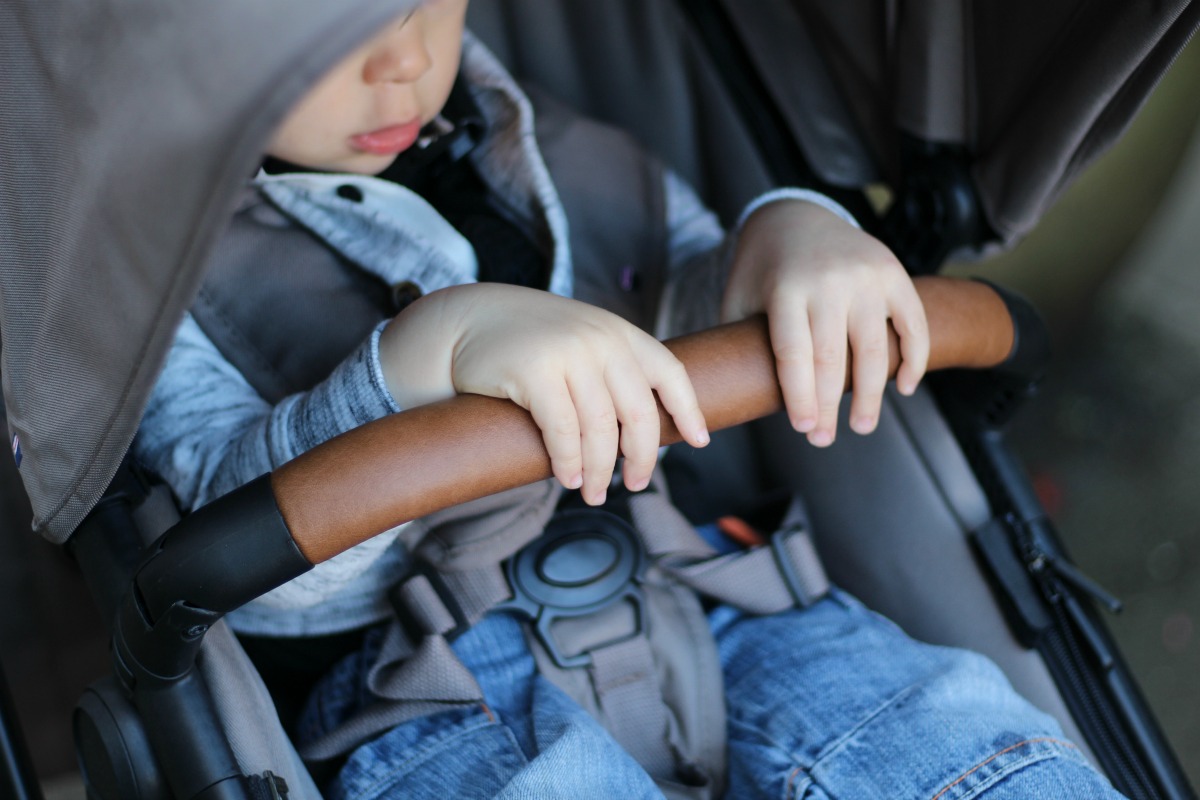 USING THE DUBATTI ONE FROM BIRTH TO FOUR YEARS
You can use the Dubatti One from birth. The carrycot easily transforms into the seat using zips, so you don't need to buy both and don't need to think of storing the carrycot past six months of age. The only downside to this, in my opinion, is that the seat is slightly smaller and not as wide leaving less space for toddlers when they reach the stage where they can sit up unaided. At two, Caspian is big for his age, so I don't see this seat lasting him all the way to four, though hopefully he will be walking everywhere by then and we won't need a stroller.
It is, however, easy to lie the seat flat and Caspian seems to sleep well in there. Perfect for day-time naps. You can turn the seat forward facing or keep your little one facing you. You can also attach a car seat using adaptors.
The handle easily adjusts to parents of different heights. Plus the one-foot brake system is effortless to activate and locks the wheels completely.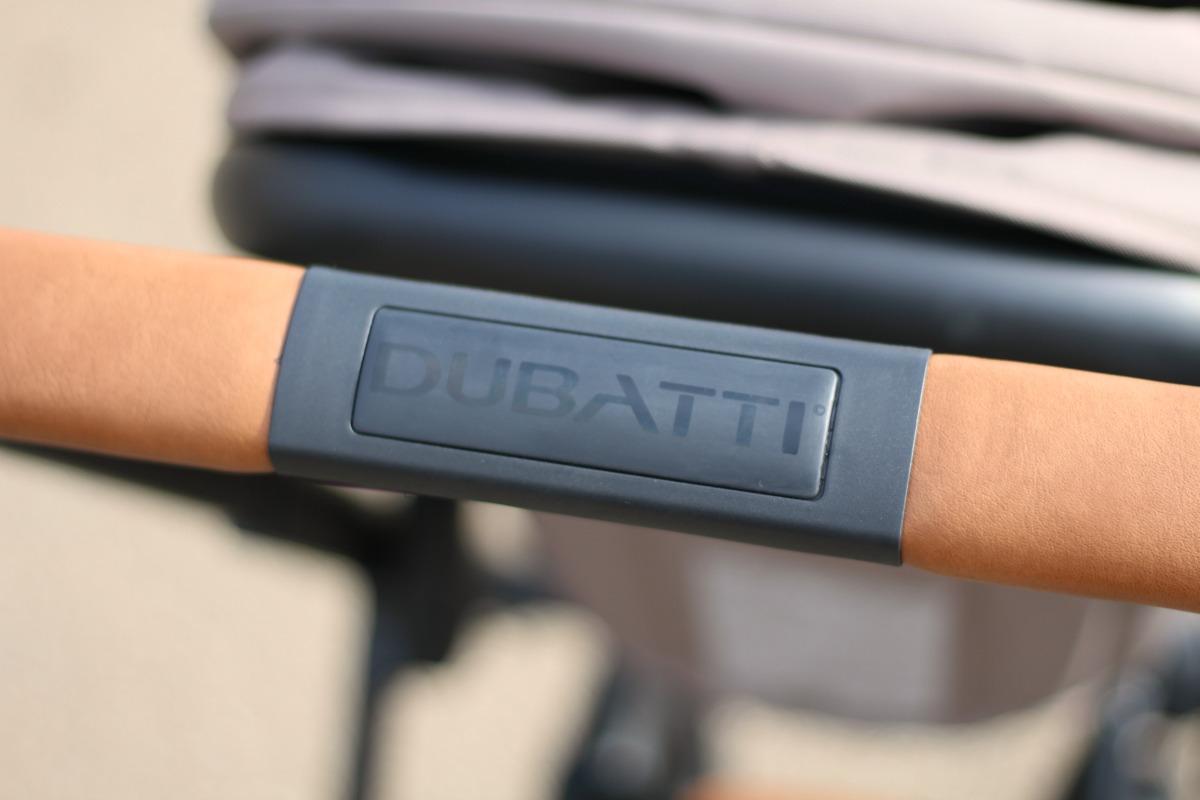 MANY GREAT FEATURES
Another feature I absolutely love and which seems so obvious yet many buggies don't have it are the little grips that stop your changing bag from sliding down the handle. It's a great idea and you can also hang shopping bags off there. The underneath storage bag on the buggy is relatively small, though you have an option of buying a larger shopping basket in the form of a net, which can be attached to the back and will hold everything you need.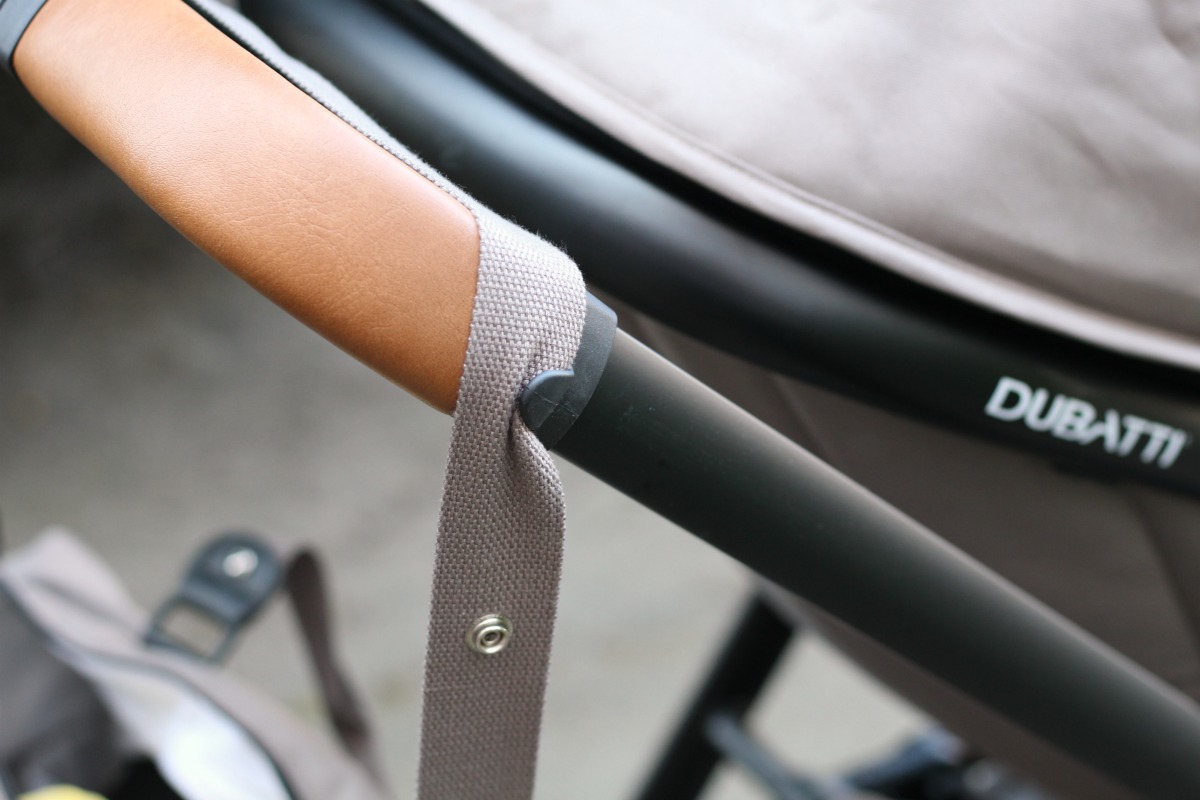 The Dubatti One folds easily. As you can see it fits in the car with no problem and still with room for other items and bags. Simply remember to push the handle down and lock the wheels before you fold and then it's a very quick manoeuvre.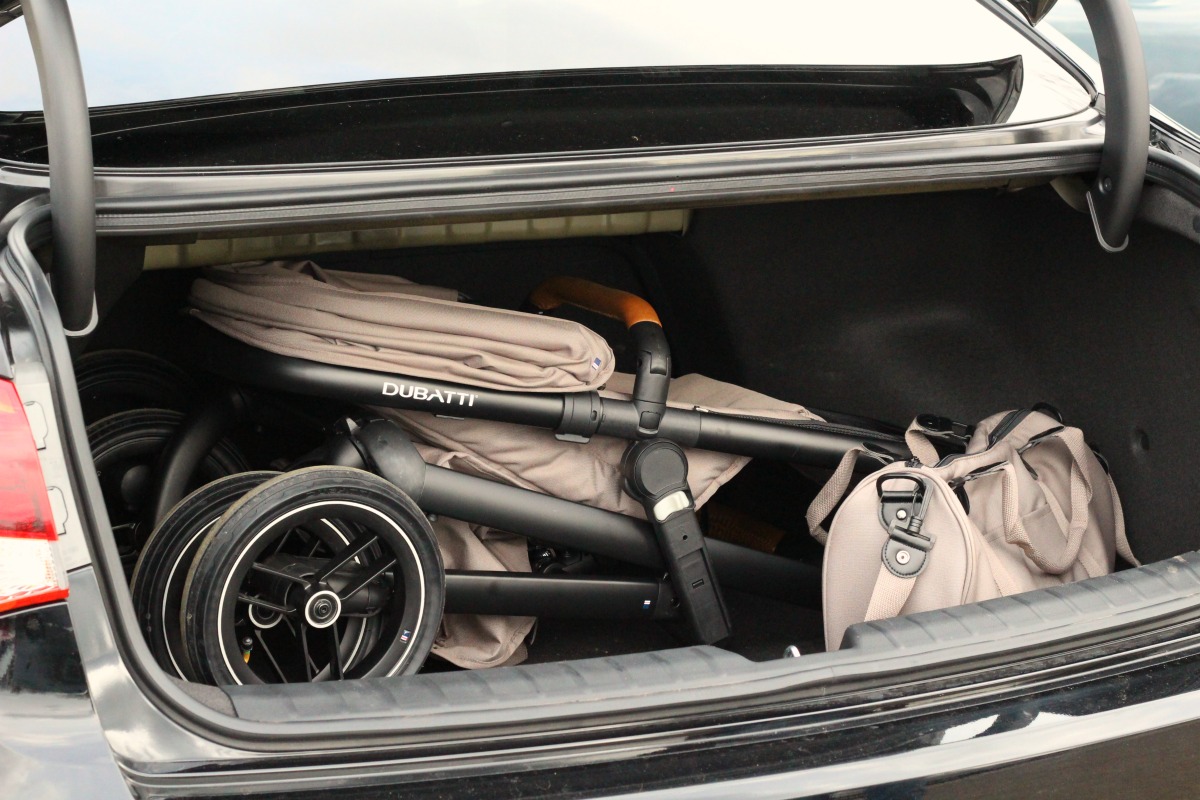 OUR OVERALL IMPRESSION
Overall this is a beautiful travel system. It is high-end and priced appropriately but you get a well-crafted stroller, that's easy to steer and easy to fold. Plus the leather details really make it stand out. It's a breeze to drive on anything from cobbles to grass and the pneumatic tyres give your little one a smooth ride. The chic colour choices mean you can mix and match or keep it in one stylish tone throughout. You can get matching accessories like a rain cover, a foot muff for the colder seasons, a parasol for summer and a practical changing bag.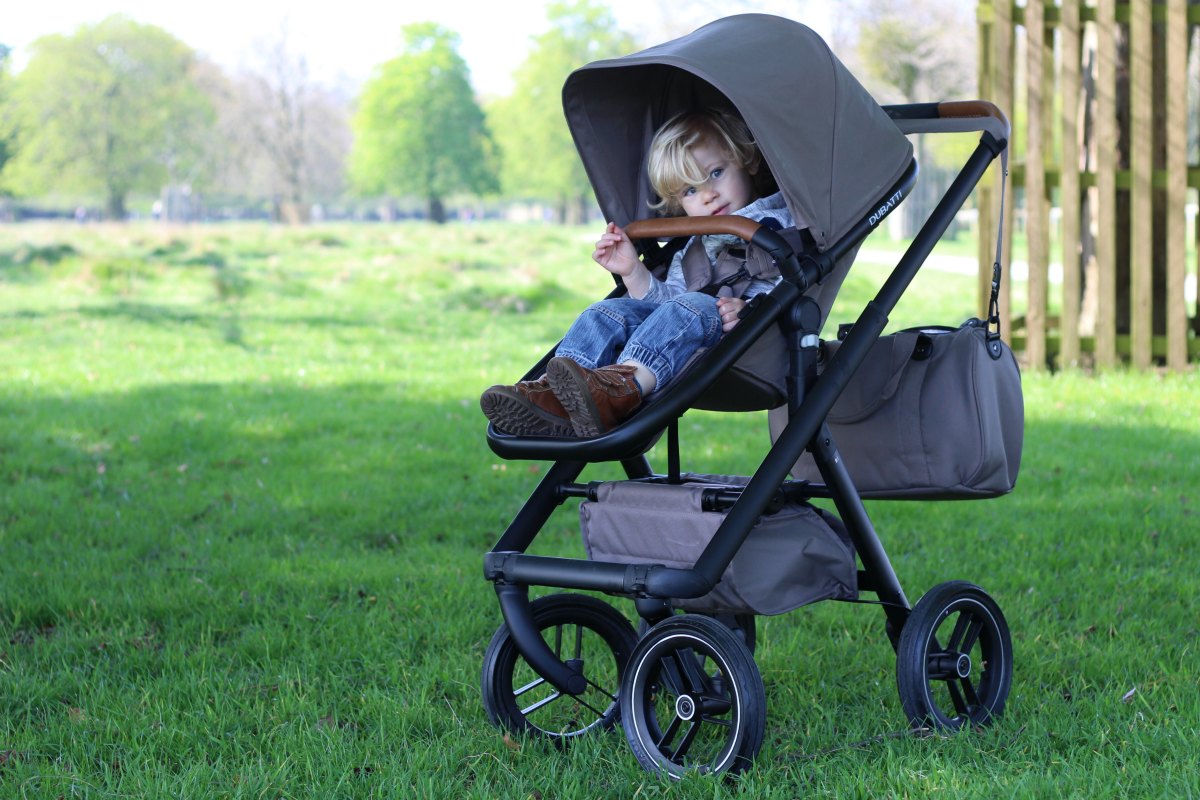 The Dubatti One is sold all over Europe and will be available here in the UK and also Scandinavia very soon. You can find more information on their website as to how to order yours. The delivery is fast and it comes beautifully packaged to your specific requirements.
Please note we were sent this stoller for the purpose of this review. All words and opinions are my own. 
Please follow and like me: