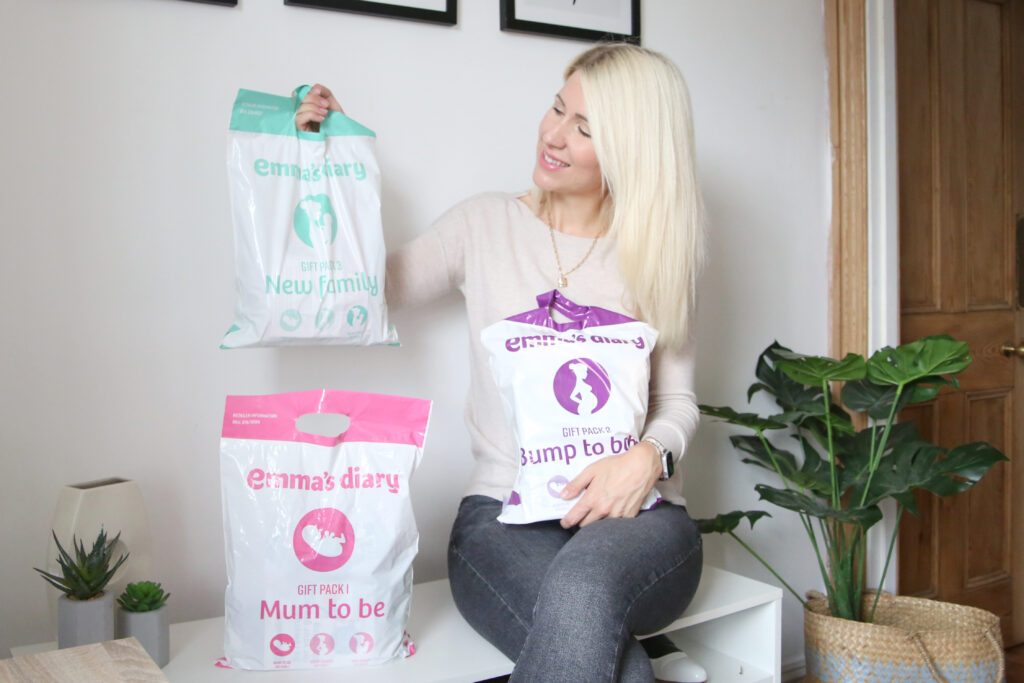 Have you received the Emma's Diary Gift Packs? If you are expecting or have recently had your little one it is an exciting time. It can also feel overwhelming. Especially if it's your first. I remember when I was pregnant with Caspian. It was both thrilling yet intimidating. Coupled with the hormones and expectations you have a lot on your mind. You might not even know where to begin planning for the arrival of your baby. It's easy to feel out of your dept and so receiving treats and helpful products might be just the thing you need.
Emma's Diary Gift Packs are tailored to the different stages of pregnancy. The Mum-to-be, Bump-to-baby, Labour Information Pack and New Family packs are full of different free samples to try. This way you have a chance to figure out which products work for you and your little one completely free. You can also claim a full pack of Pampers New Baby size 1 nappies with one of your 4 gift packs.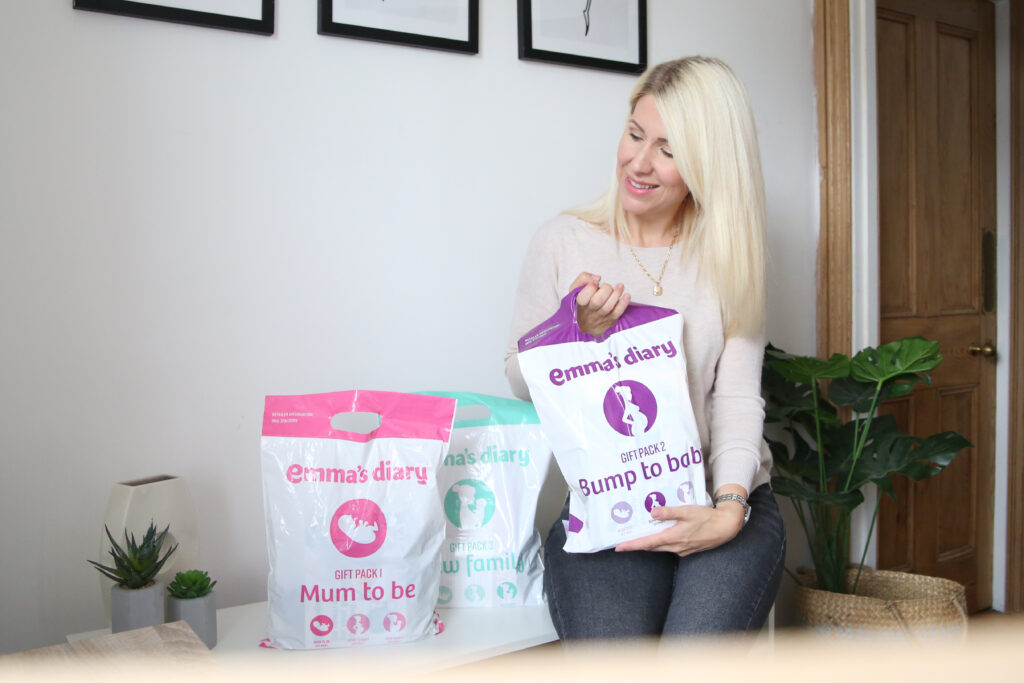 The content of the packs might vary. Below I'm taking a look at what you might receive in the MUM-TO-BE, BUMP-TO-BABY and NEW FAMILY packs.
HOW TO CLAIM YOUR EMMA'S DIARY GIFT PACKS
It's really easy to claim the Emma's Diary Gift Packs. You simply register via their website or the clever Emma's Diary App and find your nearest place for pickup. You then use your vouchers. Take your vouchers to Argo or Boots where you'll get handed your free bags full of goodies. There are four bags to collect and each one is tailored to a different stage and for you and your baby's needs. From early pregnancy to after your baby is here. The 3rd pack is all about labour and available from your GP or midwife. Join now to receive your gift packs.
WHAT'S INSIDE THE MUM-TO-BE PACK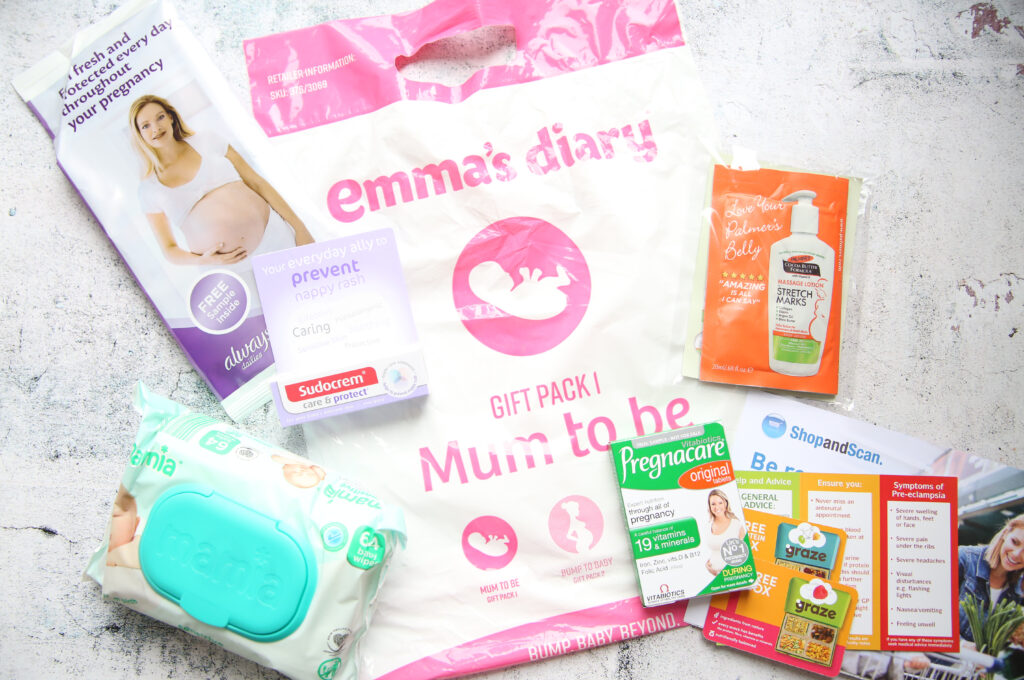 Being pregnant can be a wonderful time if you've managed to leave nausea behind and before the bump becomes too heavy. Tiredness is a known side effect. It is definitely important that you take some time to care for yourself. Which in turn means caring for your baby. This pack is designed to be used from early pregnancy and throughout expecting. Once your baby arrives you might have less time to focus on yourself, so it's a great period to show your body some extra love and care. The products are designed to help you do just that. Pre-natal vitamins, pads and nice body lotions.
WHAT'S INSIDE THE BUMP-TO-BABY PACK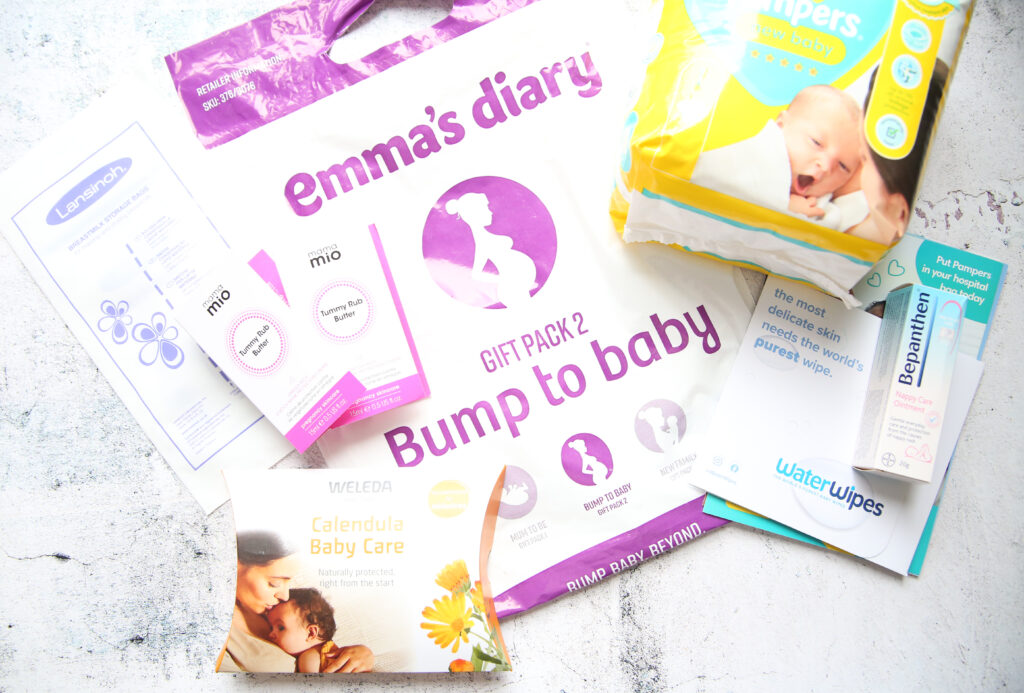 The items in this pack are great to pack in your hospital bag. Ideally to be used from 27 weeks pregnant and beyond. You don't need many things in the early days but some of these are definitely essentials and will be a great help. Packing for hospital can seem overwhelming but there are a lot of fantastic tips on the Emma's Diary App and website. Besides clothes and pillows, I'd bring the wipes, nappies and even the tummy butter to give yourself a little pamper after birth or a C-section.
WHAT'S INSIDE THE NEW FAMILY PACK
Bringing your little one home from the hospital is overwhelming, to say the least. Prepare for dazed days filled with love but probably without too much sleep and a lot of nappy changes. You need nappies and nappy ointment to hand. Plus don't forget to check out the vouchers included which gives you free snacks.

Disclaimer: Please note the content of the packs may vary. Check the Emma's Diary website for the latest updates. This is a sponsored post in collaboration with Emma's Diary. All words, opinions and photographs are my own.