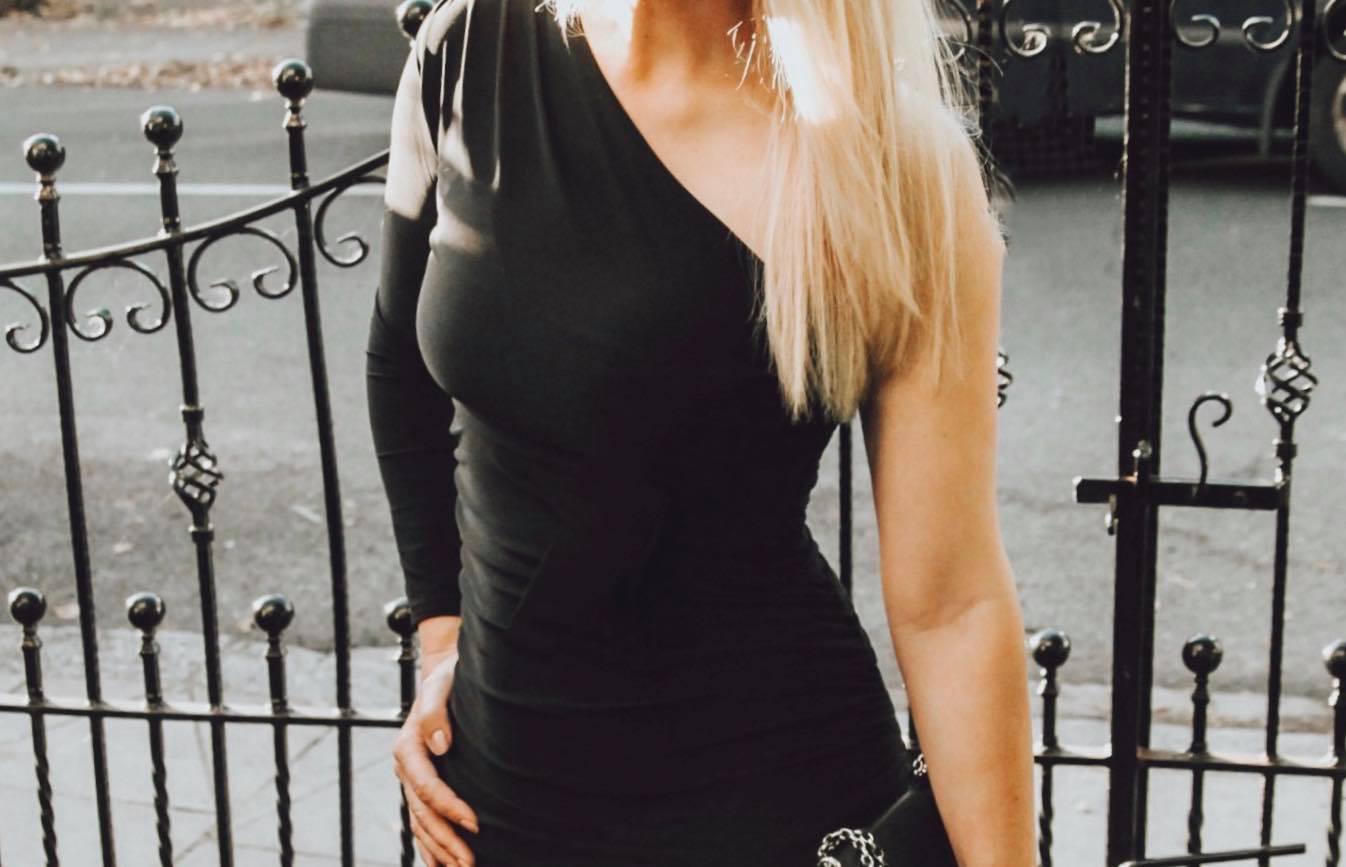 I love Christmas. This is no secret. I love the whole atmosphere. Decorating the house. Baking with the kids. The Christmas food and I love a good Christmas Party. This year we'll be going to Denmark for Christmas. Caspian, in particular, is very excited. Although a little worried as to how Santa Clause will find him. I'm trying to be extra organised as with now two children, my business and presents to plan for friends and family there I have a lot on my plate.
I went through my wardrobe recently and realised I could definitely do with a couple of new dresses to see in the holiday season in style. Last year I was almost halfway through my pregnancy and naturally, my body was different in shape. It's still curvier which I don't mind but it means my usual party dresses do not fit as well. I was very excited to be introduced to FemmeLuxe. Their range is affordable with a huge selection of party wear in particular. Something to suit everyone and definitely dresses for a curvier shape. Here are some of my favourites for nights out in the lead up to Christmas and of course the actual celebrations and New Year's.
THE LITTLE BLACK DRESS FROM FEMMELUXE
You can never go wrong with a little black party dress. I've always loved the one-shoulder style and with the fabric being stretchy it means I can still easily breastfeed in this. I'm all for keeping it simple so would pair this dress with green heels and my great-grandmother's emerald earrings. Such a classic look that just oozes Christmas chic. As you might know, we celebrate Christmas on the Eve of the 24th in Scandinavia so I'm always looking for more of an evening look for this occasion. We also dance around the Christmas tree. A crazy Danish traditions so I need to be able to move in what I'm wearing.
My style has changed over the years. I much prefer more muted tones and simpler designs these days. Maybe this has to do with becoming a mother yet I still want to feel like me and that includes occasionally getting dressed up. I often don't have much time to get ready either so need something with an instant wow factor and I feel I've found that here.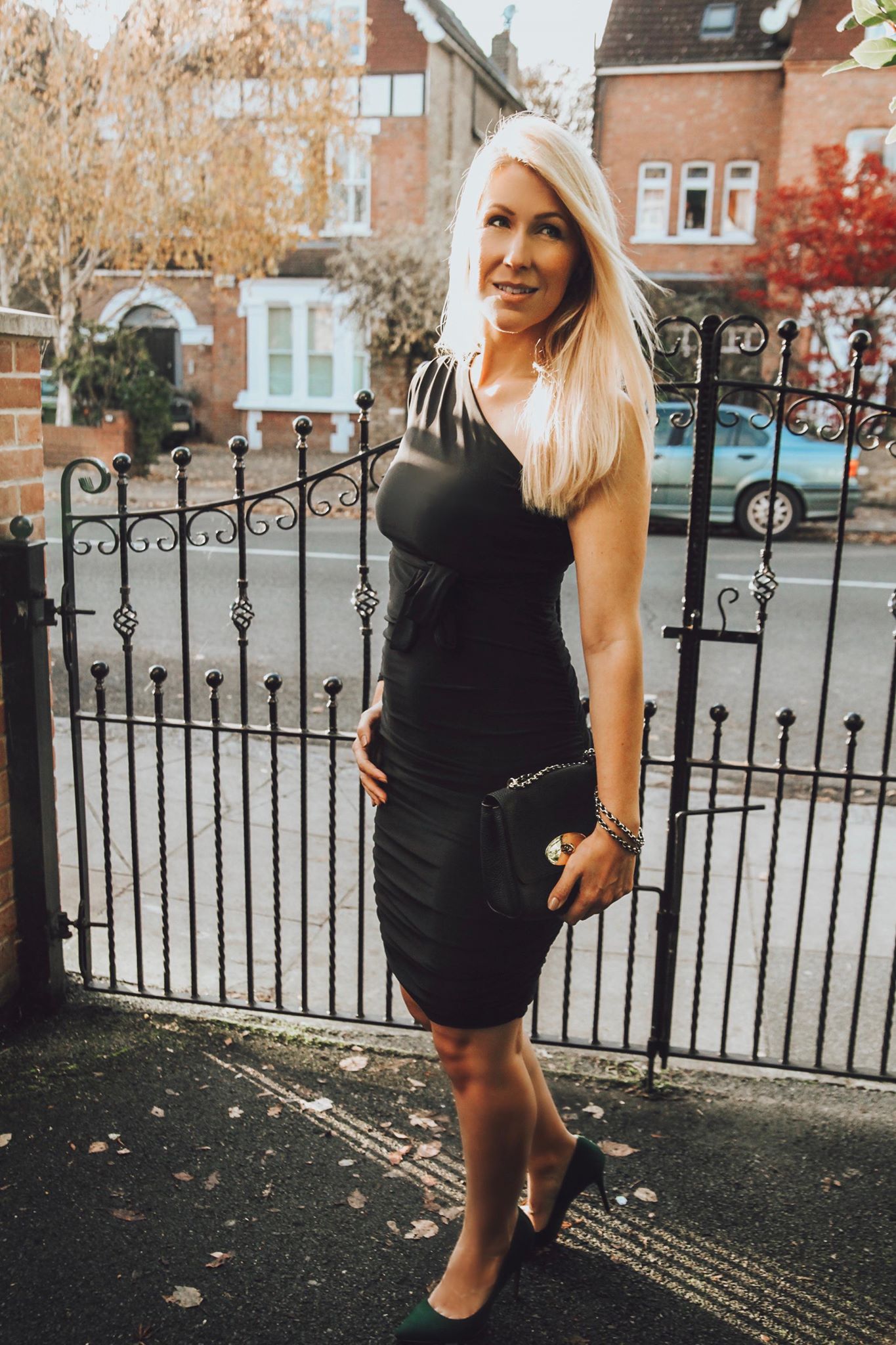 SAME DRESS, DIFFERENT COLOUR
I actually adore the style so much I chose it in a soft beige as well. This is the kind of ruched dress I would wear for a date night with Daddy Long Legs or on New Year's Eve with statement earrings and nude shoes. The attached belt allows you to define your waist more yet the ruched fabric means it's not too clingy and very comfortable to wear. It comes in other colours, too, so whether you like more neutrals shades or a proper Christmas red check out the full collection. There are also similar styles with straps or sleeveless which would look amazing with a tailored blazer.
I generally prefer heels with dresses but you can pair these with over the knee boots for a more wintry look. Coming from Scandinavia I generally dress warm with lots of layers in winter. So even if I was wearing I dress like this I would still have a warm coat, scarf and gloves for heading outdoors.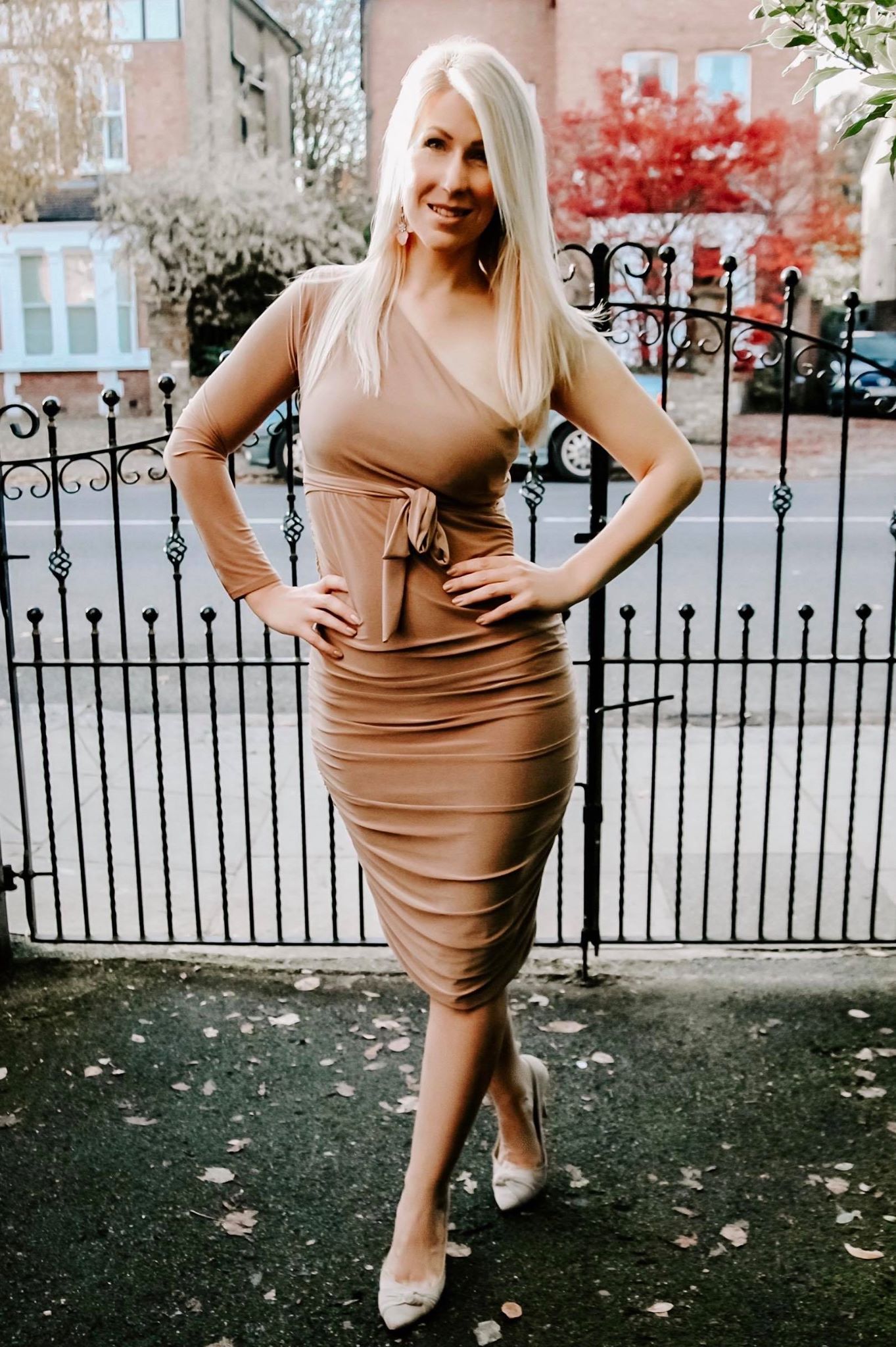 AN OUTFIT FOR CHRISTMAS DRINKS WITH FRIENDS
For a festive evening out with friends during December, I would opt for leggings and a lace top. FemmeLuxe also has a great collection of tops. This one, in particular, took my fancy. As it's winter I would wear a black vest underneath but it is sheer with a button front and a bow tie which you can style in various ways. Paired with ankle boots and a coat this it exactly the outfit I would wear for going out sipping Christmassy cocktails in London. The leggings here have a nice leather look. They are easy to dress up or down. Definitely a wardrobe staple.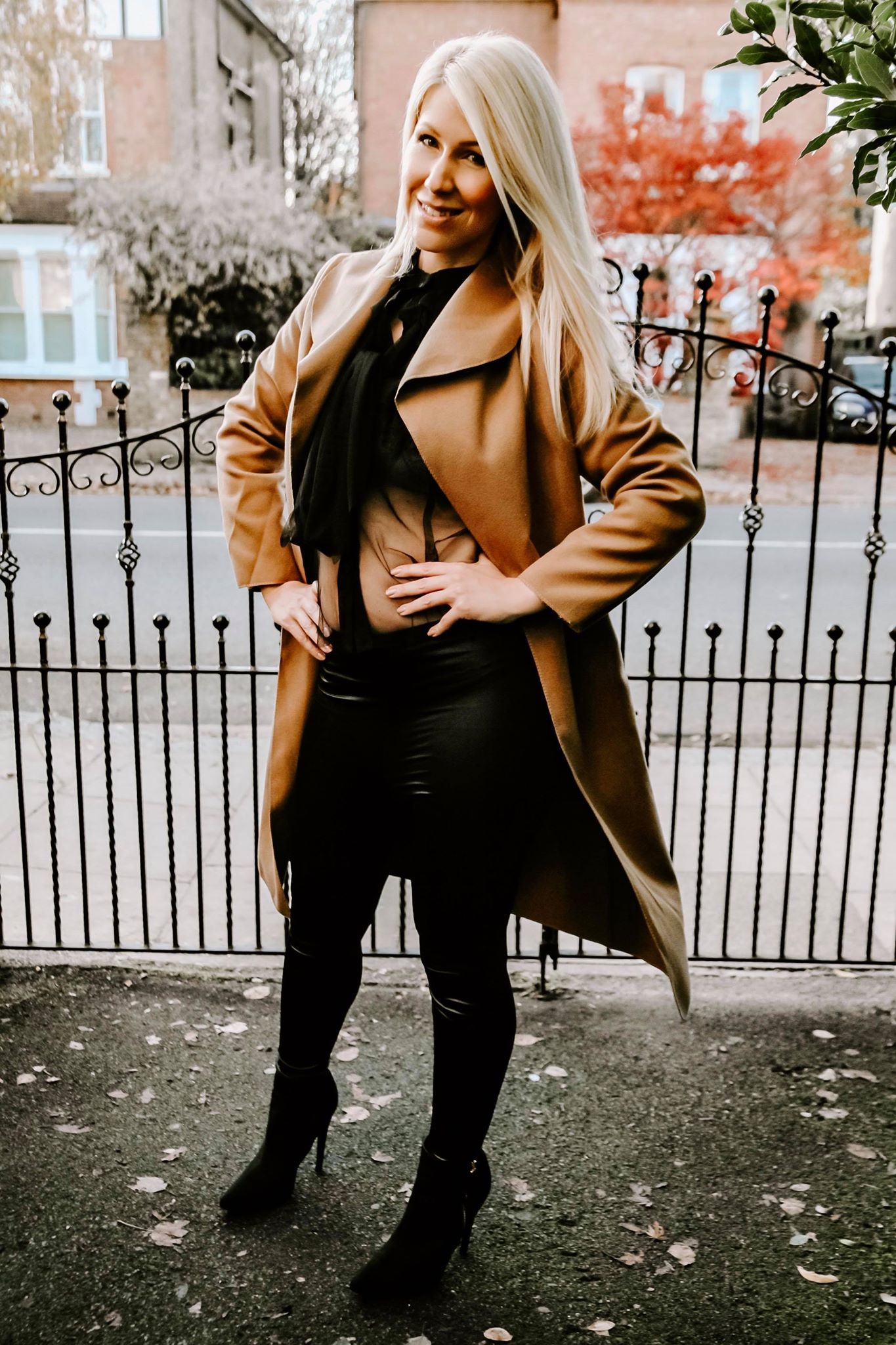 Are you excited for Christmas? What do you like to wear for festive nights out? Has your style since having children?
Disclaimer: I was sent these items. All words, opinions and images are my own.