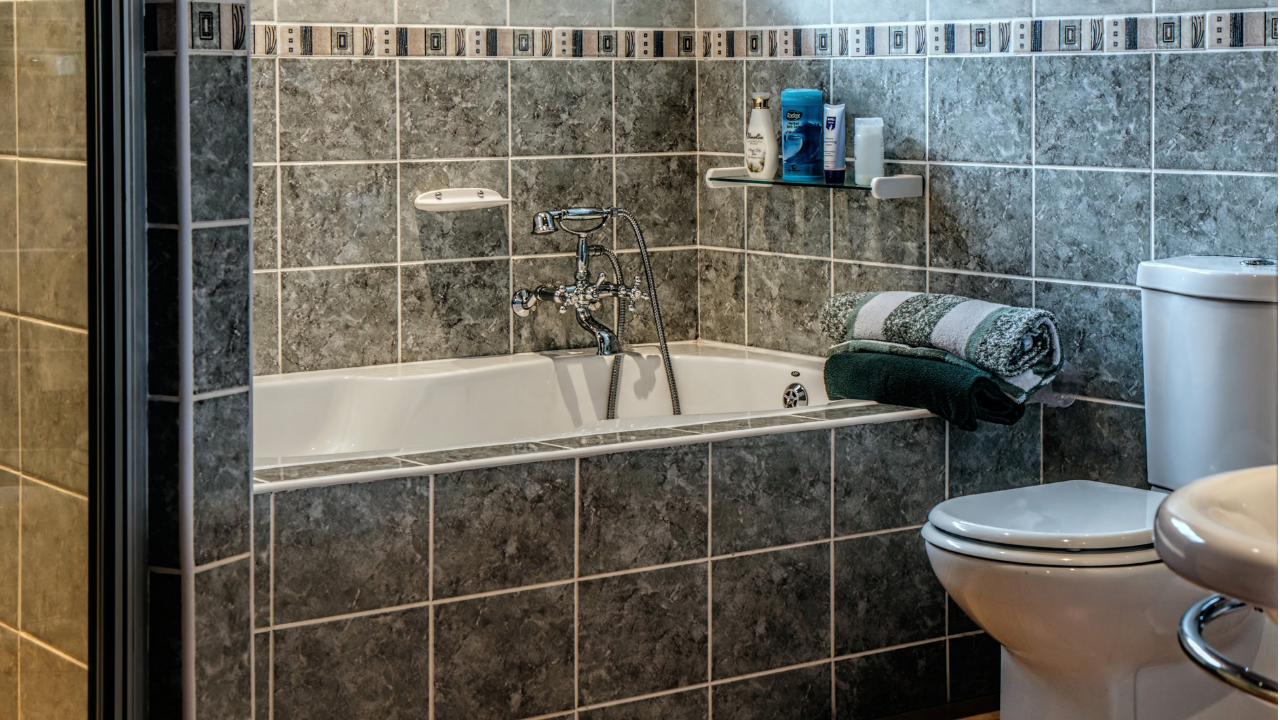 Collaborative post
As you will know if you are an avid reader of the blog we are in the midst of a huge home renovation. Some days I love it and other days I just want to give up. Naturally, my favourite part is the actual decoration, picking furniture and putting together colour schemes. Yet with a big rewire and replasting job still needing doing for some rooms this is a long way away. On the 1st floor, the only two rooms that are done are the master bedroom and the bathroom. The latter was designed by Daddy Long Legs even before I moved in and luckily he has good taste. Although he does seem to favour a more classic look and feel where I enjoy modern and minimalist design.
We are hoping to put another shower room in on the ground floor so I simply can't help but look at tiles and designs. Do you prefer modern or traditional when it comes to decor and tiles in particular? There are so many beautiful patterns and colours out there but I do think it's important to not just go with the first pretty tile you see and to educate yourself and pick the one that suits the room the best.
TALK TO A PROFESSIONAL
As much as you can find inspiration, tips and tricks online I think it's always best to speak to a professional face-to-face. Need help revamping your bathroom? Visit HarrogateBathroom's Showroom and get classy design ideas. They can ensure that all the elements mentioned below are covered and that you are guaranteed to make the right choice.
TOP TIPS FOR CHOOSING TILES
With so much work and so many decisions going into creating or remodelling a bathroom you could be forgiven for thinking picking tiles might be the easy job. They set the tone and feel for the whole room and unless they are really plain will most likely be one of the first things people notice. With a million different tiles available it is easy to feel overwhelmed. Should you choose big or small tiles? Light or dark? Plain or patterned?
Start by thinking about where your eye is naturally drawn as you enter the bathroom. Is it towards an impressive bath, a gorgeous shower enclosure? Perhaps you have an impressive toilet, like we do, dating back to 1896? This way you can choose tiles that will help enhance this particular feature of the room.
Think about how much light enters your bathroom? Do you want darker tones or light and airy? Once you have settled on a theme think about whether you want the drama to happen on your walls or on the floor. Dramatic tiles on both can seem too much.
Lastly, consider the size of the room. If you are decorating a smaller bathroom you might not want to go for big tiles as it can overwhelm the room. Choosing a simple tile also doesn't mean that it has to be boring. Play around with the design and as I said above if in doubt reach out to a professional for guidance.