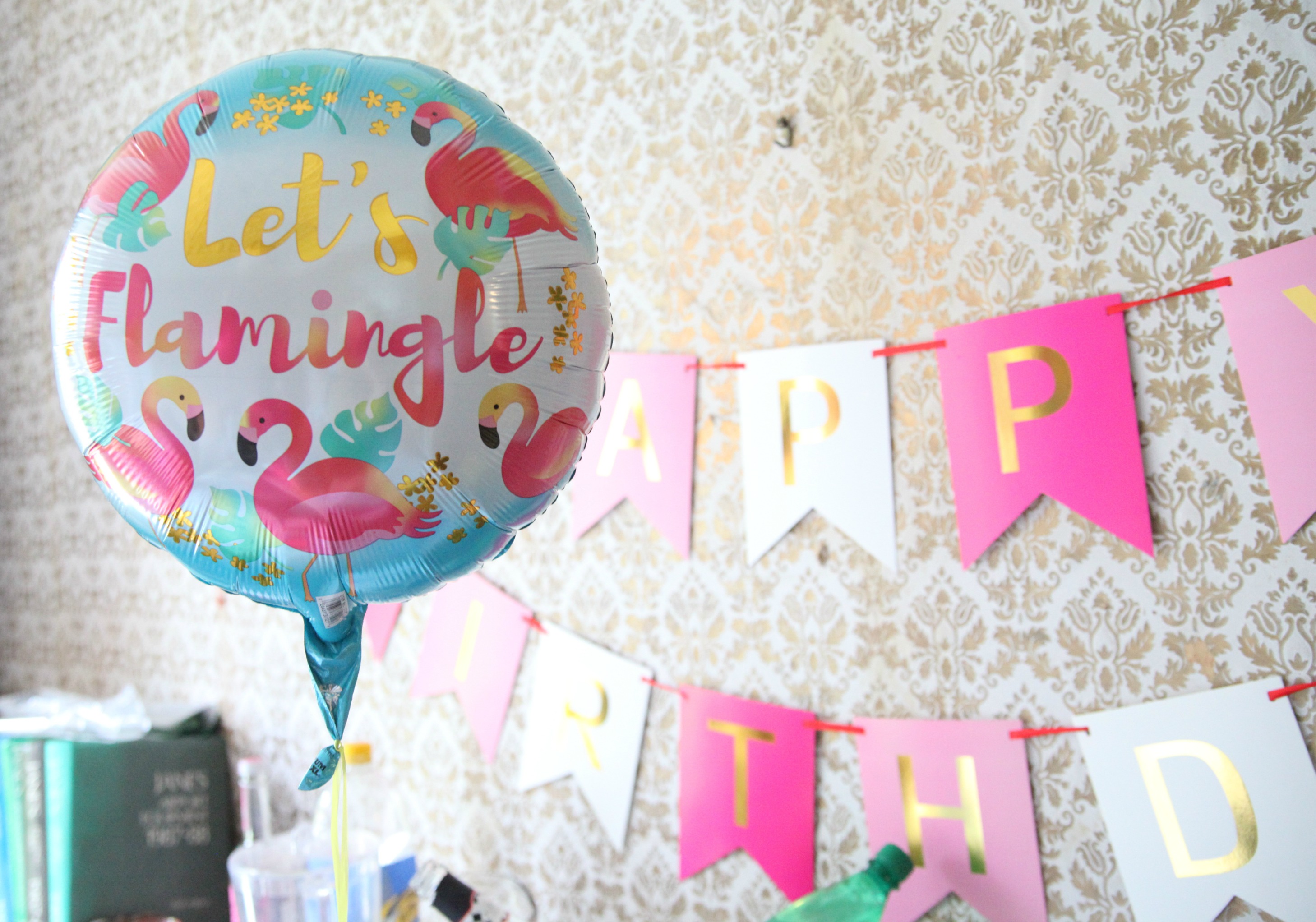 Collaborative*
As Caspian arrived in the middle February and on my birthday of all days we have celebrated his in August. He is still the centre of attention on our special day but our garden lends itself perfectly to a summer party. Although sometimes it can be fun to have a bright and sparkly fiesta in the middle of the cold and dark winter, too. You will have to hold it indoors but all the colours and lights will really brighten up everyone's day. Believe it or not when we had ours in August we had picked one of the few days where it actually rained so we even had to seek shelter indoors then.
A tropic flamingo theme is not only fun, but it is also easy to do. You can find decorations both online and in most party shops as it's such a popular theme and flamingos are fun! Teamed with pineapples and palm leaves you are bang on trend for an entertaining party for all ages.
DECORATING THE ROOM OR OUTDOORS
Being spoilt all summer long with hot days and hours of glorious sunshine we were slightly disappointed when the weather report said rain on our chosen day. We quickly had to sort out a shelter but as avid readers know we are in the process of a huge house renovation so this was easier said than done. We did manage and in particular thanks to the wonderful decorations and on-theme items we had been sent by FINDMYGIFT.co.uk. They have many wonderful products and a lot that suited this flamingo/pineapple theme to a T. You only really need a couple of key pieces to tie the theme together. The rest can simply be in matching colours; pink napkins, banners etc.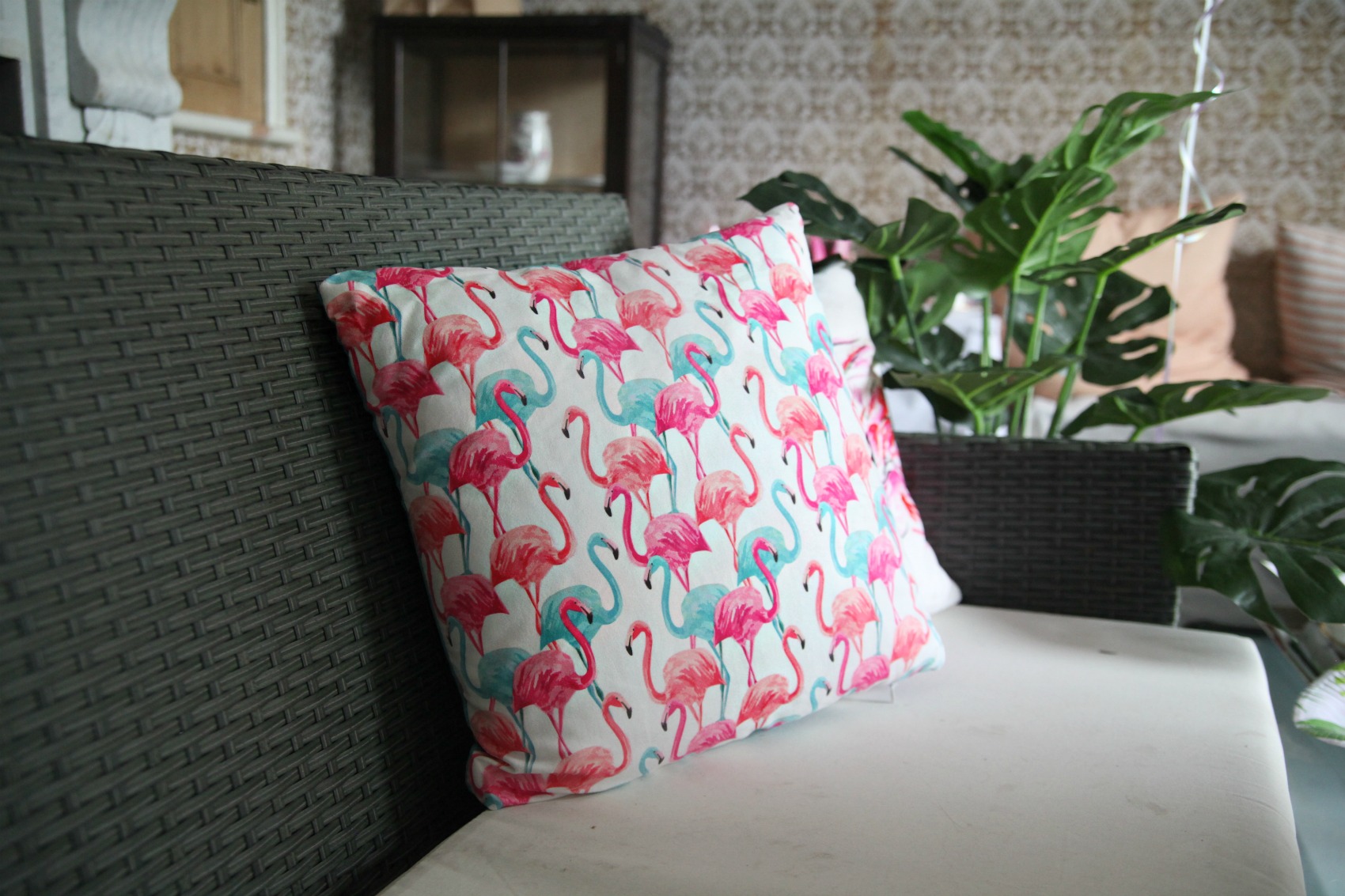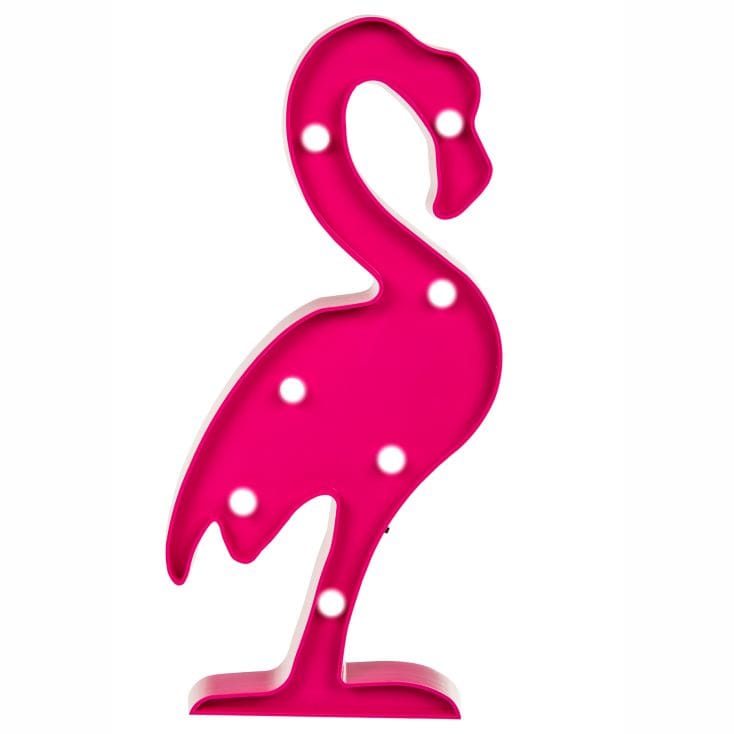 The light up flamingo was a great centrepiece and can, of course, be use afterwards as a lovely decoration piece. The same goes for the adorable pink and blue flamingo cushions. The cute blow-up pineapple drinks holder was a great addition, too. The biggest hit, however, were the giant blow-up flamingo and pineapple, which the kids absolutely loved. These are certainly worth getting even if there isn't a pool in sight as they provided hours of fun as they jumped through them and climbed in them.
PRESENTING THE FOOD IN STYLE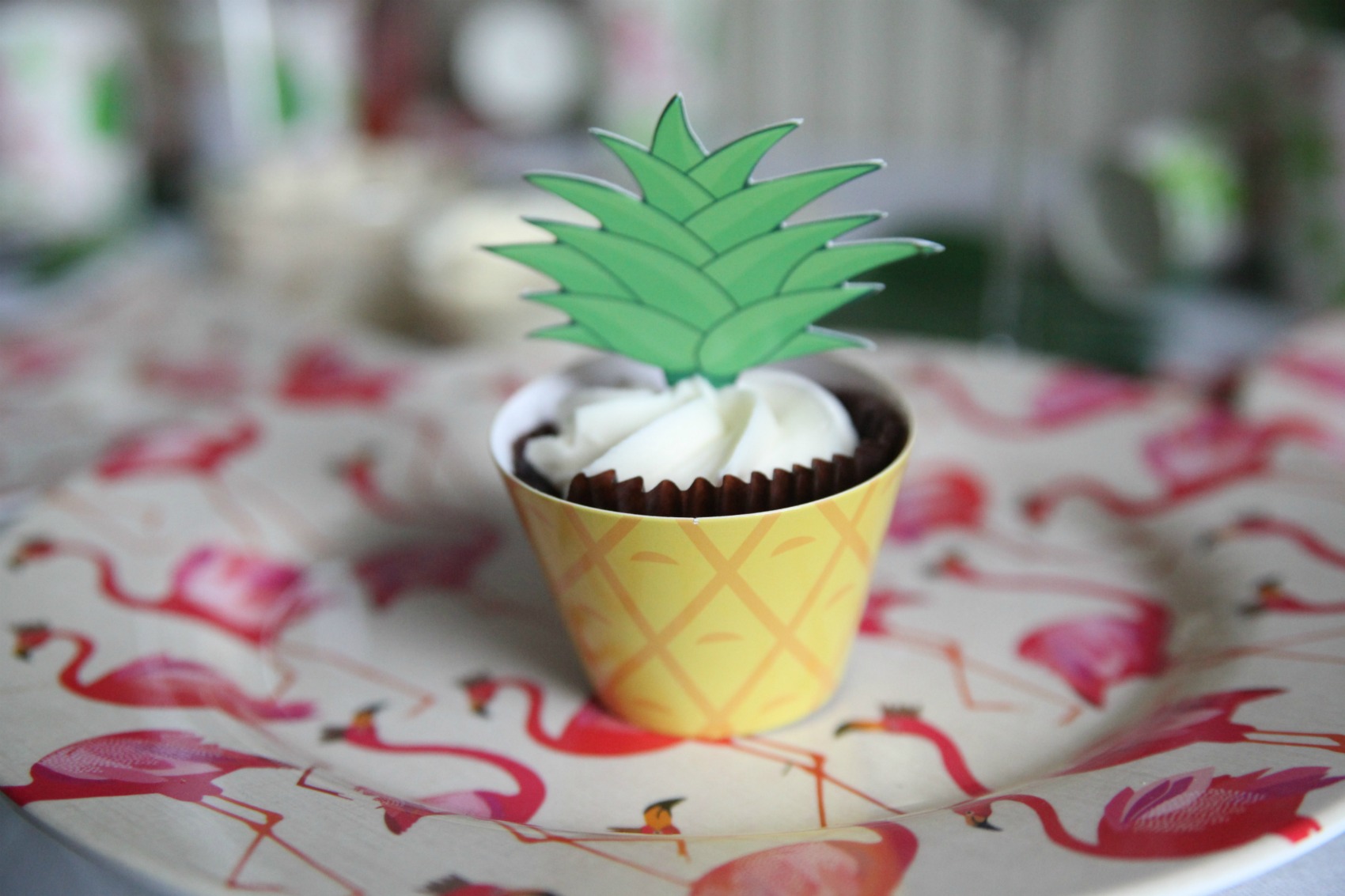 We've long been looking for stylish plates and serving trays for the garden. We wanted something durable especially with children around. The Sara Miller London Portmeirion The Flamingo Collection is not only gorgeous it is colourful and fun, too. Ideal for a summer BBQ and perfect for this themed party.
The larger dinner plates worked well for displaying the food and cake along with the two smaller sandwich trays. The large tray allowed Daddy Long Legs to bring drinks to our guests and we got so many comments on just how perfect the design was as they ate off the side plates.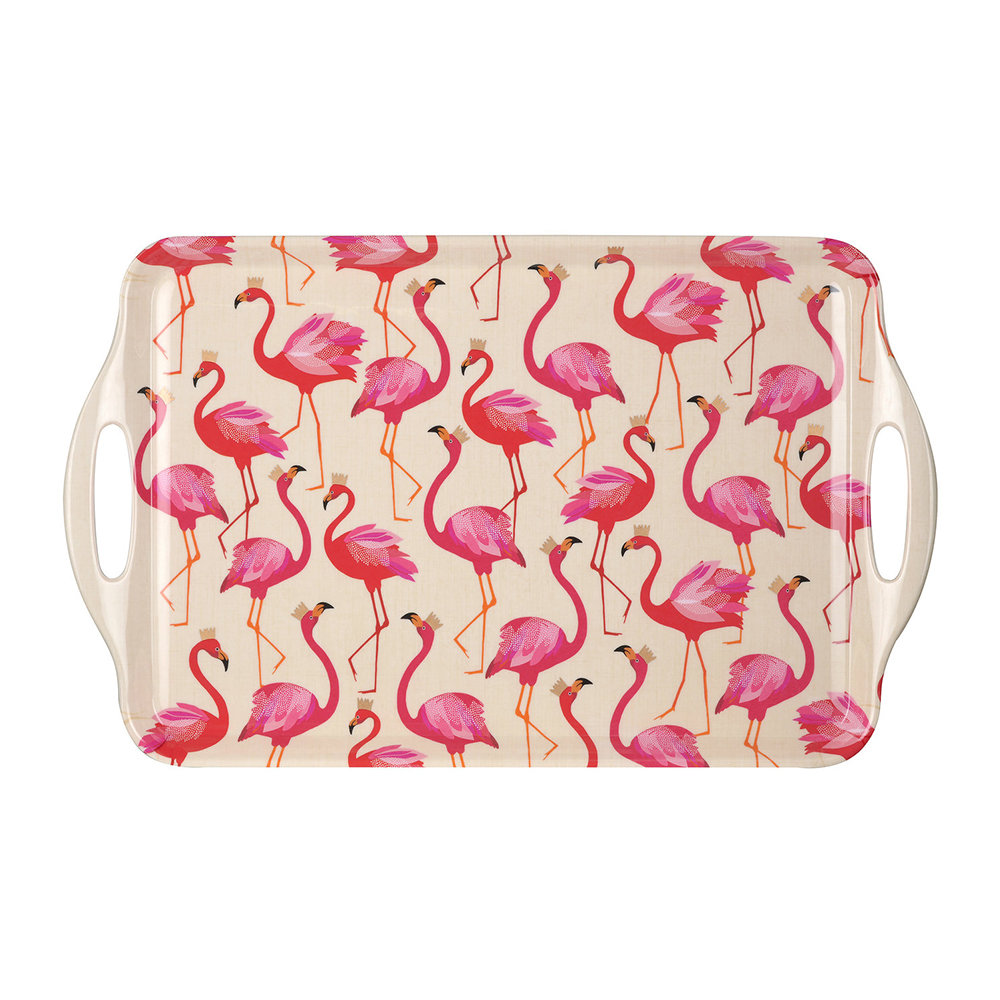 CAKE AND FOOD DECORATIONS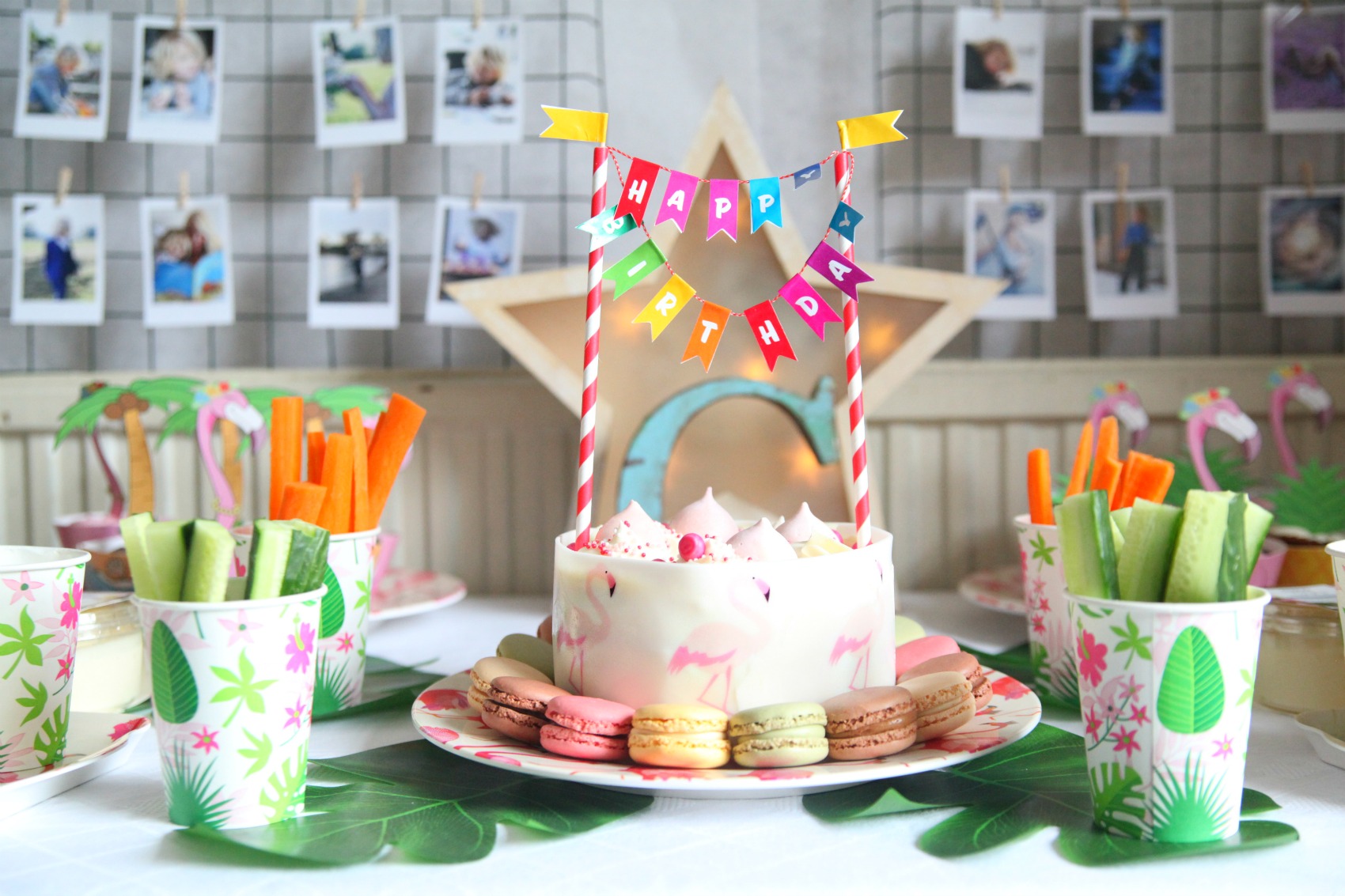 When I planned our party most of the major supermarkets had flamingo cakes on offer. I chose this fabulous one from Tesco's but depending on the season you might want to seek out a professional cake maker to create a bespoke one for you. Or even give it a go yourself with lots of pink icing and colourful sprinkles.
Opt for healthier yet still colour-coordinated snacks like the raspberry peelers from Fruit Bowl. They were are a great hit with our little guests.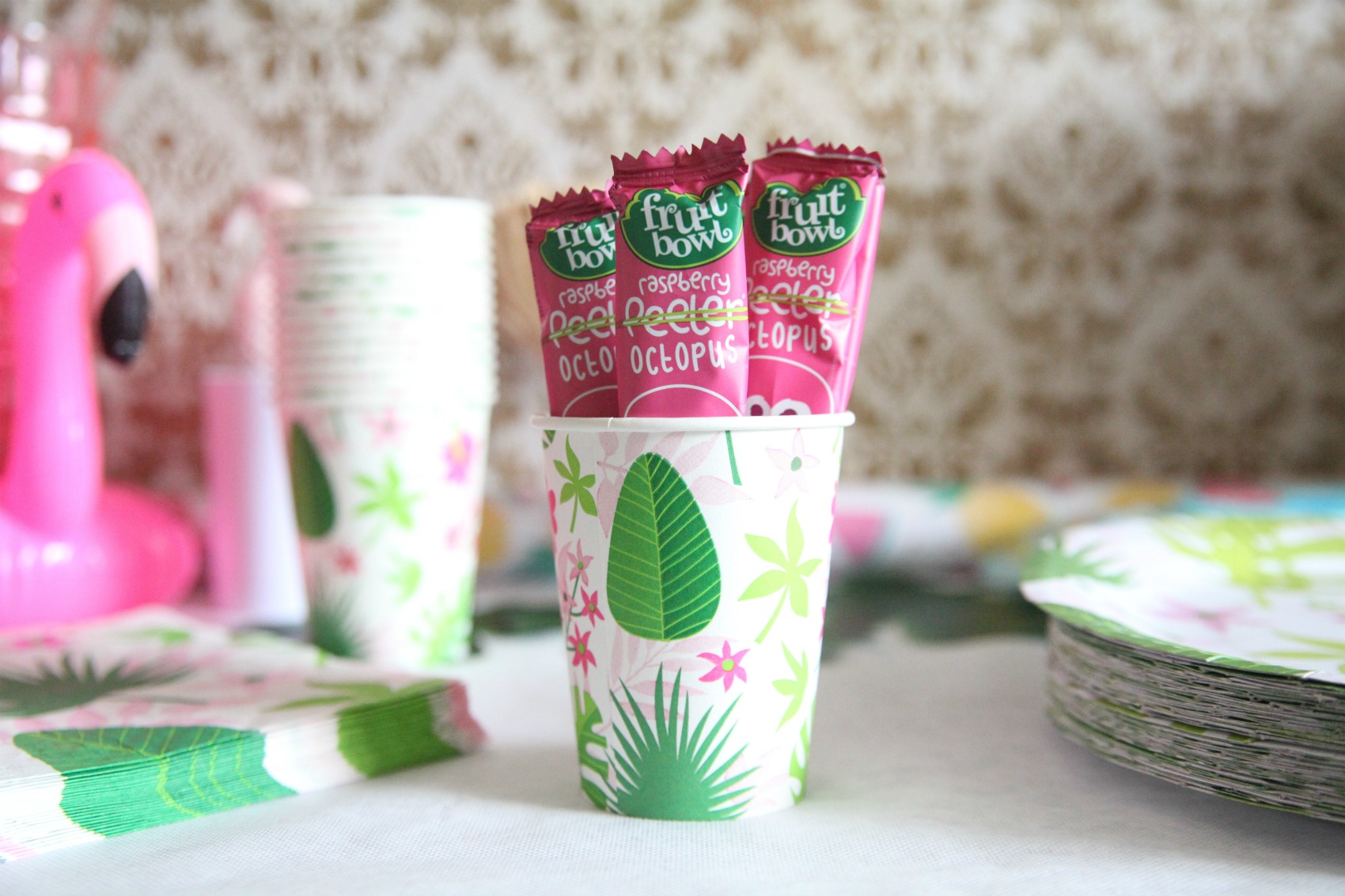 EASY DRINKS AND KEEPING THE ENVIRONMENT IN MIND
When planning a children's party it is always a good idea to keep things simple and easy. You'll have enough to do on the day putting up decorations and setting out food. Opt for quick drinks solutions like these deliciously flavoured milk bottles from Yazoo with no added sugar. Make sure you have other alternatives available in case anyone has any allergies. Caspian loves the chocolate drinks from Yazoo so I'm pleased to see they have now brought out this version with no added sugar yet just as tasty.
Invest in reusable stainless steel straws. The ones from Klean Kanteen are fantastic as they come with coloured tops so each child can choose their own. They work well as a party favour, too. One that helps their future in an everyday way.
PACKING THE PERFECT PARTY BAG
I often hear parents complain about the useless tat that is included in most party bags. Little plastic toys that quickly break. I recently read about a mum who handed out books as party favours. I don't think you necessarily need to provide your guests with a gift bag but it's a nice gesture. I liked the book idea so thought of ways I could incorporate that into ours and still stick to the theme. I found a gorgeous colouring book from The Works. It was down from £4.99 to £1 and had a flamingo on the front amongst other birds. I picked up packets of colour pencilled, a grow your own flamingo egg and then the stainless steel straw mention above.
We had so many compliments on the bags afterwards. I feel if you are going to do them you might as well make sure they contain something that is actually useful. If you can make it fit your theme, even better! I found the brown paper bags, pink tissue paper and flamingo stickers online creating a subtle stylish look that was also more environmentally friendly.
DRESSING THE PART
Lastly, you can complete your party look by making yourself a part of it. I found the cute and casual t-shirt for Caspian from Matalan. Paired with some comfy flamingo leggings from Ada & Alfred and he was all set. I picked up a gorgeous light blue maxi dress in the asos sale also with flamingos on.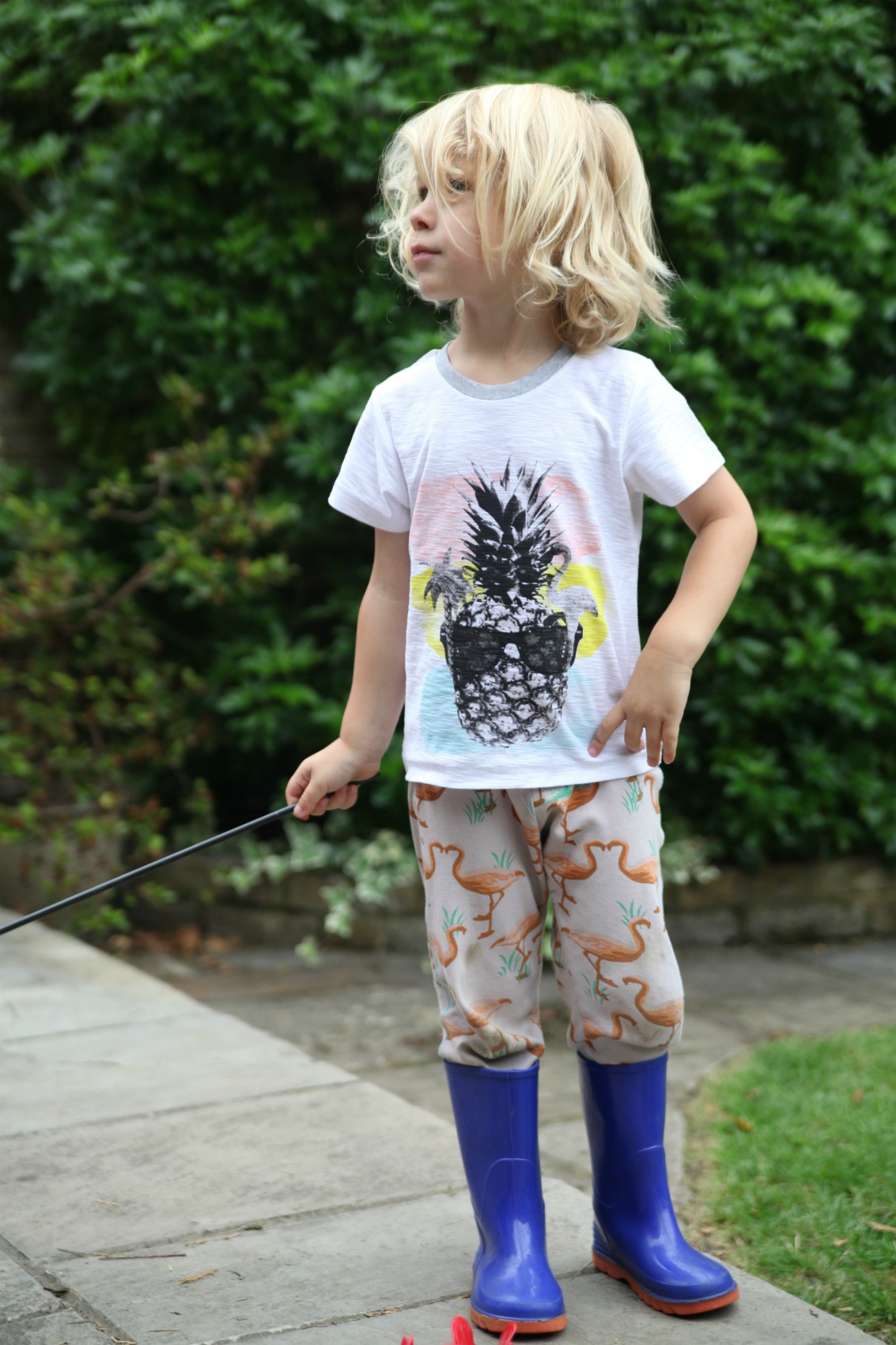 Do you do themed birthday parties? What's your favourite?
*This post includes press samples.