In May this year we got invited to a premiere screening of Peppa Pig, The Movie here in London. The film has just been realised on DVD and makes a great socking filler for any Peppa fans out there.
Caspian hadn't watched much Peppa Pig up until this point and wasn't familiar with all the crazy characters. I had mostly heard other parents moan on social media and had no idea what we were in for. Since then he, like most other children, has become a little bit obsessed (read: a lot) and can now name every single animal. As a special treat we therefore decided to take a trip to Peppa Pig World part of Paultons Theme Park in Hampshire last week.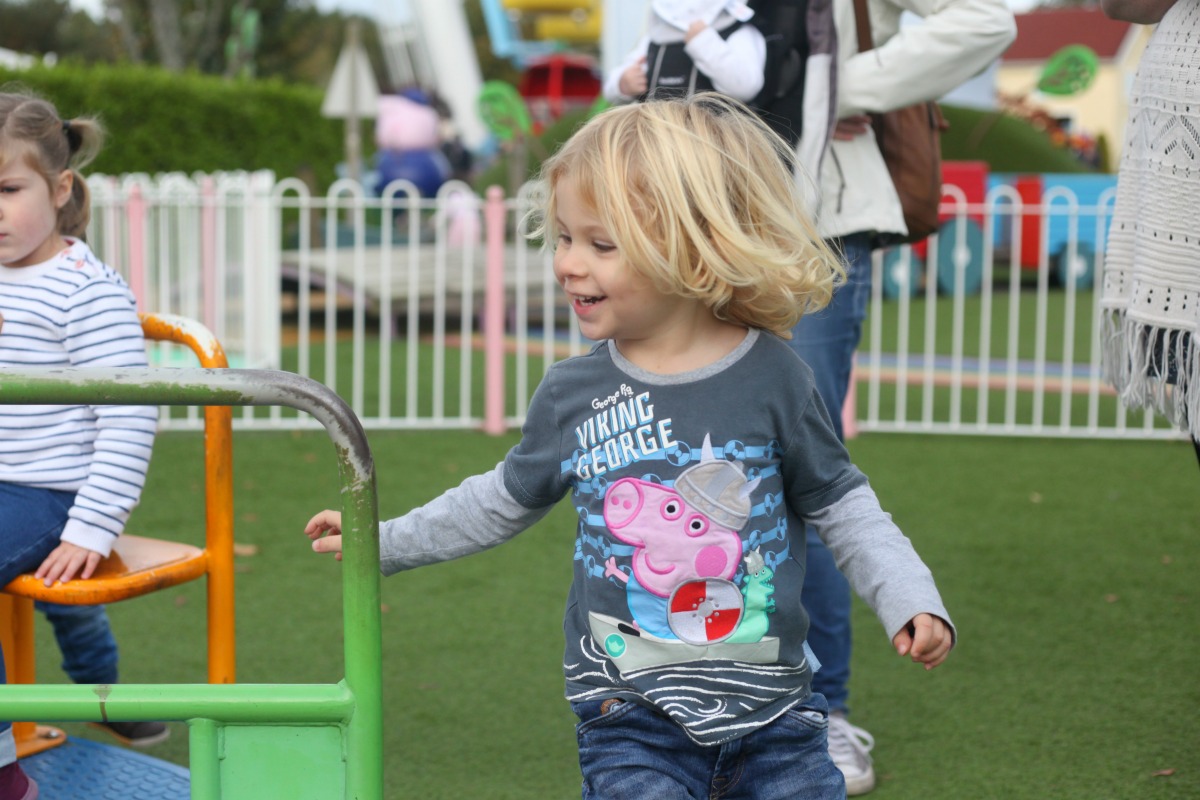 OFF TO A BAD START AT PEPPA PIG WORLD
This part of the park is perfect for little people and very geared towards toddlers. We were, however, disappointed with the fact that they charge entrance based on height and not age. Caspian is very tall but he is still only two. This means even though his height allows him on certain rides on his own, he would never go and we would never let him.
We were made to pay an extra £28 for him despite him not getting anything more than all the children under 1 meter. The staff at the entrance were not handling the situation well. The guy measuring my little man didn't understand he was dealing with a two-year-old who wouldn't stand up under a metal bar.  Caspian was literally a couple of millimetres over the 1 meter line and this was only down to the heal height of his shoes which we argued but to no avail. Had we known we would have brought different shoes!
We also had his passport with us to prove he is still very young, but none of this mattered. We were not the only parents sent back to buy a ticket with a young toddler while seeing 3 and 4-year-olds enter free of charge. I have since written to the park and I'm awaiting their response. I feel it would be more appropriate if entrance was free for anyone under 1 meter or the age of 3. Also, a two-year-old is not ready to comprehend the security measures to enjoy a big ride safely on his own so shouldn't be allowed on one even if he passes the height requirements!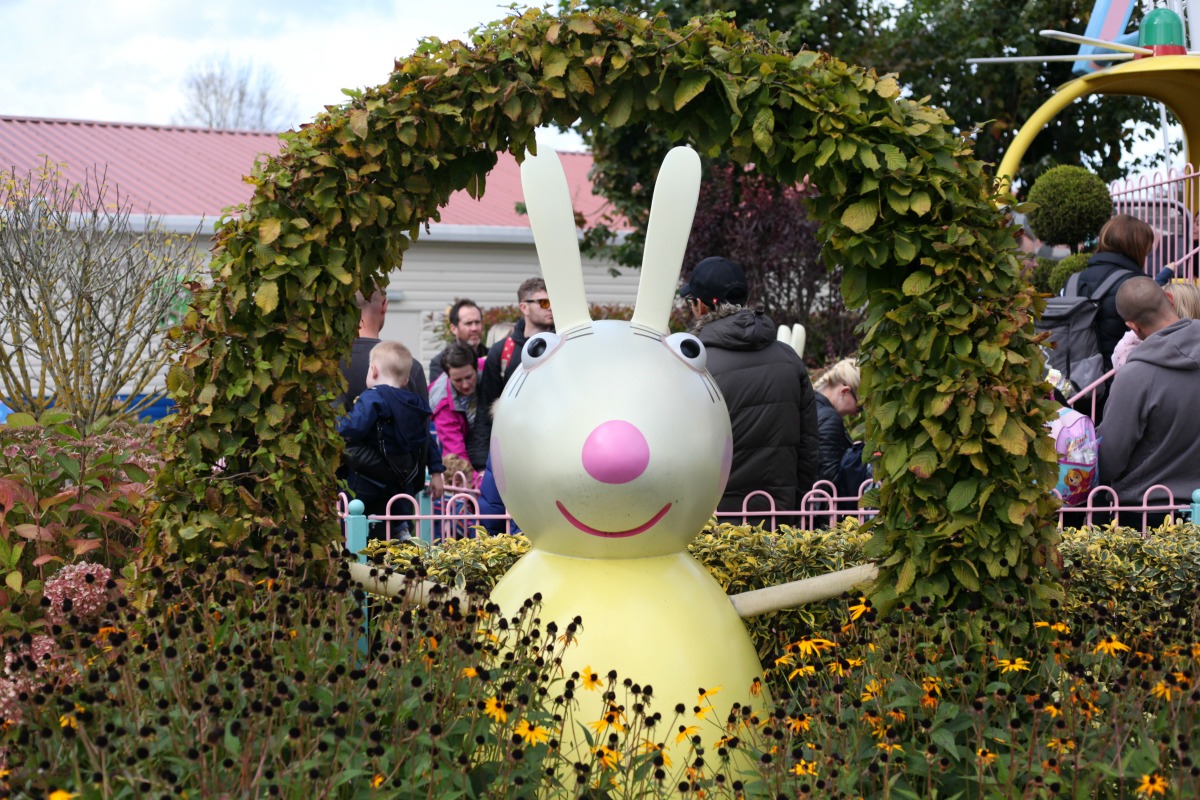 WATCH OUR PEPPA PIG WORLD VIDEO
Although despite the awkward start we still had a very enjoyable day at Peppa Pig World. We were lucky with the weather, too, as you can see from our latest video. Both Daddy Long Legs and I enjoyed going on the rides with Caspian.
MEETING THE CHARACTERS AND ENJOYING MOST OF THE RIDES
Caspian refused to go on Miss Rabbit's Helicopter and the Hot Air Balloon. He did however absolutely love riding in Daddy Pig's car, taking a trip on the back of George's Dinosaur and going down the millions of slides around the park. The queue to having your photo taken with Peppa and George was long, so we waved to them from afar.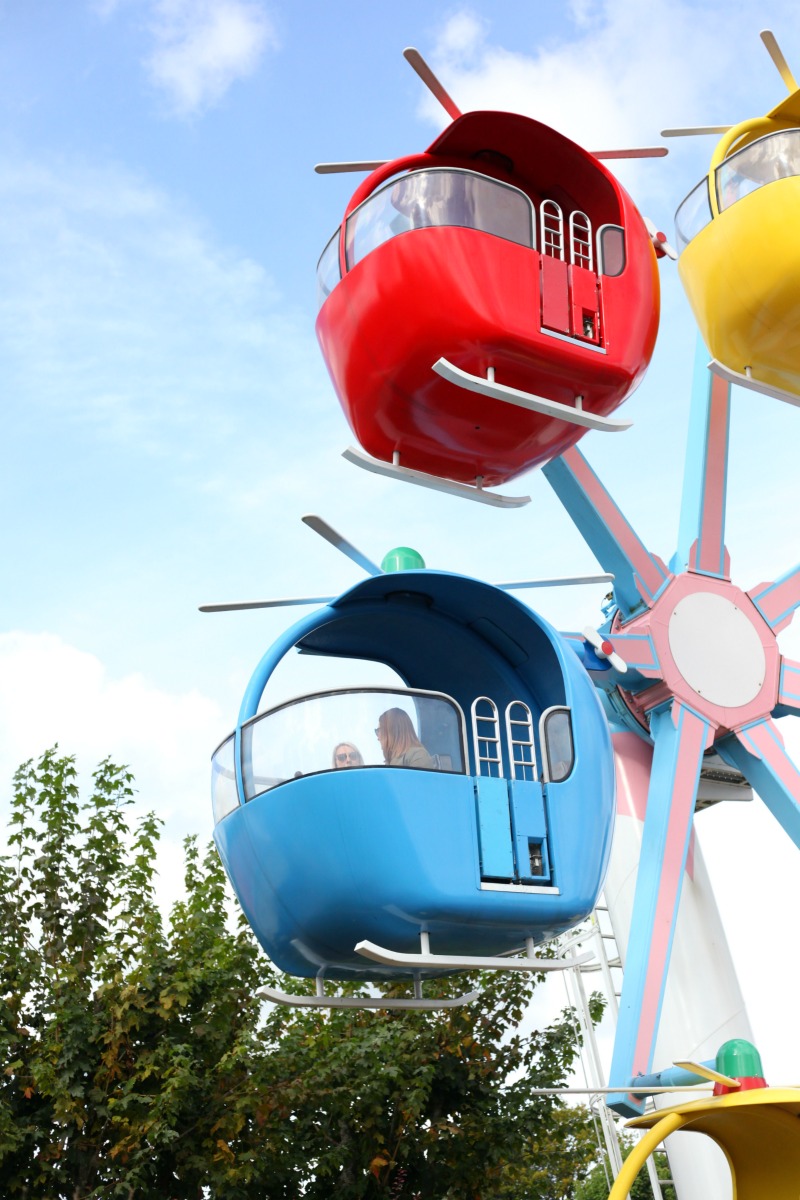 There's a great indoors space centre featuring a huge rocket. With lots to explore and climb, I can imagine this really comes in handy on rainy days. There are plenty of places to buy food, drinks and many Peppa Pig shaped sugary treats to keep your little one on a high throughout the day.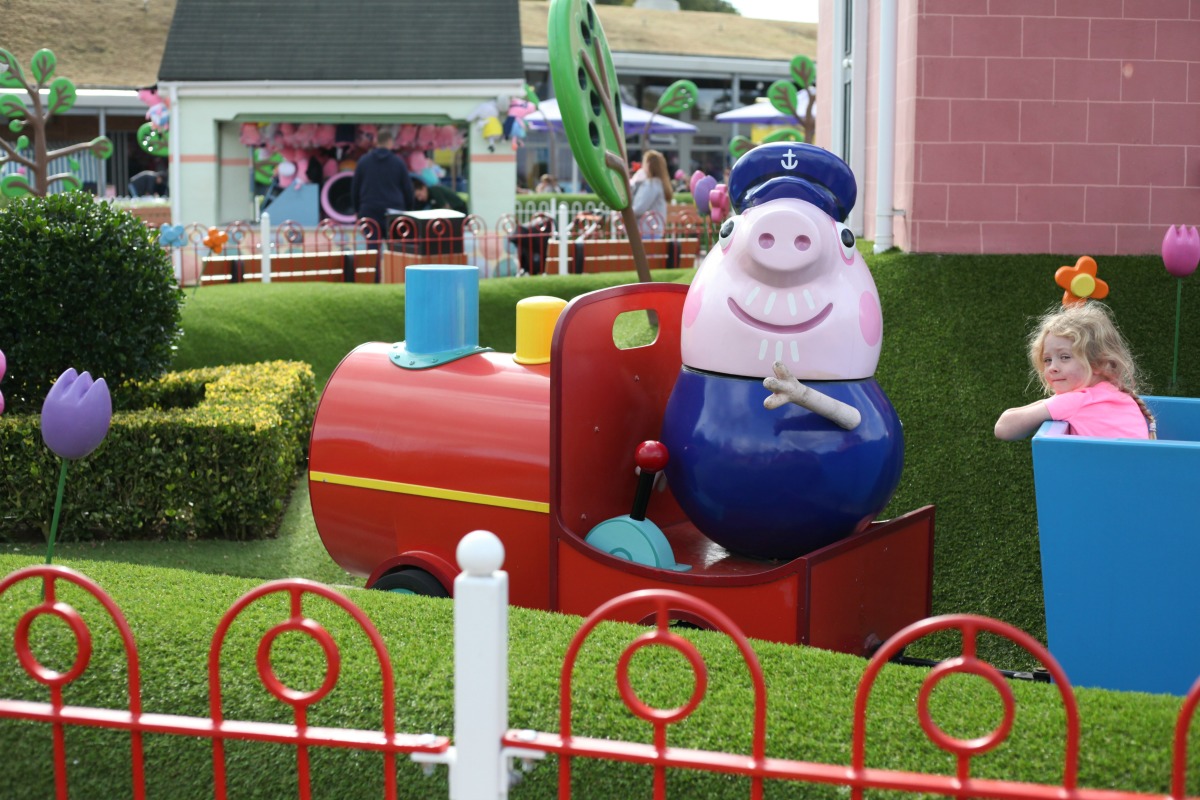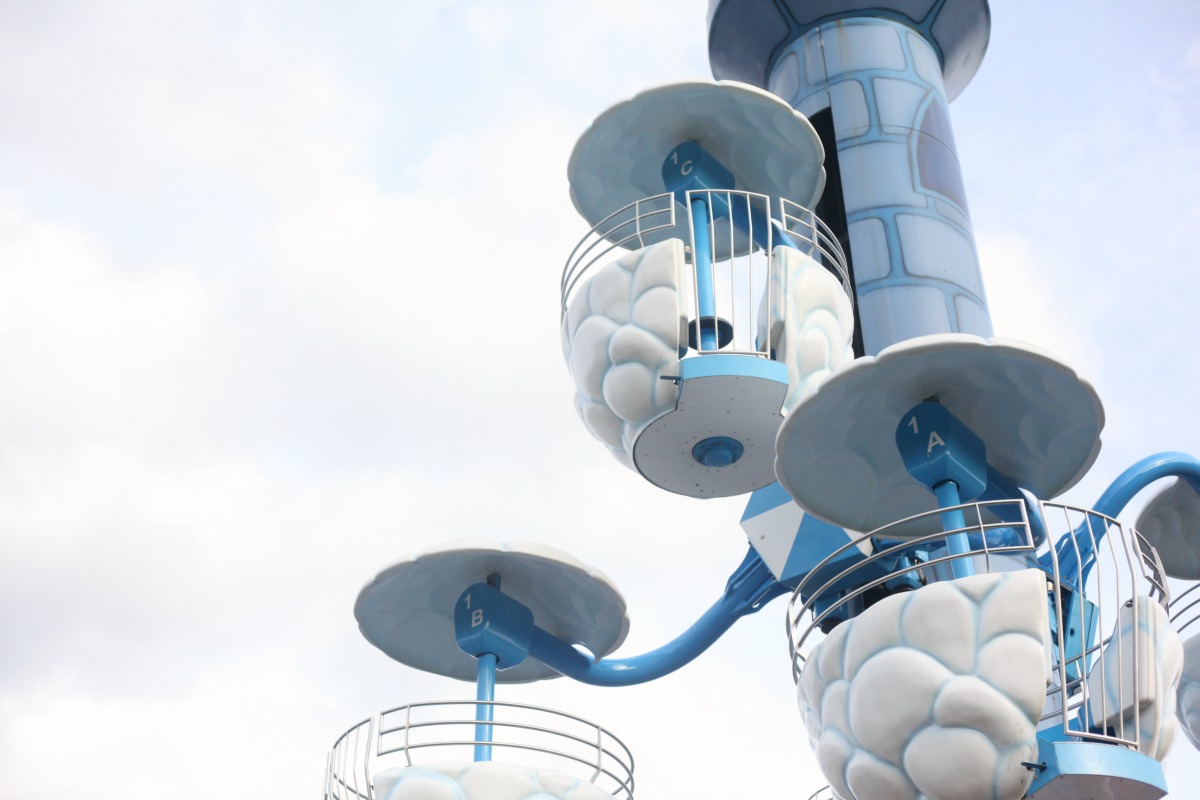 Overall we had a fantastic day and a very tired toddler by the end of it, who seriously didn't want to leave. Peppa Pig World is currently being expanded so I hope we can come back soon to try all the new rides and areas.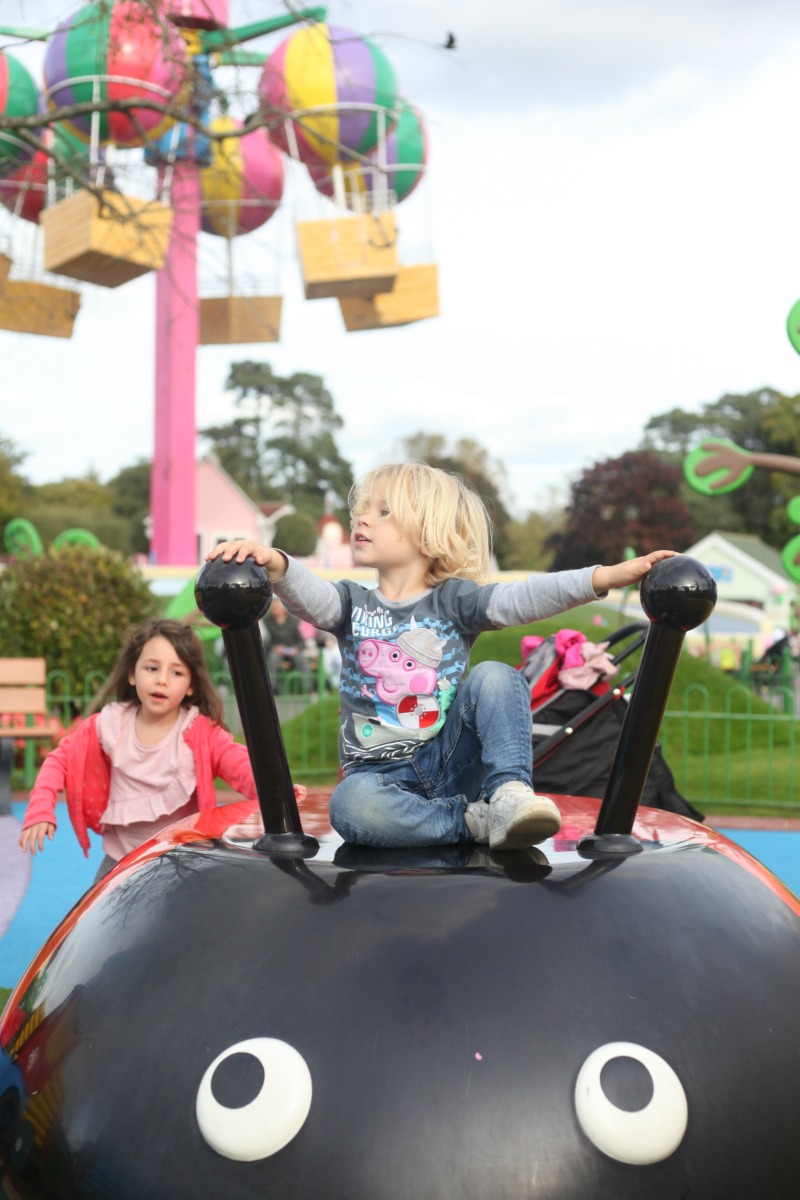 Have you visited Peppa Pig World at Paultons Park? What did you think?