Do you ever think about starting a business? Perhaps you would like to write a blog? Or you are fantastic at creating cakes and think you could sell them for parties? I love talking to female entrepreneurs to hear more about their ideas, why they started their business and where they hope to take it. This week we are chatting to Becky who has recently launched a range of mini-handbags for children called You Me and Bee.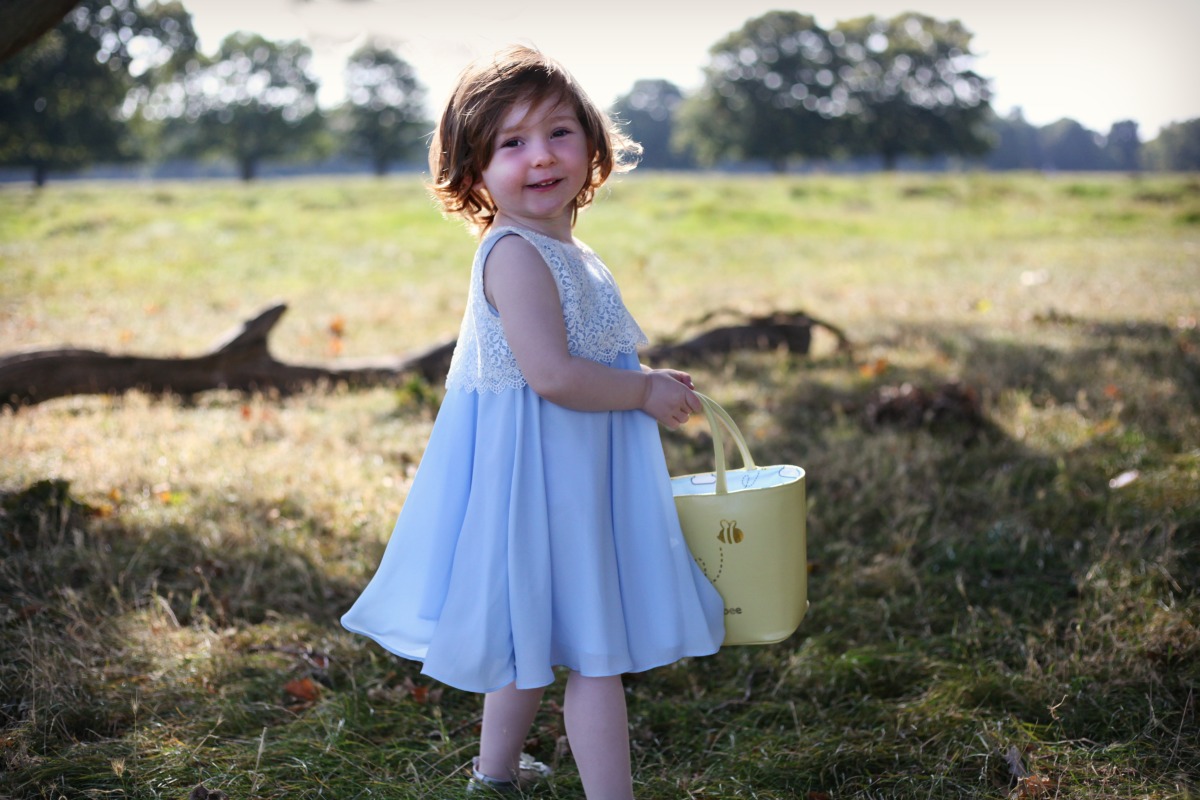 I did a photo shoot for the brand and I have to say that our little two-year-old model instantly took to her yellow Bee. Caspian was keen to help her fill it as we explored the autumn treasures in Bushy Park. They were dressed in gorgeous outfits from Roco Clothing and you can win a set of your choice plus a pair of children shoes in our latest giveaway!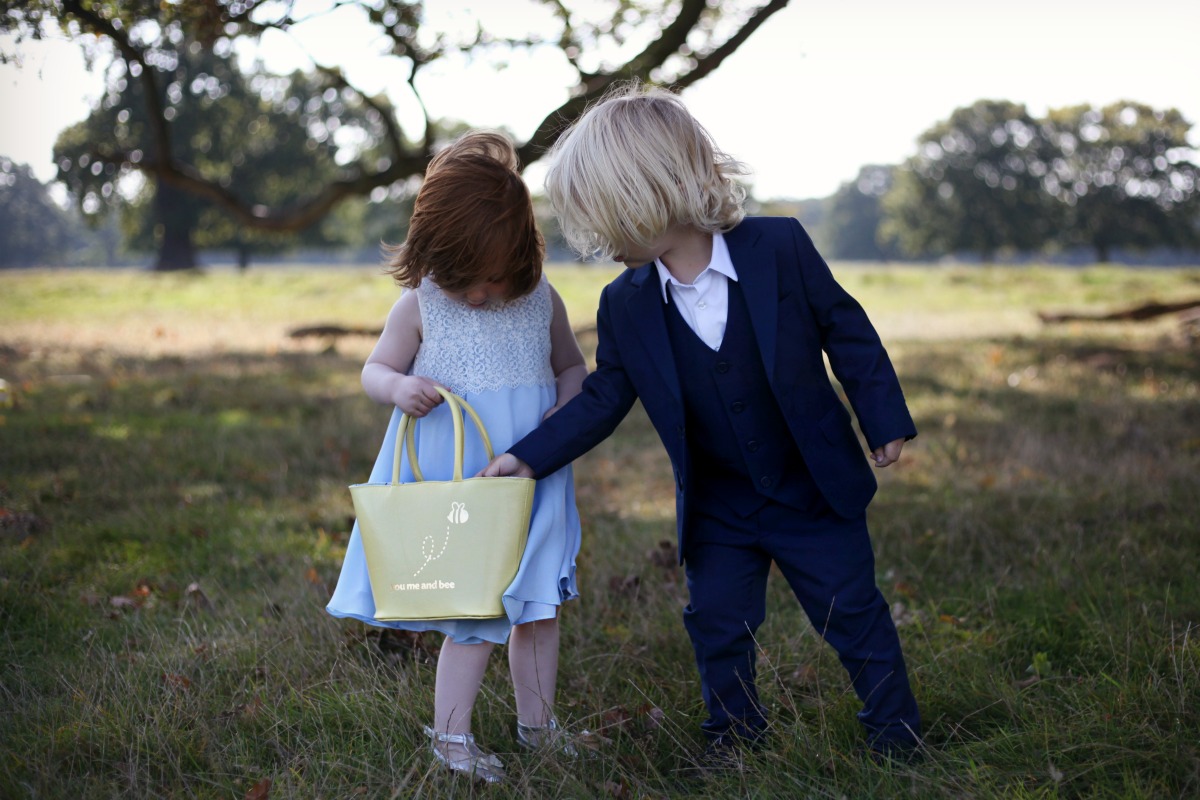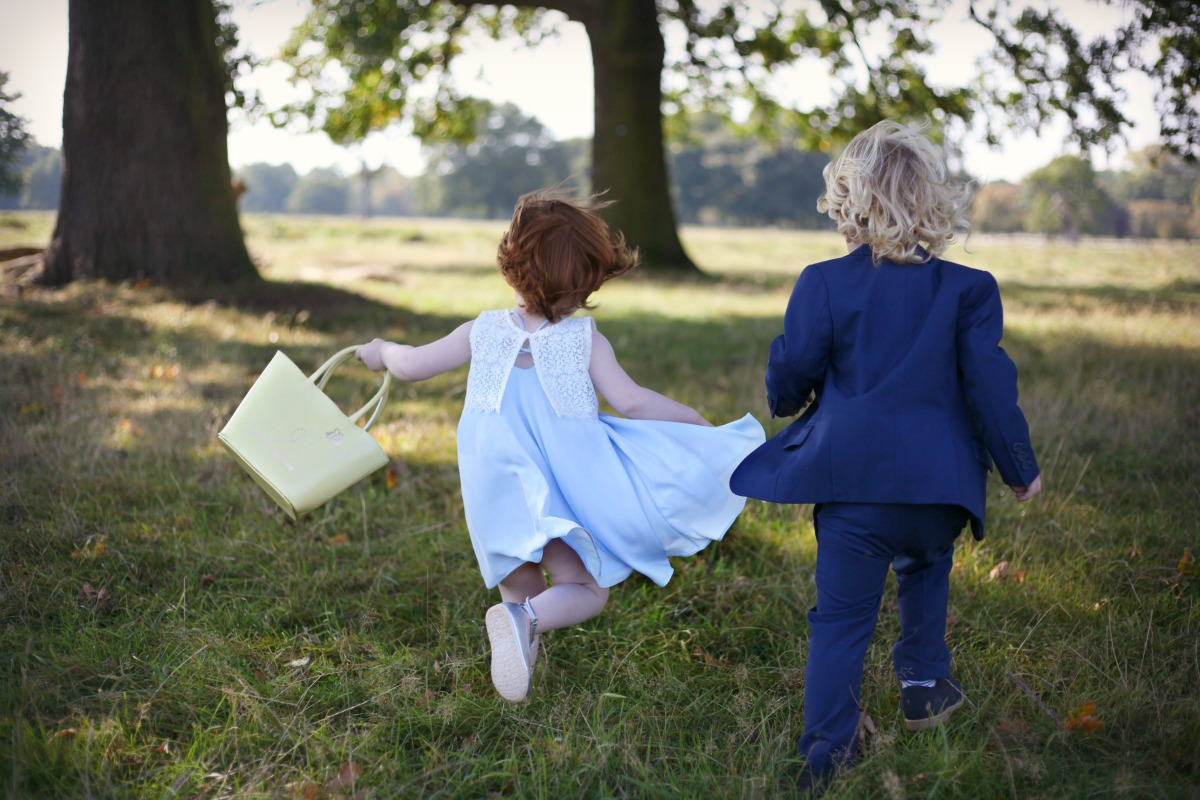 SCANDI MUMMY INTERVIEWS BECKY FROM YOU ME AND BEE
Scandi Mummy: "Hi Becky, welcome to the blog. I'd love it if you would tell the readers a little bit about yourself and your business?"
Becky: "Thank you for having me. I have worked within primary schools for the past 8 years. Outside of work I really enjoy looking after and watching my bees in my bee box at home as well as being outdoors exploring nature in general. I also adore to travel and experience new places.
With  a passion for design and being creative, I founded You Me and Bee and I absolutely love working on our cute bee bags!
Did you know that that bees dream and learn in their sleep, I found this fascinating. When they dream they create mental notes of where they have been in the day and can remember the meadows and flowers that they need to visit the next day so they truly are incredibly intelligent creatures with maximum efficiency! They definitely deserve to be preserved and that is part of what I want to achieve with You Me and Bee, too."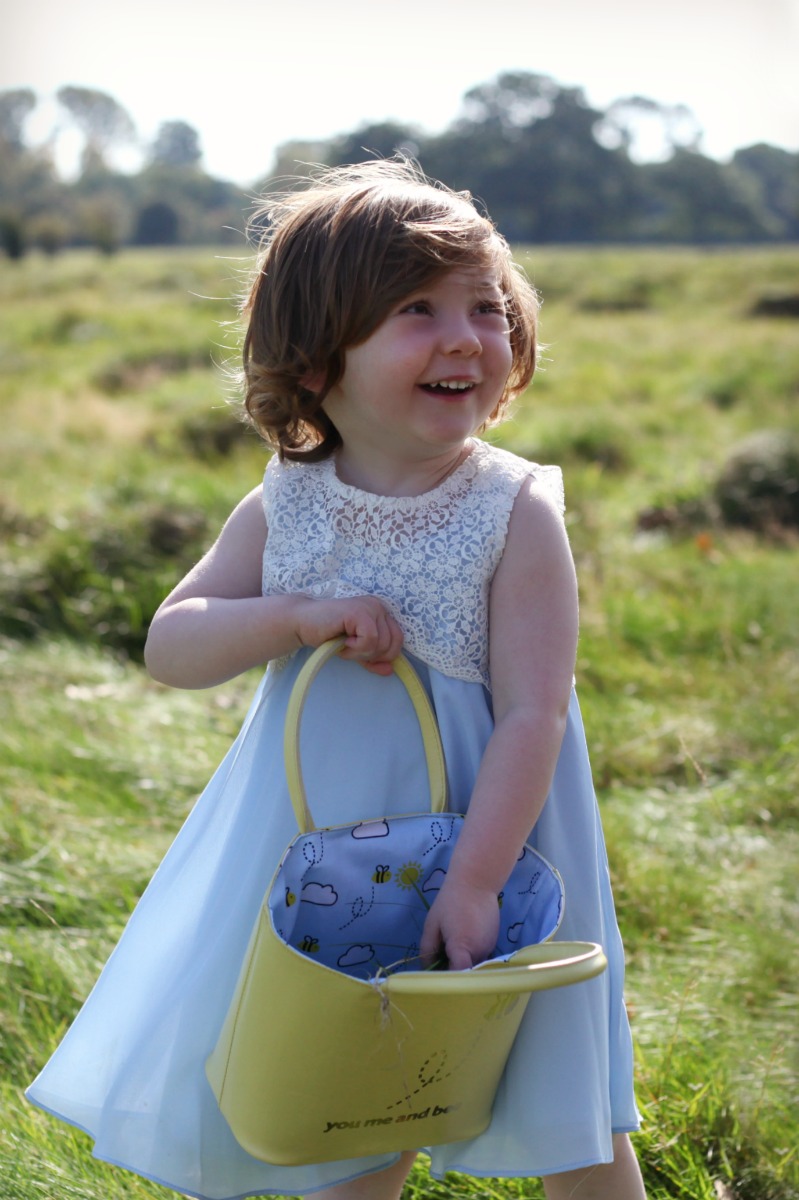 INSPIRATION AND DESIGN
Scandi Mummy: "You bags are created for toddlers, what inspired you to design for this age group?"
Becky: "My niece Darcy, who is 18 months old, always loves playing with my handbag…and anyone else's she can get her hands on! When it came to her birthday I decided I would buy her a handbag of her own. However, I found a distinct lack of quality children's accessories available. That was when I thought I would create a special and luxurious bag. I modelled it on an adult tote bag, so there was no fidgety zips or fastenings for little hands to deal with.
In my experience working with school children, I realised that kids prefer something that does not look obviously like a children's product. With bees representing harmony, community and being incredibly hard working looking after their Queen I felt there was no better female role model and companion for young girls."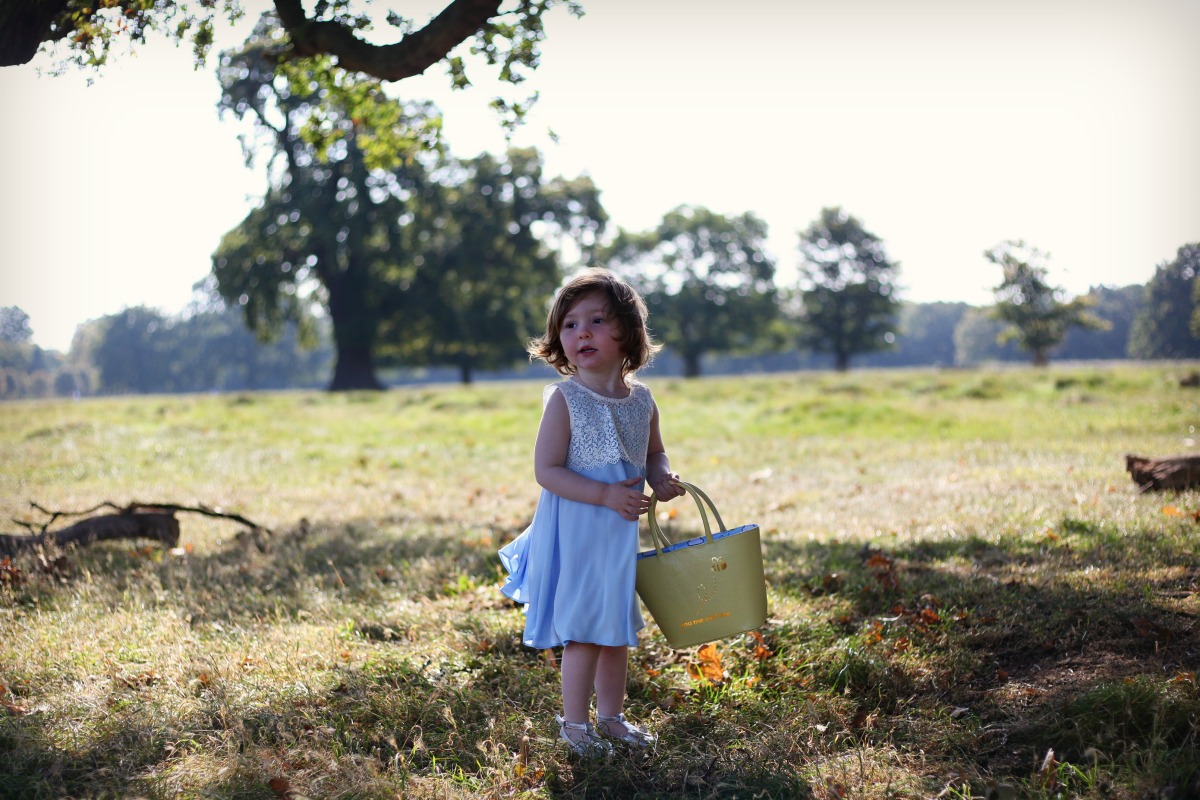 DEVELOPMENT AND PRICING
Scandi Mummy: "I appreciate the bag is a luxury product although I can see why parents might question the price tag of £129.99. Please helps us understand what goes into creating the You Me and Bee bags? "
Becky: "Yes, it is designed to be a luxury product. I call it little lady luxury. It is handmade in London and has been lovingly created using high-grade quality leather and premium quality 100% cotton bespoke bee lining. It also has a gold foil embossed logo, as well as stitching all around the bag including the base to ensure maximum durability. The bags are completely unique and they are designed to grow with the child rather than be a product you have to keep buying. They can also be passed down to siblings or friends. Everything you see has been touched by hand, and designed to be a thoughtful and precious gift."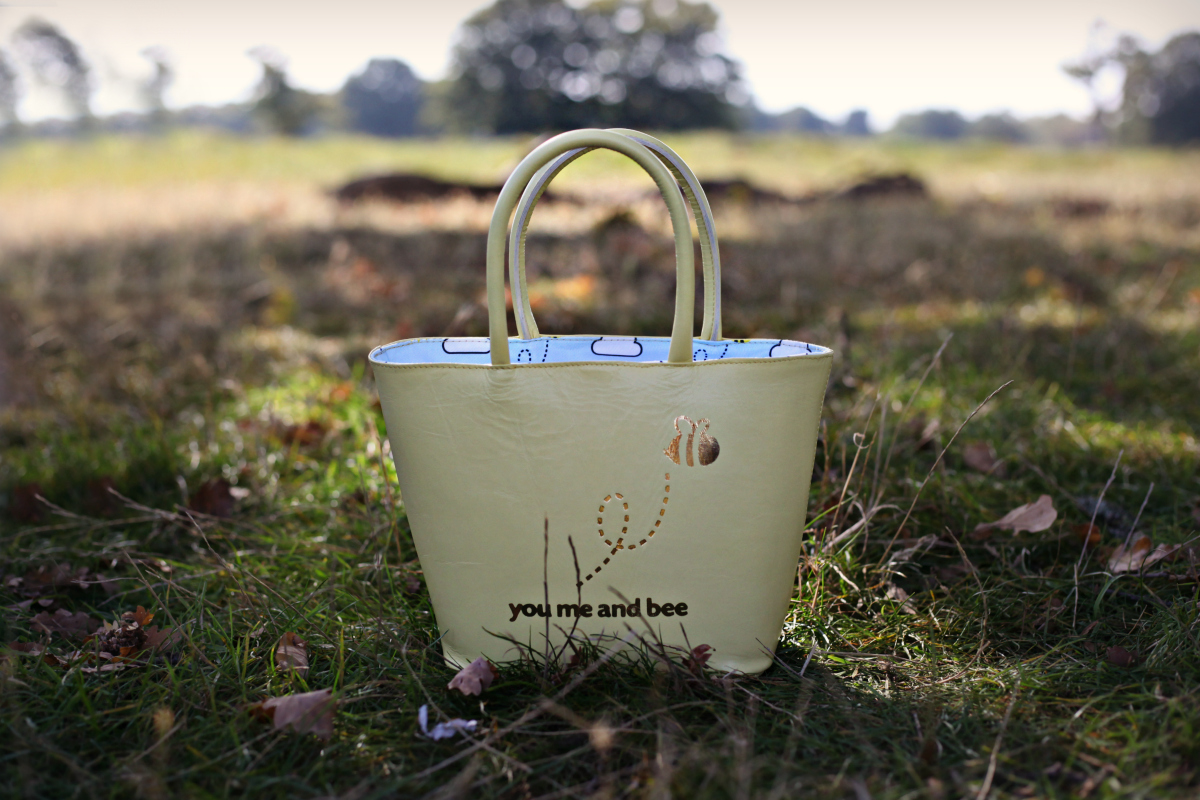 WHAT DOES THE FUTURE HOLD?
Scandi Mummy: "You are clearly very passionate about your ideas and the brand you are creating. When did the idea start and where do you hope to see yourself in five years?"
Becky: "The idea started at the beginning of this year, January 2017, just as my niece had her 1st birthday. In five years, I would like to be a recognised and trusted brand within luxury children's accessories.
It is my hope to inspire young children and promote independence. It's my plan to create a range of different sizes and styles of bee bags. I have many ideas, so watch this space! I would also love it if as a brand we can make a real difference to the decline in bees. In the future, we would like to hold bee events where people can come and see the work we are doing behind the scenes by creating hives and holding educational workshops."
CREATING A REAL BUZZ
Scandi Mummy: "The bags are definitely very cute and I love that you've focused on bees. You have already talked about your passion for these little creature but I'd like it if you could elaborate a bit more?"
Becky: "I could talk about bees for hours. I have always loved them and found they were such fascinating animals with their strong work ethic and reliance on team work. I found them inspiring and they were always a popular subject at school with the kids when we did nature projects.
The children, too, found them interesting and wanted to learn more about each of their roles. I wanted the brand to be centred around nature and I felt it was important for the brand to have an educational message as to raise awareness for our future generation."
Scandi Mummy: "Thank you so much for speaking to us. I wish you every success!"
Becky: "Thank you!"
If you would like a chance to win one of the You Me and Bee bags then you can enter their giveaway on their website. The bag comes in five different colours red, pink, black, blue and yellow like here.
Please follow and like me: