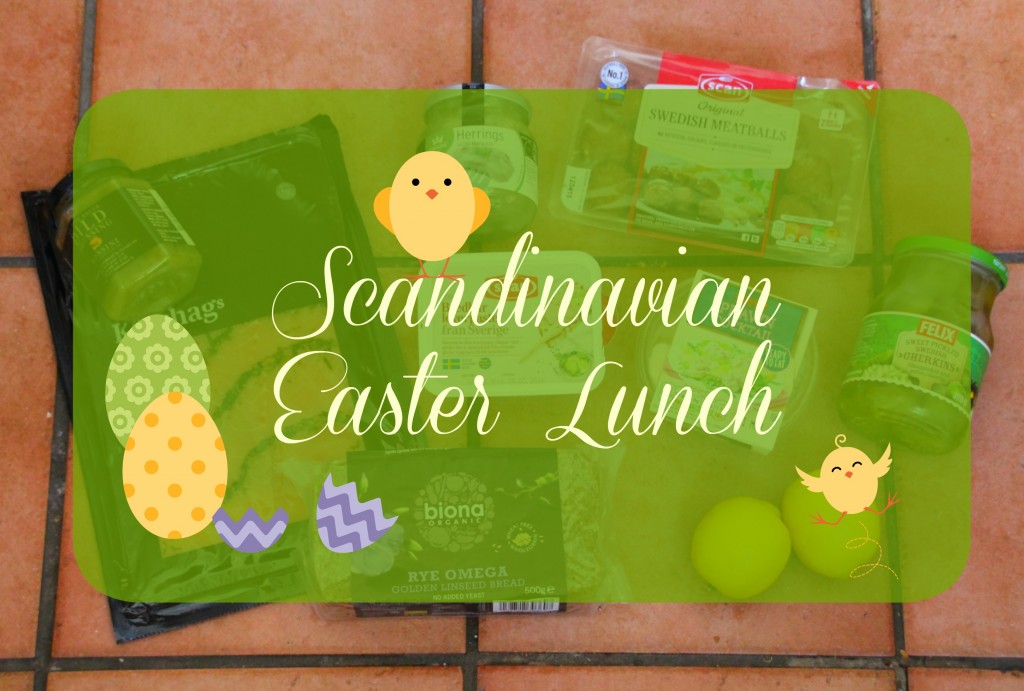 After weeks of (minor, luckily) health issues I made the decision that over Easter we would dive into lots of delicious and nutritious food to try and get back on track. And it worked (mostly). The boys are getting over their colds and except now having to battle a mild flu, I actually feel better. I think I need more yummy food. Trots off to Ocado…
I made a massive leg of lamb with roasted potatoes, honey glazed parsnips and salad. You can see pictures of this on my instagram feed.
But I also wanted us to try a few Scandinavian inspired lunch dishes. Holidays and seasonal celebrations are huge within the Nordic countries and probably ties in with our love of "hygge" and spending hours around a candlelit table eating and drinking. I didn't quite get around to setting the colourful Easter table I have imagined, but with only the three of us around to enjoy it I chose to value sleep over beautiful decorations. I also bought a lot of things pre-made too – though I did rustle up a karrysalat (curry salad) to go with the herring. You'll find the recipe further down this post.
With a traditional Easter lunch you'll generally see an abundance of dishes. It's food galore starting with the traditional herrings, other fish dishes, meats, cheese and something sweet to finish off. I only managed three. I'm sure that any Dane reading this is thinking that's pathetic. But it proved enough and will give you a glimpse of what could be included.
The menu:
Marinated herring with rye bread and my homemade curry salad
Gravadlax with a traditional sweet mustard sauce and toast
Swedish meatballs served with pickled cucumber and rye bread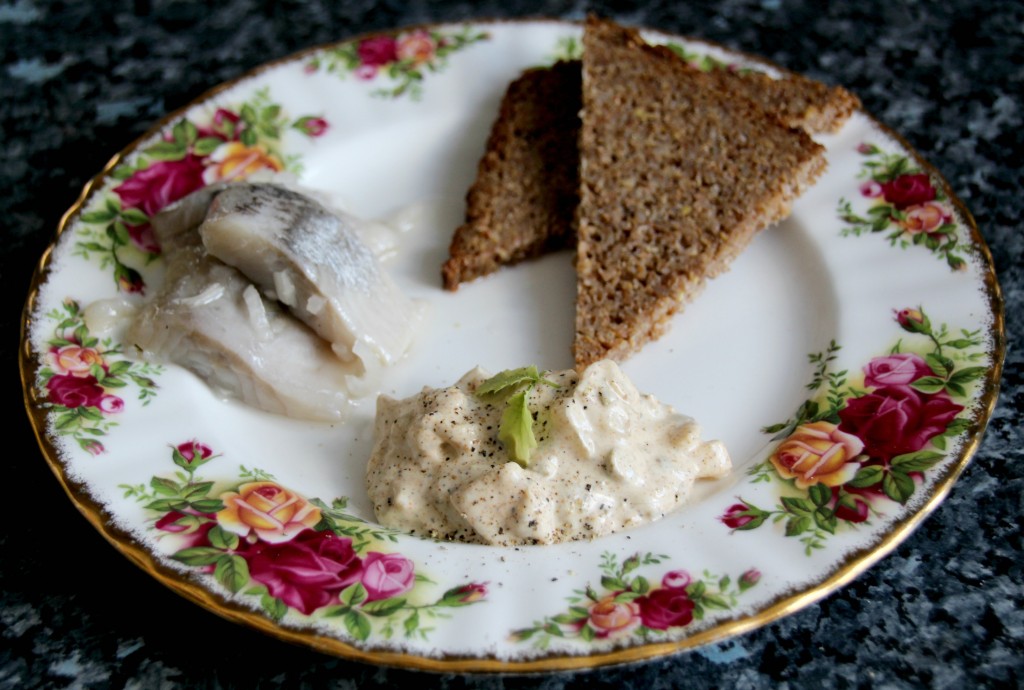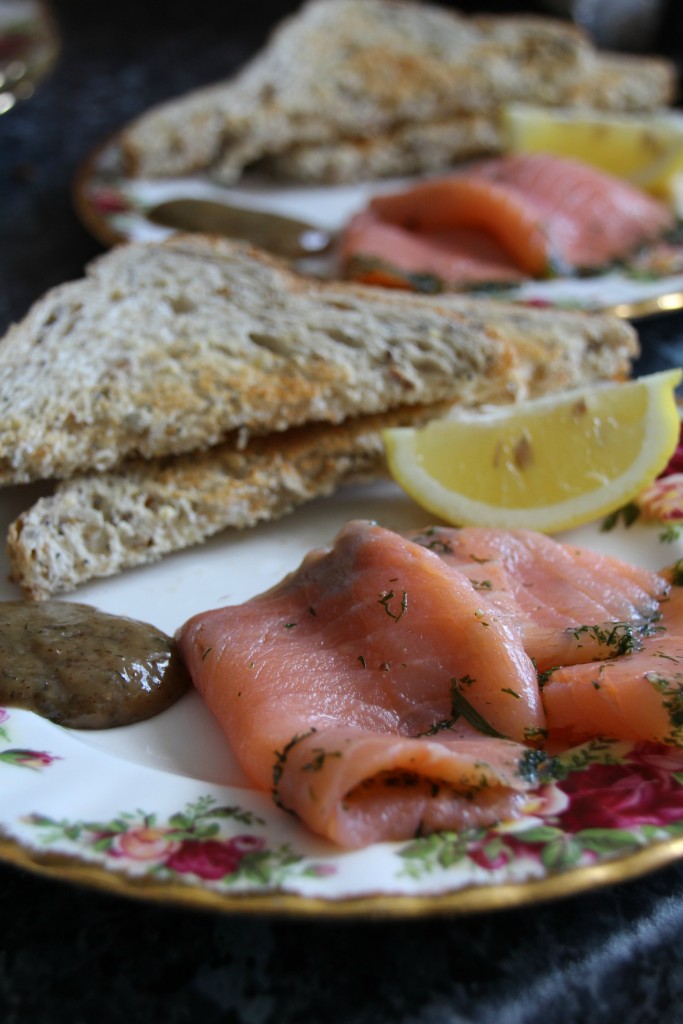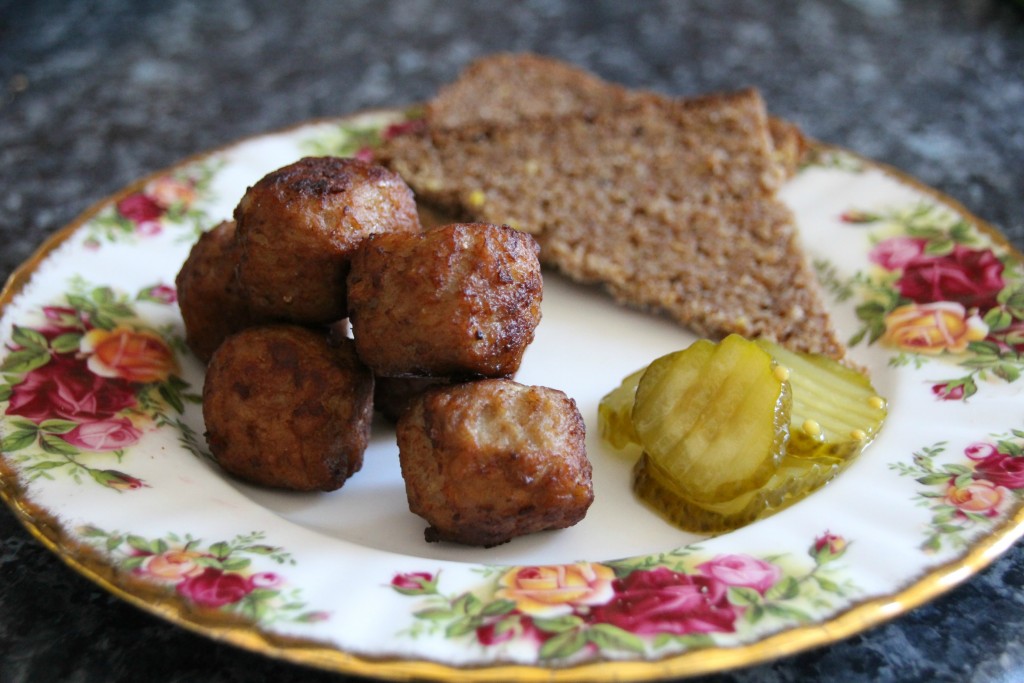 The herring comes marinated, I bought this one from Waitrose. Most Danes buy their rye bread these days, although you can of course make your own. The Euphorium Bakery does a delicious Scandinavian Bread if you are up for trying this Nordic specialty. It's healthy and much more filling than traditional white bread.
I appreciate the herring is not to everyone's taste. And even though Caspian will happily munch it down, getting Daddy Long Legs to try it proved a lot more difficult. With the Gravadlax also not being cooked, but simply marinated, I like to think of these as the sushi of the North.
The Gravadlax is served with what we call Raeve Sauce (Foxes' Sauce). It's a tangy yet sweet mustard sauce. For this dish I served toast rather than the rye bread. Which again I think Daddy Long Legs appreciated.
The Swedish meatballs many might recognise from a trip to IKEA. Though these I got online through Ocado. Again not too difficult to make yourself, but you can get away with buying them if you are in a hurry. Or just haven't had any sleep for days due to your toddler being ill. In Sweden they would probably serve them with their famous red lingonberry sauce, where in Denmark we tend to eat them with either pickled beetroot or cucumber, like here.
If you are up for trying the marinated herring… go on… be brave! you might want to try the karrysalat to go with it. If so here's how…
You'll need:
1 tablespoon of mayonnaise
2 tablespoons of creme fraiche
1/2 a large onion
1 boiled egg
1 teaspoon of capers
1 teaspoon of curry powder (I recommend mild)
Salt and pepper to taste
Mix the mayonnaise, creme fraiche and curry powder and put to one side.
Cut the onion finely, chop up the egg and capers and add all of it to the sauce.
Add salt and pepper to taste and that's it.
Super easy!
Have you ever tried any traditional Scandinavian food? If so which ones and do you have any favourites?
If you enjoy the blog then there's still a couple of days left to get your nominations in for both MADS and BIBs. I would be ever so grateful! Nadia x