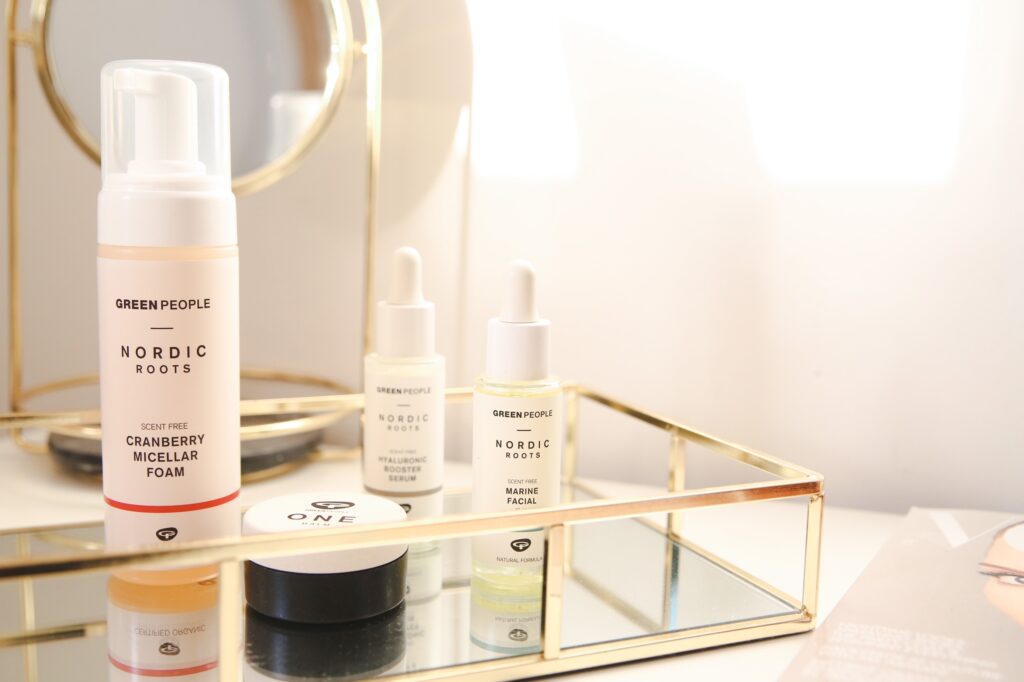 If your skin suffers in winter you are not alone. The frosty cold mornings might be beautiful but if your skin is not protected the wind can do a lot of damage. In the same way, central heating might end up leaving your skin dehydrated. I'm a big believer that skin care starts with what you eat and drink. Once this is in place your skincare routine is equally as important. I love clean, natural products. No one does them better than Scandinavian brand Green People. Their Skin Barrier Support set is what you need this winter. Made with organic plant actives these four products nurture and repair.
AD – Gifted products
DOUBLE CLEANSE WITH ONE BALM AND CRANBERRY MICELLAR FOAM
I wish I had been introduced to double cleansing earlier in life. Normally I don't wear a huge amount of makeup but living in London does take its toll on my skin. I can see a big difference when I use a routine that starts with a double cleanse. The One Balm is made with protective Myrrh. This assists in soothing and healing the skin. Also, if you use oil-based makeup – which many mascaras are – you need an oil-based cleanser to remove it. Perilla Oil is the main ingredient. It provides high levels of Omega 3 fatty acids which help restore and repair. Along with Rosehip Oil and Sunflower Oil containing vitamin E. Scoop a small amount and gently massage over your face and eyes. Remove with a soft cloth and warm water.
Then follow with two pumps of the Cranberry Micellar Foam. Made with Apple Cellular Water which is rich in vitamins that truly benefit the skin. The nourishing Cranberry protects the skin's lipid barrier. This ensures that hydration is locked in. My skin never feels stripped or dry after this cleaning routine. The product also has glycerine and coconut which further helps with hydration.
HYDRATE YOUR SKIN WITH THE HYALURONIC BOOSTER SERUM AS PART OF YOUR WINTER SKINCARE
The Nordic Roots Hyaluronic booster serum is a game changer. It penetrates deeper and protects against water loss. This helps to build a radiant, plump and dewy glow. You tap a few drops into your skin. By tapping you also help with blood circulation and absorption.
The last step in this routine is the Nordic Roots Marine Facial Oil. For years I shied away from oils as I didn't see the benefit. Finding the right oil is key as is understanding the right time to add it to your routine. This contains skin-softening Squalane which helps with water loss. Oat oil gives deep moisturisation and Atlantic Seaweed supports collagen for firmer skin. It absorbs well and makes my skin look healthy. Plus I've found that my makeup and stays well after these four steps. Ideal winter skincare.
I love an easy skincare routine. Between juggling work, housework and family life I need something simple that works. I love the clean aesthetics as well and the use of organic plants. If you want to try out the Skin Barrier Support routine this winter Green People offer these four products for only £70 (normally worth £107) this January. Plus you get free delivery.