When I first started blogging a whole new world opened up. As much as most bloggers write for themselves, for the love of the creative freedom it brings and to have a space of their own online, we all like it when others take an interest and read our work. And work is exactly what this has become for many, including myself, and like with any other industry you'll find conferences well worth attending spread out over the year. They provide opportunities to better yourself as a blogger, meet your peers, mentors and blogging heroes in the flesh and network with brands.
Since starting scandimummy.com I've attended two of probably the biggest and best on the scene for parent and lifestyle bloggers. Firstly, BritMums Live in June (now known as BML16) and secondly Mumsnet's Blogfest yesterday. For both you can find lots of posts about the events if you take to the good old Google search engine; on how to best prepare for them and what to bring to get the most out of your day. But as I have had Caspian with me for both, I thought I would do a post on what it's like to have a little one with you and how to still actually learn something.
When we went to BritMums Live I was privileged to have Daddy Long Legs with me for support. Caspian had just turned four months, and was still breastfed, so we decided to make a weekend of it and stayed at a hotel overnight. This meant that I didn't have to carry around all the things you eventually need as a mum from changing bag to change of clothes. And I was more or less free to attend the many inspiring sessions on my own (including the fantastic awards party in the evening), so I could fully focus and learn as much as possible. You can read about the experience here.
But for Saturday's Blogfest event I was on my own. Well, I had Caspian with me, who is now a curious, active 9-month-old, so to say I had my hands full would be an understatement.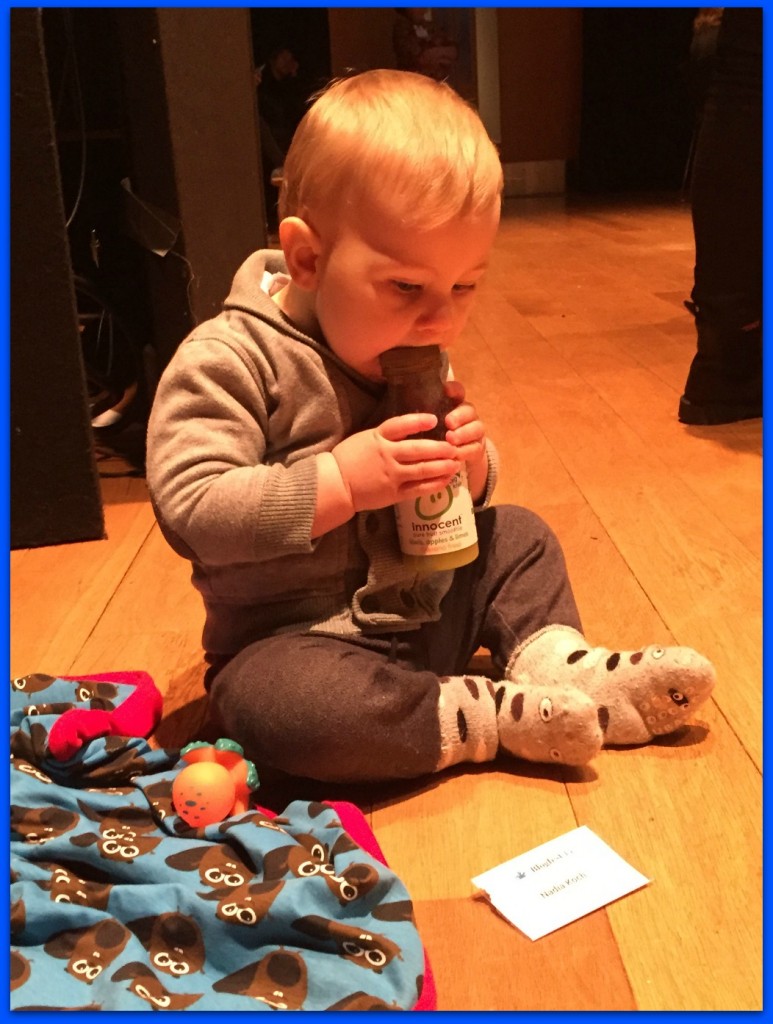 Caspian trying to enjoy a sponsored drink during one of the sessions at Blogfest15
Would I recommend bringing your baby to a blogging conference? No! Then why should you read on, you might be thinking now? Because like me you might not have an option to go without and as I proved yesterday, it can be done, but it takes a bit of both mental and physical preparation.
I would definitely say that it is easier to bring a baby under six months than over. They are more likely to sleep during the day and as long as they are fed and cuddled (and not going though a grow spurt, teething or have just had their jabs) they seem to stay content. Whether you as a new mum is ready for it is a different matter, but I do believe that getting out and about and socialising is a good thing.
For both conferences I found that it was no problem to bring a buggy. And it was only for one session Saturday that I had to leave ours by the cloak room, as there simply wasn't space in the hall. But even so I would recommend bringing a sling as well. You'll have your hands free to take notes, tweet, or participate in the more hands-on-type workshops like this one, I did with Capture by Lucy for BritMums Live even when your baby wants to be close to you.
What to bring when you have your baby in tow:
Buggy (also fab for storing that amazing – and heavy – goody bag you receive at the end!)
Sling
Changing bag (nappies, wet wipes, muslins, etc.)
Spare clothes (for you and baby)
Plenty of food (if baby is eating) and milk – a hungry baby means a loud baby!
Toys or remote controls or whatever helps entertains your little one
Water for yourself (though at both there were plenty of food and drinks provided throughout the day)
Things to think about in advance:
Planing your journey to the venue
Which sessions you will attend
Whether it's best to chat with brands when your baby is awake or sleeping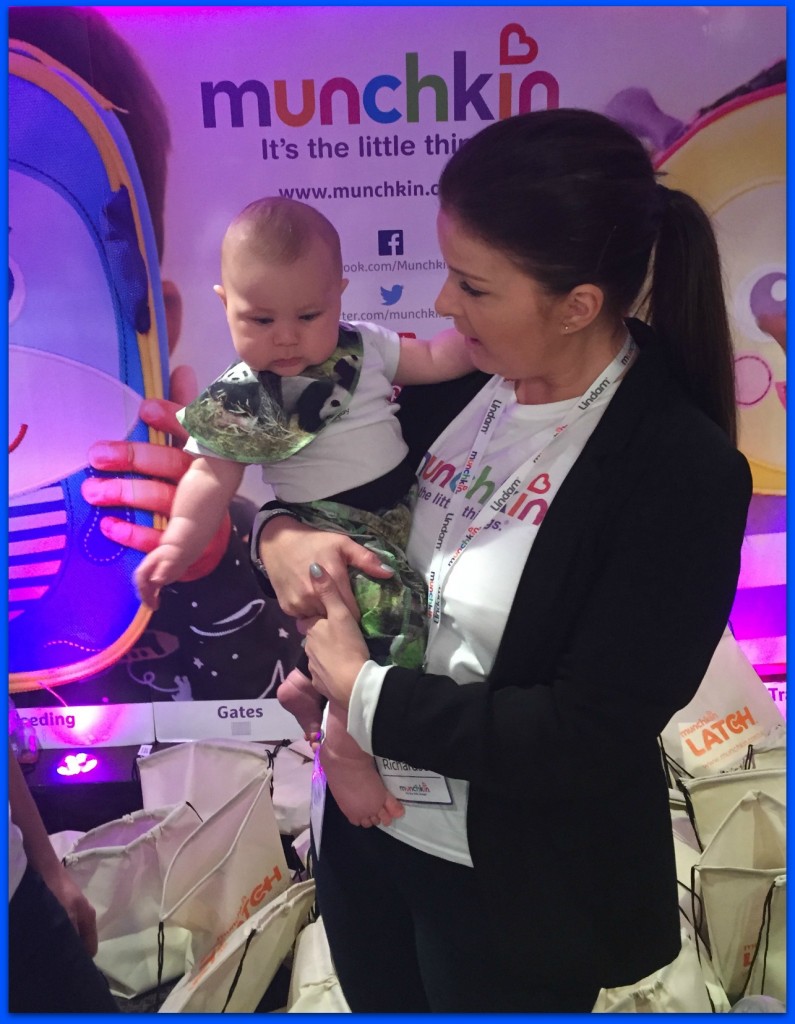 Caspian charming the lovely ladies on the Munchkin stand at BritMums Live in June this year
What not to worry about:
Attending every single session! For Saturday's event we arrived late due to a long journey meaning getting there for the 9 am start would have been close to impossible when travelling by public transport. And during the day make sure you put your baby first, if he or she needs break from all the people and some peace and quiet, go find a separate place and have a rest.
Your baby making noise during a session. It's naturally to cringe or even apologise if your baby starts squealing with delight when he finds a programme on the floor and discovers the fun of waving it around when someone is giving a speech and the room is completely silent. These events welcome babes in arms, so you have just as much right to be there as the next person. And generally people are really helpful and understanding, after all most are parent bloggers, so have children themselves (which I'm sure they at that point are happy they left at home!). If your baby goes into completely meltdown and starts kicking off, it's probably better for everyone involved to just leave the room and go somewhere to calm down.  But remember this is not school and you have paid (unless you are sponsored) to be there.
Okay, so you might not be able to take it all in and make as many notes as you would if you didn't have a baby crawling between your legs. Relax – that way your brain will be much better at taking in the information and storing it for later use. If you stress, you might as well forget it.
Luckily for me Caspian is good with strangers, and there are enough women willing to take him off my hands – even just for a couple of minute – so this was a great help Saturday. I was also lucky that Caspian went down for a nap during the lunch break, so I could try out the many delicious food stalls in peace and catch up with blogging friends. I even managed to squeeze in a short session at the blog clinic with the lovely Kerry from Ohsoamelia.
Have you been to either of these two events? And did you bring your baby? What would be your top tip?
Please follow and like me: