Imagine entering a world where you are met with beautiful surroundings and amazing-smelling food. You are guided to your table overlooking a stylish bar and an open kitchen where talented chefs prepare mouthwatering dishes. This is what awaits you at Copper Chimney in London. Located near Westfield (Unit 1028 on Southern Terrace, Ariel Way) and a stone's throw from Shepards Bush station. Here you can experience North Indian cuisine served in modern surroundings. Whether you need a quick lunch before a business meeting. A bite before you head in for shopping or catch the latest movie in the cinema. Maybe you want to celebrate a special occasion with your family? Or simply need a great night out with friends then Copper Chimney has got you covered.
WELCOMING ATMOSPHERE AND DELICIOUS INDIAN FOOD AT COPPER CHIMNEY
The atmosphere at Copper Chimney is warm and welcoming from the moment you step through the large glass doors adorned with double C handles. We visited on a wet and cold winter night and were immediately transported to a different place. The decor is vibrant yet understated and a gorgeous reflection of India's amazing culture. The space is large with the bar being the focal point at one end. The open kitchen provides entertainment at the opposite end of the vast space. Here the 'Ustads' or Master Chefs prepare the mouthwatering dishes from northern regions of India. Indulge in tandoor grills, warming curries and appetizing biryani.
We started the evening with a selection of their signature cocktails including the delicious SoBo G&T with sweet basil-infused gin, hibiscus tea, cranberry, lime and sparkling quinine water. We enjoyed a basket of fresh popadums with various dips while we studied the impressive menu. It was hard to choose but luckily many of the dishes are designed for sharing so you can easily order a few to try.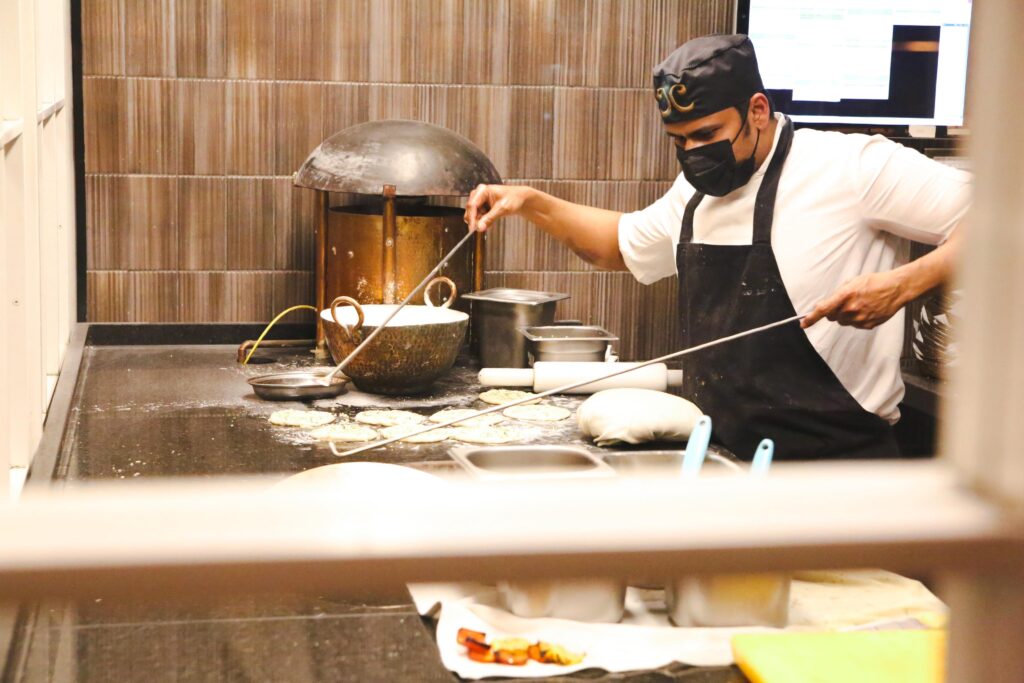 IMPRESSIVE DISHES FROM NORTH INDIA
The Chandni Chowk Chaat was a firm favourite at our table and we would highly recommend it. It not only looked beautiful served in a glass with different layers, but it also tastes equally as good. From the streets of Old Delhi, this dish of chatpata chickpeas, spiced potatoes, fresh yoghurt layered with a sweet and spicy chutney is a fantastic introduction to what Copper Chimney is all about. Bringing old and new together in harmony and giving your tastebuds an unforgettable experience. We then ordered a selection of mains and the Grilled Burrah Lamb Chops were amazing. We were defeated by the impressive feast and took home the leftovers which my other half certainly appreciated.
Although we did find room for dessert and I'm so glad we did. Both the Gajar Pistachio Crumble and Gulab Jamun are divine. The first is a slow-cooked carrot pudding with cardamom and sweetened milk layered with chopped pistachio and praline crumble. The second is golden fried milk dumplings steeped in rose-scented syrup. Not to be missed!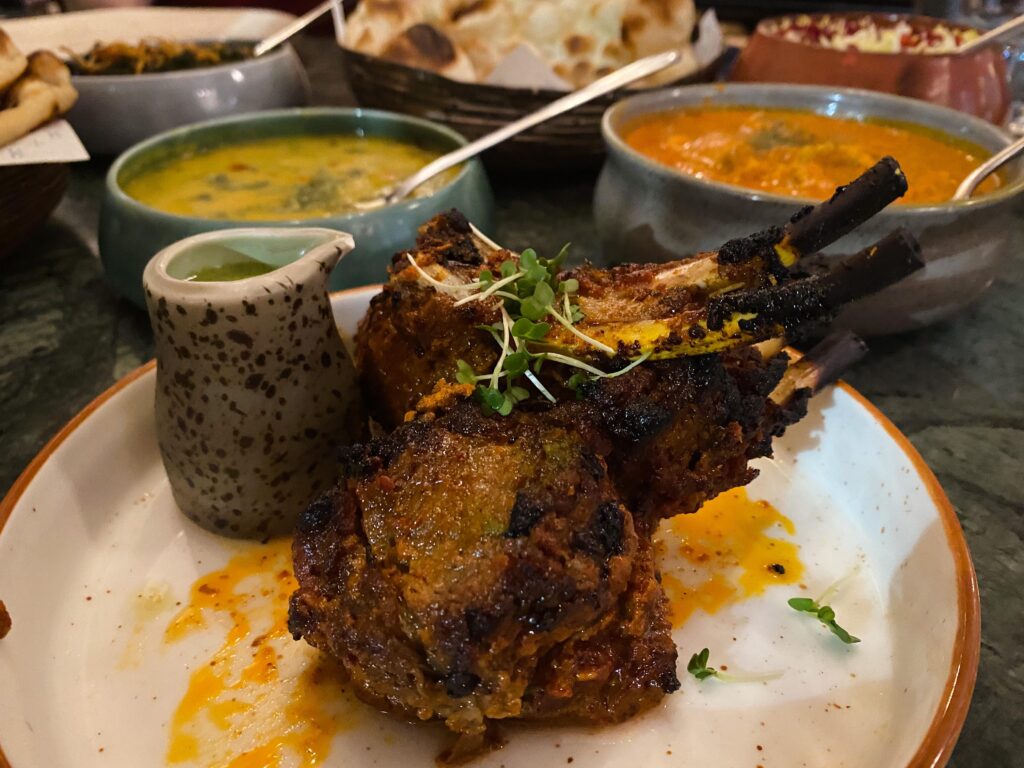 VISIT FOR LUNCH, DINNER OR ORDER AS A TAKEAWAY
Copper Chimney has a rich history dating back to 1972 when JK Kapur founded the first of their three restaurants in Bombay (now Mumbai). They have succeeded in bringing the true flavours of the Indian kitchen to central London. The restaurant here opening in 2019. Yet, due to Covid it was closed for a number of months before reopening in May 2021. All safety and hygiene meassures are in place to give you an enjoyable evening out.
We visited on a Saturday evening and the place quickly got busy. I loved the buzz and the atmosphere but if you are booking in peak hours do set aside extra time to enjoy the beautiful food which can take a little extra time to prepare. Copper Chimney is open all week from noon until late. They also provide a takeaway service if you fancy trying their dishes in the comfort of your own home.
Disclaimer: Please note we were invited for this evening. All words, opinions and photographs are my own.