What better place than the aquarium to review a brand called Dotty Fish? You might remember we visited The Blue Planet in Copenhagen a couple of weeks back, and I grabbed this opportunity to try out the pair of leather shoes, we had kindly been sent for Caspian to test.
I'd chosen this navy and white star design as I knew it would go well with a lot of Caspian's clothes. But I think the vast selection is the first positive when it comes to these shoes.

The company, Dotty Fish, is run by mumtrepreneur, Helen Clapman, who with two children saw a gap in the market some years ago and have built up an online business specialising in affordable leather shoes for babies and toddlers. They now also sell leggings, bibs and tag blankets.
I hear it a lot from fellow mums, that their little one's feet grow fast and the cost of good shoes is high making it a big expense in the baby budget. I've bought pricey bare-foot shoes only for Caspian to grow out of them what felt like seconds later. So an affordable alternative was definitely welcomed. But how would they compare?
I was very impressed with how easily they slip on – and stay on! – due to the elasticated ankle band. My boy's chubby ankles have meant that shoes of similar style were too tight and would leave marks on his skin in the past. These haven't, so I saw that as a big plus! They also have a good wide fit. Being only 15 months but with big feet he's already in 18-24 months, so I was pleased to see that Dotty Fish makes these type of shoes in larger sizes and cater for feet up to age 5. Though for that age group I would probably only use them indoors.
The durability is another great feature. We have really been giving ours a throughout testing in the past couple of weeks. They easily survived the walk around the aquarium. Caspian walks well in them, both in the house and out and about. I suppose they are really made for indoors, but have worked well both when he's been waddling down the street and playing in the garden. Also, he has never tried to pull them off, which I take as a good sign since he can't actually tell me if they are comfortable.
Later on back in the UK he was playing with Daddy Long Legs in the garden, and got soaked as they were watering the flowers and he kept jumping in front of the hose. When Daddy Long Legs brought him in, I thought "That's the end of those shoes, thank god they weren't expensive!". Generally leather/suede shoes go hard or shrink after contact with water, but after drying they were as soft as before. Now I knew we were on to a good thing!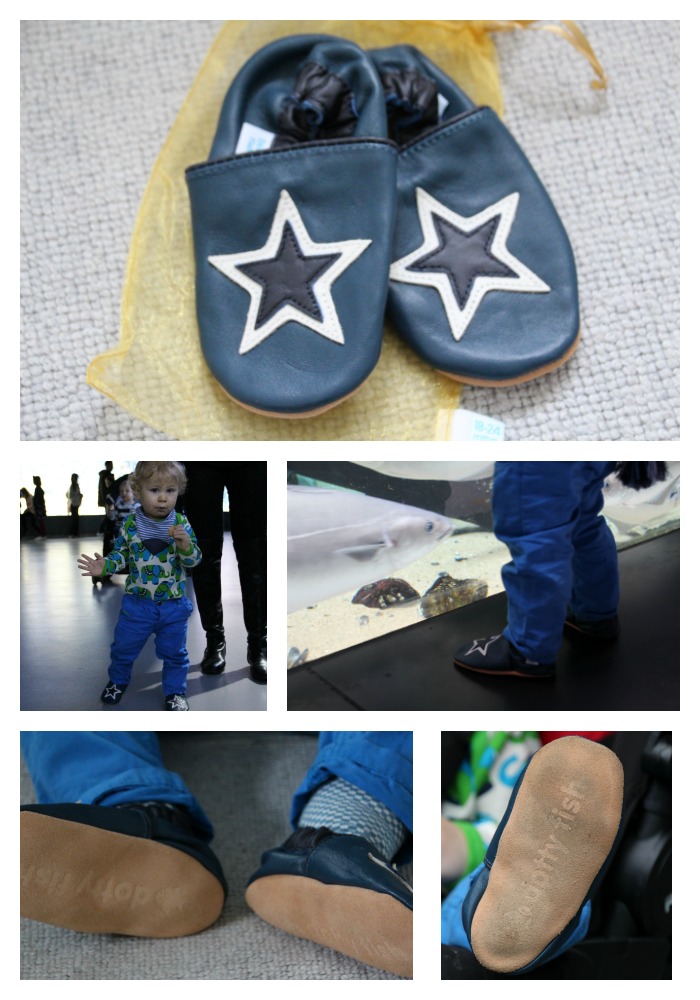 I even dressed him in them for nursery the other day, probably the biggest test of all, and they passed with flying colours. The main reason is that top of the shoe is easy to wipe if they get muddy or your toddler spills something on them. Here's what they look like after a month's of use: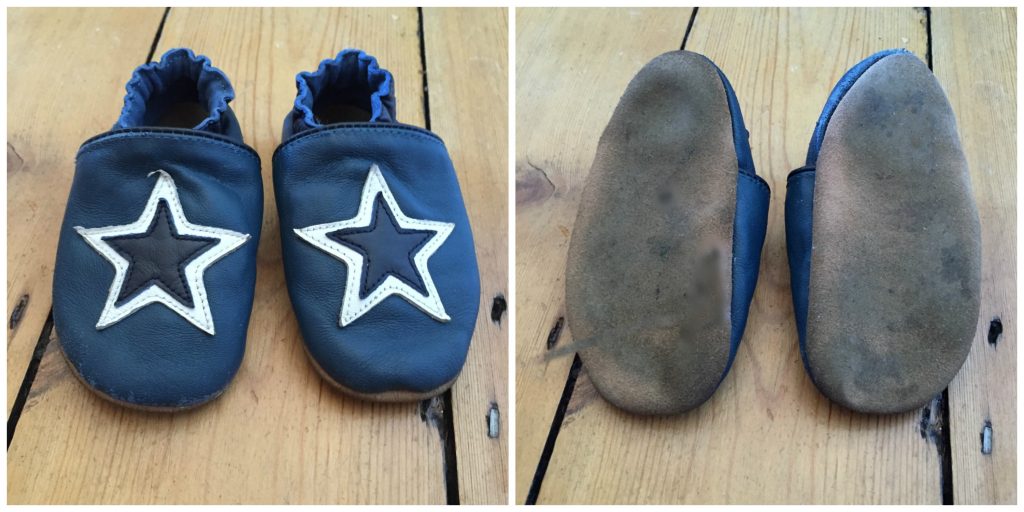 Yes, the logo is no longer visible underneath and you can see they've been used outside along with a few scratches, but other than that they almost look as new and still fit really well, though we are not far off moving on to the next size.
I will definitely be buying another pair. Which at the rate his feet are growing will be soon! As mentioned, there are so many cute and funky prints to choose from, so there should be something for everyone. I might show the range to Caspian and let him pick himself. I can imagine that especially the cheerful animals will appeal to him.
My only critic is that the website is split into very definite blue boys and pink girls sections, which I think is a shame and slightly unnecessary. Girls can wear dinosaurs and boys can wear owls! But I can't fault the product and will be a regular customer as Caspian's feet grow in the coming years.
The shoes come in a drawstring bag and the retail price starts at £7.99. Delivery within the UK is £2.95 for your first item plus 50p per additional item. There's a good size guide on the site when you go to buy a pair.
Have you tried Dotty Fish?