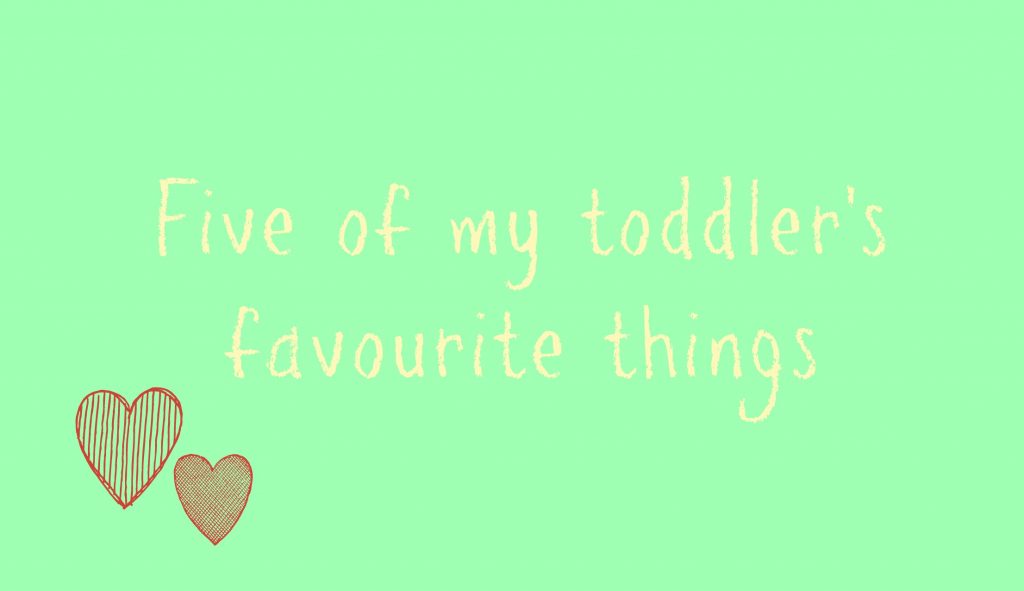 Last year I wrote the post The Remote Control Phase. It was all about Caspian's fascination with, yes, you guessed it our tv remote … or really any remote control, as long as it was the one we were using at that very moment. Also, it had to be the real deal, not a colourful toy one which would quickly be dismissed.
I learned that these phases are quite common and Caspian was not unique, which especially came to point as three out of six mummies at an NCT lunch pulled out their remote controls, from their house, and handed them to their wailing babies who immediately broke into big smiles. Do babies know something about remote controls that we don't?
A lot has happened since November from Caspian now walking, preferring to do things himself like eating and brushing his teeth (the latter though still supervised) to saying the odd word (we're still stuck on Daddy, though words like 'no' and 'beer' have crept in?! I wonder who he listens to?) and he seems to have moved on from the remote. Though that might also be because we don't actually watch much TV, but catch up with most things online.
Adults versions still seem to appeal to him much more than fun and loud children's versions, so I thought I would draw up a little list of items that currently holds his fascination.
Phones – well, this is not surprising. Everyone around him are on their phones, from mummy and daddy (though we try and put them away for play and dinner time) to strangers on the street. What's curious it that it's the actual speaking on the phone that's intriguing to him. And funnily enough it doesn't have to be an actual phone for him to talk into it (or seemingly get a reply?!). So far he's put the video monitor, my camera battery charger and a little card box to his ear and said "Hiiii". God knows who he's communicating with so much, but whoever it is they have a lot to say and Caspian will happily listen.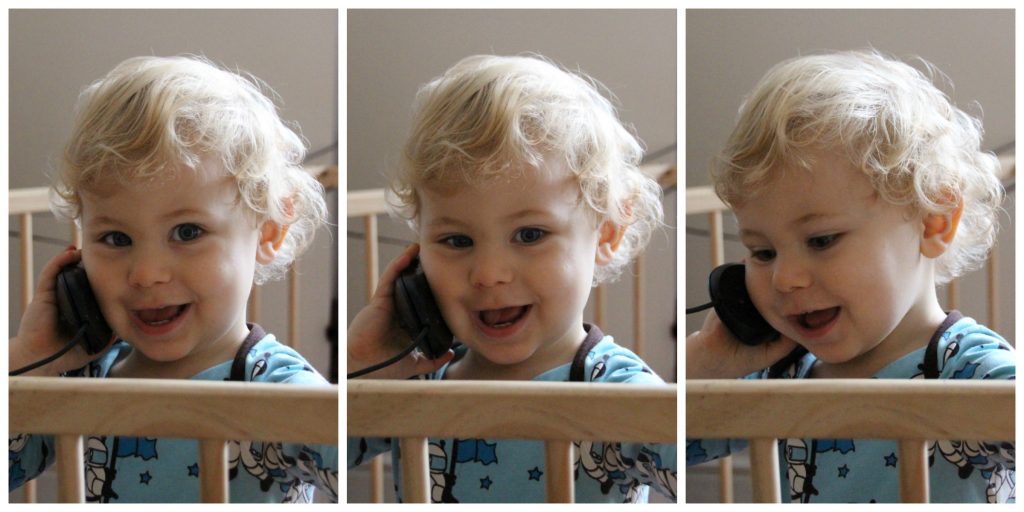 Having a morning natter on Daddy's desktop mouse…as you do!
Pens – I was really excited when Caspian started showing an interest in pen and paper. As someone who's always love to draw and write I was hoping that this would be something we could do together as Caspian got older. I suppose it is as long as either he or I constitutes the canvas. Besides drawing on himself or the duvet cover, he just likes to hold the pens (and sometimes chew them). He also invented a great game where a pen would disappear down Daddy Long Legs' top and magically appear out his sleeve. Provided hours (at least it felt like that to Daddy Long Legs) of fun!
Shoes – the other day he stuck his feet into Daddy Long Legs giant trainers. But generally he prefers to walk around holding the shoes rather than wearing them. Occasionally they also work as a phone! Again it seems any shoe will do, old or new, dirty or clean, his own or mummy's, my boy's not picky that way. And apparently they make excellent chew toys, too, (please note, for any older relatives reading this, we try and make sure he mainly chews the cleaner ones!)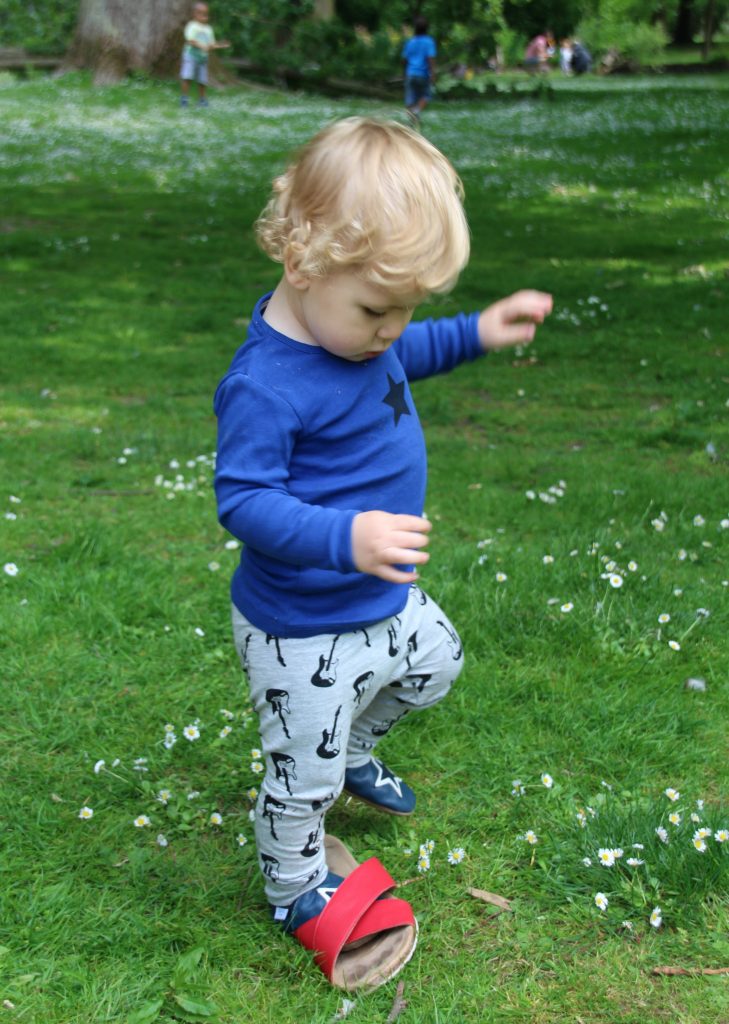 Books – now this is something I'm so pleased about. They read stories at nursery and we read to him here at home with me in both English and Danish. But now he's started reading to himself and he's so smart he can often read upside down. I think we have a genius on our hands!
Bottles – and no, not the ones for milk, he still prefers mummy's on tap. But bottles with lids are a firm favourite. Shampoo bottles are currently in the lead I think, and basically the only "bath toy" he will play with. Though I still think that a Heinz ketchup bottle might just sneak into the number one spot. He sees it a mile away and will not relax until said bottle is in his hands. He's not actually had ketchup, but clearly those red and white bottles are super alluring.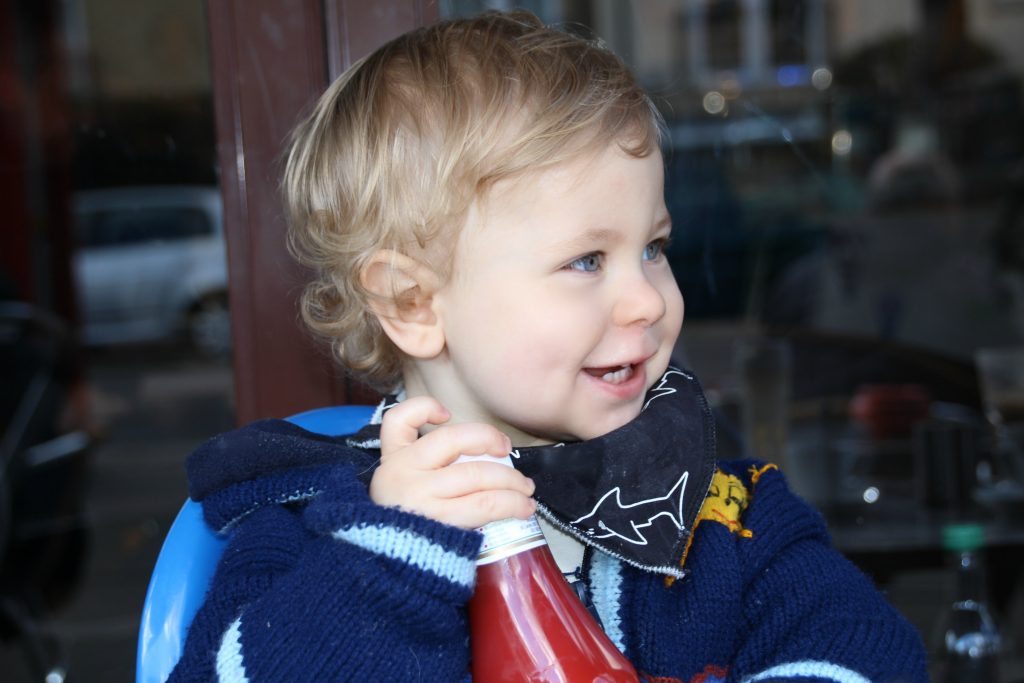 What's your little one obsessed with at the moment?