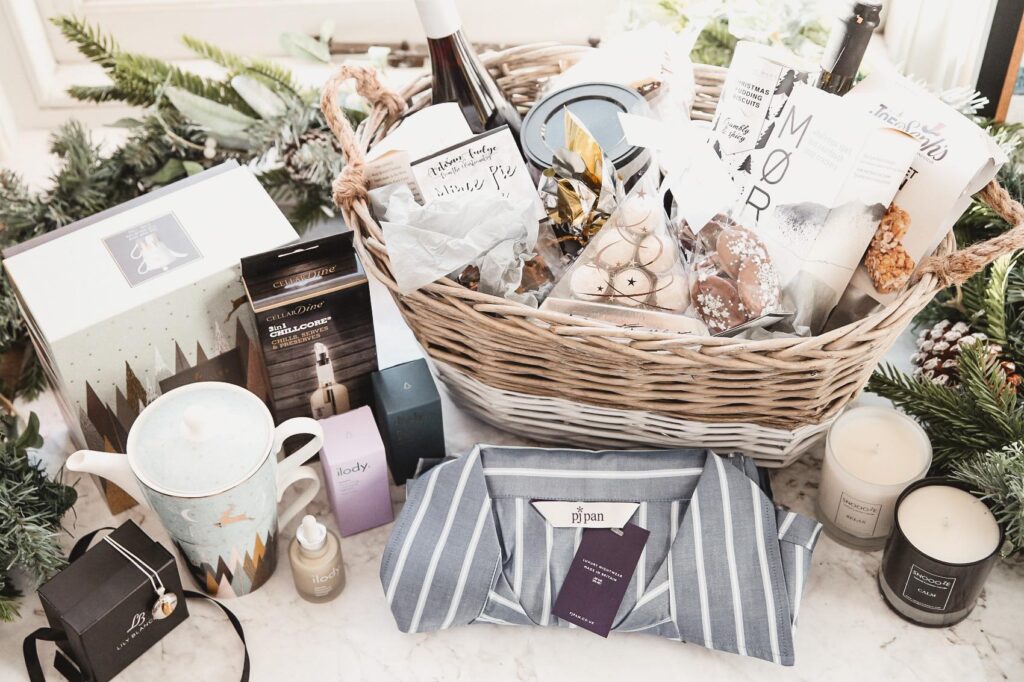 If there was ever a year where we all deserve something truly special for Christmas, I think 2020 is it. Whether you are buying for loved ones, treating yourself or adding to your wishlist here are some ideas for gorgeous, luxurious gifts that will brighten the end of this year and make 2021 even better. These products will spark joy. Many are ideal for making the most of life at home this winter. You and your family are a priority. Don't stop making plans for the future. Continue to dream about holidays and travel. Enjoy each other's company but also allow yourself a break with a cup of tea and a calming scented candle.
FROSTED PINES BY SARA MILLER FOR PORTMEIRION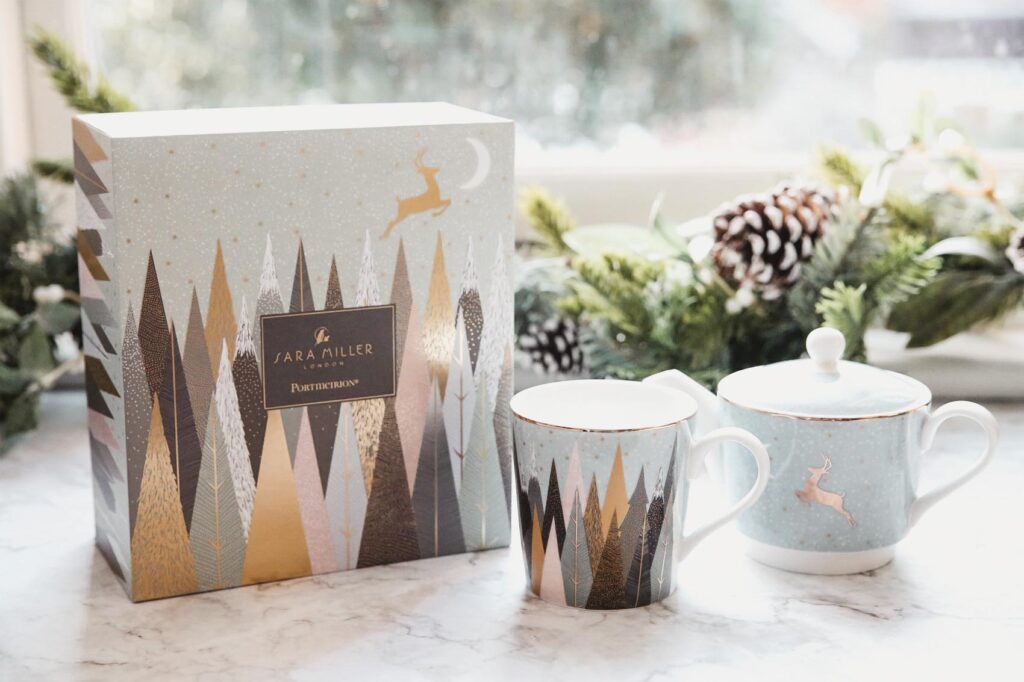 I'm in awe of Sara Miller's talent and so happy she continues to collaborate with Portmeirion creating the most beautiful homeware pieces. If you know a tea lover then this tea set for one is ideal. I adore the colours and winter landscape. Perfect for taking a moment to breathe and reflect. All the pieces come in these beautiful boxes in matching design. Find the whole collection from Portmeirion online.
CELLARDINE COLLECTION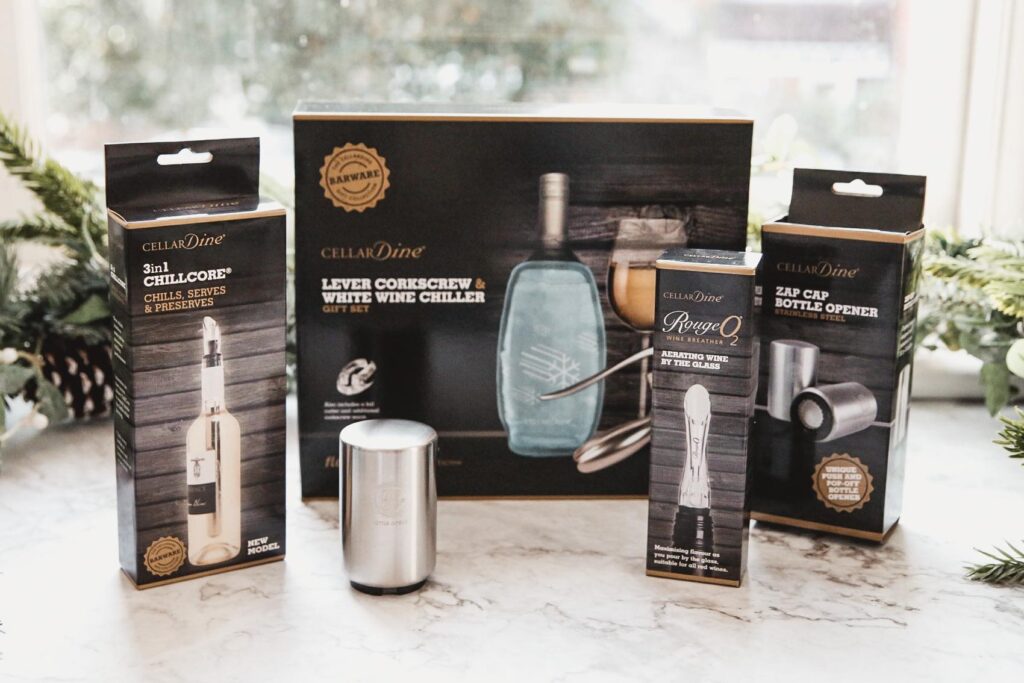 If this year has left you longing for something a bit stronger than tea you'll need the CellarDine collection. Catering to all wine and beer needs you can serve up in style. Clever, stylish and practical these will be adored by anyone who enjoys a nice glass of wine. The new 3-in-1 Chillcore cools a wine in minutes while also working a serving and stopper helping to preserve the wine. The bottle opener is elegant and modern and will look great on any table. Browse CellarDine to find your perfect gift.
CHRISTMAS HAMPER 'SNOWY DELIGHTS' FROM RED LETTER DAYS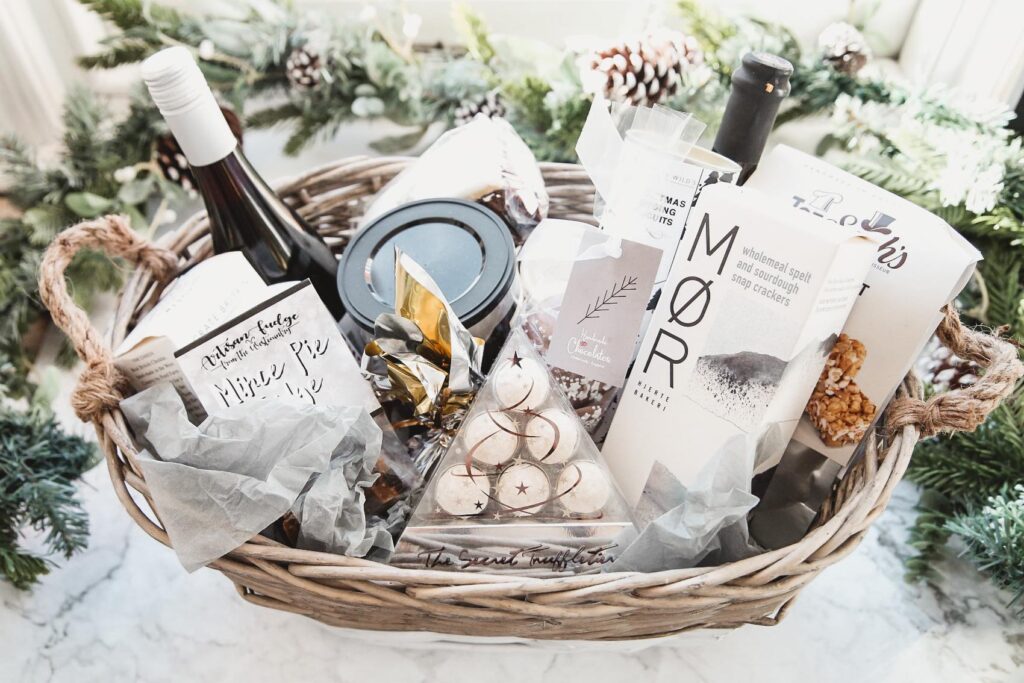 Being big fans of Red Letter Days we eagerly await the time when we can enjoy their exciting experiences again. Hopefully before Christmas and certainly again in the new year. Until then why not surprise someone with one of their newly launched gift hampers. This is the Snowy Delights Gift Basket which is packed full of festive treats. From delicious wines to handmade truffles and a range of crisps and crackers. Ideal to send to friends and family this December. Plus the actual basket is super stylish and can be used for logs, blankets or kids toys afterwards.
BRITISH MADE PJS FROM PJ PAN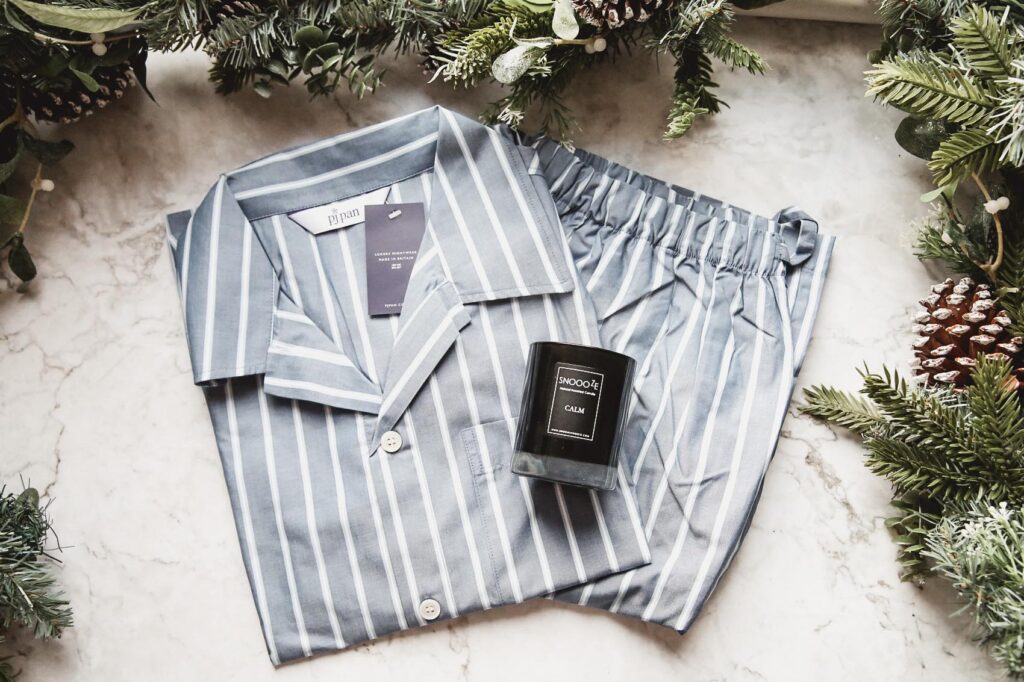 This year I discovered PJ Pans. Now as you might know if you are an avid reader Daddy Long Legs certainly lives up to his affectionate nickname. Hence making pyjamas shopping almost impossible. Until I found this British brand. I love that their high-end nightwear is made here in the UK and caters to tall people as well. When I surprised him with this stripy set his eyes lit up as with his 6″5 frame he's never had a pair that actually fitted before.
They have designs for the whole family and you can see and feel the quality immediately. I've put a set on my Christmas wish list.
STYLISH SCENTED CANDLES AND SILK PILLOWCASES FROM SNOOOZE WORLD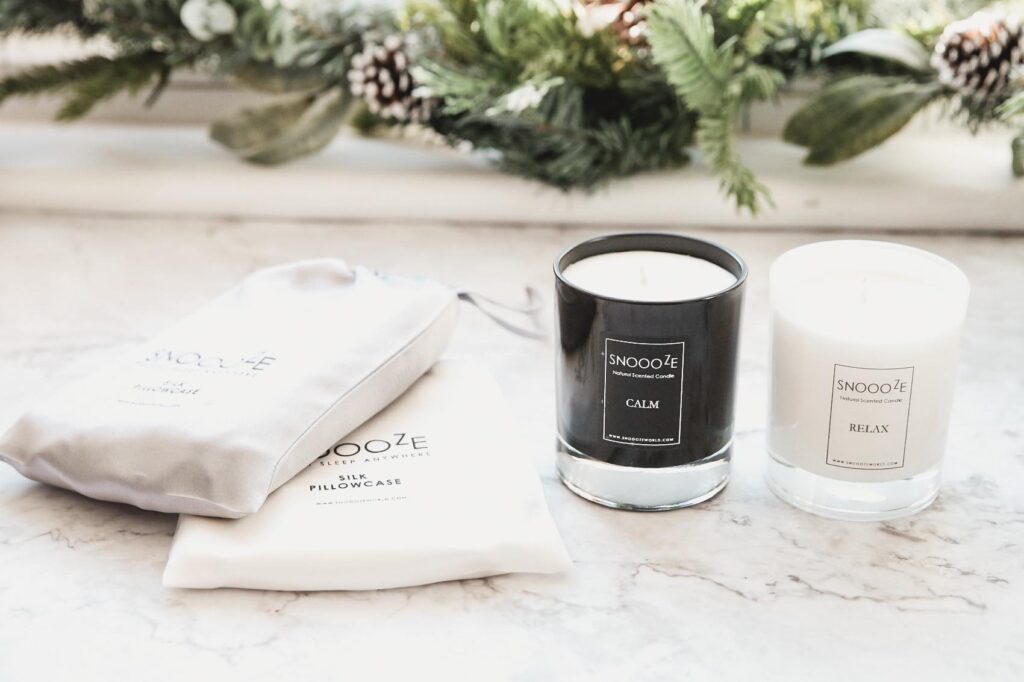 Snoooze World is known for their ingenious travel pillows. Not just for long haul flights and hotel stays but also practical when camping and glamping, taking staycations and visiting friends and family. They have now launched a new range of stylish scented candles and the softest silk pillowcases to complete your nighttime routine. Both at home and when away.
The CALM and RELAX candles are made with natural ingredients and recycled glass. They are vegan. Great for you and the environment and they smell divine! The pillowcases are made from 100% mulberry silk which lets you care for your hair and skin giving a whole new meaning to beauty sleep. The design is kept in the brand's monochrome tones and reflects its Scandinavian heritage perfectly.
AMAZING SERUMS FROM ILODY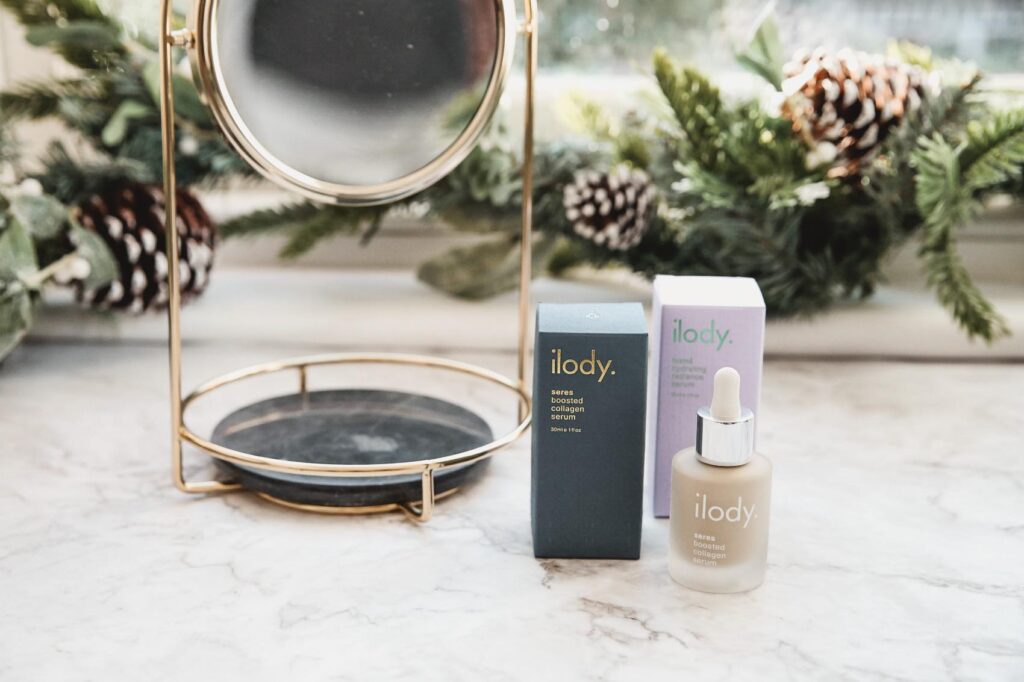 With all the stress of 2020 you might find that your skin needs extra care. As we head into winter I often feel mine needs more hydration to maintain its healthy glow. Earlier this year I discovered the amazing serums from Ilody. The exquisite yet potent potions are just the thing need to make you sparkle and ready for 2021. Hopefully, the year will bring many positive events and you or whoever you gift this to will look beautiful and glowing. Choose between Boosted Collagen Serum or the Hydrating Radiance Serum. The ingredients are carefully selected for their long term benefits to the skin. This is clean beauty redefined.
PHOTO LOCKET FROM LILY BLANCHE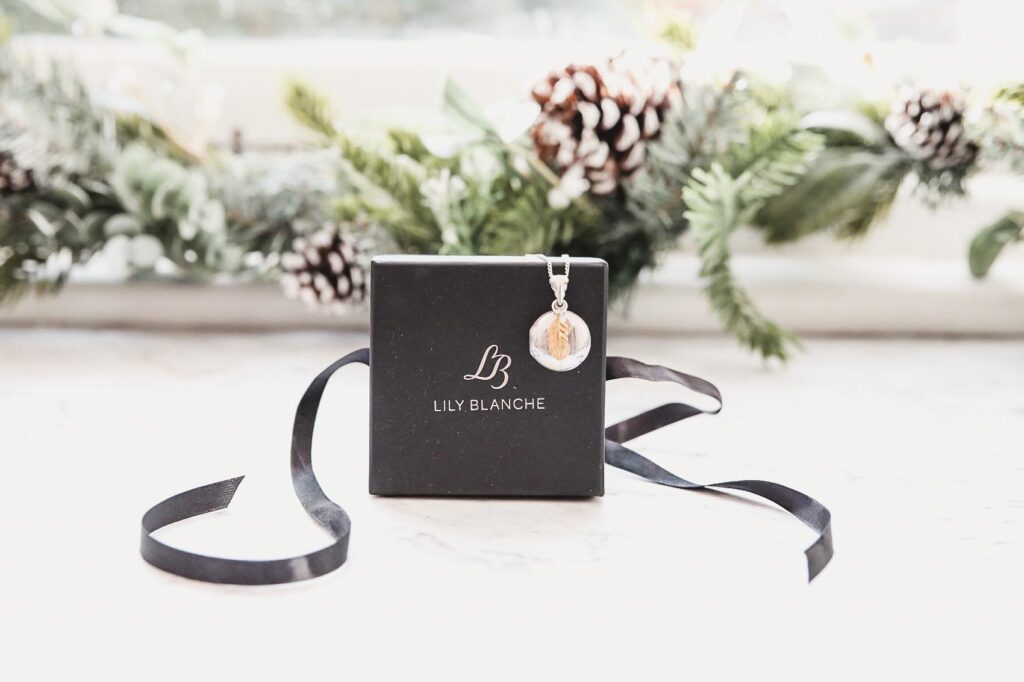 There is something so precious about a photo locket and Lily Blanche has the most amazing collection. This feather locket is incredibly special to me as it has pictures of both boys and the golden feather represents the one we never got to meet after a miscarriage back in 2017 but who will always live on in our hearts. They are excellently made and you can have it engraved, too. I chose the boys names on the back. You simply upload your favourite photos directly on their website and the team at Lily Blanche takes care of the rest. It arrived beautifully packaged with a gorgeous gift box, too.
I hope you found this guide useful. Don't forget to check out my other guides including this one on the best skincare gift boxes.
Disclaimer: Some of these items have been sent to us. All words, opinions and photographs are my own.