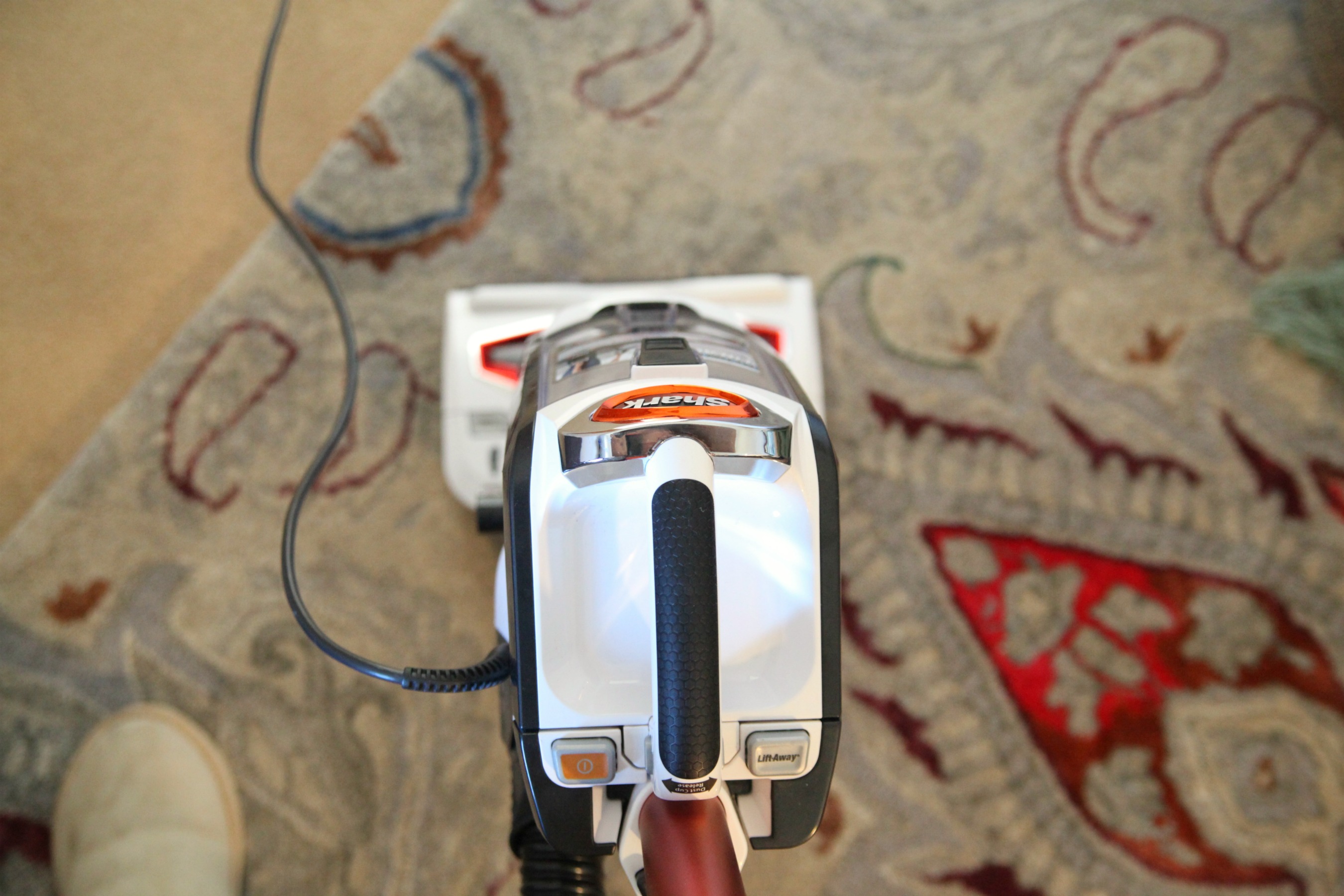 If the Shark Duoclean Vacuum Cleaner was a man, I'd marry him tomorrow! This seems even more appropriate as it was a special Valentine's Day treat from the lovely people at AO.com and my fab friend Vicky. You can find her over on Tippytupps where she shares the creative life she enjoys with her two young children, husband and cat. Definitely worth a read if you are looking for half-term inspiration to keep your kids entertained during these cold winter days.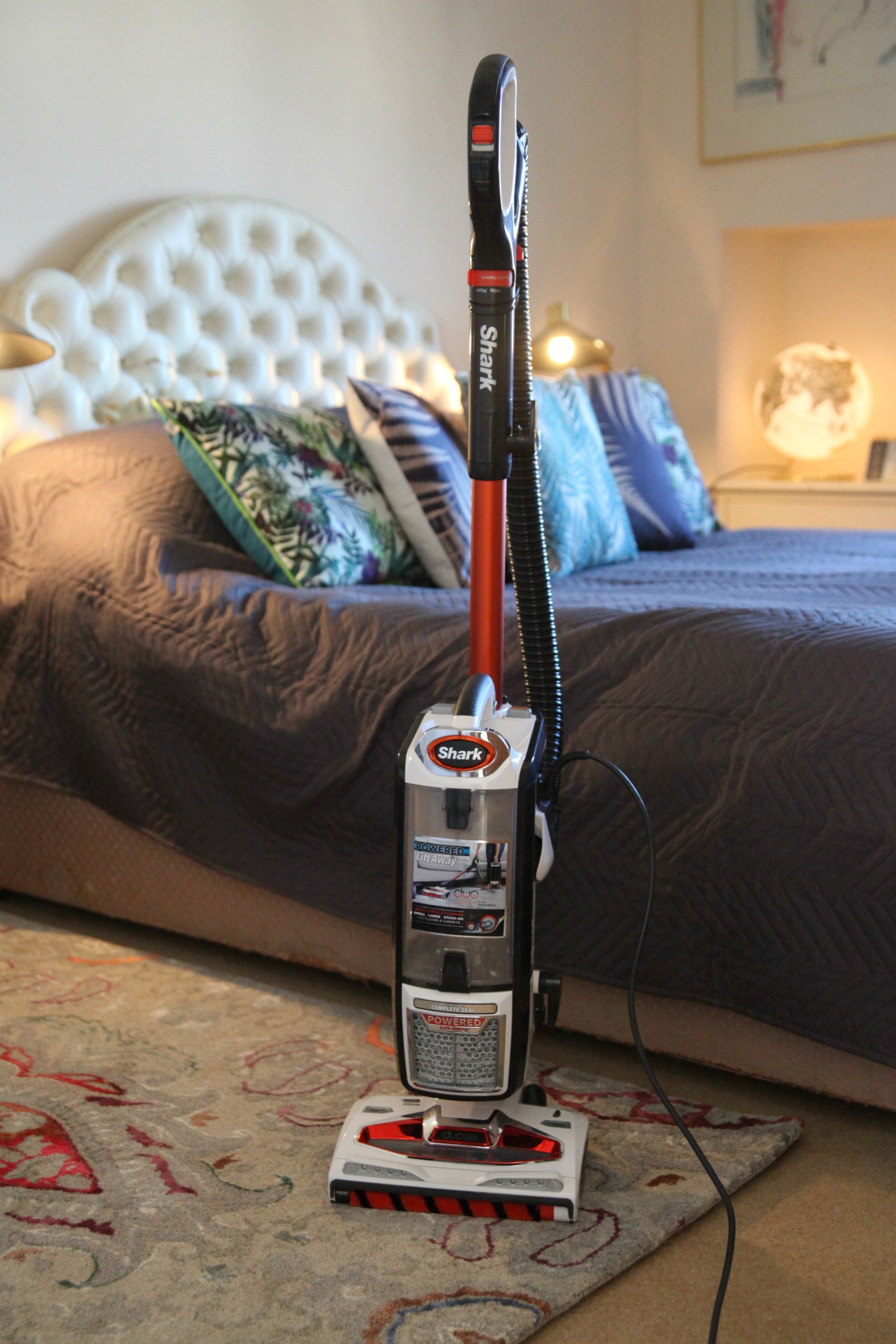 On Valentine's Day, I had arranged for the upstairs part of our house to be professionally cleaned by Fantastic Services. Part of this was a thorough carpet clean and oh my did our carpets come up a treat. This was the same day the Shark arrived from ao.com. As always they keep you up to date on delivery time, giving you a 2-hour window so I knew it would get here in the afternoon.
Now you might think that a vacuum cleaner wouldn't make the most romantic present.  Although this one is an exception. If you have children or pets or both then you need this sexy bad boy in your life. Whether you ask for it for your birthday, Mother's Day or Easter. Or give it to your other half for Father's Day, get it in your house! We have tried out a handful of different brands over the years and many have been good but nothing compares to the results I've seen using this over the past five days. As we are currently renovating an old Victorian house over 3 floors we experience a lot of dust.
While I unpacked it the next morning Daddy Long Legs suggested I demoed it. He had gotten me beautiful flowers the day before so I let him off the hook as he sat in bed watching me put together the machine. As it happens it was a complete breeze and I was soon swinging it around the bedroom.
Now after the steam clean the day before we didn't expect to see much of a result so I was utterly gobsmacked to find it had pulled out a lot of dust. Half a bucket full to be exact. The Shark DuoClean is bagless which is another plus and the container, which isn't huge is made of clear plastic so you can keep an eye on when it's full. I'm sure Fantastic Service did a wonderful job and they got all the old stains out but my oh my would I suggest that their hard-working crew invests in a Shark!
FROM FLOOR TO CARPET THE SHARK DUOCLEAN DOES THE JOB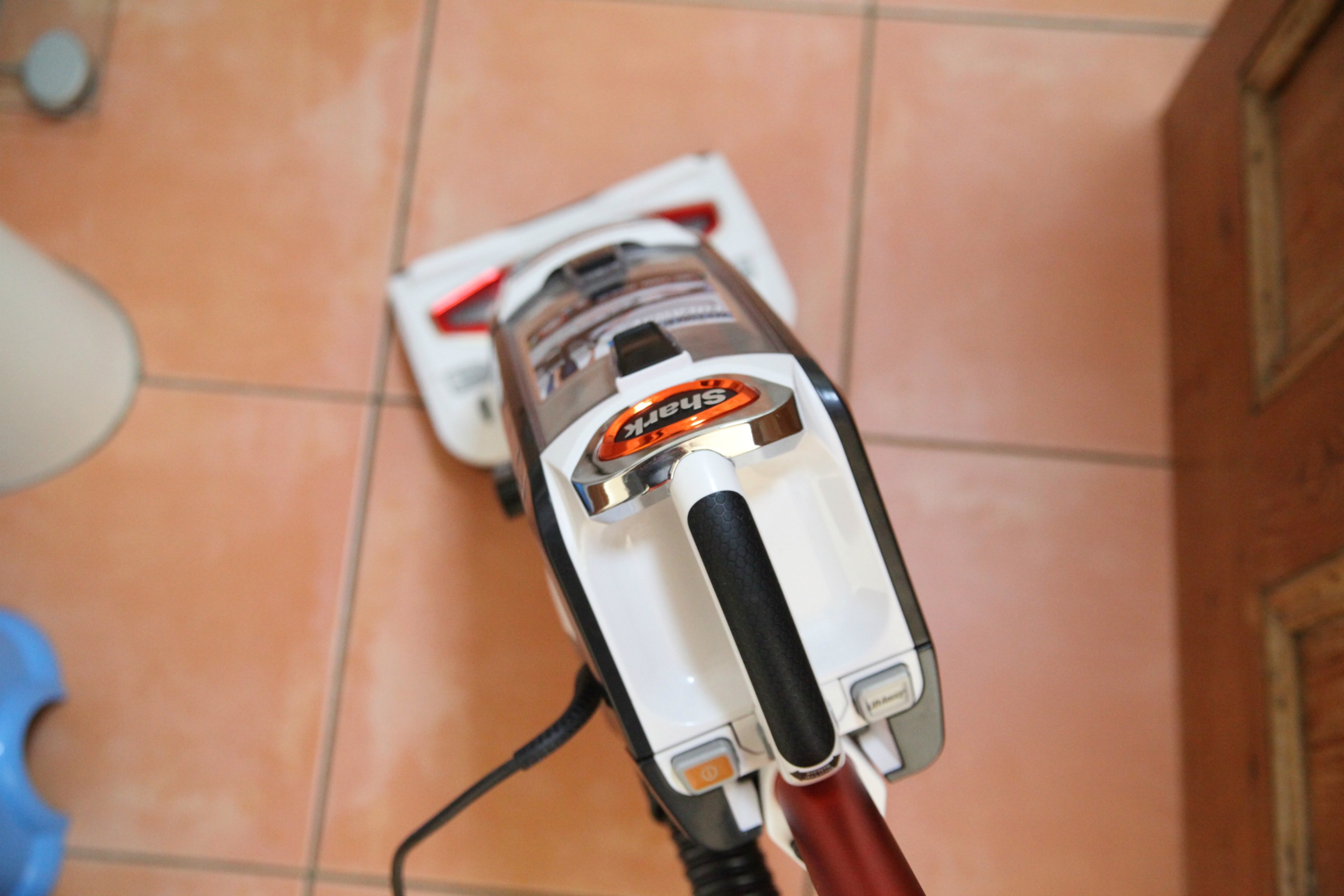 It glides smoothly across wooden and tile floor and by a quick switch of a button it gets dust and dirt off your carpets. The two brush system really leave especially the latter in great shape. It's light-weight and almost pulls you along. The suction power is very strong but can be adjusted using a clearly signposted click. The cord is 8 meters so it gives you plenty of room to move about and there's a cord holder on the side. When we progress with the work downstairs I do think I would go for the cordless as we simply have so many stairs, but for the flat at the top, this is perfect!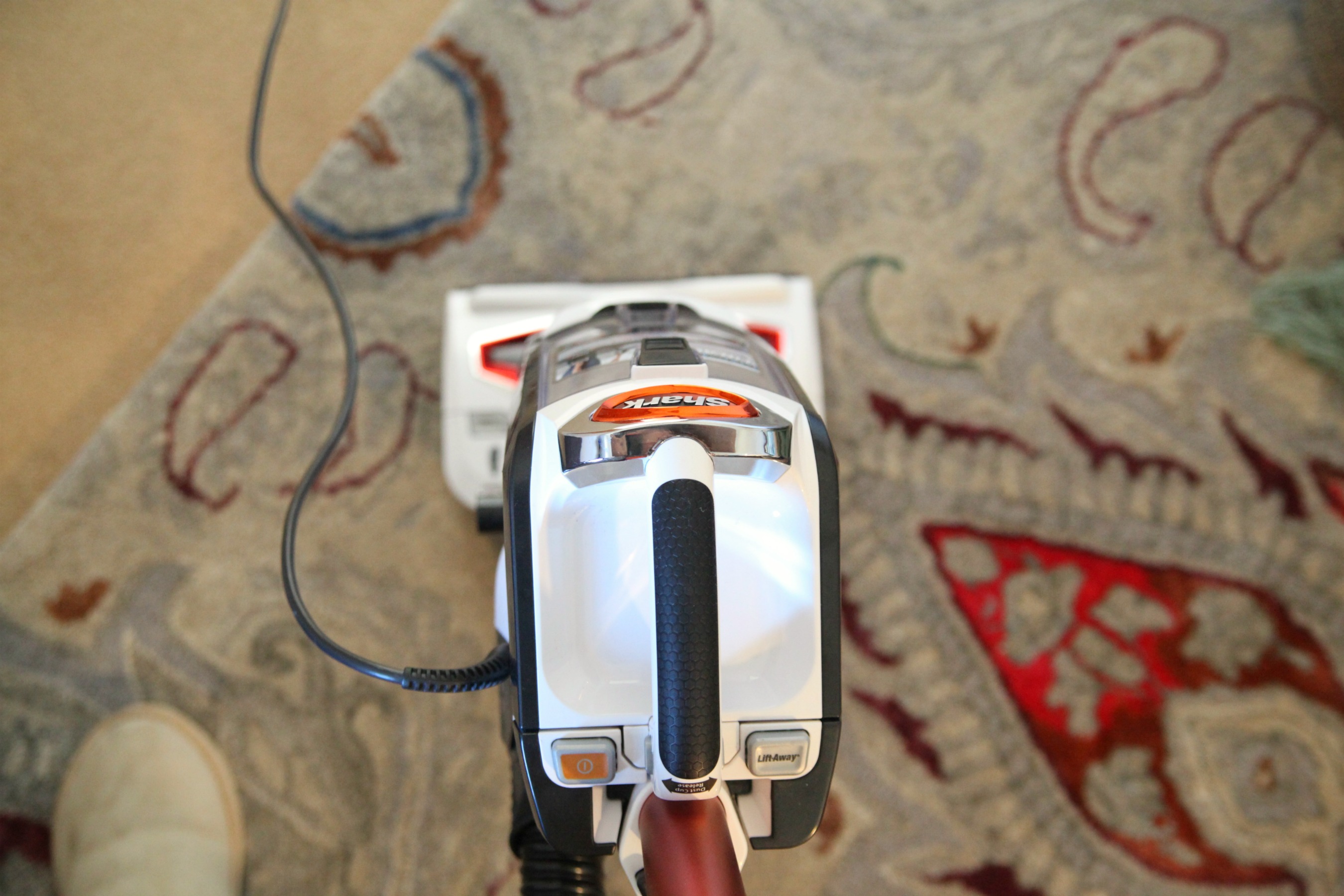 The Shark DuoClean has lots of clever features. Like the front lights. These gave Caspian a thrill as he rightly squealed "It comes alive!". This allows you make sure even dark corners are properly cleaned.
EASY TO USE AND GREAT ACCESSORIES
The Shark Duoclean is, as I said, really easy to use and every part is clearly marked. It has a release system to empty the bucket. You simply unclip it and then flip up the bottom part over a bin bag. The Shark also comes with a clever HEPA filter which removes allergens from the air in your home.
It comes with a range of different nozzles which allows you clean not only floors, carpets and stairs but also furniture and curtains.
You can detach it from the wand so you have a smaller vacuum cleaner. This means working on stairs is handy and you can also reach higher up places this way. I used it to clean our bedroom curtains. I'm currently working on a big bedroom makeover and one of the things I didn't want to replace were those. Luckily I don't have to thanks to the handsome Shark. Can you tell I'm in love?
Did you have a nice Valentine's Day? Have you heard of or tried a Shark yet?
The Shark DuoClean in white and orange retails at £229 from ao.com.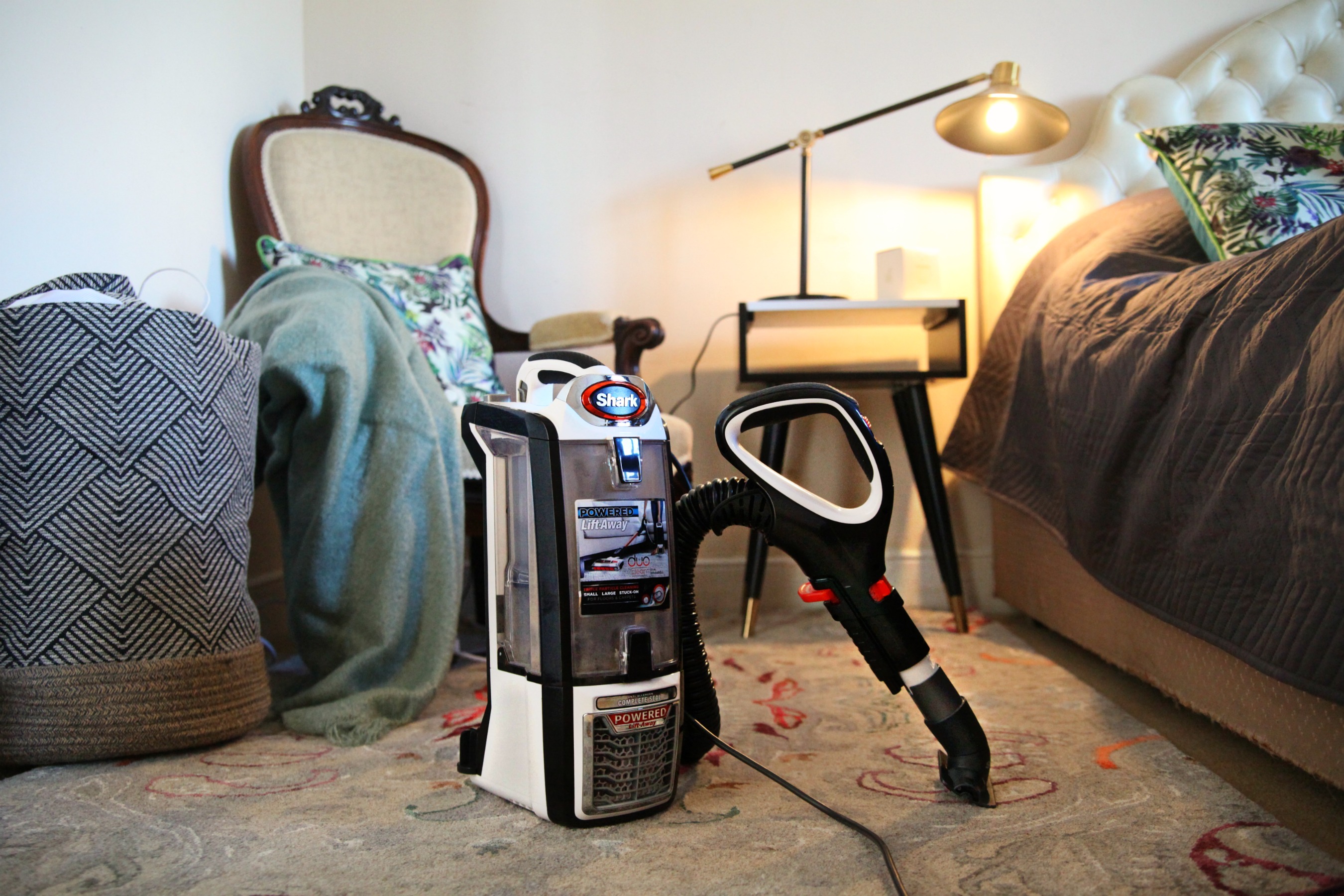 Please note we were sent this product. All words and opinions are my own.
Please follow and like me: