CHOOSING A TRAVEL SYSTEM
When expecting your first child you imagine needing a million things. Everyone has an opinion on what's important in those early days and tips on what you simply cannot survive without. I remember researching travel systems while pregnant. It made my head spin. There are so many to choose from. With both Daddy Long Legs and myself being tall finding a pram to push easily became a main criteria for our first one. We eventually found a very suitable system from a Dutch brand (they must be used to catering to their very tall population), and it has generally worked well for us.
But it came in two parts making it awkward to fold up. This is especially something that I became aware of for travelling. Not so much on public transport, although our old pram is awfully wide meaning it's hard to get it on a bus, but more so for taking in the boot of the car or for airplane use. I've been back to Denmark five times this year, and every time I've shied away from bringing it as I was on my own with Caspian and just couldn't imagine having to dismantle it by the gate while trying to juggle a baby, changing bag, passport and boarding cards, too.
In February we're off on our first overseas family holiday. Being an experienced baby-traveler by now I can see how convenient it would be to have a good, sturdy stroller that also folds up easily to take with us. As we'll be dining out in the evenings, it would be great to have a place that Caspian can (hopefully) sleep, when he gets tired.
So while attending The Baby Show at Kensington Olympia earlier this year I used the opportunity to browse strollers. I was dreaming of one that not only folded up easily, had a height adjustable handle, was roomy for Caspian to sit in and ideally could recline fully, for when he needed a sleep. Too much to ask for? Visiting one stall after another they all had great options, but every single one would mean a compromise. I was close to giving up.
Then I came to ABC Design. I must admit I hadn't heard of this brand before, but quickly learned that they are the biggest selling brand in Germany and originated there more than 35 years ago. It's German engineering for your pram, in this case!
Listening to my needs they introduced me to The Avito, and I must admit I was impressed. After the show I was contacted by their marketing department and very kindly offered to test it out and review here on the blog. In terms of colour we went for the gorgeous Cranberry. The Avito doesn't come in many shades, though they have a wider selection in Germany, so one can only hope all of them will be available in the UK soon.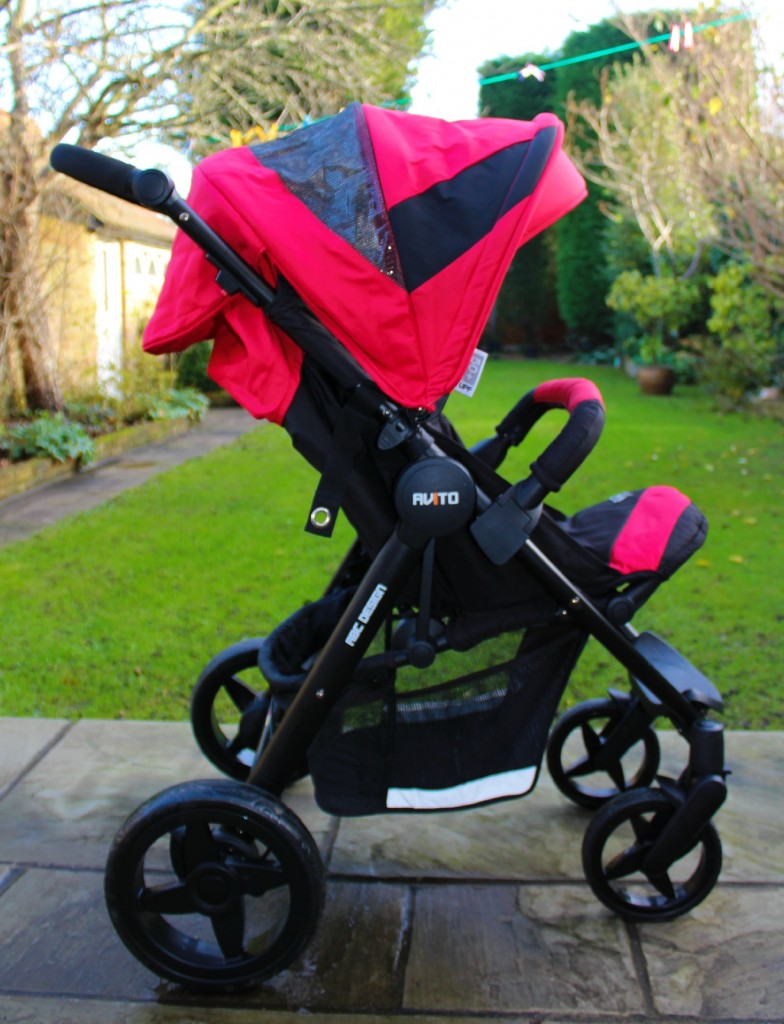 TESTING THE STROLLER
We've given it a thorough test drive, as I feel I owe it to you as readers, especially if you are in market for a new stroller, as well as to ABC Design. Having used it for over a month now, it's been through the everyday walks, shopping, the trips on public transport, been with me to Blogfest recently and on the weekend I'll take it on the plane to Denmark (I'll update this review next week).
Overall I'm so impressed. It glides easily, I can steer it one-handed, it holds my shopping (I've even managed to bring home a big box containing a kid's tricycle by balancing it on the handle and hood). Caspian loves it and he sleeps so well in it. Even if he nods off sitting up the super smart system allows me to recline him in one smooth motion simply by pulling a handle at the back and he'll stay sleeping.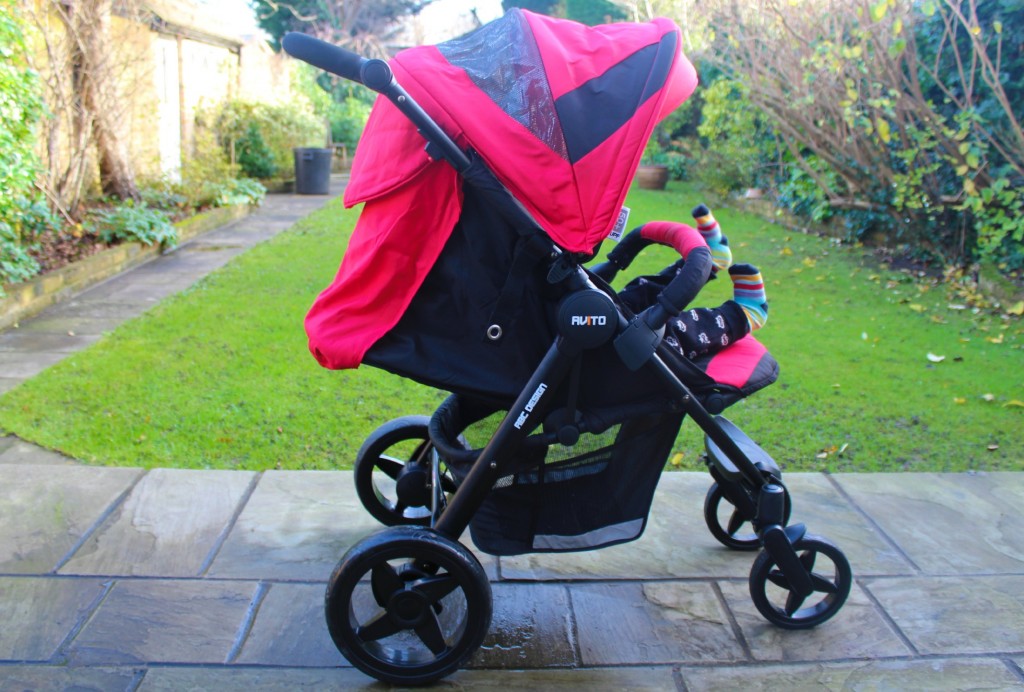 Daddy Long Legs is not one for change, so he tends to choose our old pram when he takes Caspian out alone. Though he did point out that The Avito has plastic tires, which might not be as comfortable for Caspian as pneumatic ones, but I haven't found any issues with them or the way they roll over bumps in the road. Plus it saves me having to pump or replace them, which to me is a bonus. So we kind of have his and hers strollers now, but I prefer mine without a doubt!
Edit! Before Christmas I took the stroller with me to Denmark. I had dreaded travelling alone with a baby and then having to deal with folding up the stroller at the gate. Firstly, it was a godsend to have it going through Heathrow as we had been allocated a gate many miles away, so where I would normally have Caspian in a sling, this saved my back. Secondly, as the Avito is so easy to fold up, that was a breeze. I took the hood and handlebar with me on board and sent the stroller off to cargo. I had been told it would be given back to be by the gate as we got off the plane, but I had to pick it up in arrivals. Luckily there are strollers scattered all over Copenhagen Airport, so it wasn't so bad not getting it back straight away.
ASSEMBLING
But let's start at the beginning. I was surprised at how easy it was to put it together. As it folds into one, most things are already in place when it's delivered. All you need to add are the wheels, which literally click into place and then the hood and bar, and you are more or less ready to go. As we bought our first travel system second hand we didn't have to faff around with putting it all together, but I've heard the horror stories from other parents of spending hours on the living room floor getting lost in the instruction manual. With The Avito you are ready to roll in 10-15 minutes from opening the cardboard box.
Dimensions:
Open – 78 x 60 x 106cm
Closed – 76 x 61 x 31cm
Weight:
9.2kg
For this type of stroller it is surprisingly roomy. It could also be down to the fact that you can attach both a cot and a carseat by placing them inside the stroller and securing it with specially made adaptors (all extras), meaning you can use The Avito from birth. Caspian looks very comfortable in there, although I had to get used to him now being forward facing. With his curious nature he's loving being able to take in everything around him, and I'm very pleased there's a big window in the hood, so I can still keep an eye on him.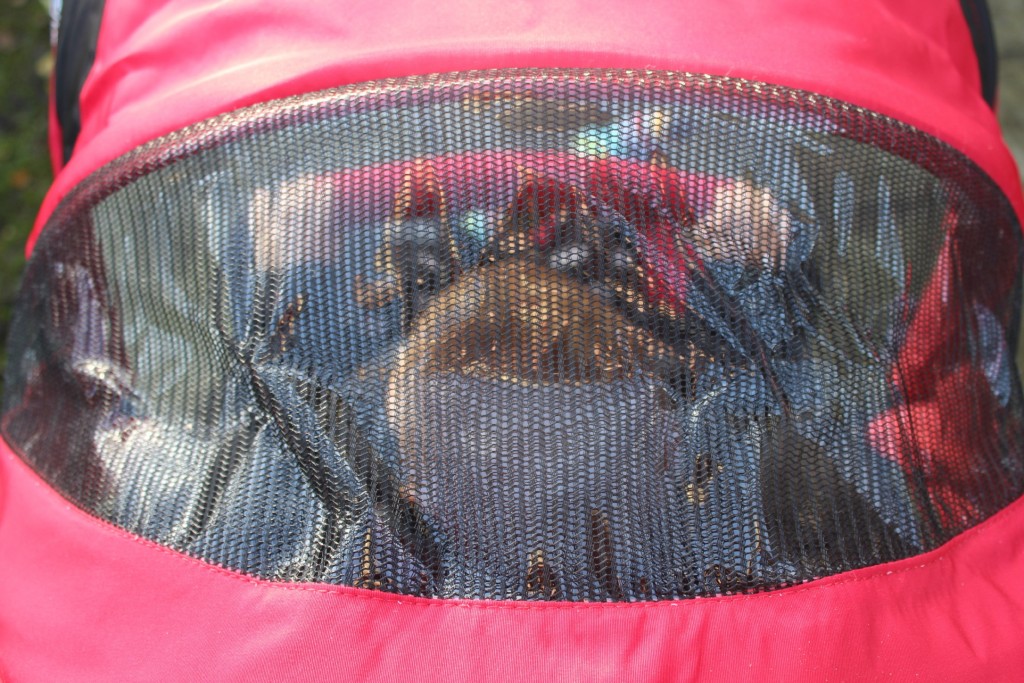 THE RAIN COVER
The first time we took The Avito out was for The Clapham Pregnancy & Baby Show. It was a cold, rainy day and though I remembered to bring the rain cover, which comes as standard, I hadn't looked into how it attached. Initially I found it very flimsy and though I managed to get it on and keep Caspian dry, I wasn't that impressed. Later on I decided to see if it was more down to me stressing in the rain rather than the quality of the cover, and surprise, surprise it fit's beautifully when put on properly. Lesson learned!
As it attaches to the handle it also keeps your changing bag dry which is excellent. There are ventilation holes on each side and Caspian can still see out. I should have brought it when we ventured to Blogfest as well, not that it was raining that day, but the wind was so strong, and I suspect it would have protected my little man well, as with being forward facing he is quite exposed. Another lesson learned for the future.
THE HOOD, HANDLE AND FOLDING IT UP
The hood is huge, which I love. Covering it with a muslin means complete peace and quiet for Caspian, which is great when he's napping. It's also water repellent and has a factor 50+ sun protection.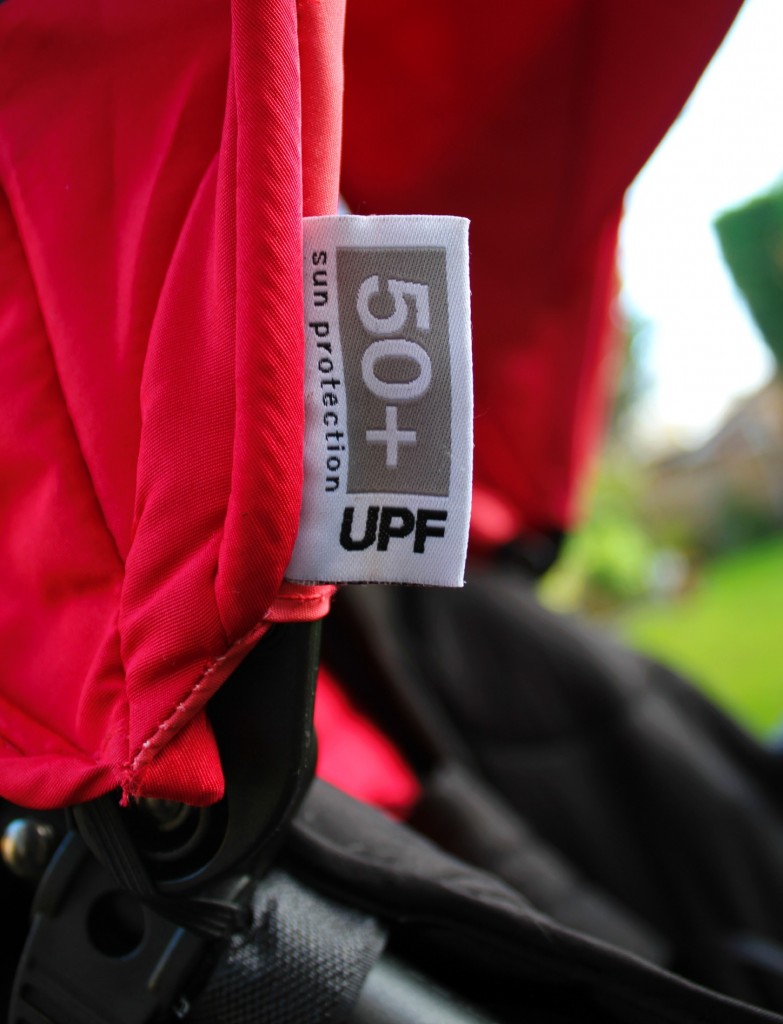 As I mentioned having an adjustable handle is important for us – and a rare thing to find on a stroller. With the Avito you have the option of 3 levels meaning it caters for couples of very different heights, too.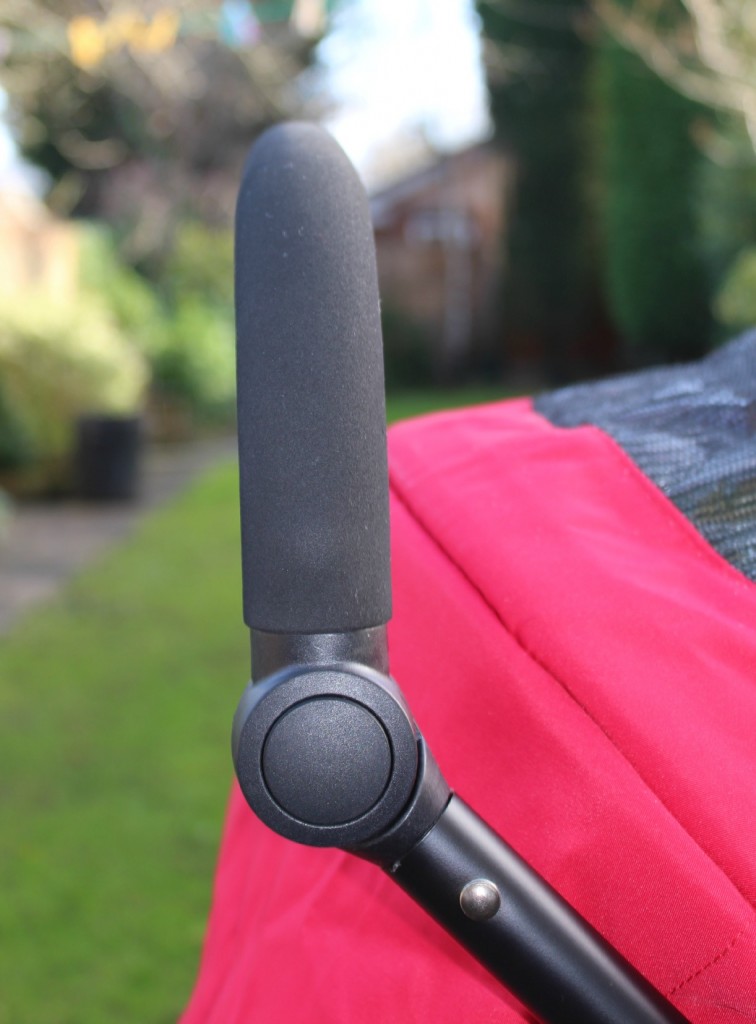 The highest…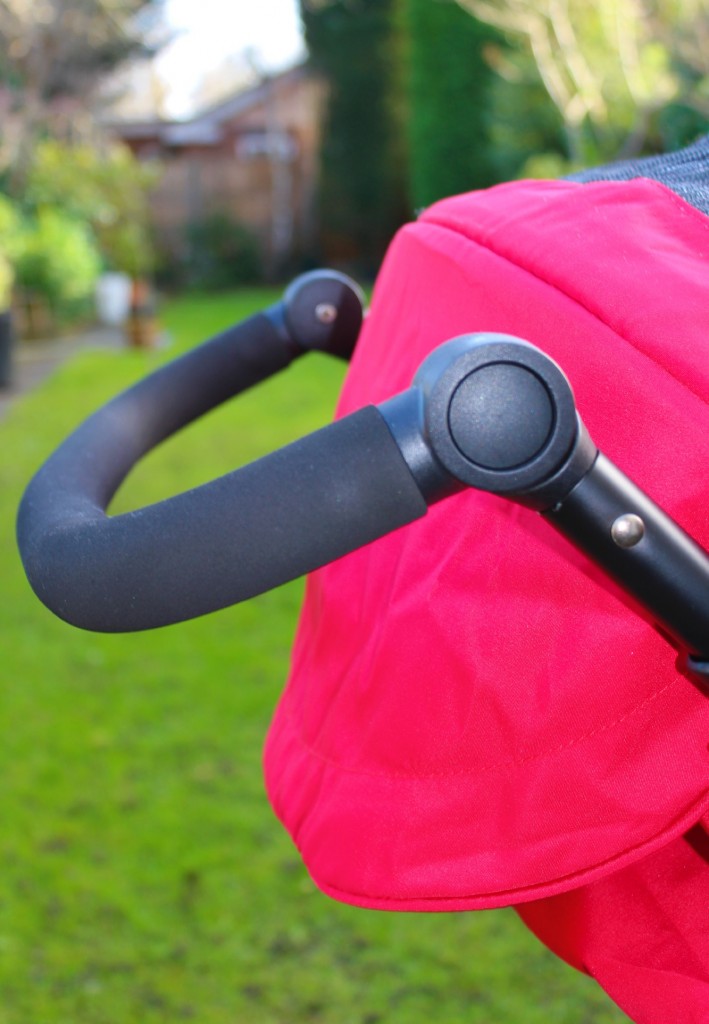 …and lowest handle setting!
It only takes one smooth movement to fold it up. You simply press and pull the release buttons at the back of the handle and down (or up) it goes.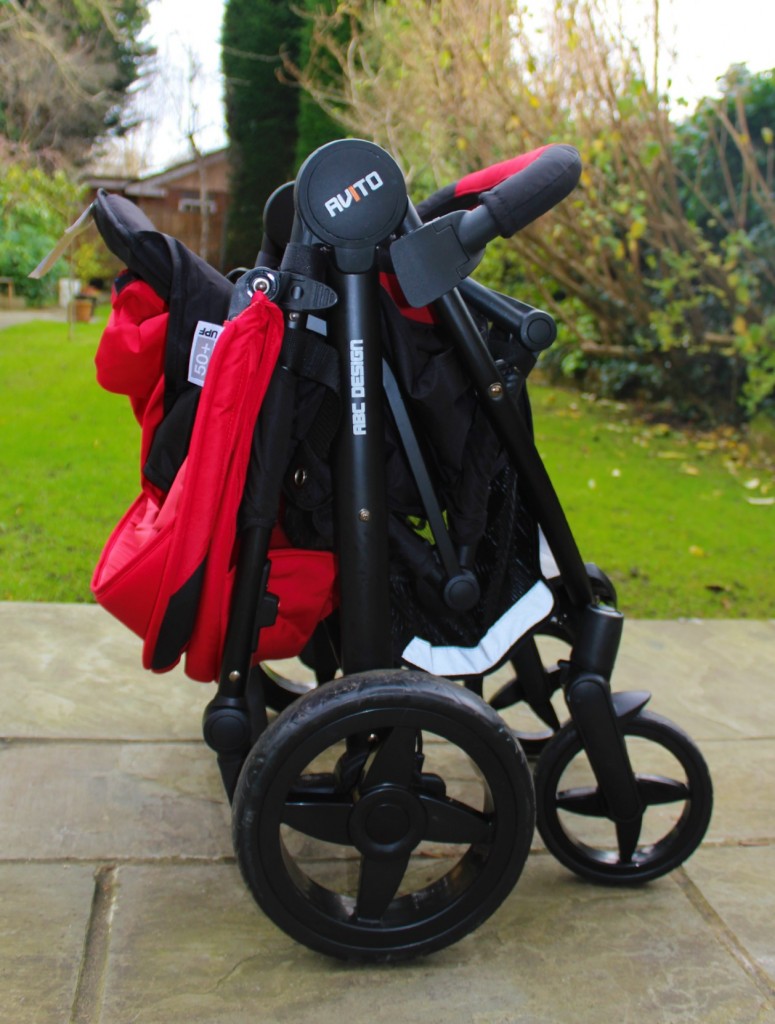 It's no problem to take off the hood, handle bar and wheels to make it even more compact if needed
SO TO SUM UP THE AVITO STROLLER
Features:
• Suitable from 6 months (though with carseat/carry cot it can be used from birth)
• Front swivel wheels
• Travel system compatible
• Adjustable seat recline
• Adjustable leg rest
• Adjustable parent handle
• Water repellent covers
• Reflective strips
• Easy removable bumper bar
• 5 point safety harness
• Simple and compact fold
• Rain cover included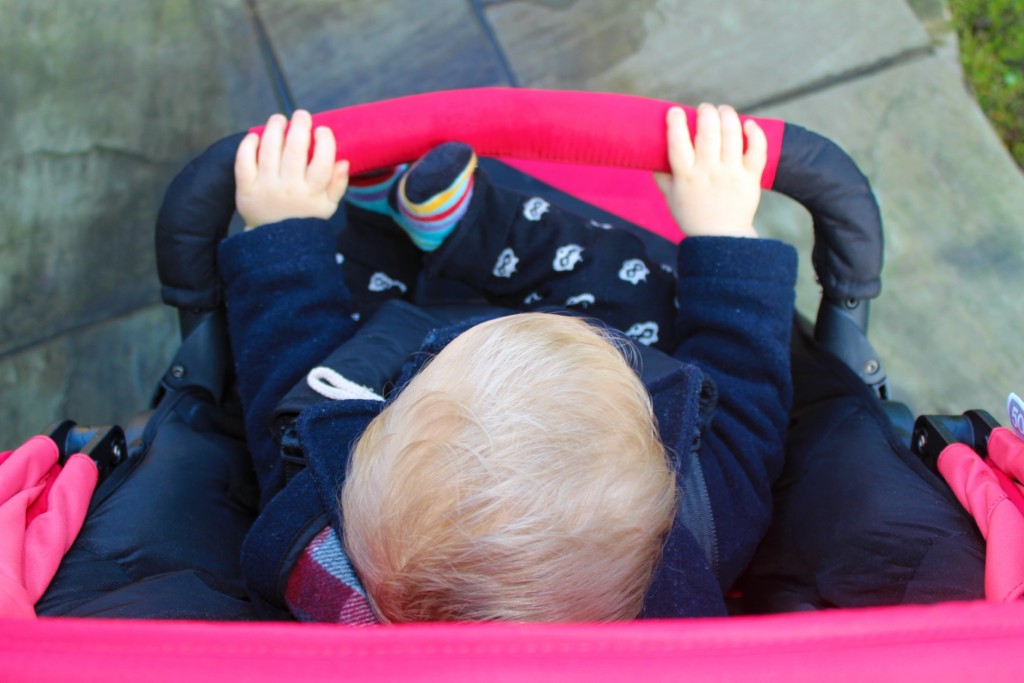 PRO's IN MY BOOK
Easy to assemble in the first place
Folds up in one (great for travelling and makes it easy to store if you are short on space)
Steering is a dream – even with one hand
Adjustable handle (three different positions catering for couples of different heights)
Reclines fully meaning your child can have a good, long, comfortable nap
Build in UPF of 50+ so your little one is well protected from the sun
Good size basket for this type of stroller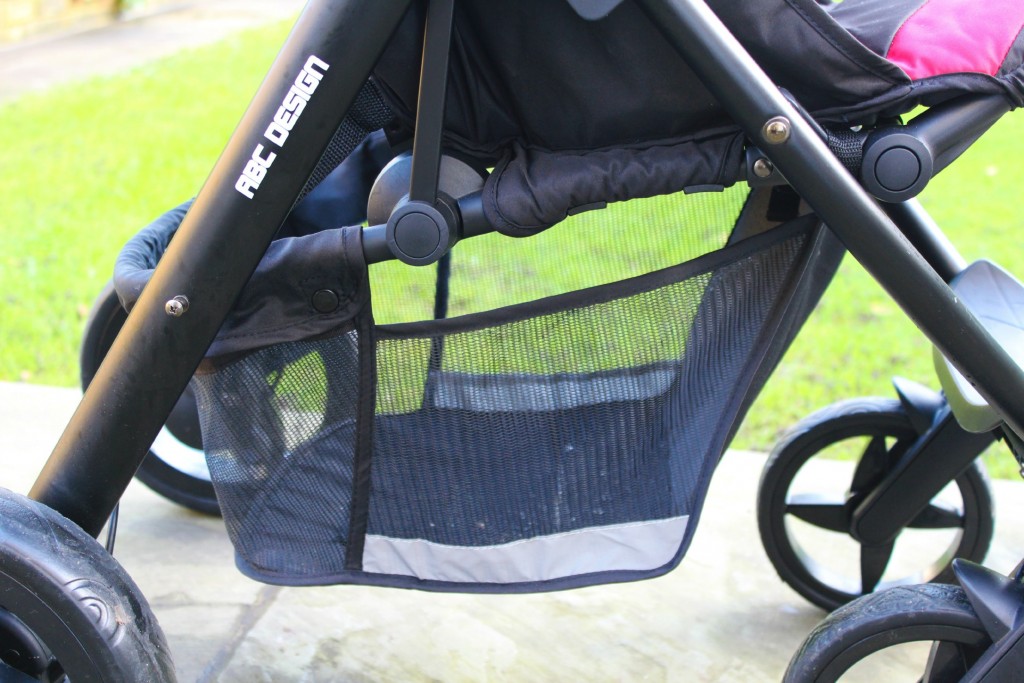 CON's IN MY BOOK
Plastic tires (but only if you are like Daddy Long Legs, and enjoy pretending the pram is a racing car. Otherwise it can actually be an advantage with no punctures)
Only four colours to choose from (In Germany it comes in many more including a gorgeous denim and leather version, which I'm hoping will be available in the UK at some point)
Seat can't swivel, so only forward facing
Check out ABC Design's website for more information on all of their prams and strollers.
The Avito currently retails at £200 which doesn't include any extras.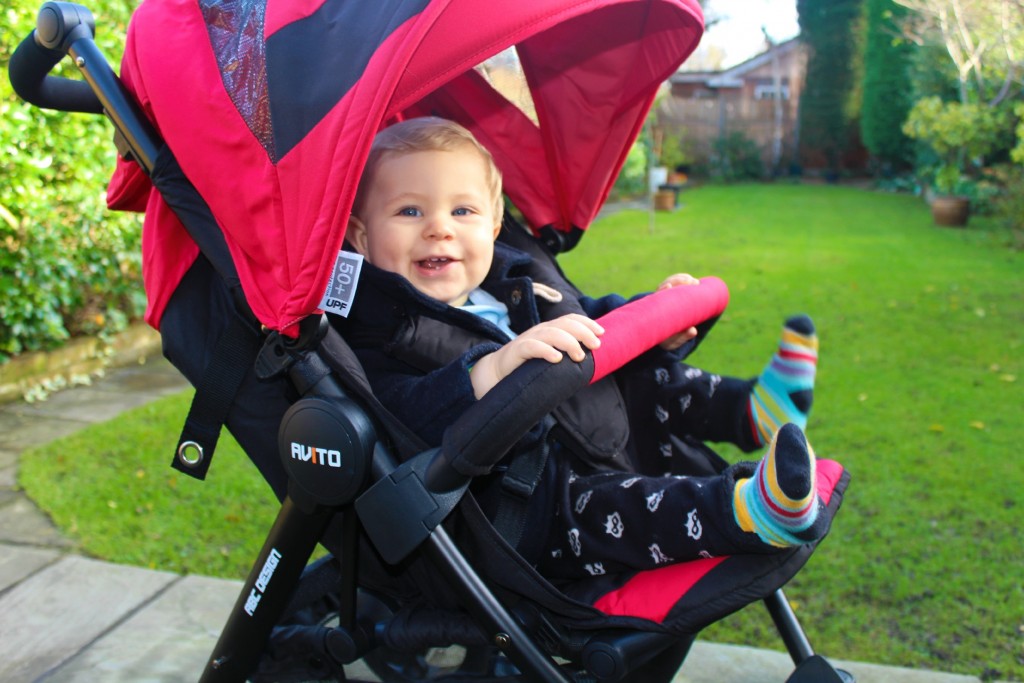 Disclaimer: please note we were sent this stroller in return for an honest review.