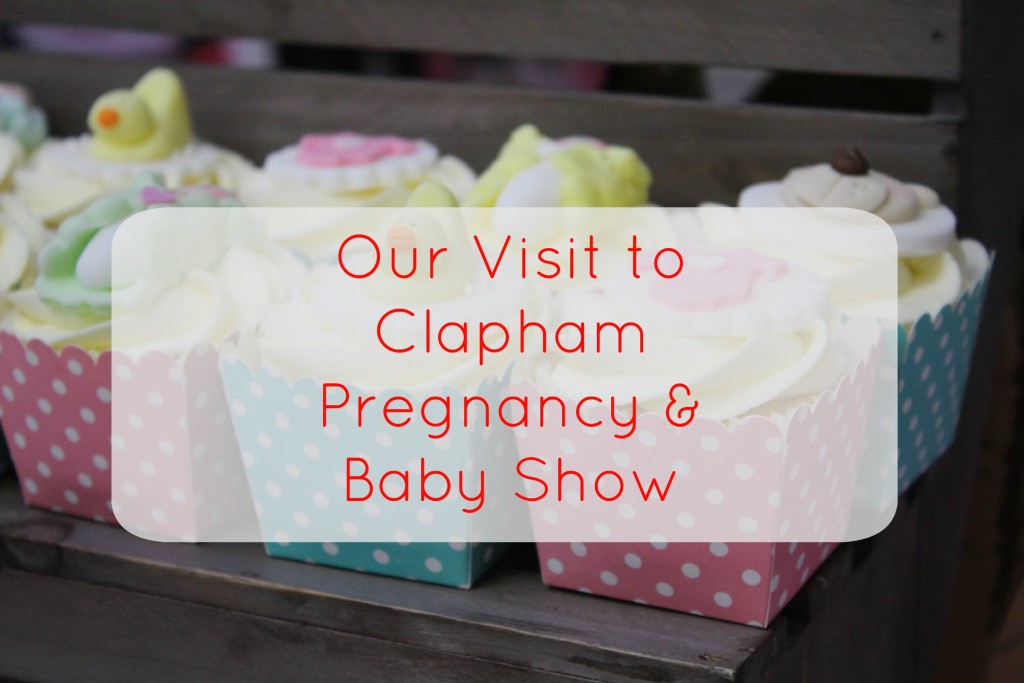 On Saturday Caspian and I braved the rain and ventured to Clapham to visit the pregnancy and baby show there. It was held for the second time after it's debut in March this year. A lovely intimate affair to perhaps, not rival the big and more commercial ones at Excel and Kensington Olympia, but to show expecting and new parents what some local businesses have to offer.
We arrived for the opening at 2.30 pm, only to find it was extremely busy, considering the frightful weather. Perhaps it was the lure of one of the 100 goody bags, that saw many flock to the venue early. And for a free event, the content of the bag didn't disappoint. From aden + anais star bibs, a copy of B magazine, to lots of yummy goodies for mum and baby this was a great gift bag. There was also a raffle with fantastic prizes in aid of the Children's Osteopathic Centre.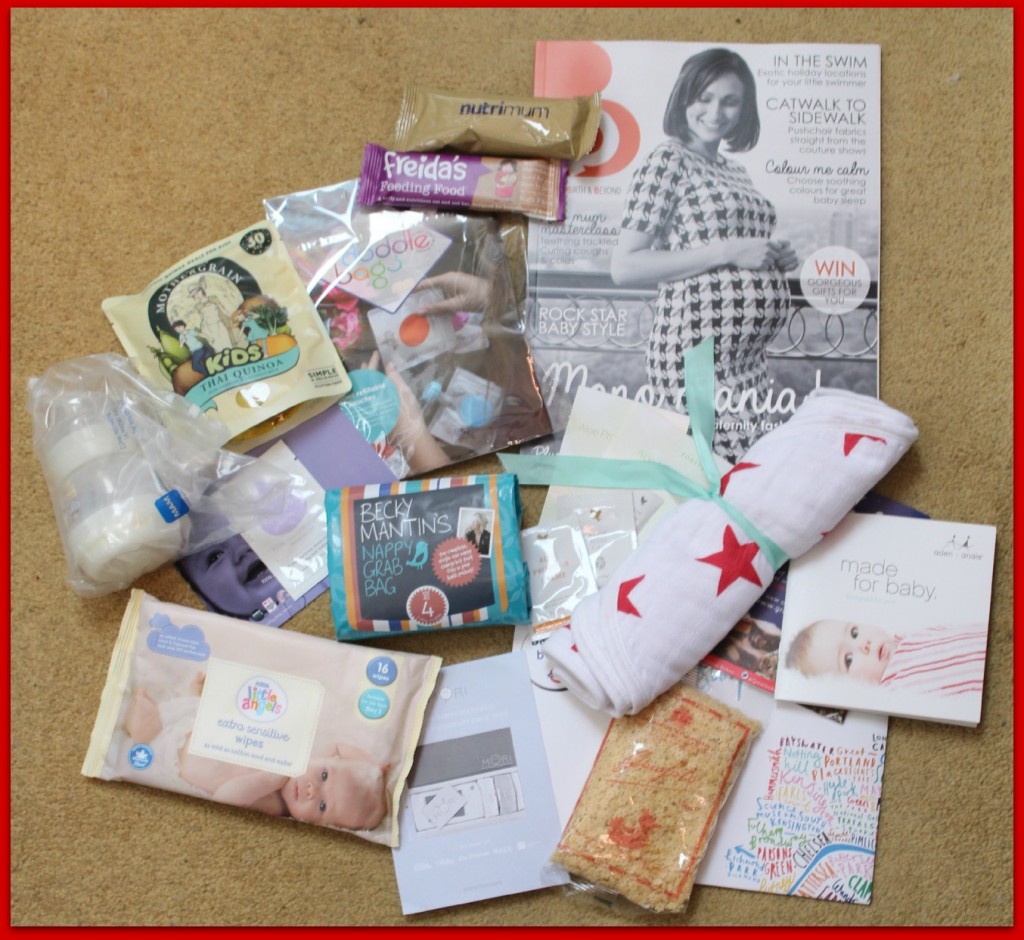 The impressive content of the goodie bag from the show
Caspian was taking everything in from the comfort of his new stroller, the Avito. We've been sent it to try out by the lovely people at ABC Design. Watch this space for our upcoming review. Though it's maiden voyage was definitely a smooth ride, so I'm excited to push it around some more.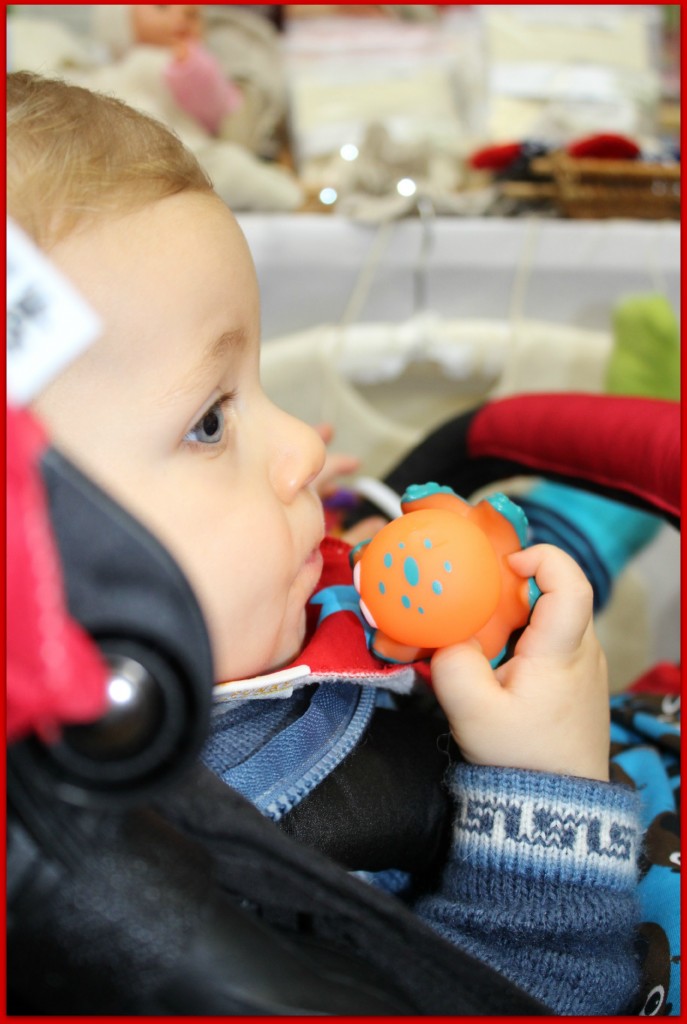 The venue of Chatham Hall on Northcote Road is not big, but they had catered for the fact that perhaps not everyone wanted to bring in their buggy by putting up a little pavilion. Here you could park your pram and a kind gentleman associated with the show stood guard. He did remark that it was no worse than being seated outside watching his favourite football team play in all sorts of weather, but I still don't think he imagined it to be quite this bad when he accepted the job.
Inside there was a separate room displaying prams and buggies and in the main hall you found many stalls of local businesses offering everything from prenatal care to baby massage. We had a great chat with the lovely Alexis from The Essential Bag Company, who has kindly agreed to run a little competition for the readers of scandimummy.com, so keep an eye out for the upcoming interview with her! We also learned more about Nom Nom Skincare and we're looking forward to trying out their baby butter, which we were kindly gifted. I also came across It Works Mum, which sells a lot of Scandinavian brands, so definitely worth visiting their website. How about these natural breast shields to help soothe cracked nipples?! I had never heard of them, but we forget just how clever Mother Nature is sometimes.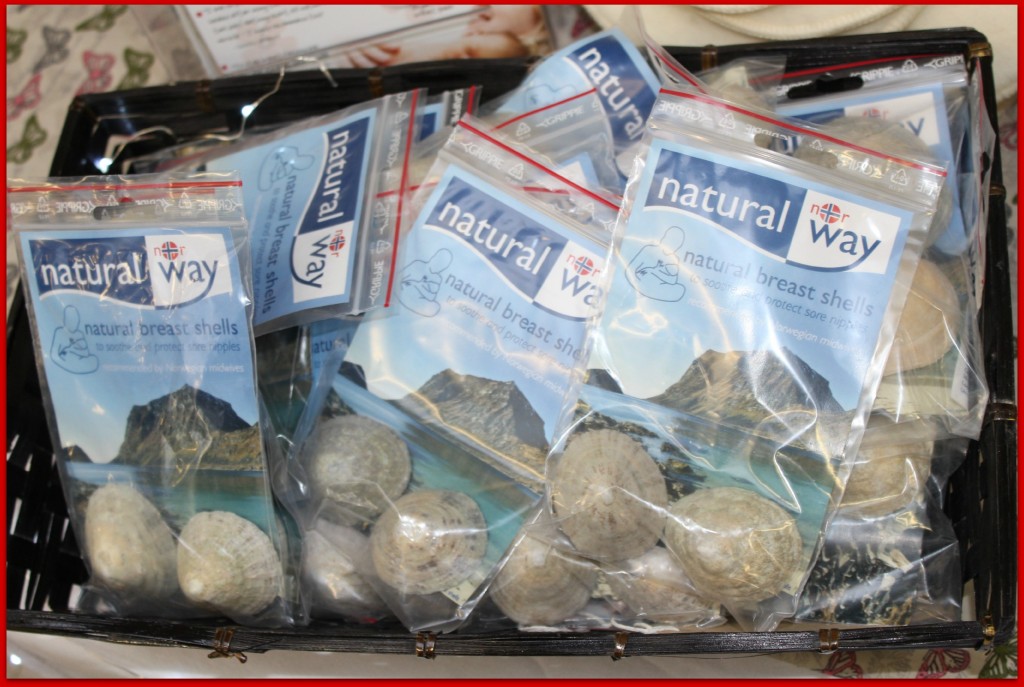 Overall we had a lovely afternoon and it was a much more relaxed atmosphere than the big one at Kensington Olympia we visited a couple of weeks ago. You can read about that here. Though we enjoyed both and they have different things to offer, and I do believe in supporting your local high street shops. Many of these small boutiques and activities are run by mums who have realised that returning to a full time career in the city post baby is often not so easy. Though as one said, she's probably more busy now than in her previous job, but perhaps more passionate about this one. And passion is exactly the word I would use to describe many of the people there, including the four women behind the show: Julie Morris from Baby Intuition, Meg Butler from Match-up Mums, Kate Wilson from Hello Mums and Tina Perridge from Neighbourhood Midwifes.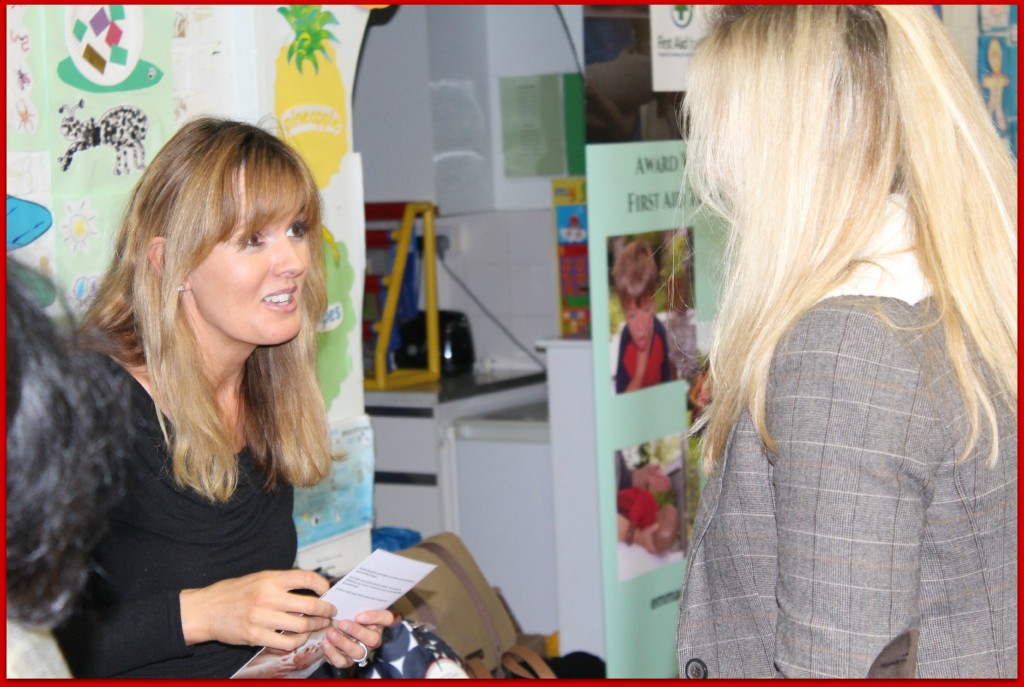 Another lovely mumtrepreneur, Sandra Ferriter, who specialises in baby massage among other things. Looking forward to interviewing her for the blog as well.
Caspian handled himself so well, but got peckish towards the end, so after a quick feed we walked back out into the rainy darkness. As we strolled down the high street towards Clapham Junction I did notice a number of shops geared towards pregnant women, new parents and families (a touch of the Baader-Meinhof Phenomenon, perhaps. Though the area is know as Nappy Valley!). There was a warm, Christmassy atmosphere helped a long by the little stalls offering hot food, pastries and gift items. And if it hadn't been for the terrible weather we would have stopped for a snack.
If you are close to Clapham and want to find out more about upcoming events check out the show's website.