On the weekend we went to The Baby Show at Kensington Olympia. After a rather rocky start where Caspian decided to take a bath in the cat's water bowl as we were heading out the door and then negotiating the heavy traffic due to the Rugby World Cup semi final at Twickenham, we finally made it to the venue around lunch time. Here we met up with a very dear friend of ours, who had wisely left her two-year-old at home, as the excitement and all the people would probably have been too much for him. Plus keeping track of Caspian definitely kept us both busy. He's happy and jolly, but a bit of a handful.
We had an excellent day, where I got a chance to discover and connect with some great, new brands. Watch this space! And we also met some lovely people along the way. It was super to finally greet in person mother and daughter, Sarah and Amy Beeson, who are behind the successful new parenting book Happy Baby, Happy Family. Caspian had a cuddle with Amy and used the opportunity to pinch her necklace. Luckily it was from Nibbling, a brand that specialises in food safe silicone products (mainly jewellery) perfect for teething tots. As we couldn't pry it from Caspian's strong grip Amy took us to Nibbling's stand where I bought a necklace and was kindly given two bracelets from the new collection. Neither left Caspian for the rest of the day.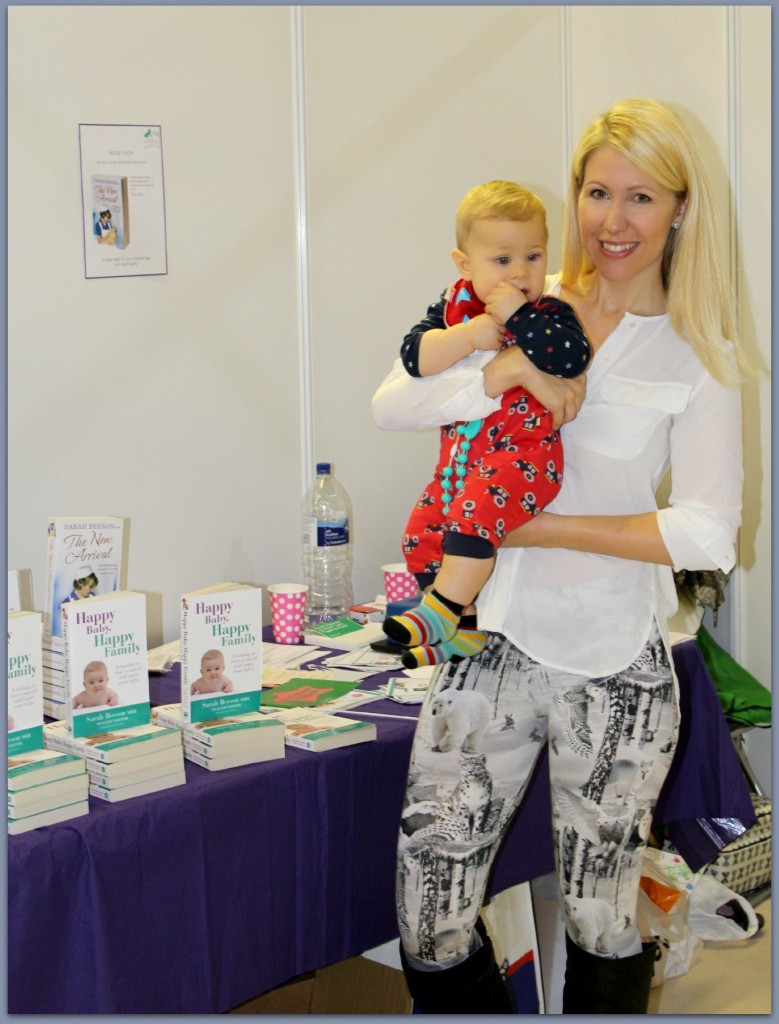 Posing next to the great new parenting book Happy Baby, Happy Family by former health care visitor and MBE, Sarah Beeson.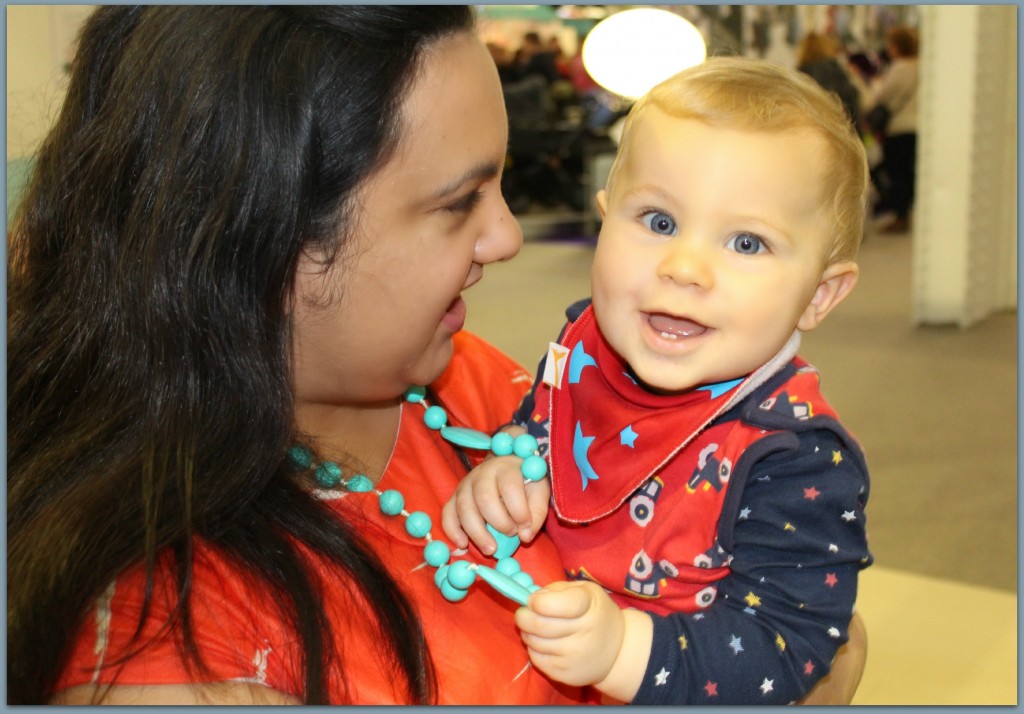 Amy and Caspian (in the process of stealing the necklace)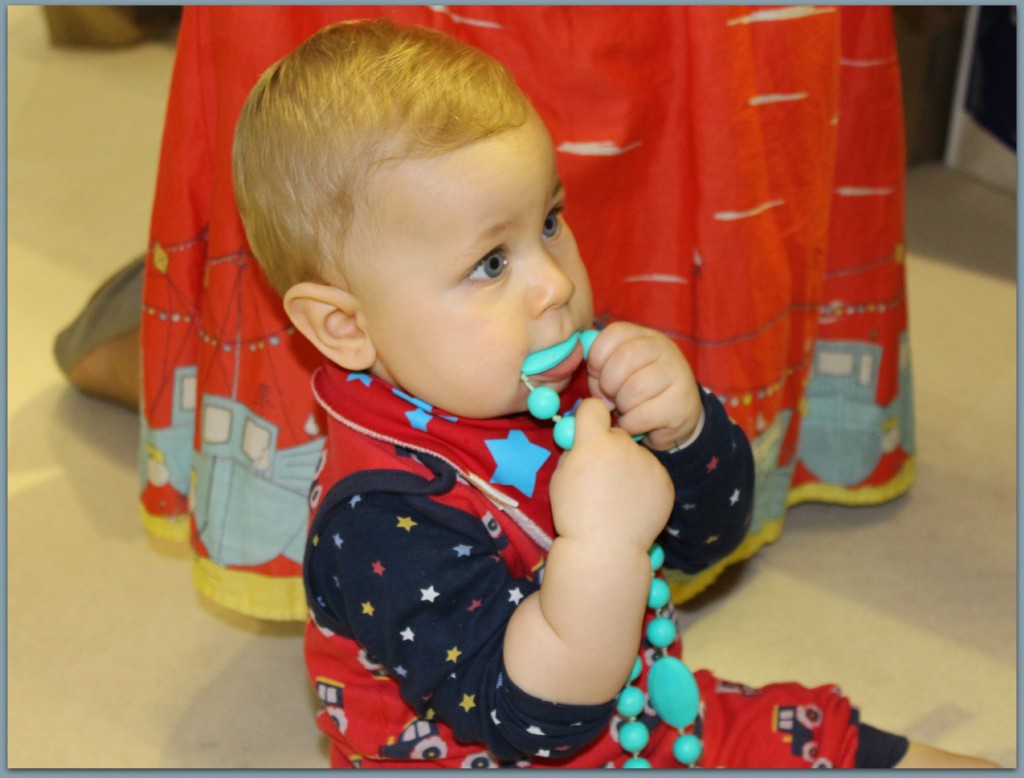 The necklace from Nibbling is clearly an excellent teething 'toy'
Caspian also seized the opportunity to try out some chairs. Both the classic Stokke high chair and the gorgeous miniature armchair from Small but Perfect proved a great hit. I grew up with the Stokke chair, and my old one still sits in my grandparents' cellar. It could easily have been taken over by Caspian, though unfortunately a water damage got to it first only a couple of years ago. But these chairs are such a great investment, as they last for generations. Hoping we'll get a new one once our house renovation is complete.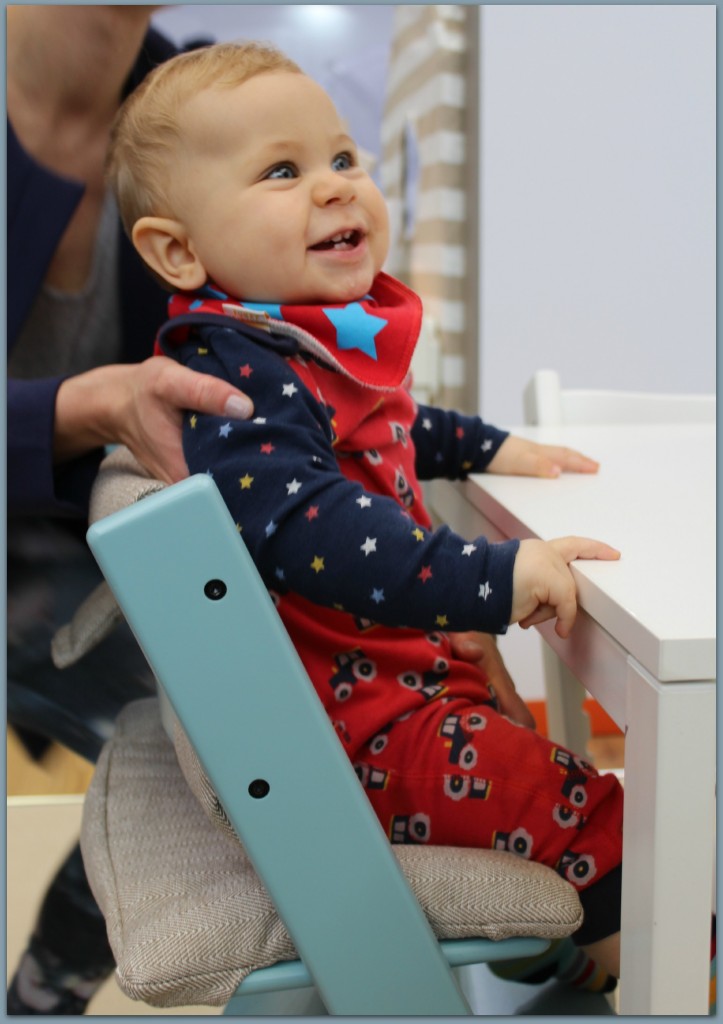 With a helping hand from Auntie Maria Caspian enjoyed the Stokke high chair and took to it like a Scandi Prince to his Scandi throne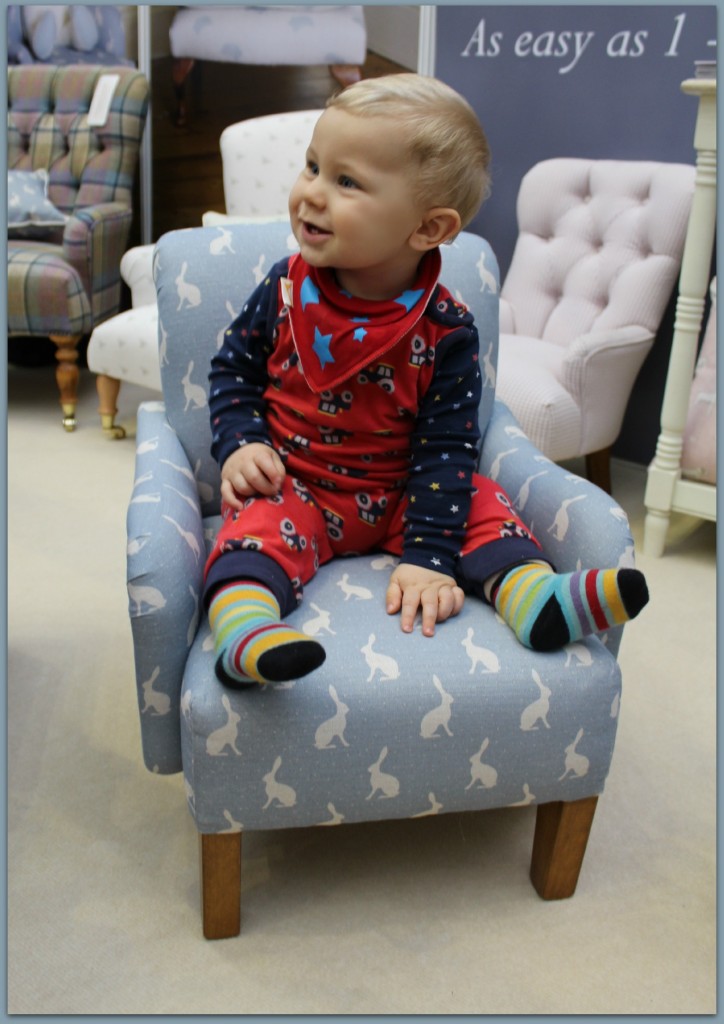 And he loved this adorable mini armchair with beautiful bunny print from Small but Perfect
There was a great buzz at the show and the talk from Annabelle Karmel on the main stage naturally drew a big crowd.
I would definitely recommend going if you are expecting or have recently become parents, though a little planning in advance might save you too many unnecessary buys as there are so many temptations. Maria treated Caspian and me to an early Christmas present. These fantastic matching t-shirts we found at the stand of the lovely ladies from Crane Bump & Baby. Check out their site for some unique products.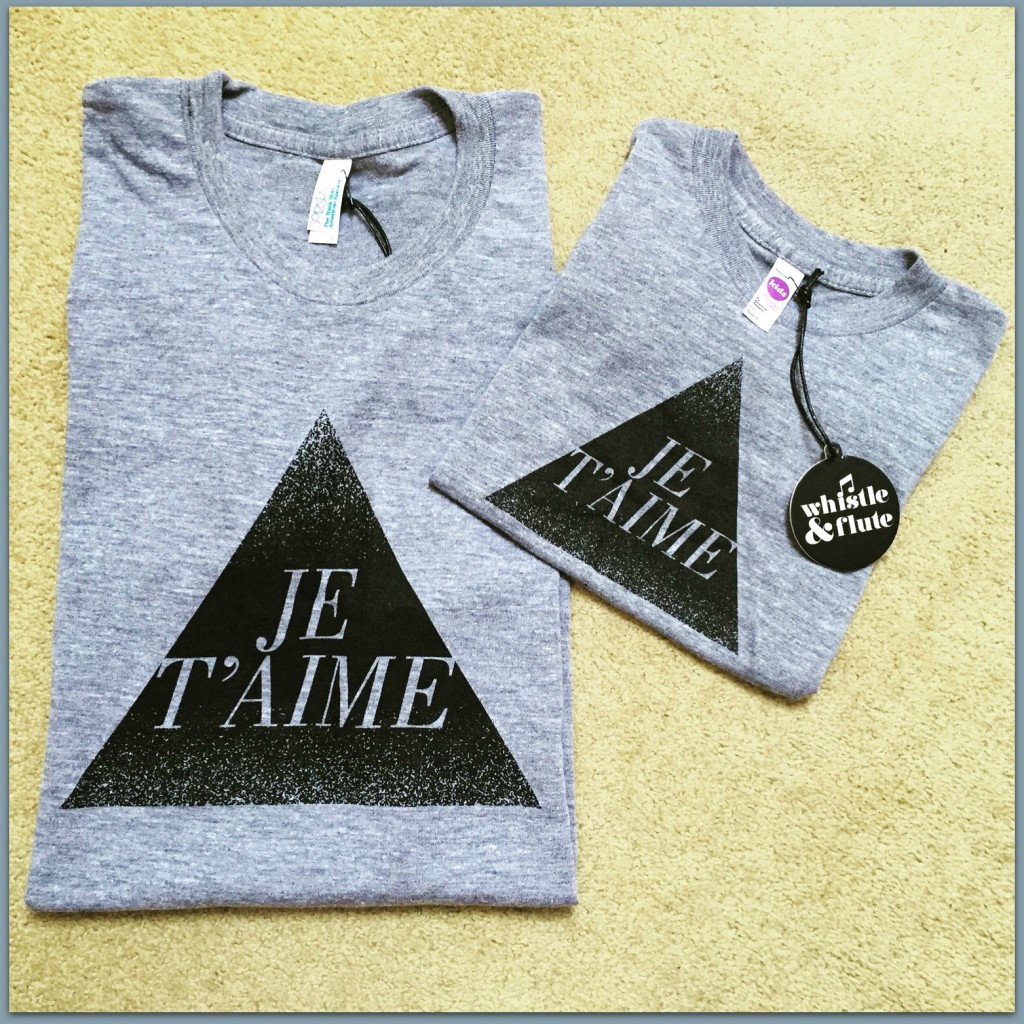 Three of my favourite discoveries were organic skin care brand Nom Nom, German buggy brand ABC Design as well as the stunning changing bags from British brand KERIKIT with my top choice being the gorgeous Charlie Pony. Check them out when you have a moment!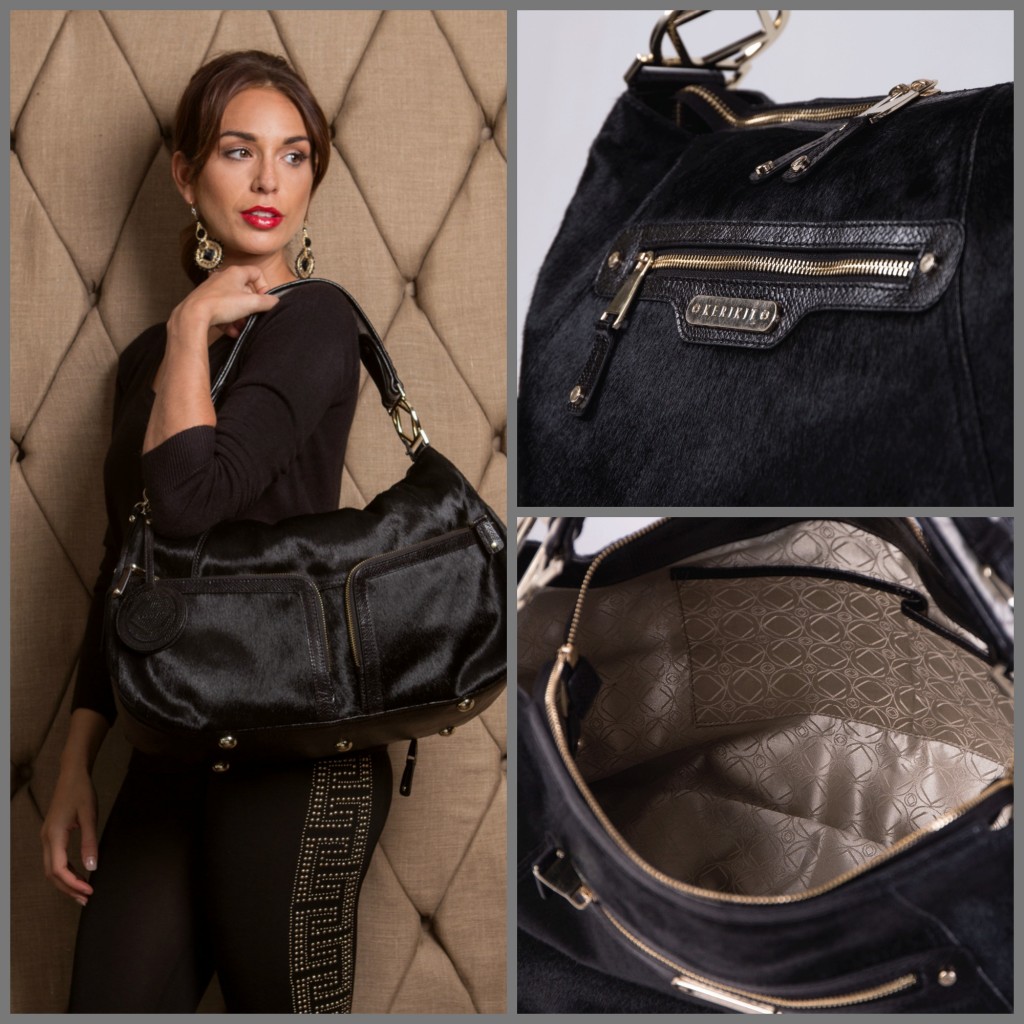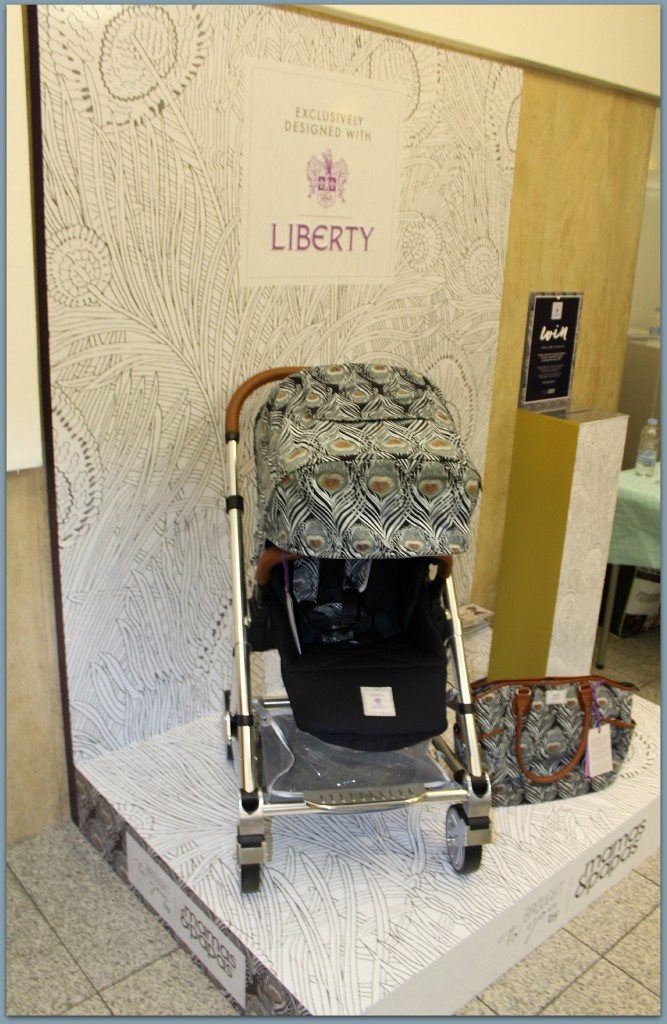 Also loved this peacock pram from mamas&papas and Liberty that was up for grabs in a competition
Did you attend The Baby Show at Kensington Olympia? If so, what did you think? Or maybe you are planning to go to the one in Excel or Birmingham in the new year?