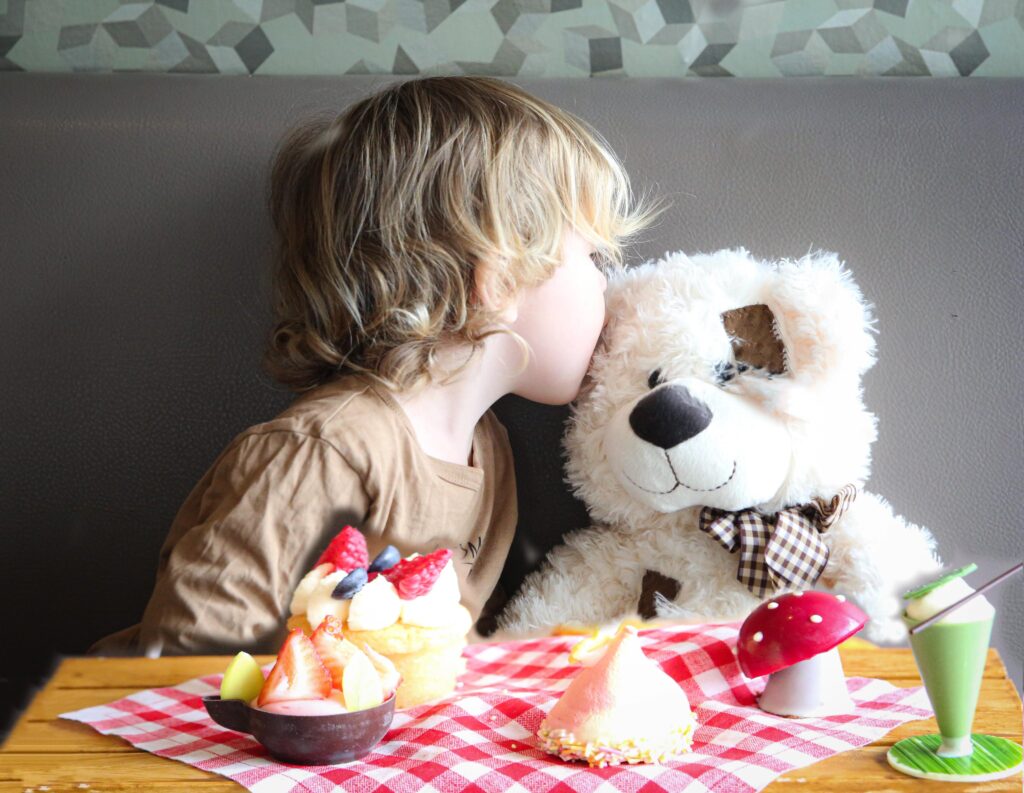 Are you thinking of booking a children's Afternoon Tea? On the weekend the boys and I had the pleasure of experiencing the Teddy Bear's Picnic Afternoon Tea at London Hilton on Park Lane (*press invite). I love that the Podium Restaurant has created an Afternoon Tea, especially for children. Not only do the little ones get to indulge in a miniature picnic table full of deliciousness they also get to take home a new fluffy friend. If you are looking for a special experience this summer we highly recommend booking at this wonderful London hotel. The children's Afternoon Tea (and options for adults, too) is served Friday-Sundays at 12:3-5:00 pm (last seating at 4:30).
The London Hilton on Park Lane is a magnificent hotel located in the heart of Mayfair. It's easily accessible and close to famous landmarks like Hyde Park and Buckingham Palace. The beautiful surroundings of this 5* hotel add to the experience. Also, the welcoming staff ensure that all members of the family feel welcome.
PERSONALISED CHOCOLATE TEDDY BEARS AND AMAZING CAKES ARE PART OF THIS CHILDREN'S AFTERNOON TEA
The children's Afternoon Tea includes a tray of bear-shaped sandwiches, plain and chocolate scones served with chocolate sauce, clotted cream and strawberries. Then follows a miniature picnic table filled with different cakes in the shape of toadstools and teacups plus a personalised chocolate bear. The level of detail show the creativeness and talent of the pastry chef. Your little one can choose from a range of hot and cold drinks. My boys loved the milkshakes. They enjoy it all in the company of a new teddy bear friend, perfect for cuddling on the way home.
A WONDERFUL EXPERIENCE FOR THE WHOLE FAMILY
Children relax when you relax. The staff at the hotel and at the Podium restaurant have realised this and make you feel instantly at ease. They are keen to show that the Teddy Bear Afternoon Tea is indeed for children. Should they drop food or drinks it's not a problem. If they need a bit of extra entertainment they have a wonderful range of toys available. All wipeable and will be sanitised in between uses. No one bats an eyelid if your little ones become a little loud or overwhelmed. They understand that they are kids and the staff are impeccable in catering to their needs.
AMAZING AFTERNOON TEA FOR ADULTS, TOO
There are scrumptious options for parent as well. Choose between a classic Afternoon Tea or their vegetarian option. Again it's beautifully presented with a selection of sandwiches, stones with clotted cream and jam and divine cakes. There is a variety of teas to choose from, I can recommend the Vanilla Chai. Should you fancy a coffee then that's no problem and you can also add a delicious glass of Champagne to finish.
Disclaimer: We were invited to try the Afternoon Tea. All words, opinions and photographs are my own.