I've been collaborating with The Bloggers Hangout in featuring and reviewing some brilliant British baby brands. Actually most of the companies in this post cater to older children as well and some even to mummies, too. It's been great fun and I've loved learning more about these new businesses and I hope you will as well.
As you might know I often feature Scandinavian companies, so it's been wonderful to see some of the talent that is within the UK. Caspian and I have had fun trying out the clothes, reading the books and testing the gadgets from Frugi, Belle & Boo, Piupia, Cheeky Chompers and Kokoso. Their products would also make excellent gifts if you are looking to buy new parents something with a difference.
This first brand is one we're already familiar with and you might remember my post on dungarees a while back featuring a soft pair from Frugi. I was so impressed with the quality then and they lasted us for a long time, so I was excited to try out an item from their current summer collection.
These navy overalls with a maritime print have an excellent fit. The cotton fabric is soft allowing Caspian to move freely. With adjustable straps and the option to roll up the legs these will last us all summer. They can be dressed down like here with a plain body underneath or dressed up with a shirt and possibly a cute bow tie for a summer party.
The "Little Alex" unisex dungarees retail at £29 and also come in a light blue version with an adorable daisy print.
Frugi also does maternity and nursing wear and I've got my eye on one of their beautiful cotton wrap dresses which will be perfect for Spring and for discreet feeding in public. Like all their children's clothes it's made from organic material, which I think is a big plus. Knowing that there are no harsh chemicals close to your little one's skin or your own for that matter is important in my book.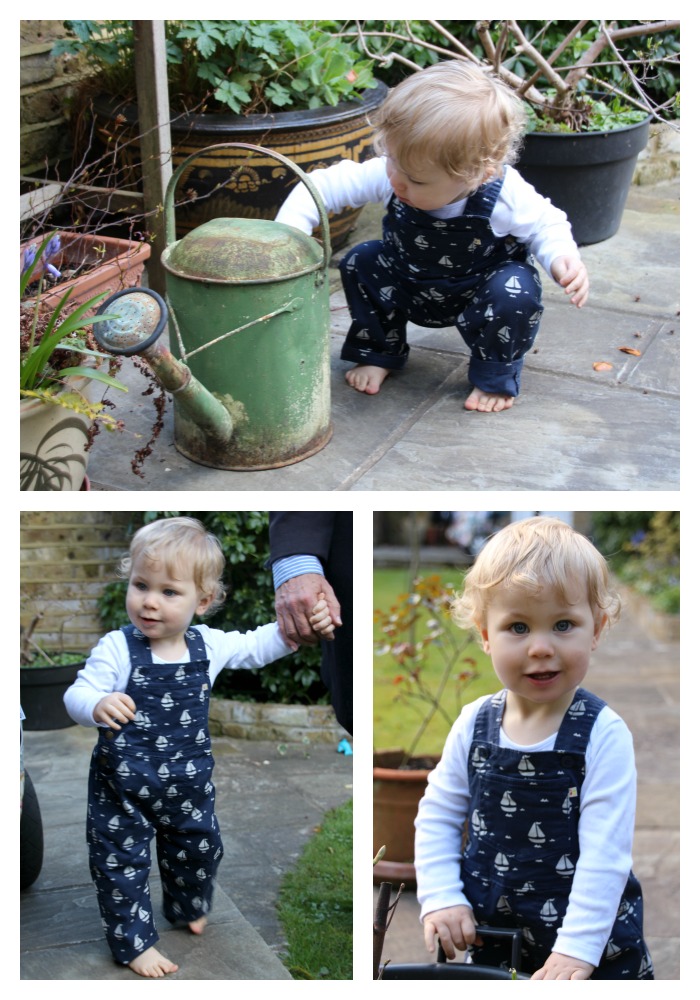 BELLE & BOO
I could easily get lost in the beauty that is the Belle & Boo's web shop and spend hours browsing all the gorgeous designs from cute cards to wall stickers, clothing and cutlery.
Mandy Sutcliffe is the illustrator behind the brand and also the writer of Hop along Boo. Time for bed. She has managed to capture the innocence of children playing and their love and interaction with animals. The drawings are stunning and the story is very sweet.
Caspian enjoyed the book, though I was careful not to leave him with it as he loves tearing up paper and this is definitely one I want to keep, both to display and read to him when he's a little older. I'll also save the wall stickers for when we decorate his room downstairs. I used some when we did his nursery and he loves interacting and exploring the animals, so I'll make sure to give Boo a prominent place in the new room. The A4 sized sticker of the little bunny and bird retails at £15 and the hardback book is  £10.99.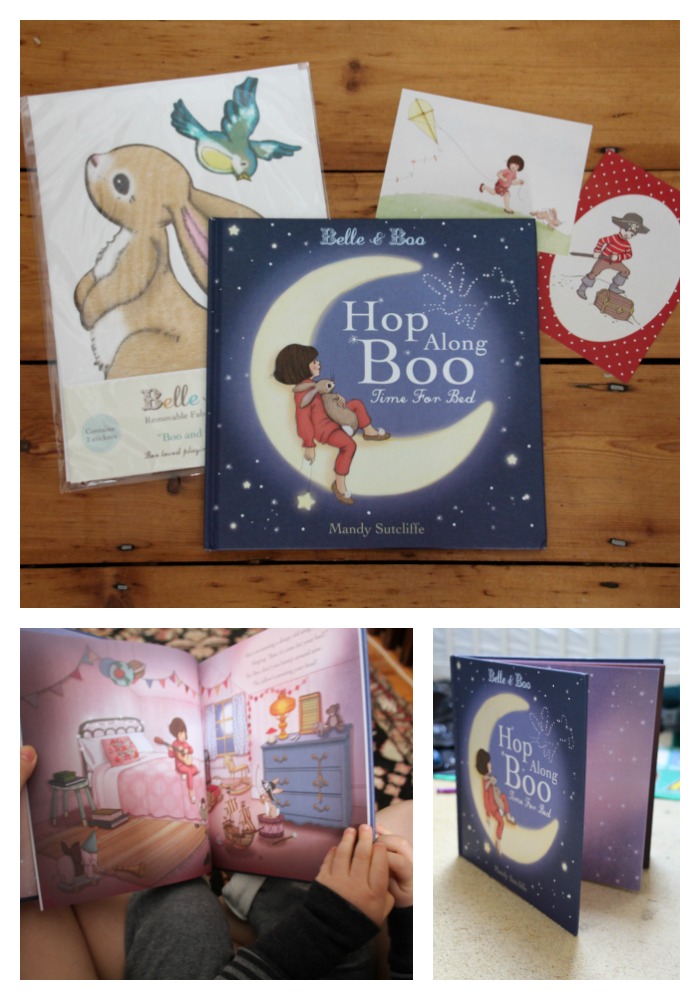 I suppose you can call Piupia a British brand, as they are based here in the UK, but one with Portuguese heritage. The designer is a graphic designer from a family of clothes manufactures. Oh, and she's a mum, too.
This sweatshirt is from their A/W collection called "Where is Mole?". It's super soft and you can clearly feel that a lot of thought has gone into the making of the garment. I was happy to discover that the clothes are manufactured under high quality standards using processes that are not only kinder to the environment, but also gentler to babies' sensitive skin.
I didn't manage to capture it, but Caspian kept looking down and giggling and that melted my heart. He could clearly see his belly smiling back at him. I love when clothes become more than just a garment.
My only concern is the colour as Caspian likes to explore, especially the plants in the garden, so it might not stay light like this for long. Though clothes are meant to be worn, so as long as he's comfortable that the most important thing, the rest I'll leave up to Daddy Long Legs and his excellent stain bar skills.
Check out Piupia's fun summer collection which holds colourful shorts and a funky donkey skirt.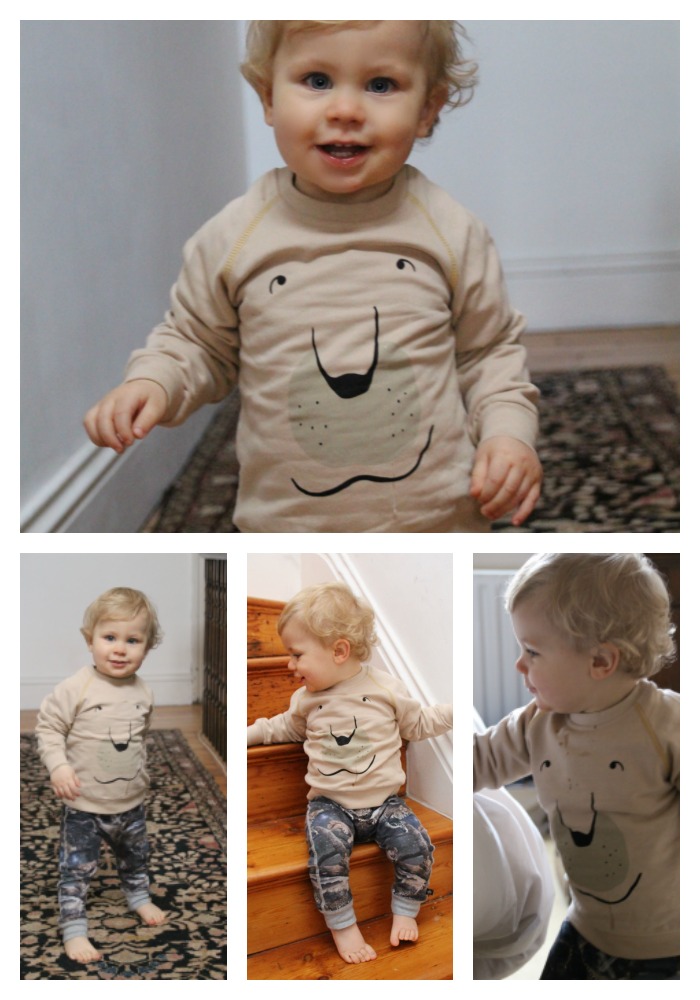 I feel like Caspian's been teething forever. His first two teeth popped through at 19 weeks and it seems like it's been ongoing since then. I put dribble bibs on him most days and you'll often find him chewing anything he can get his hands on and preferably something that's not meant to be chewed. So I was very excited to try the Neckerchew bib from Cheeky Chompers. It's basically a dribble bib and chew toy in one.
It didn't take my clever boy long to figure out the purpose of the rubber end, and he was grinning ear to ear yesterday morning as he wobbled around with the bib in his gob. He looked very cute, but I couldn't understand what he was saying, though mind you, most days it's "daddy" and if it's not "daddy" it's "baby", so it was kind of a welcomed break. He also took to Chewy, the Hippo chew toy, and loved that he can make squeaky sounds too, so hopefully having these two will stop him gnawing at things he shouldn't.
The company was started by mumtrepeneurs, Amy and Julie, back in 2013 and they've gone from strength to strength taking the simple idea of combining a bib with a soother/crew toy and made it a success. The reversible Neckerchew bib comes in a rainbow of colours and different prints and starts from £11.99. And Chewy, the Hippo teether, is £10.99. He's suitable from birth and made of 100% natural latex rubber, so safe for babies and teething toddlers. I like that his arms are like handles making him easy for little hands to hold.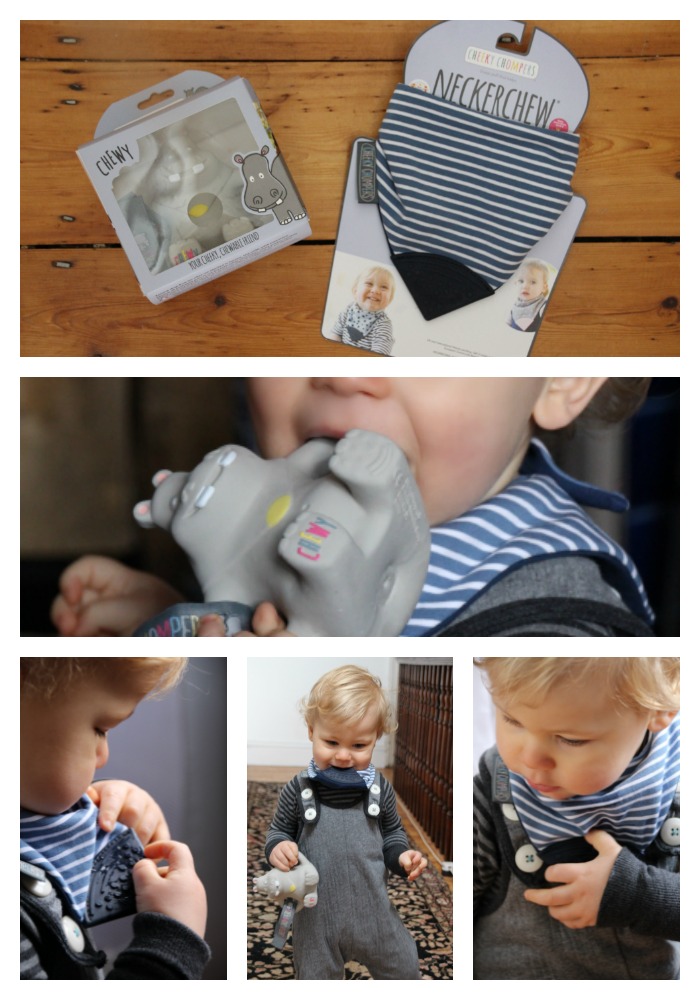 Another great aid for teething is this 100% organic coconut oil from Kokoso. Not for the pain, of course, but to prevent the rash that often accompanies the dribble both around the mouth and sometimes when the saliva exits the other way. Since starting nursery Caspian's been suffering a cold, too, so I now start each day by lathering on this natural wonder product around his nose and mouth. Plus it's a great lip balm for me as well.
I've used coconut oil for a while now, but I found that especially the consistency of Kokoso is great, as it's very light weight and easily absorb into the skin, so Caspian is not left too shiny. I also use it for baby massage after Caspian's evening bath. It's a great way to bond with your baby and relax them after a long day. We didn't experienced it, but I noticed that the oil will melt at 24 degrees, so just something to be aware of on those hot summer days when opening the container.
The founder of Kokoso started the company when failing to find a remedy for her daughter's dry skin. The coconuts used from an certified organic family run farm in Thailand. The prices start at £5.49 for the oil.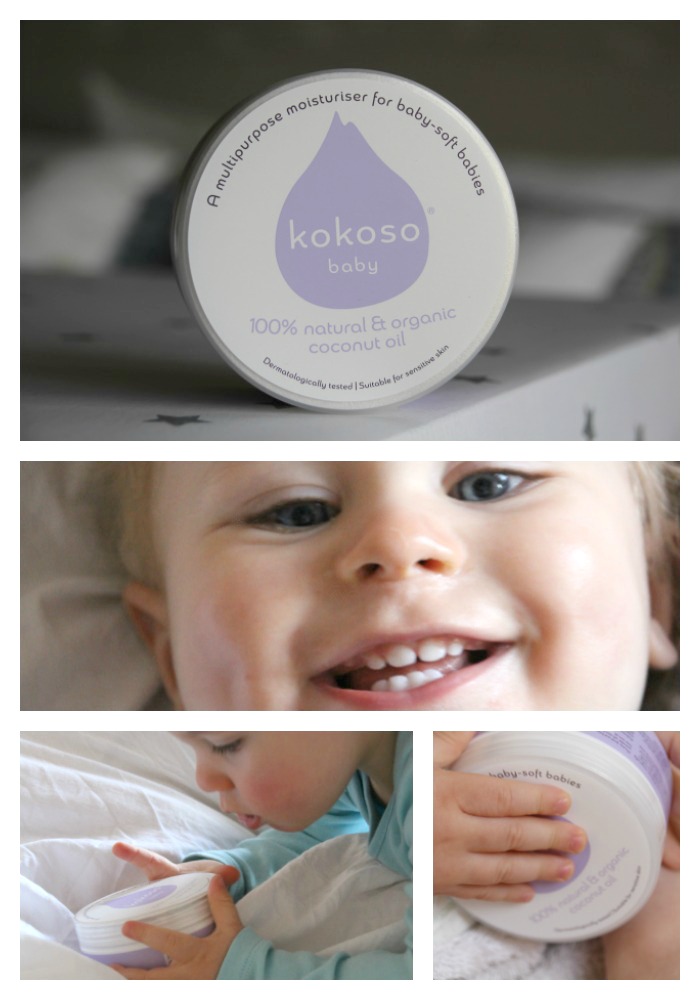 So there you have it, some great independent British brands to choose from if you want to pamper the babies, children or even mummies in your life. Were you familiar with any of them? And which of the items would be of use to you and your family?
Please note we were sent these items in exchange for an honest review. All words and opinions are my own.