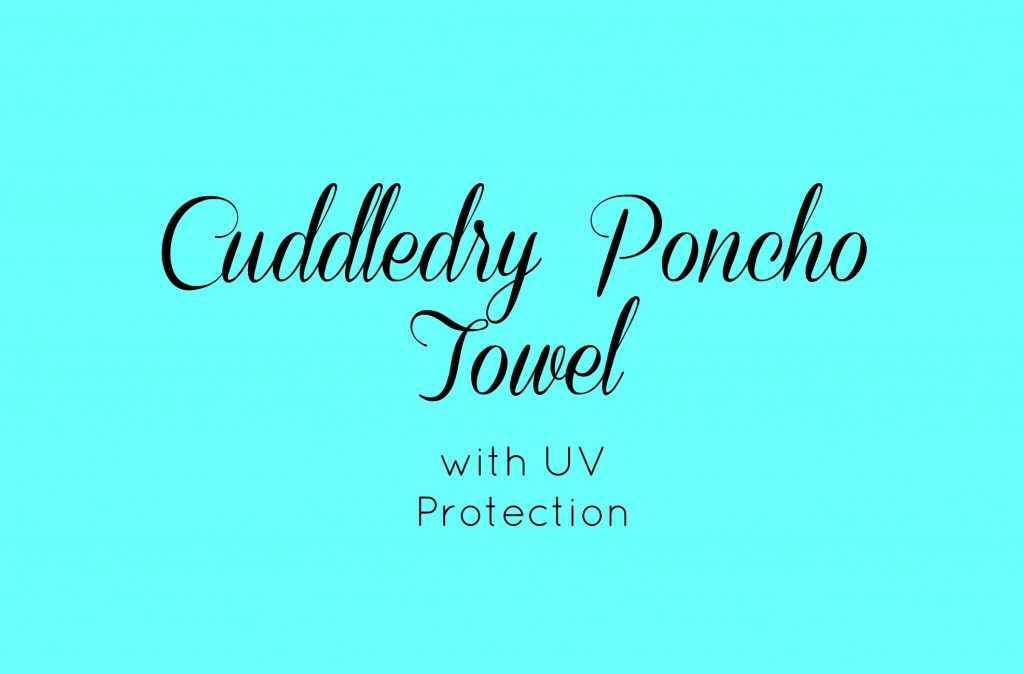 The weather this weekend was stunning here in London. It almost felt like the height of summer. To test the new poncho towel with UV protection from Cuddledry, Daddy Long Legs suggested we headed to our local public pool on Sunday morning.
As Daddy Long Legs grew up in this area he'd been many times, but neither Caspian nor I had visited before. But we will definitely go again this summer, as it was a great place hosting two pools, a cafe and a large green area for lounging in between dips. I naturally can't post pictures from the pool, as you are not allowed to take photos there, though I did manage a sneaky one by the pool side.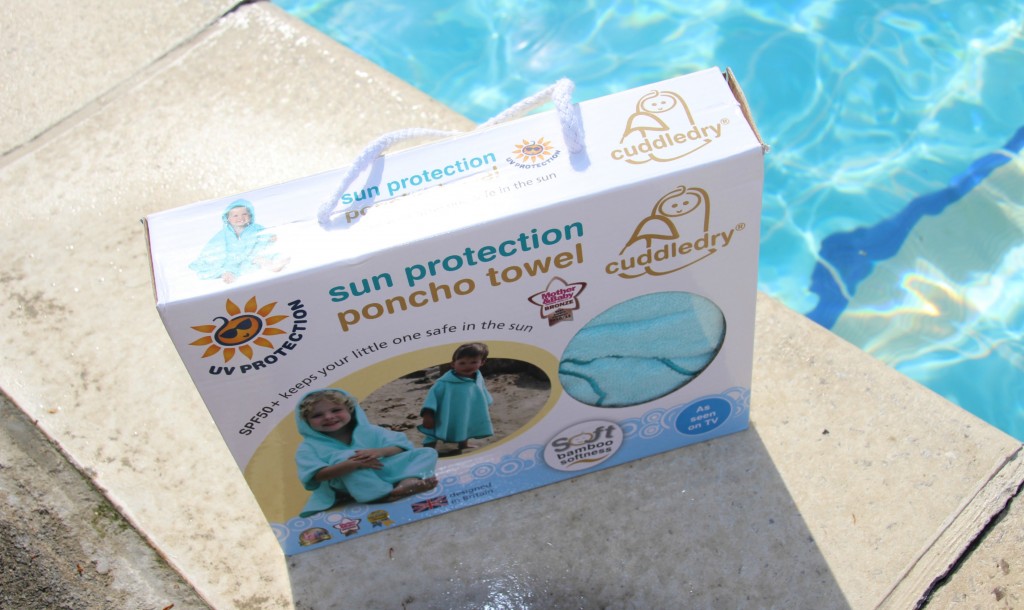 Caspian had his first proper swim in the heated pool. Despite the blazing sunshine is was still a little chilly as you exited the water, so the Cuddledry Poncho really came in handy. We popped it over his head and he was dry and comfortable in seconds. The hood is handy for shading his head and there are small poppers on each side, so you can create sleeves once your child is dried off and ready to play.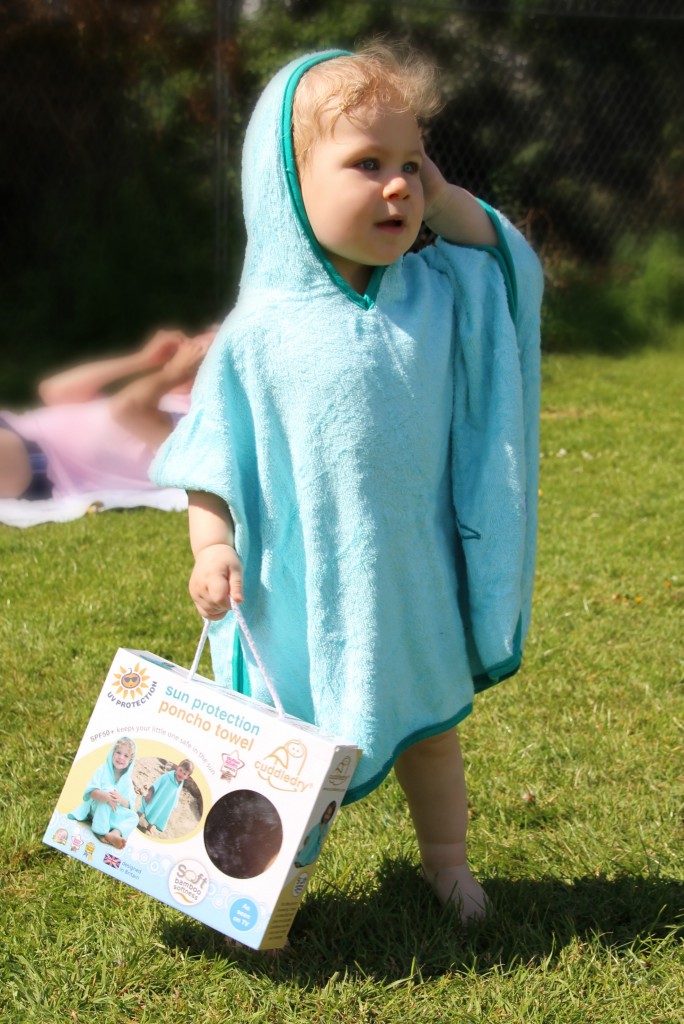 Caspian modelled the poncho at our public pool today while Daddy Long Legs enjoyed the sunshine.
Caspian took a shining to the box, too, and proceeded to walk around the green making a great advertisement for the poncho. I did actually spot several children wearing these and I can understand why, as it's very practical.
Its' soft as it's made from bamboo. It shields your child from the sun with the built-in UV protection. And it's breathable so Caspian didn't get too hot playing in the poncho, which I had wondered (read: worried) about. My only negative is that when he stumbled (which still happens as he has only recently learned to walk) he did sometimes get caught in the front of the fabric trying to get back up. But besides this minor issue, that I'm sure he'll figure out to navigate quickly, we would definitely recommend this as a summer stable.
Back in our garden I had the opportunity to take more photographs of Caspian playing happily while wearing the SPF50+ poncho towel. It's the first of its kind in the UK. It uses patented RayosanTM technology, deflecting harmful UVA and UVB rays like a mirror, thus protecting delicate skin from the potential of sun damage. With his fair Nordic/British skin, this is something that is important to me.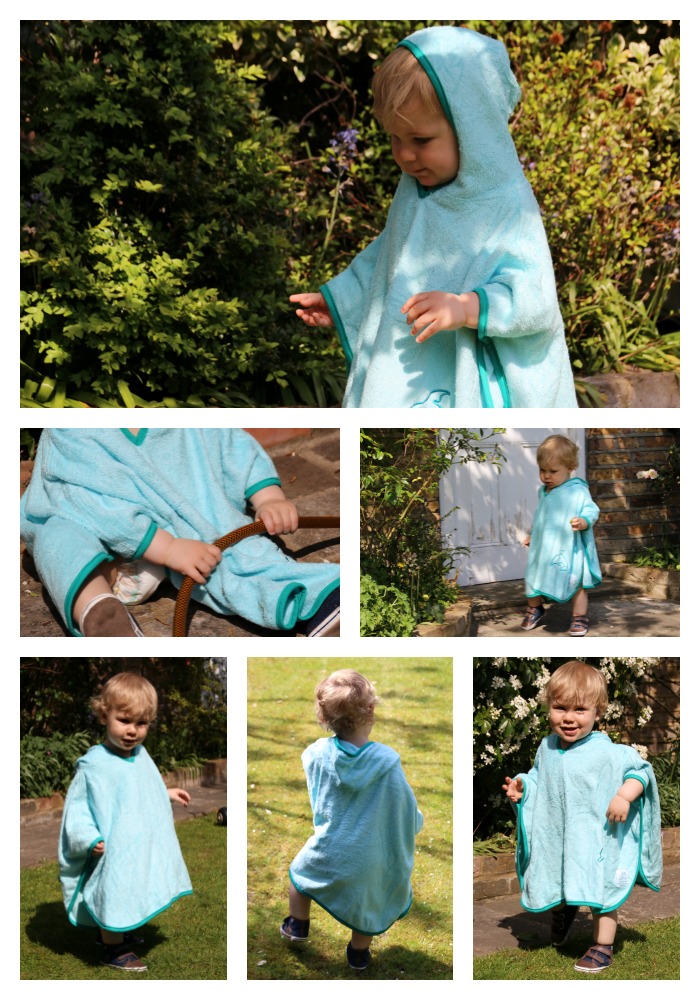 I can see the poncho also being great for when taking Caspian out the bath or for when he and Daddy Long Legs engage in water play in the garden. It retails at £27.99 and you can find out more on the Cuddledry website.
Have you tried the Cuddledry Poncho Towel? And what did you get up to in the beautiful sunshine this weekend?
Please note we were sent the poncho for the purpose of this review, though all opinions and words are my own.