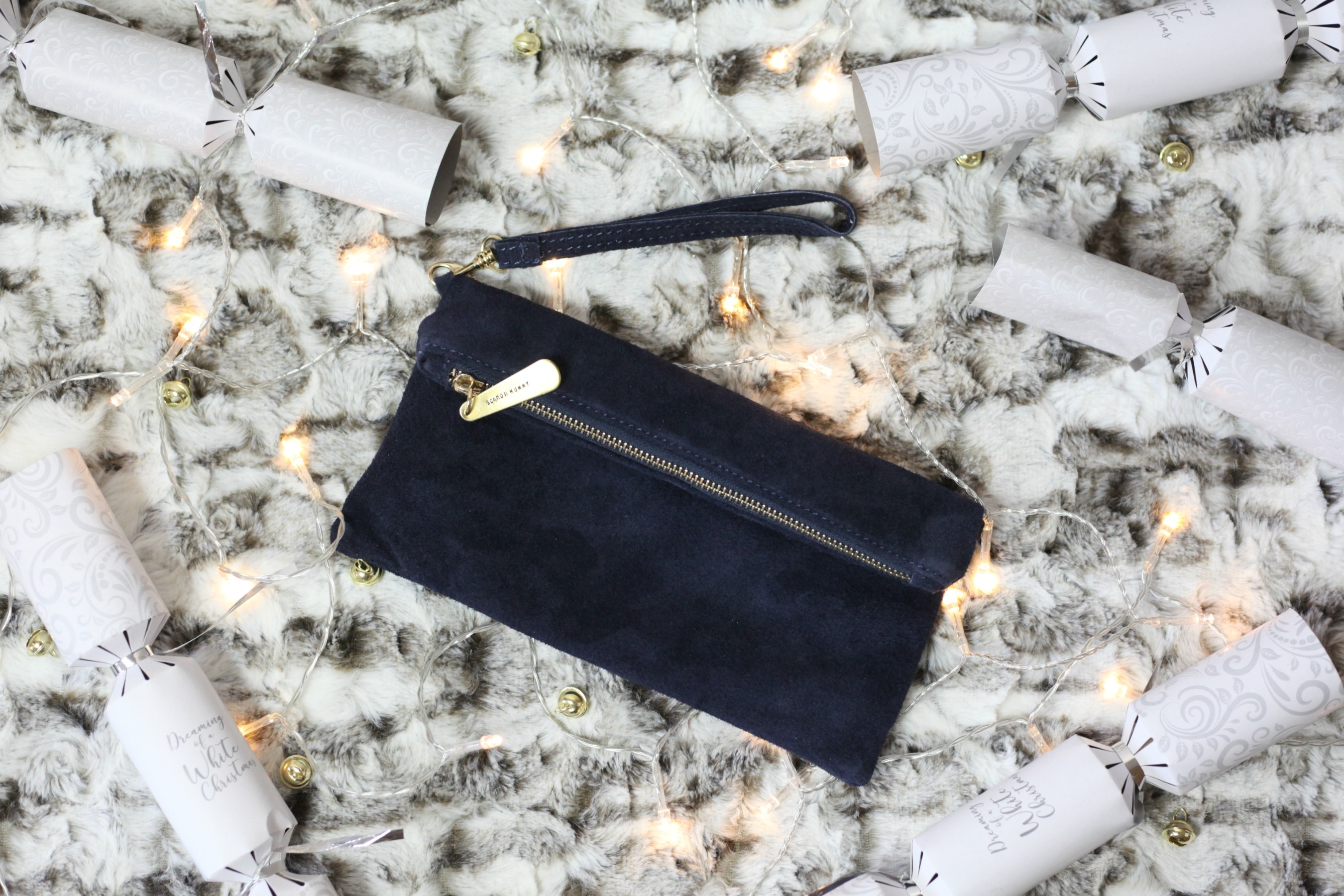 Any lovely women in your life who deserve a treat this Christmas? Maybe even YOU? 2017 has been the year where I've learnt to be kinder to myself. Whether that be giving myself and my body a break, taking a moment to breathe, allowing myself to pursue my dreams or simply indulging in a bit of luxury. The latter can be in the form of a coffee, 10 minutes to read my favourite magazine. It can be a great skincare product, a fashion item I've been lusting over or a piece of jewellery. Everyone deserves something special from time to time and I do think Christmas is perfect for celebrating those closes to you. Here's my guide to some luxurious Christmas gift ideas.
SPARKLE ALL YEAR WITH ARABEL LEBRUSAN JEWELLERY
I love discovering talented artists who not only know their craft but create visions and timeless pieces. Arabel Lebrusan is exactly this. How stylish and beautiful are these earrings? They are understated enough to be used every day with a t-shirt, blazer and jeans yet unique enough to make any evening outfit sparkle and make you stand out. I've spent hours browsing Arabel Lebrusan's collections online and I'm intrigued by her bespoke pieces, too. If you are looking for something truly special for a deserving woman then this is the place to shop.
The earrings are inspired by classic lace patterns yet has a modern feel to them. They are sterling silver and 18 ct gold plated. They arrive within 3 days of ordering in a beautiful box made from recyclable material. The retail price is £195. Make someone's Christmas sparkle!
FIND THE PERFECT PENDANT WITH ASTRA
I recently came across the MAYA pendant collection from Astra and I think it's just wonderful. The range has many different designs with my favourites being The Lotus Flower (below) and the sweet Tree of Life, a perfect gift for mothers at any stage in life.
"With its roots deep in the mud, yet blooming bright above the water, the lotus flower represents purity of the body, speech and mind, as well as spiritual awakening and rebirth. The lotus is one of eight auspicious symbols in Buddhism and the sparkling cubic zirconia held within the ASTRA Lotus pendant signify the eight points of the lotus' petals."
With everything I've been through this year, The Lotus Flower seemed very fitting. A lot of thought has clearly gone into each design. It comes with a silver necklace and you can choose from either a rose gold or white gold plating. You can also choose the chain length and each design comes with matching earring and a ring, which can be bought separately. The pendant starts at £89.00.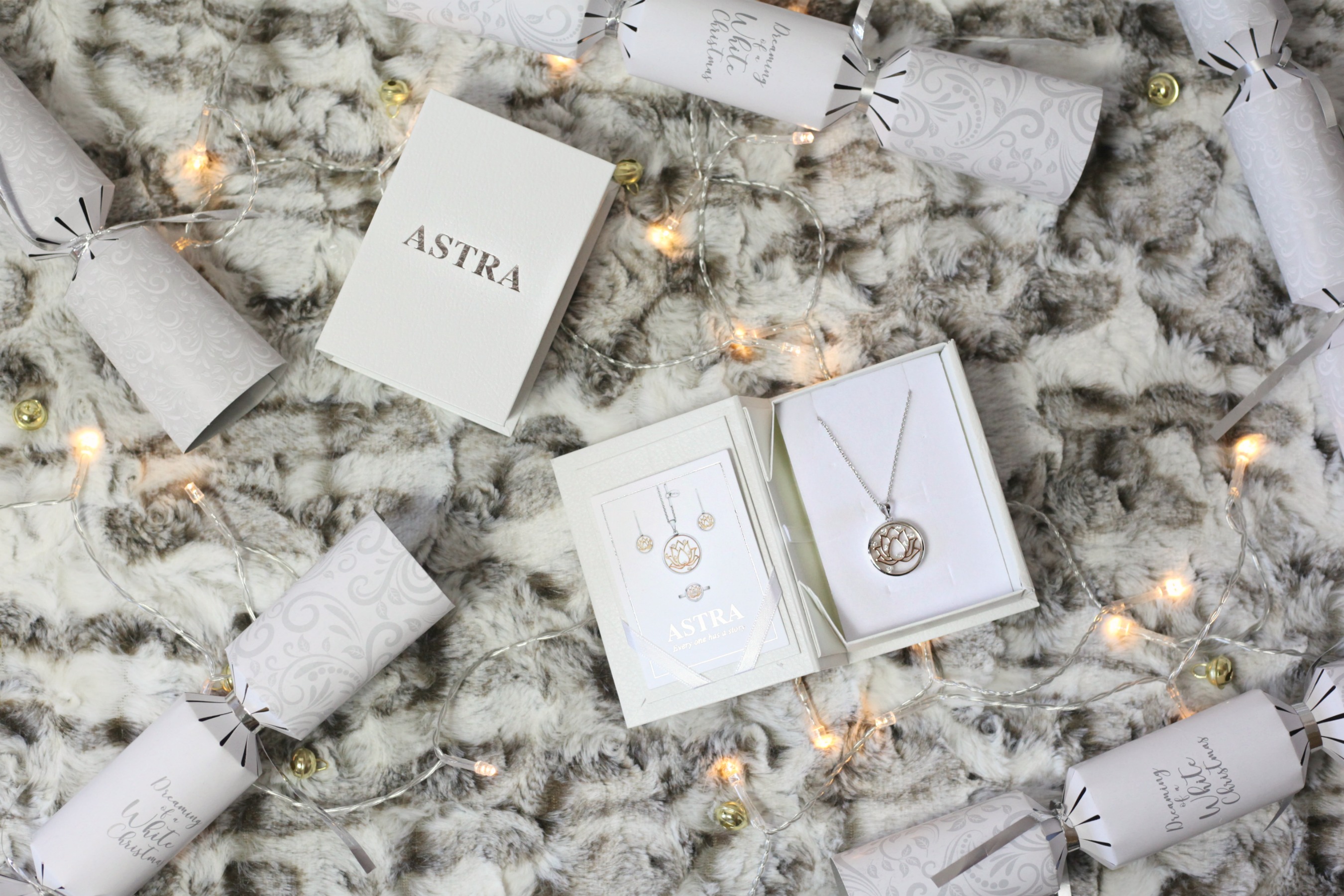 PHOTOGRAPHIC PIECES FROM UNDER THE ROSE
Under The Rose Jewellery makes fantastic pieces with the help of you. Taking your favourite photograph and turning it into something special. I love this little pendant with Caspian's face on it. The perfect gift for parents or grandparents. It will look sweet on a bracelet, a necklace or even attached to a key ring. You can choose from two sizes 10 mm or 14 mm with four different types of fastenings so it will fit on a Pandora bracelet, too. It takes 5 days to produce and you receive it in a stylish gift-wrapped box. Retail price is £29.
Under The Rose Jewellery has an impressive collection of pieces that can be personalised in one way or another. Both classic and modern designs and different metals.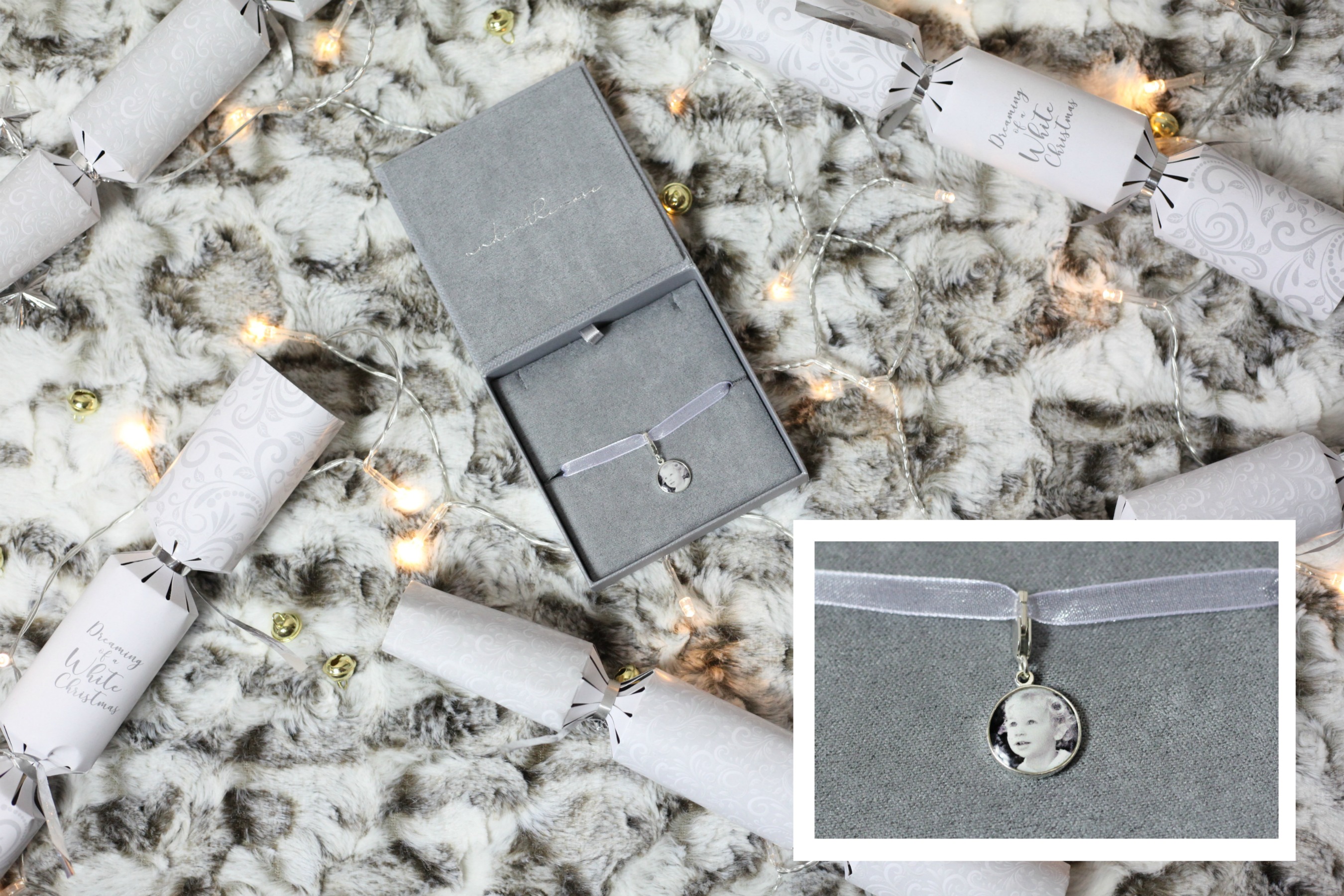 PERSONALISED SUEDE CLUTCH FROM PREZZYBOX
If you are an avid reader of the blog you'll know that we love Prezzybox and their huge range of fun and gorgeous personalised gifts. I recently had a browse of their women's section and this stylish suede clutch bag caught my eye. The zip can be stamped with letters or numbers of your choice. I naturally chose mine to say 'Scandi Mummy'. I will look forward to taking this on nights out and every time I open it, I will be reminded how far my business has come in the past couple of years.
Such a great gift for any fashion conscious lady in your life. The clutch which also comes with a shoulder strap is available in a range of colours. Besides the navy, I adore the grey and mustard yellow. It retails at £31.95 and you should expect about a week for delivery.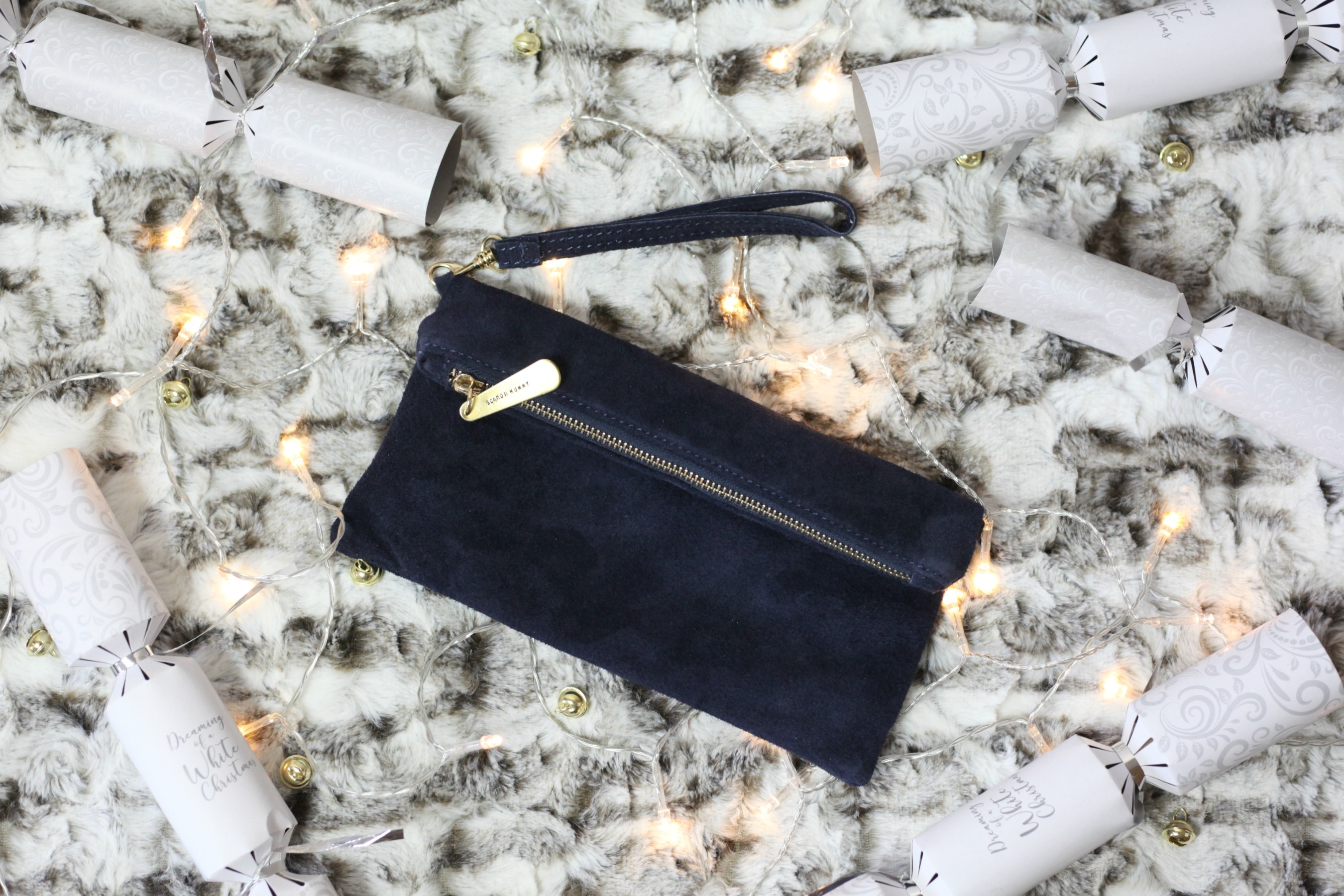 STYLISH CLOTHES AND ACCESSORIES FROM PSYCHE
I love bobble hats and this stylish design from BKLYN is no exception. It's luxury in knitted form and comes in range of colour combinations. The Raccoon Fur Pom Pom is 19 cm and is super soft to touch. It is detachable via a metal popper, cleverly allowing you to mix and match the bobble on top. It £54.99 from Psyche. The site has many stylish brands so definitely worth a browse for great pieces and gift ideas.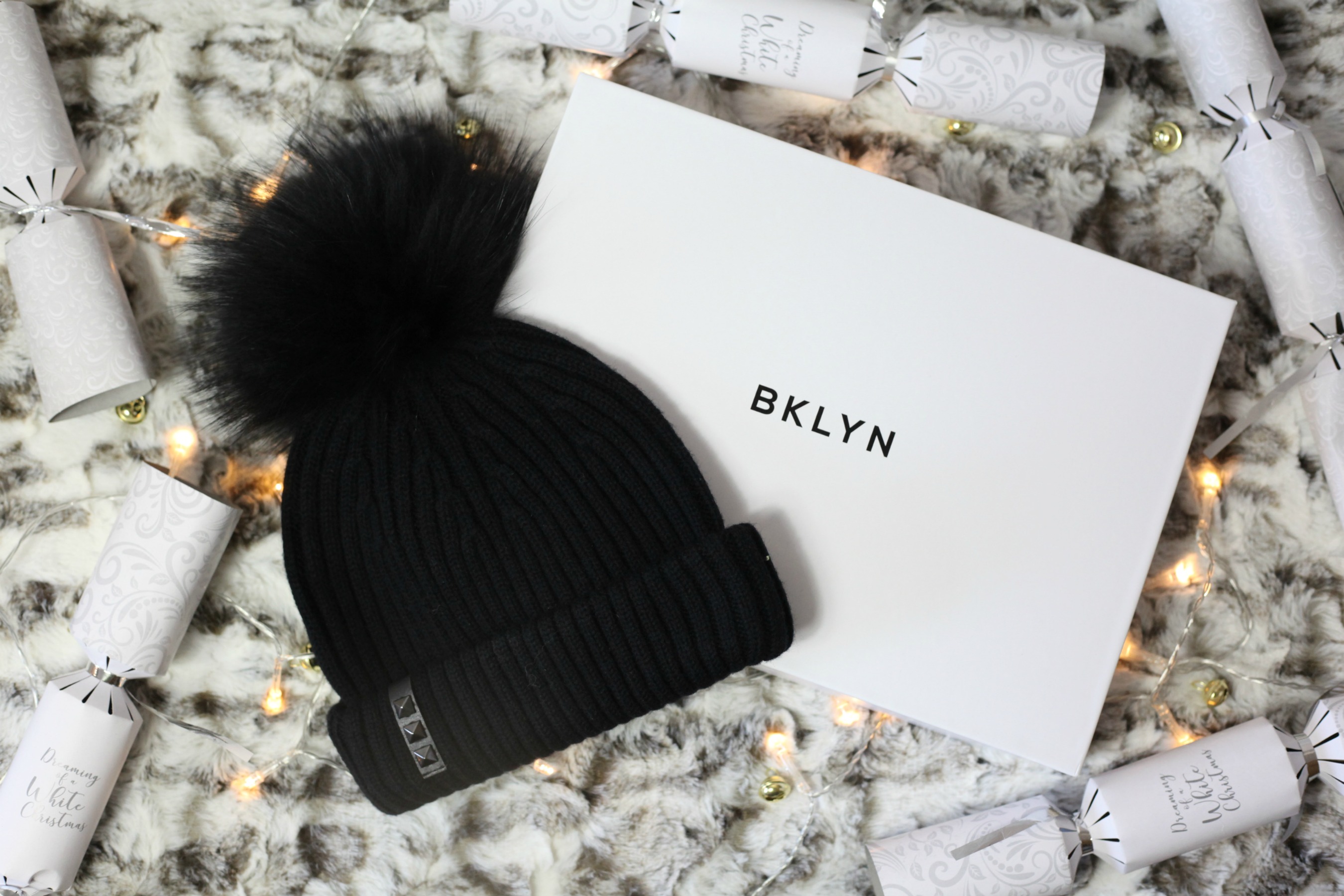 SUPPORT A GOOD CAUSE WITH A SHERPA SCARF
Sherpa Adventure Gear was founded in 2004 by Tashi Sherpa whilst he was walking down the streets of Manhattan. A magazine issue commemorating the 50th anniversary of the first ascent of Everest caught his eye. The craggy line of the familiar face staring at Tashi from the front cover belonged to none other than his Uncle, Ang Gyalzen Sherpa, who was one of the original Sherpas on Sir Edmund Hilary's celebrated expedition in 1953.
As a Sherpa-owned company, they also strive each day to strengthen the lives of their families and villages by giving much needed full education scholarships to underprivileged Sherpa children, in the form of the Paldorje Education Fund, into which a small donation is made for every Sherpa Adventure Gear garment sold.
The products are beautiful and very useful for winter, even if it doesn't get quite as cold here in the UK as it does on the top of Everest. The scarves start at £25.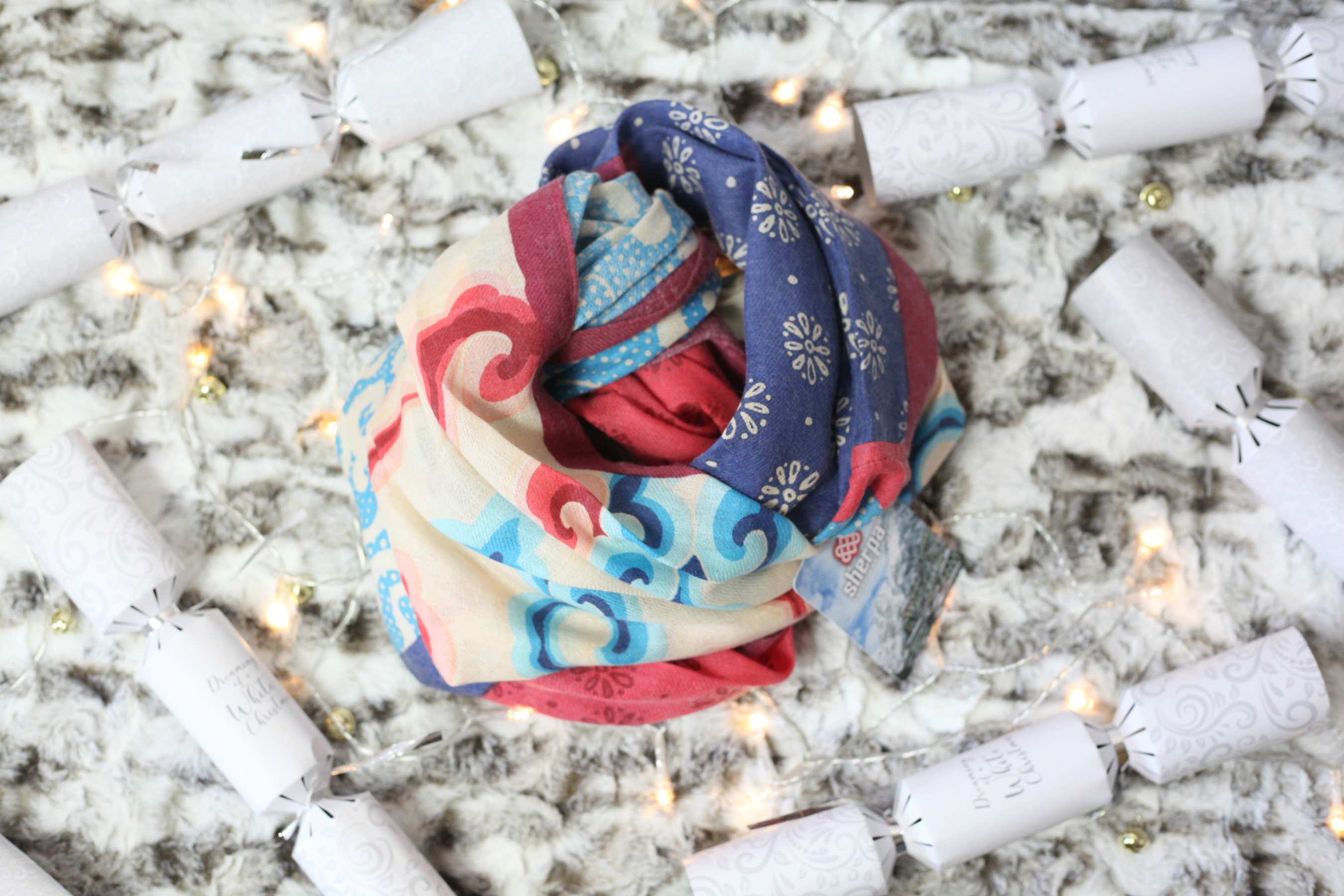 DESIGN A PERSONALISED SWEATSHIRT WITH BAGSOFLOVE.CO.UK
If you want to give something truly unique then why not design your own sweatshirt? The slogan sweatshirt has been all the rave for quite a few years now and here's your chance to give a design that no-one else will have. Bagsoflove.co.uk's system is easy to use and guides you through each design element.
Using my own photography on the front I also added a picture of Caspian as the label, so he's always with me without being visible. I chose Perfectly Imperfect as I thought it was clever. If you want to see it on then check this Instagram shot.
I loved doing this and can see myself coming back to design more for friends and family. I'm a huge fan of sweatshirts for both style and comfort and love that these are so personal. The quality is lovely and the material is very soft. Priced at £44. Bagsoflove.co.uk has a vast collection of items you can have printed to suit your taste. My carry on suitcase is still a big hit!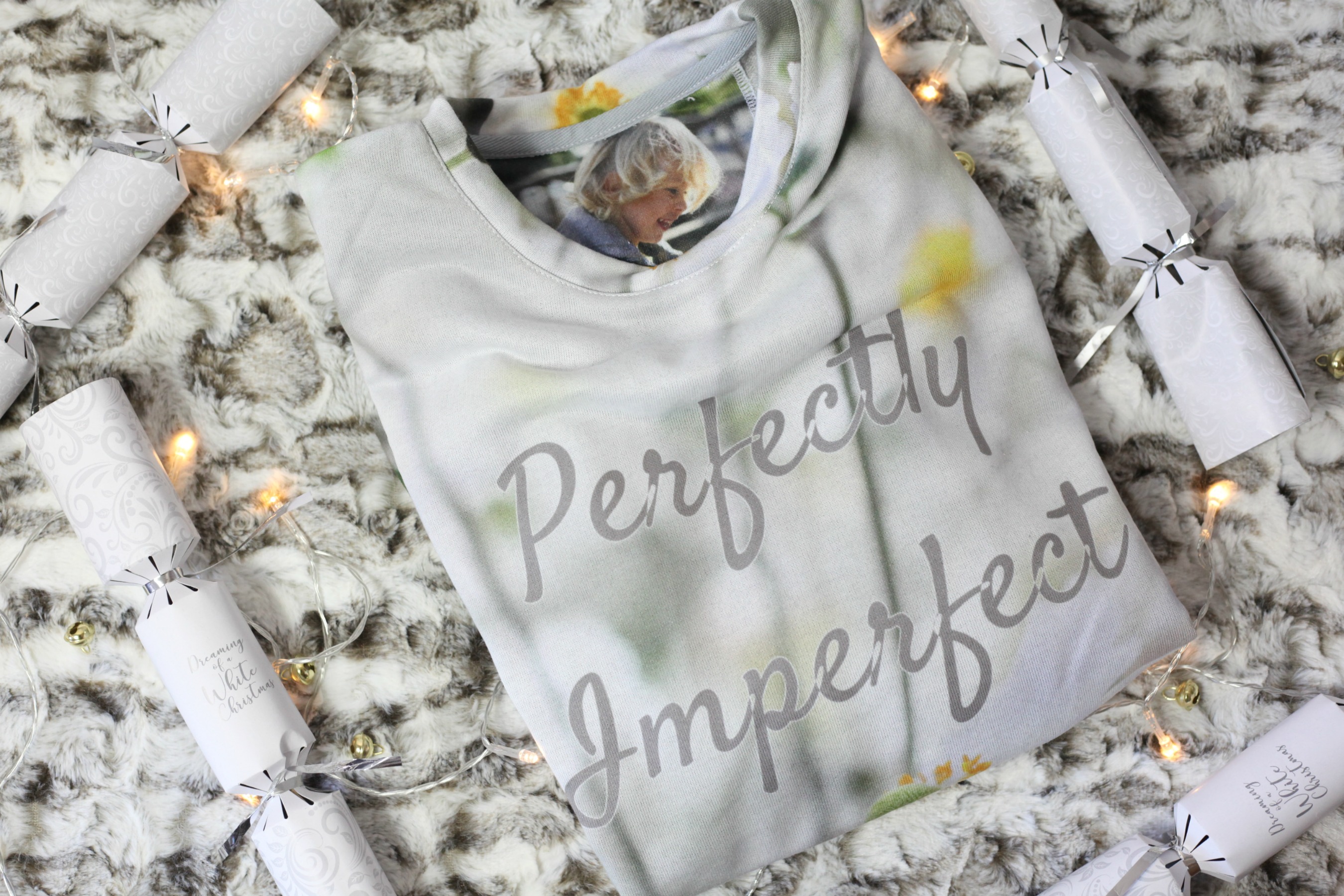 SWEET TREAT PERFUMES FROM TED BAKER
I've long been searching for a new perfume and the collection of 'sweet treats' from one of my favourite designers, Ted Baker, is just the thing I was looking for. Mia is my favourite of the three new scents closely followed by Ella and Polly. All three are lovely. Mia is a soft romantic blend of lemon, raspberry and blackcurrant atop an opulent base of patchouli and amber, so works well for both daytime and an evening out.
The 100 ml fragrance is £30 but if you are quick they are currently down to £21 in the Black Friday sale on the Ted Baker website. The rose gold design looks pretty and will adorn any bedside or makeup table.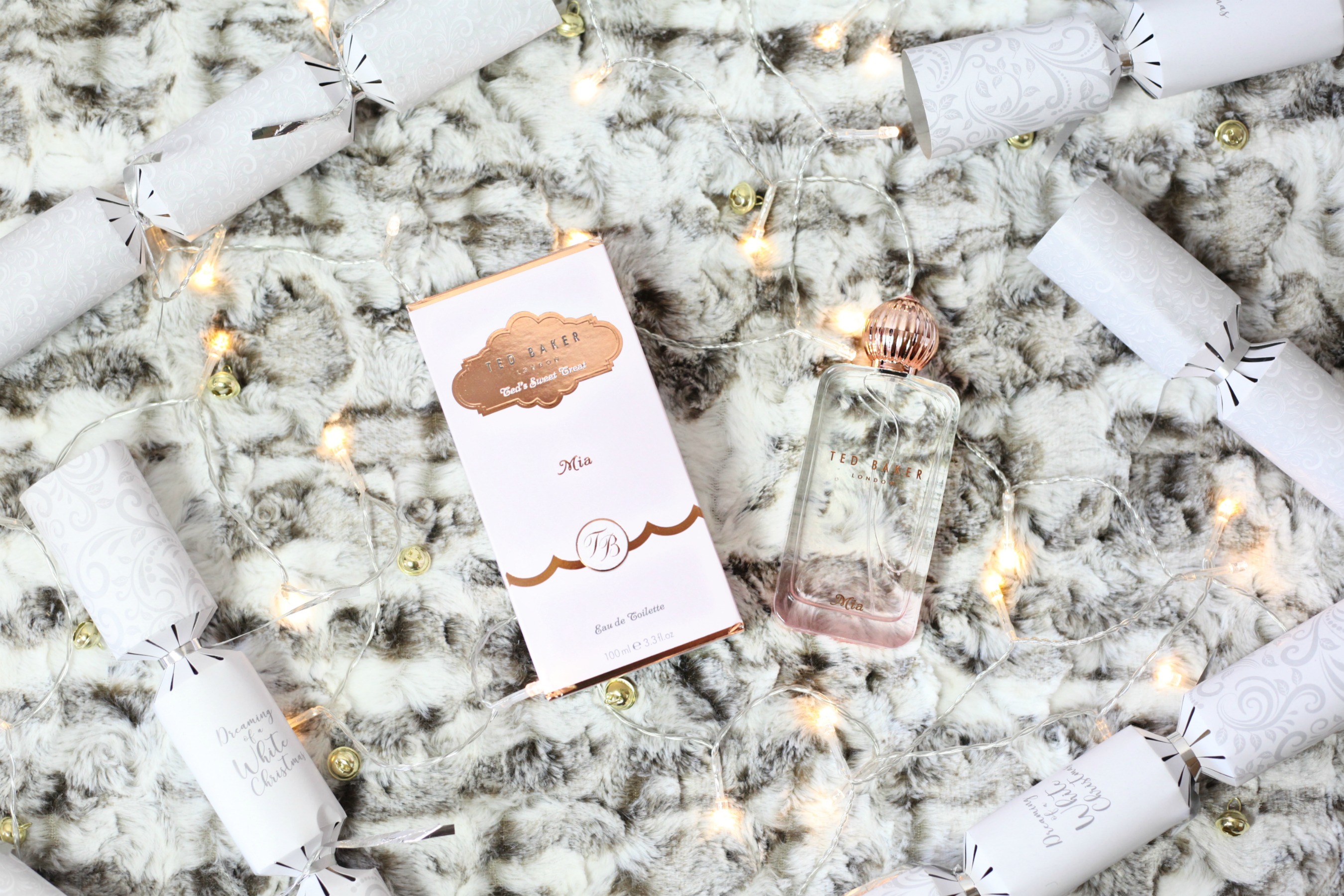 DARE TO GO BARE WITH MAGNITONE
I love using my Magnitone and it's definitely made me feel more confident in my skin. I like the two new colours of the Shimmer Collection. The Serenity Blue and trendy Rose Gold. Easy to charge, last a long time and just makes your skin feel cleaner and softer. So if you want to give the gift of glowing skin this Christmas this is the machine to go for. Caspian seems to think it's a phone and has conversations with imaginative people on it, so it does that too!
The Magnitone Serenity Blue retails at £90, but worth keeping an eye on the Black Friday deals. It comes boxed with a charger and two different heads, of which you can buy more. Works with all cleansers.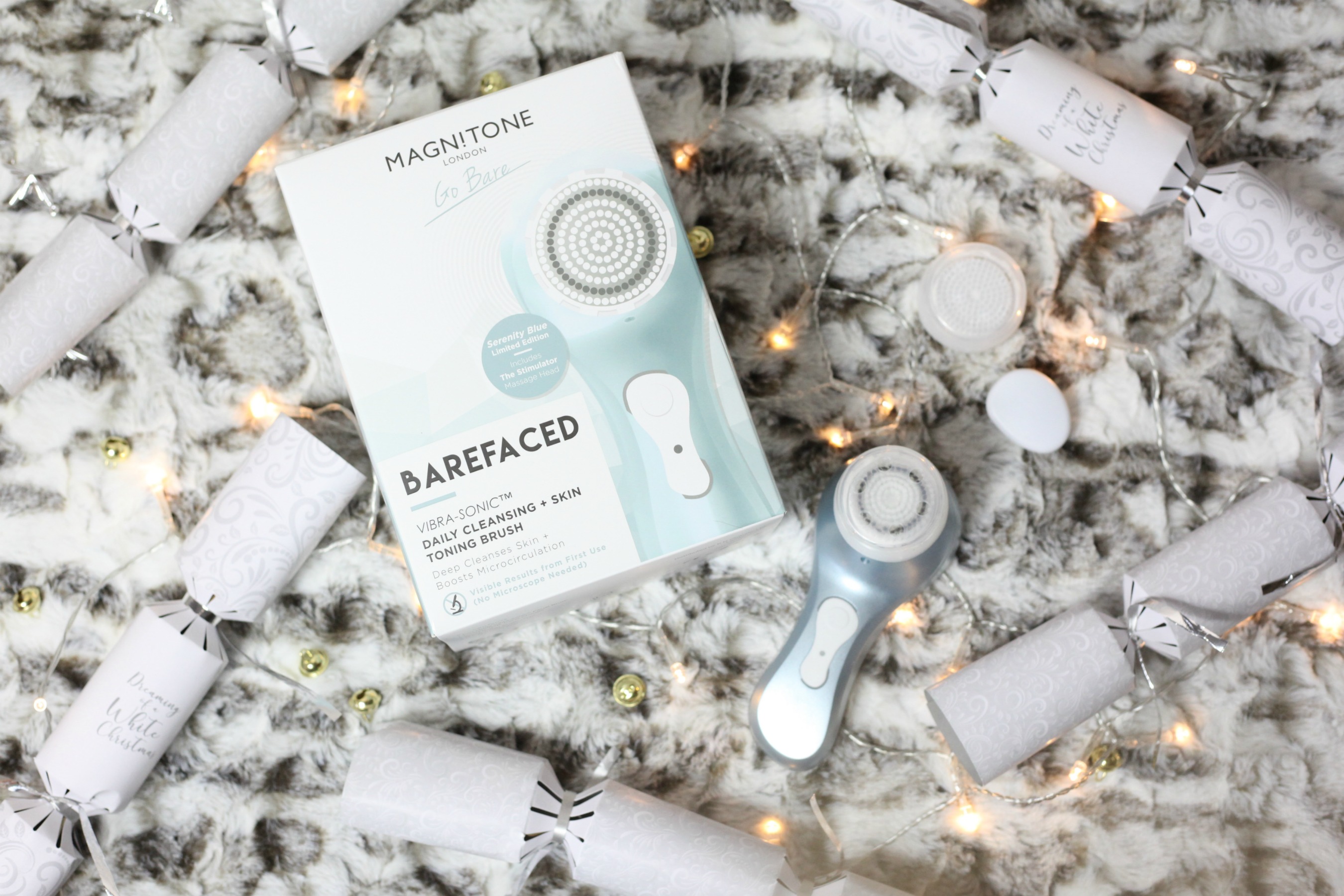 NATURAL SKIN CARE FROM ESSENTIALLE
The new Essentialle facial oils are a perfect gift for anyone needing a skincare boost. Produced here in Britain and developed by Russian-born Karina, who incorporates her knowledge of botanical stems into the products.  They are meticulously designed to care for all skin concerns, containing exquisite as well as surprising plant-actives from around the world.
The Revival Nectar contains restorative and beautifully aromatic oil which delivers a penetrating treatment that rehydrates and plumps, to reveal a rejuvenated, radiant and youthful complexion. I adore this and it works wonders overnight. Retails at £70.
The Remedy Multi-Active is a lightly moisturising oil which offers a gentle cocoon that purifies, calms and corrects, to reveal a clear, fresh and healthy complexion. If you suffer from problem skin then this product can help and is all natural. Retails at £62.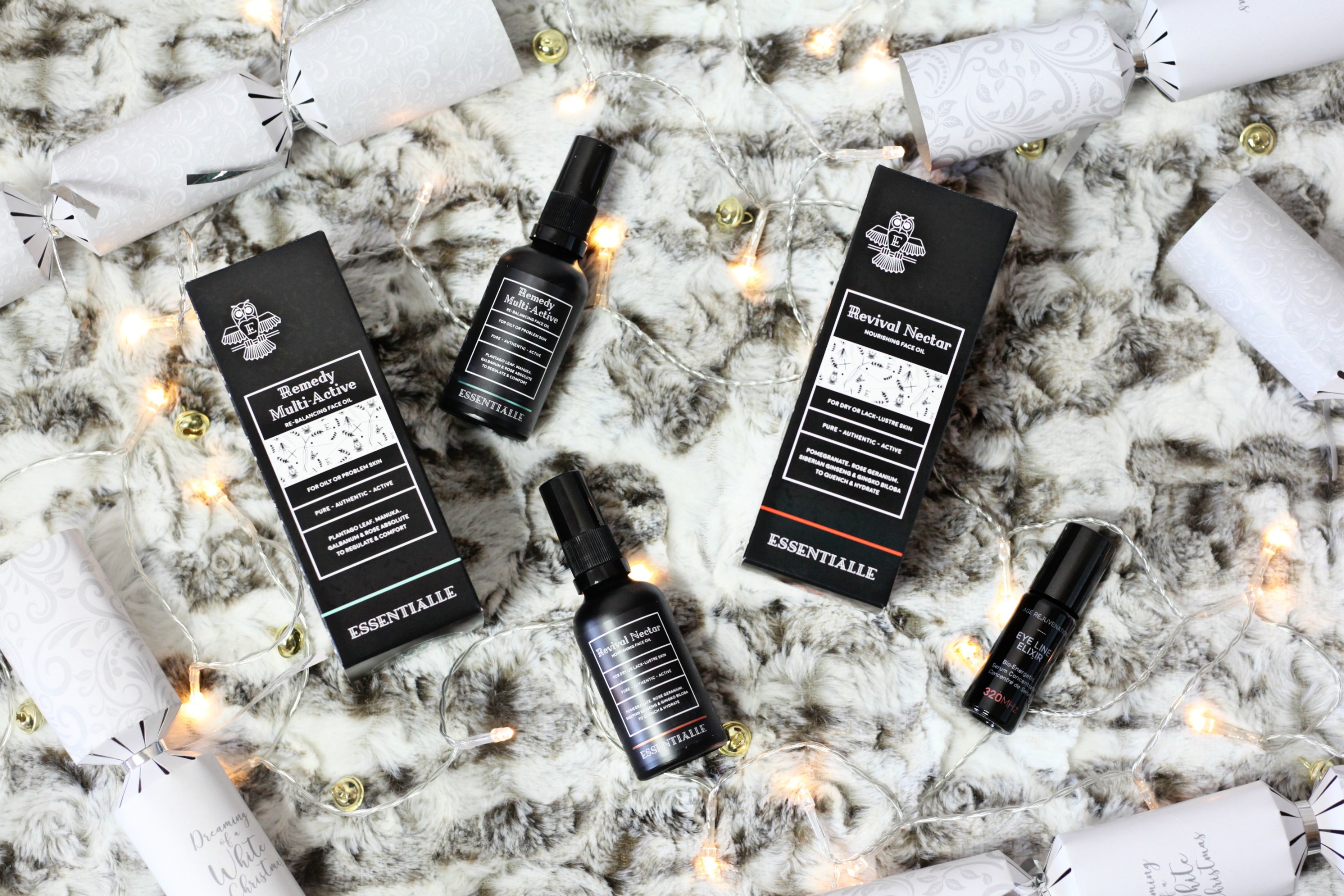 EXTRAVAGANT EYE LINE ELEXSIR FROM 320MHZ
The Eye Line Elexsir from fashionable sustainable brand 320MHz contains active Lavandula Extract which has clinically proven to help relax the muscles to minimise fine lines and wrinkles. Teardrops of Chios, derived from crystals formed by the Pistacia Lentiscus Tree, delivers a high performance botanical active that contains 'Youth Proteins' to help reactivate the detoxification process and radically improve the skin's natural ability to eliminate waste from each cell, helping to minimise fine lines and wrinkles.
Sounds too good to be true? Well, so far I'm seeing great results and would definitely recommend this to any tired mama out there. A little goes a long way and it's easy to put on using the roller ball which also cools the eye area. The Eye Line Elexsir retails at £48. 
COMBAT STRESS WITH THE AROMATIQUE BATH & BODY COLLECTION FROM BODHI & BIRCH
As I said at the beginning I've started taking better care of myself this year. This includes a bit of dedicated me time. It sounds cliche but it's worth it and includes something as simple as a nice relaxing bath. The products from Bodhi & Birch makes that experience so much better. Bodhi & Birch is a niche, independent, ecoluxury skincare brand, established in the UK since 2010. They have since grown to be a brand synonymous with aromatherapy skincare and well being.
This luxurious gift set from Bodhi & Birch is the perfect introduction to the brand and their gorgeous products. It will awaken the skin and enlighten your senses. A perfect escape from the stress of modern life. The box retails at £50 and includes 8 travel size products.

BEAUTIFY MAKEUP CASE FROM DOMU
If the woman you are buying for has a love of makeup then this gorgeous and on trend rose gold, white and pink Beautify makeup case from Domu is the perfect storage solution. It comes in various sizes, but with my collection, the large case was definitely needed. It's ideal for keeping everything organised and locked away from curious toddlers and little hands.
Domu has a fab collection of makeup cases in various designs and sizes. The large pink and rose gold case retails at £42.00 plus delivery online.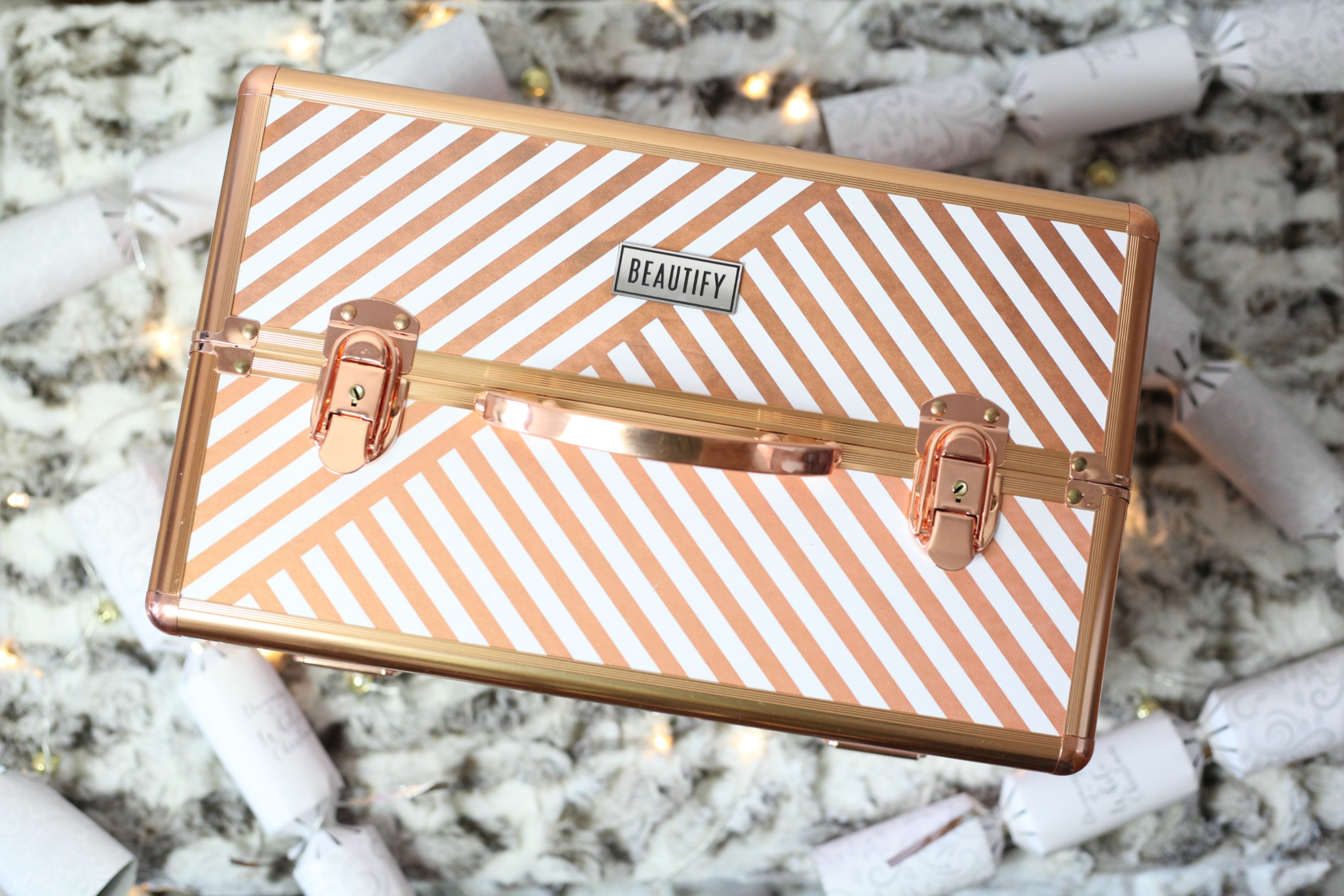 THE BOTANIC GARDEN PINK PARROT TULIP SCENTED CANDLE & REED DIFFUSER FROM PORTMEIRION
I love a stylish scented candle. It's again part of my me time ritual as mentioned above. I light it when I soak in the bath. Having never heard of Pink Parrot Tulip before, I was intrigued. It is delicious. The pretty botanical design from Portmeirion makes it perfect to display around your home. It's a powerful scent yet not overpowering. Just enough to make you dream of spring and summer when winter gets too cold and gloomy.
A great gift for any budding botanist in your life to bring a bit of nature indoors. The Botanic Garden Pink Parrot Tulip Scented Candle is £9.50 and The Botanic Garden Pink Parrot Reed Diffuser (200 ml) is £19.50.
WAKE UP HAPPY WITH THE LUMIE BODYCLOCK LUXE 700
It's easy to get affected by the cold and grey British winter weather. What better gift for anyone suffering from SAD than a stylish Lumie Bodyclock Luxe 700. Comes high-quality speakers for streaming via Bluetooth and a USB port for audio files or for charging your phone. At night, Bodyclock Luxe has a fading sunset to help you relax and a new low-blue light feature, especially for bedtime lighting. Bodyclock Luxe is an alarm clock that mimics the light of a real sunrise so when you open your eyes you feel properly awake and refreshed. Something especially parents need. Waking like this helps to keep your sleep cycle on track and has been shown to boost mood, energy and productivity levels.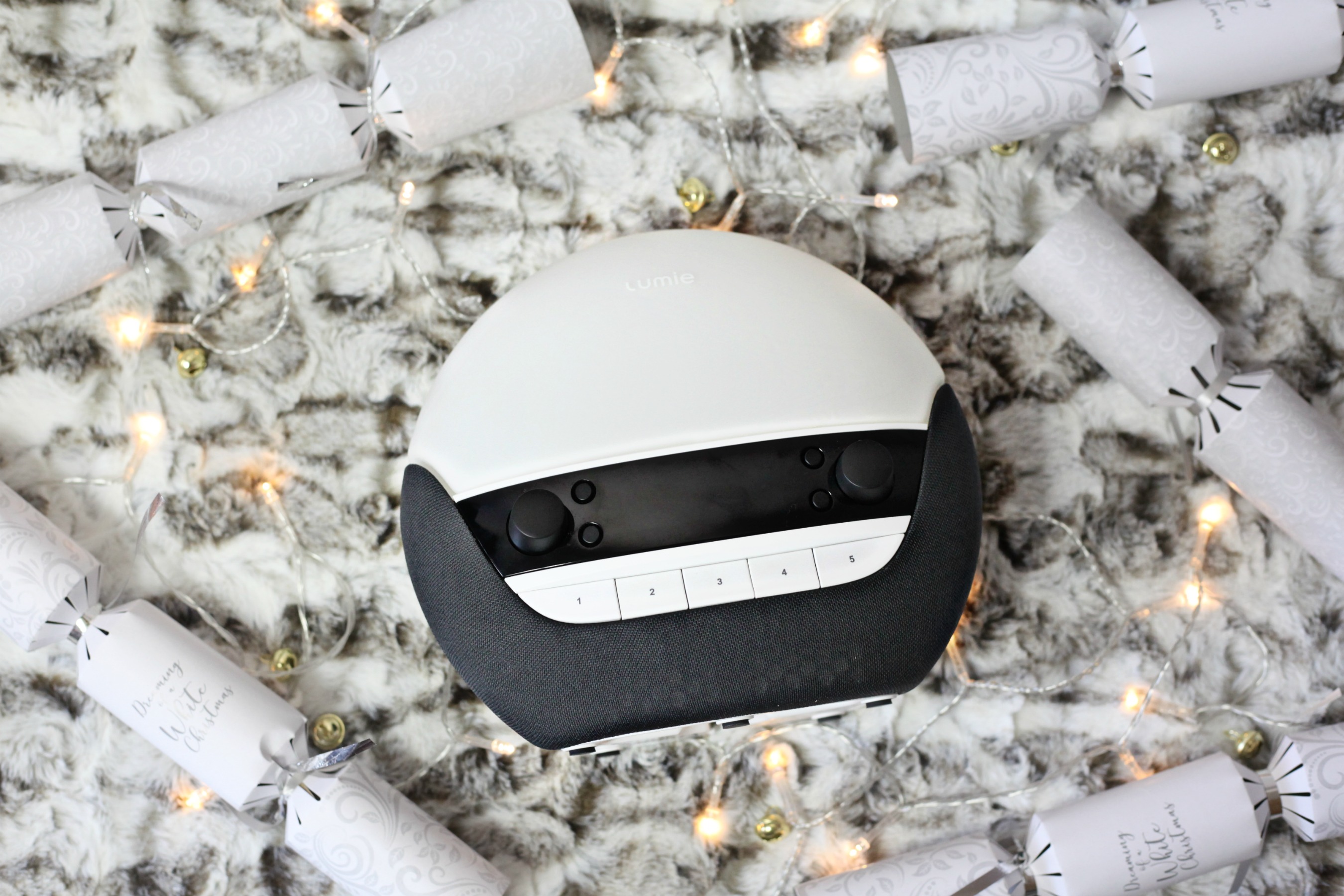 LUMIE has recently released a new model the Lumie Bodyclock Luxe 750. It comes with inbuilt DAB radio. A perfect gift for music lovers. The Lumie Bodyclock Luxe 700 retails at £170 and the Lumie Bodyclock Luxe 750 at £199.
PERSONALISED CHAMPAGNE FROM GIFTSONLINE4U.COM
Champagne is my drink of choice. I love a glass of bubbly and for my 30th a few years back my friends had clearly picked up on this as I was left with quite the collection after my party. Unfortunately, in all the festivity many of the accompanying cards got lost so I couldn't keep track of who had brought what. Designing a personalised pewter label using the great service from giftsonline4u.com will help you avoid this. Champagne gifts make  a unique and festive present. They carry many branded Champagnes as well as a whole range of personalised alcohol. The service is easy to use and the delivery is fast, so also a great idea if you need a gift last-minute.
Their rose Champagne is not only the perfect shade for the holidays, it looks fabulous with the personalised star label. It makes a fun and unusual gift for anyone who like me enjoys a glass of bubbly. Plus it means the receiver has their New Year's Eve celebrations sorted. We will use these bottles to send Christmas greetings to loved ones near and far wishing them at very merry Christmas and a happy 2018. What would you engrave on the pewter label?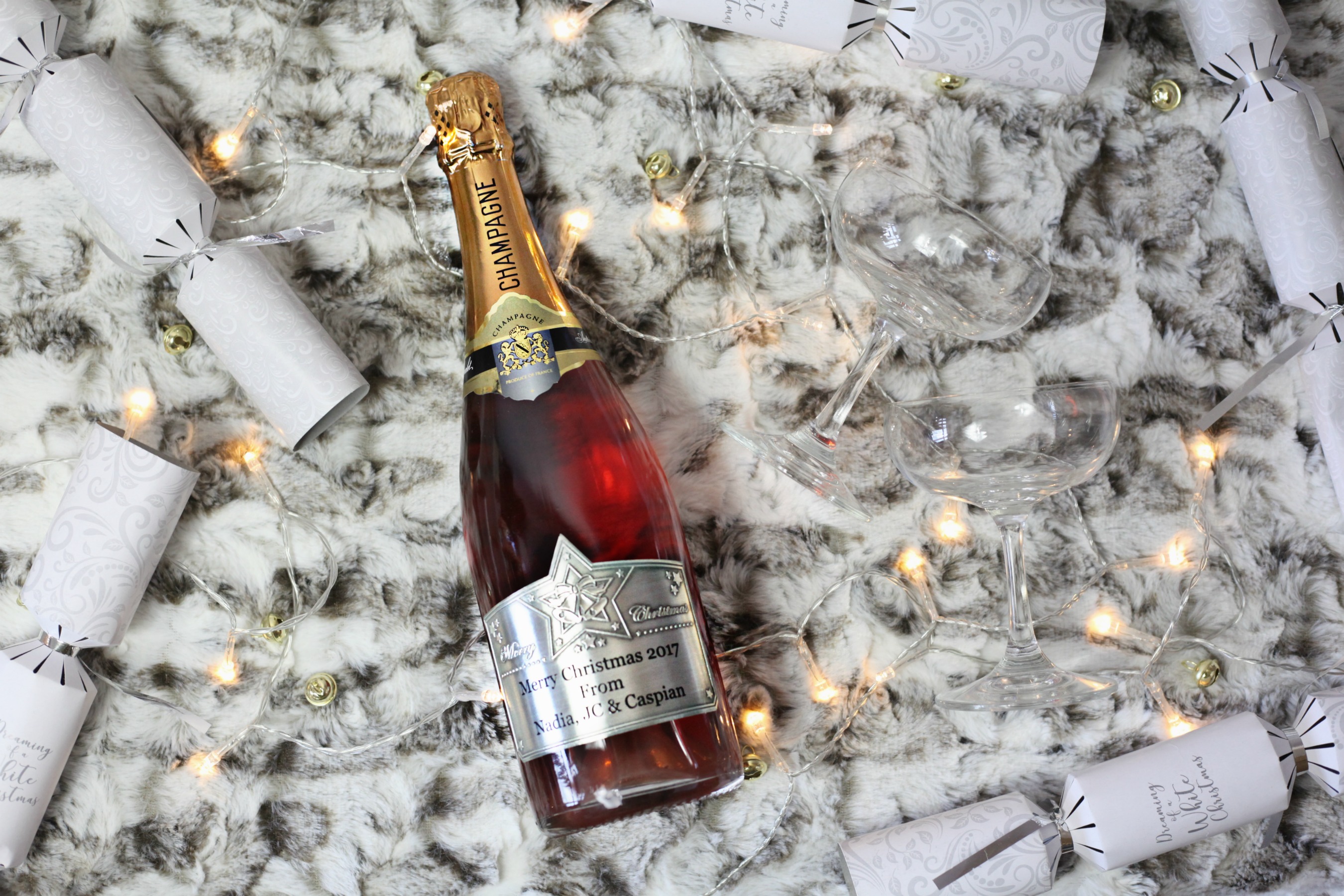 CHAMPAGNE SAUCERS FROM RINKIT
I love vintage style champagne saucers and have been searching for the perfect ones for a while. These from Rinkit are not only reasonably priced at £11.99 for six but look the part and are a good size. They can also be stacked if you want to create a fountain tower for New Years. If you are looking to surprise a Champagne lover and want something to match the personalised bottle above, these are the ones to go for. See them in use in my recent post on festive Christmas cocktails.
EAT WELL WITH THE HAPPY KITCHEN COOKBOOK
This is the recipe book I didn't know I needed. I've long believed that your diet affects your mood but I haven't put much effort into changing how I did things. This is not only a beautiful laid-out design with easy-to-follow recipes perfect for anyone with a love of cooking, it is also a great tool for those battling mental health and are interested in making healthy changes.
In this inspirational book done in collaboration with nutritionist Alice Macintosh the author Rachel Kelly, who has had a history of depression, shares her personal experience of harnessing the power of food to stay calm and well. A series of delicious recipes, designed to boost energy, relieve low mood, comfort a troubled mind, support hormonal balance and help you sleep soundly. I know many lovely women and mums who can benefit from Rachel's story and expertise, so it will be a book I look forward to passing on.
Get your copy online with it retailing at around £10.00 from Amazon and other stores.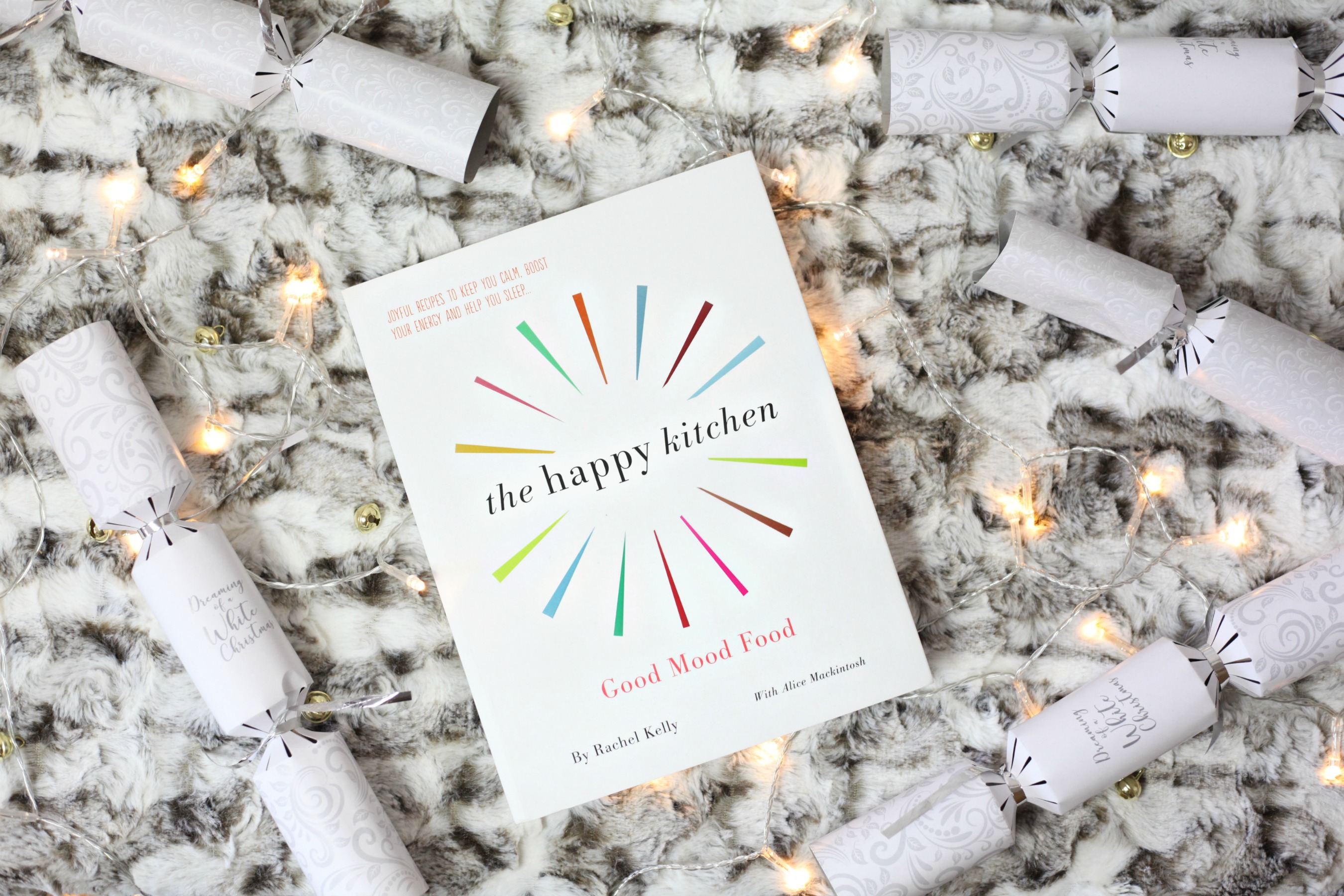 DELICIOUS BELGIUM CHOCOLATES FROM GUYLIAN
Lastly, you can't go wrong with chocolate. Especially not artisan Belgium ones. The Guylian treats are a classic that will be appreciated by most. The creamy nougat filling makes them melt in the mouth. So if you know someone with a sweet tooth these will be a hit this Christmas. Available in most supermarkets and online.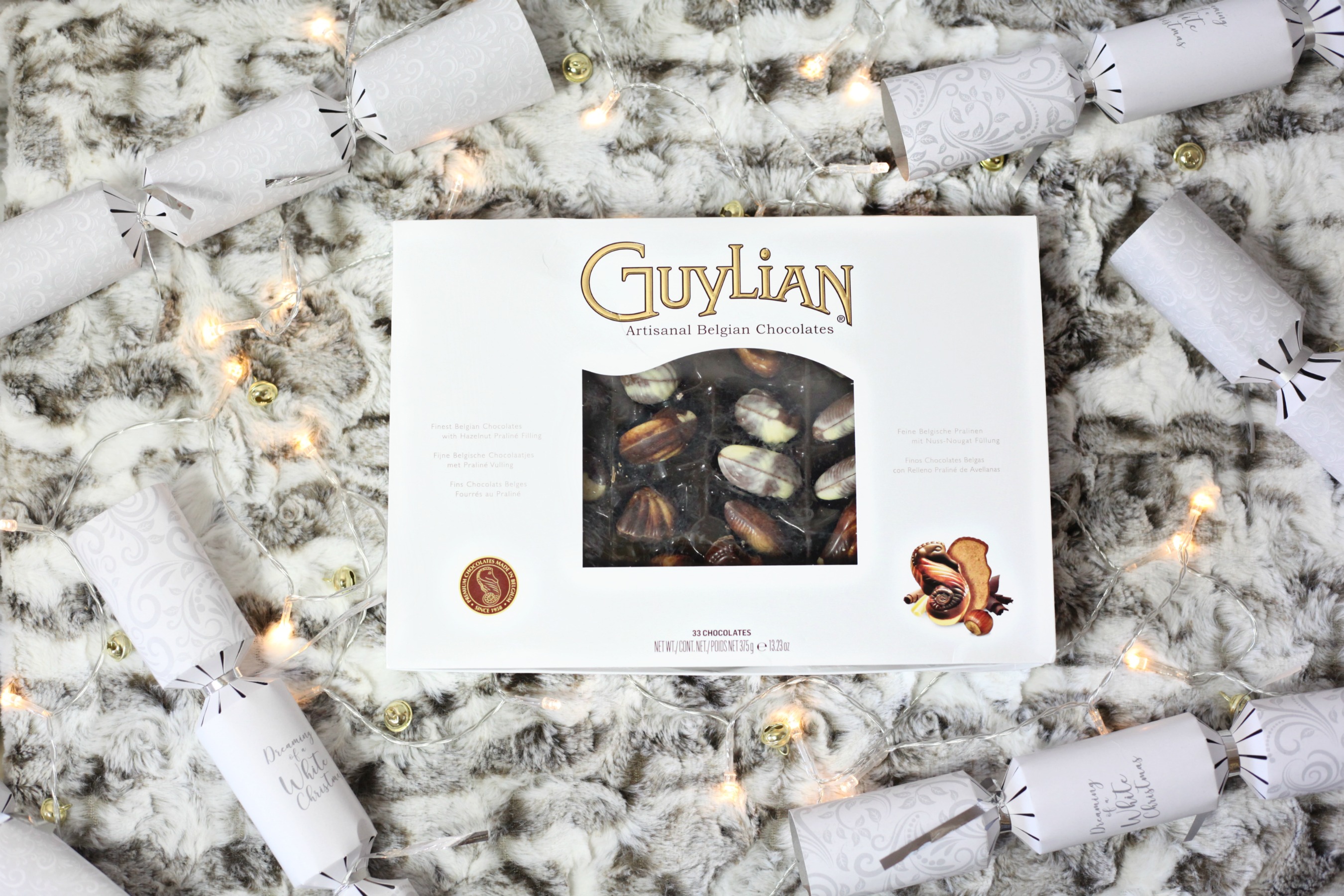 Please note these products were gifted to me. All words, opinions and images are my own. Prices stated were correct at time of publishing.
Please follow and like me: