This is a collaborative post
Since becoming a mum two and half years ago, I've felt I needed to bring everything under the sun when travelling. Just in case. We've mainly holidayed in the UK with occasionally family visits to Denmark thrown in. The most exotic destination to date was a long weekend in Gibraltar last year. So, in reality, all places where we could easily buy anything we need in case of an emergency. Plus I've naturally never needed all of these just in case items and have come home with a lot of unused and essentially unnecessary extras.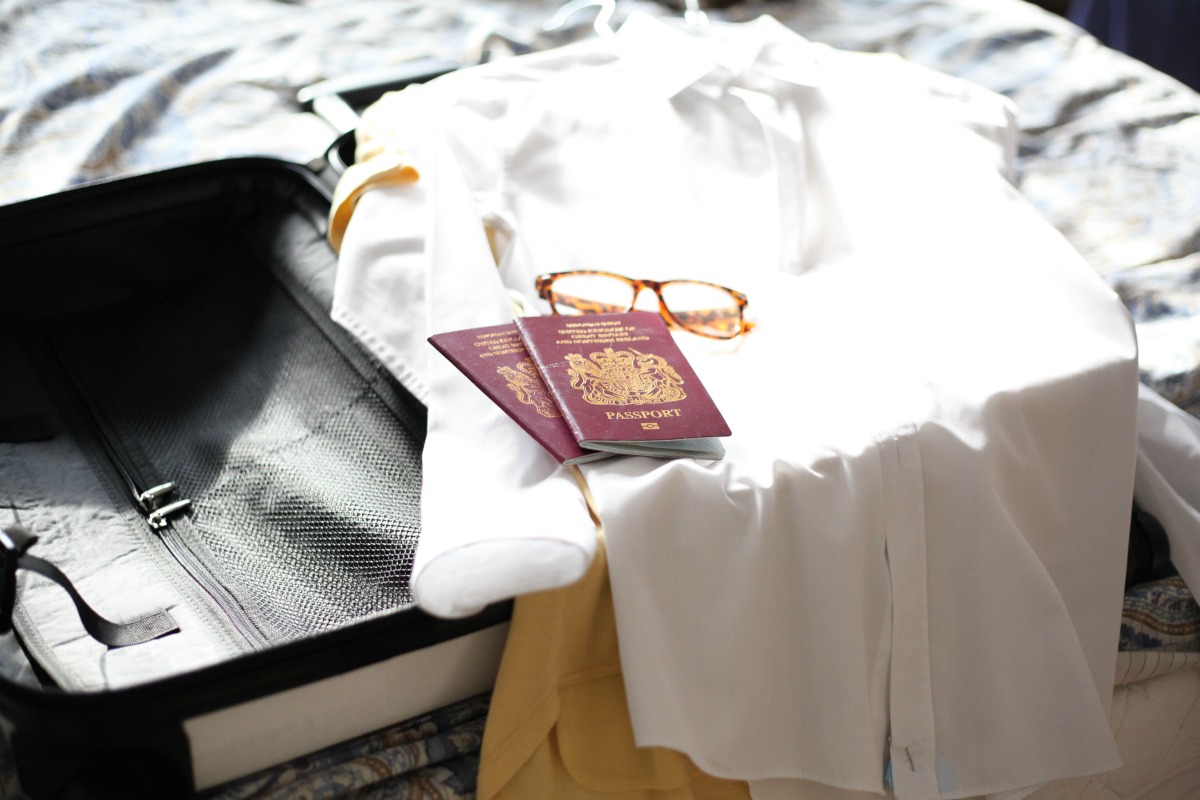 I recently designed my own carry-on suitcase using the brilliant service from Bags of Love. They have a whole range that can be personalised with photos, designs and even your children's artwork (if scanned or photographed). These customised products which include chairs, bed linen, clothes and mugs make excellent gifts whether for Christmas, birthdays or special occasions. Their customer service department was very helpful in ensuring the design was exactly as I wanted. Plus the delivery was super fast. I've long wanted a carry-on with my blog branding to use both when travelling and for networking at industry events throughout the year.
Although I desperately need some tips for travelling with hand luggage only. Maybe you do, too? Here are some clever ideas from my fellow bloggers.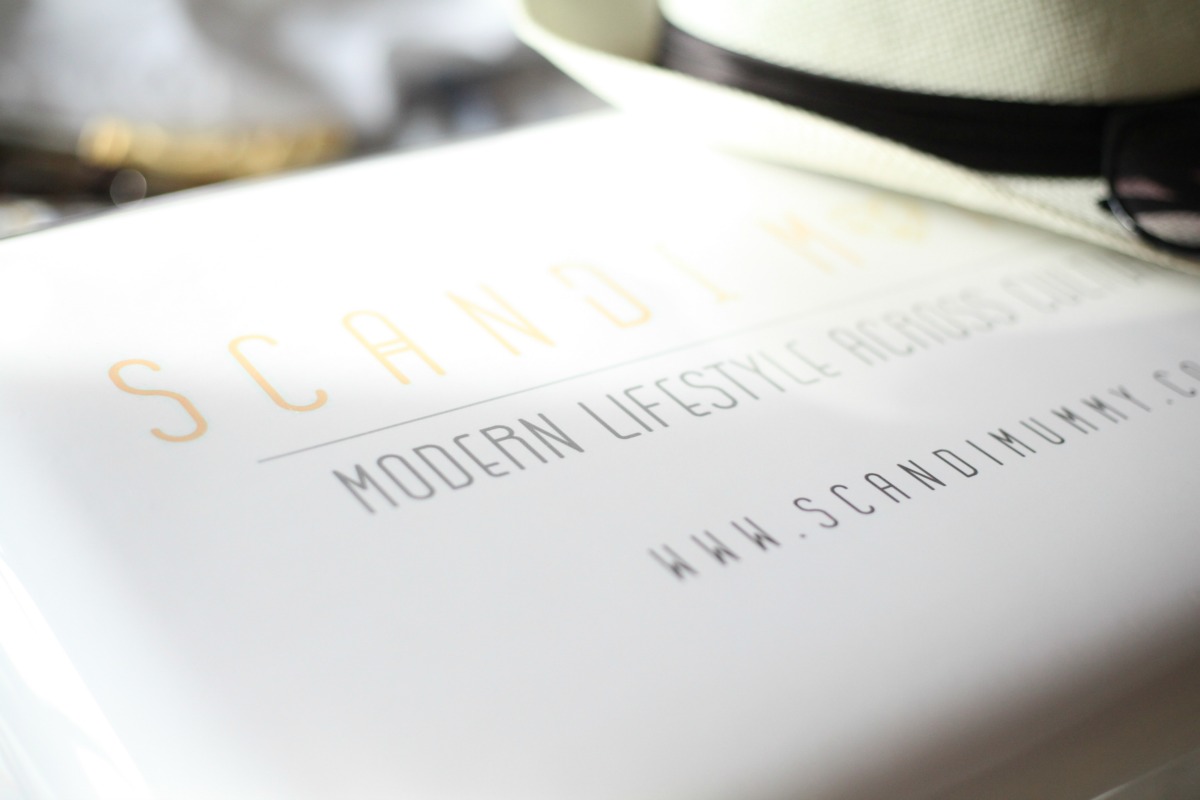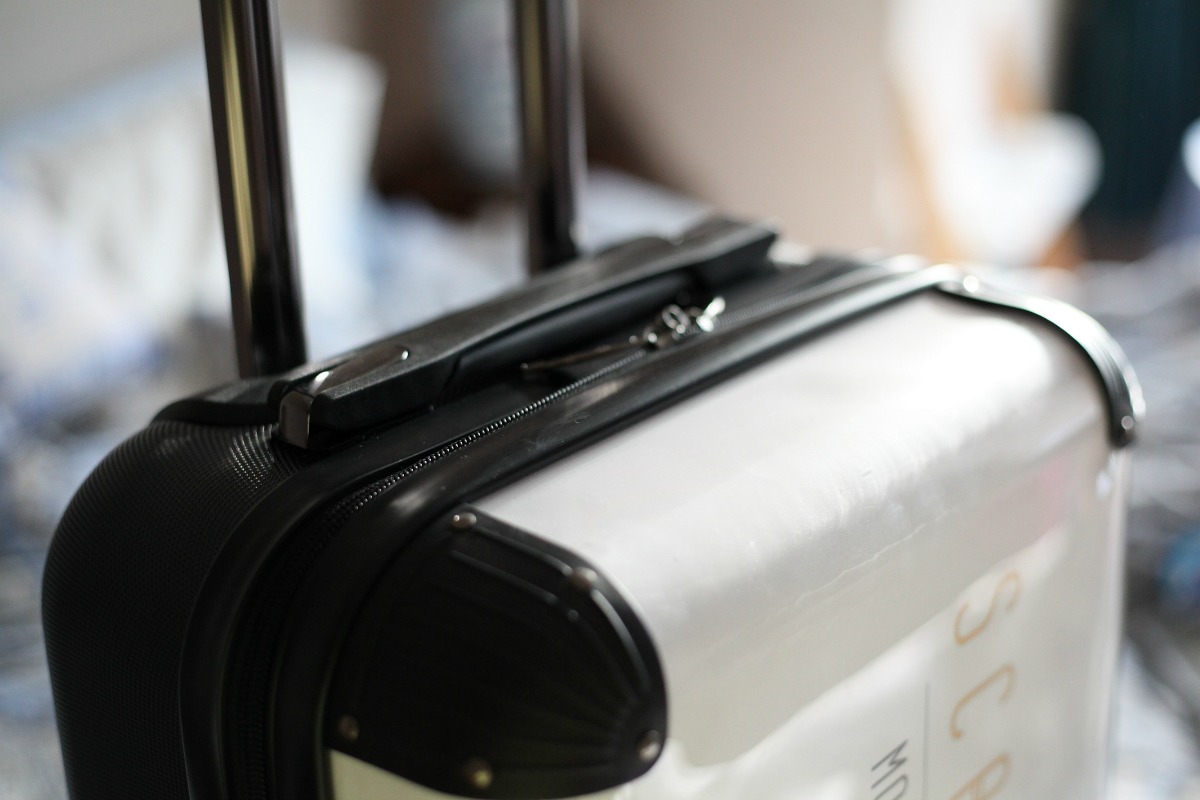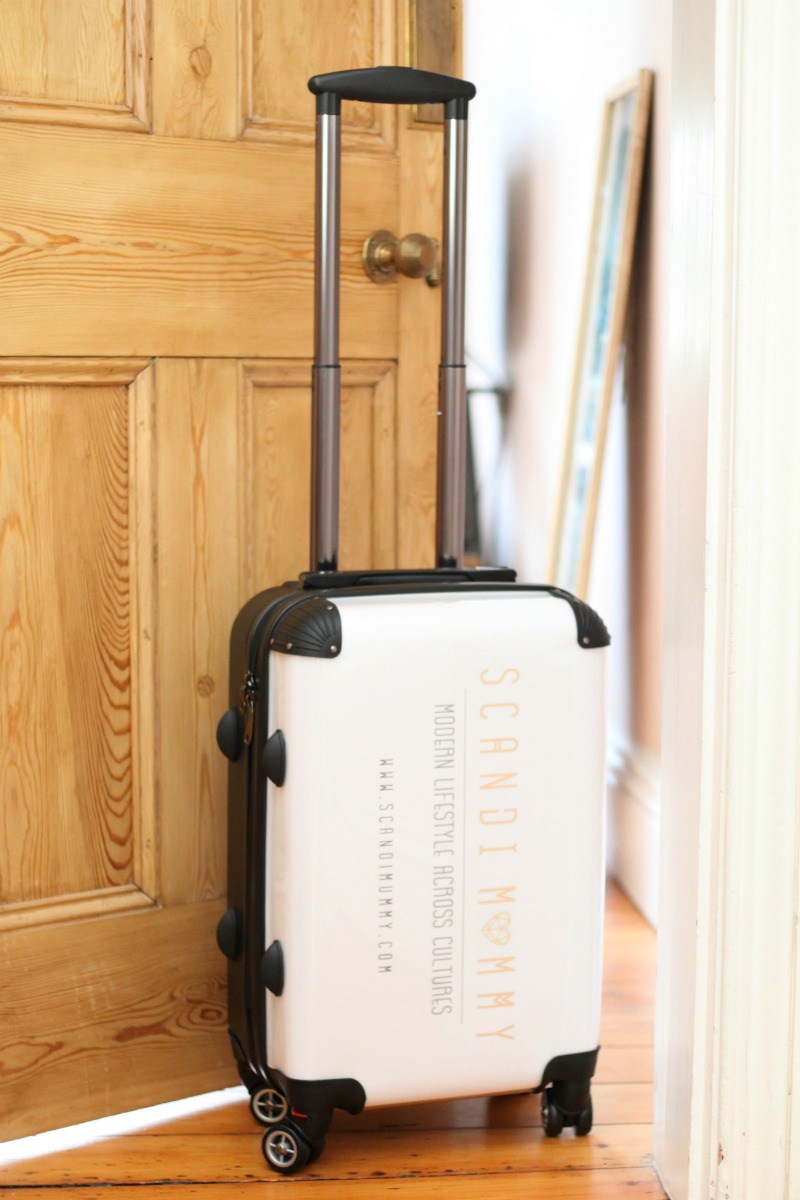 "I love the idea of taking a minimalist approach to packing. The filter I use (having been guilty in the past of taking the kitchen sink) is differentiating between 'Just in case' vs 'Just for when' items. Only take items you know you'll need vs things you might need. Use this with the 20/20 rule. Don't pack anything that you don't know if you'll use that costs less than £20 and can be sourced within 20 minutes of wherever you're going." Mark
HOW TO PACK FOR TRAVELLING WITH HAND LUGGAGE ONLY
Having just read The Life-Changing Magic of Tidying by Japanese author Marie Kondo I'm currently on a clearing out spree in the house. It's amazing and I definitely think her KonMari folding method works well when it comes to packing. Here are so more brilliant tips for light-weight travelling.
"Roll your clothes up. Not only does it take up less space but it stops them getting creased." Nadine
"Pack things into things! Socks in shoes, belts in bags & pants behind bras. You'll be surprised at how much extra space you find!" Steph
"Roll everything in your case, wear as much as you can and stuff your socks and underwear into shoes!" Louise 
"Vacuum pack your clothes to make them as small as possible – but only if you have an iron at the other end!" Nikki
"Plan your wardrobe day by day so that you don't need to pack any extra clothes or shoes etc" Kerry
"Wear your bulkiest clothes on the plane so they don't have to go in your hand luggage!" Chantal
"Buy as light a hand luggage size case as you can so your weight goes on the important stuff." Kelly
"In order to get through security quickly keep your electronics on the top so they're easy to grab and pre-pack your toiletries into clear plastic bags." Chloe
And a word of warning…
"My tip would be to find space to take some plastic bags… although, this is down to a VERY unfortunate experience by my friend who picked up a bug as we flew out to Rome with only hand luggage. She had a bad turn at the airport on departure and had to change clothes… (explosions from both ends, at the same time!) but didn't have anywhere to put her dirty clothes so just had to chuck them away. Gutted." Holly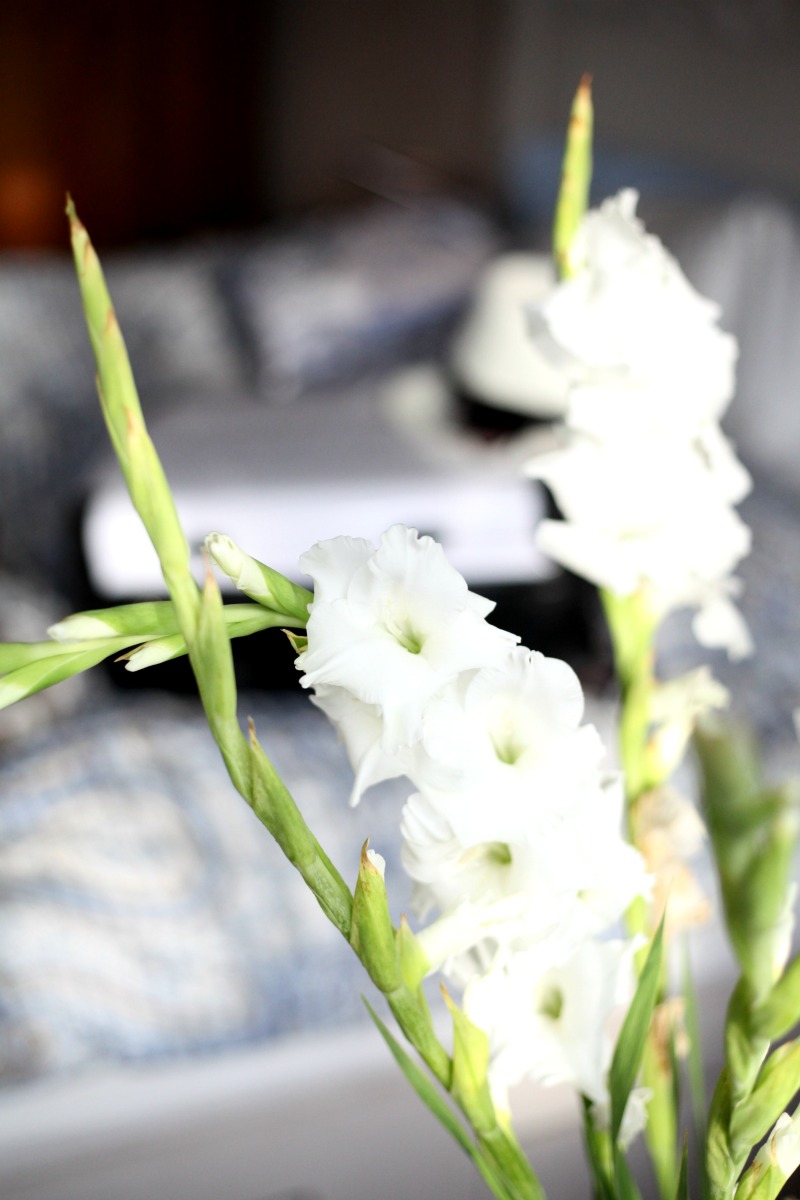 CHECK WHAT BAG SIZE IS ALLOWED BEFORE TRAVELLING
With a lot of airlines now charging for checked in baggage, surviving with just hand luggage can save you a significant amount of money. I highly recommend checking the airline restrictions on sizing though. The last thing you want is to arrive at the airport, make your way to the gate only to find out your chosen suitcase is too big. You'll need to not only check it in but pay a huge amount extra. It defeats the whole point of travelling with hand luggage only.
"Make sure to check weight restrictions for your hand luggage before you stuff your entire life into your suitcase. Every airline differs and the times of 'as long as it fits into the overhead locker' are long gone." Carolin
"Travelling with hand luggage is cheaper, faster and easier because airlines don't charge for hand luggage. Moreover, you are in control of your things, you're not reliant on the baggage system, and you can avoid lots of queues." Elizabeth
"Take a flat bag – like a canvas shoulder bag with you so you can use this at your destination for other things, too." Ann
Also, make sure to check if you are allowed a shoulder or cross-body bag as well as a bigger carry-on bag. Some airlines request that you can fit it in the bigger one or they again make you check that one in.
BUY TOILETRIES AT THE AIRPORT OR AT YOUR DESTINATION
The sizing restriction on beauty products and toiletries are a problem when travelling with hand luggage only. Make sure that any liquids you do carry are under 100 ml and in a plastic bag. You can pick these up at most airports before entering security.
"Keep a zip up pouch ready loaded with the right travel sizes of things like contact lens fluid – you can't take a full sized bottle on board. Make sure you know your liquid limits." Linda
Though you might want to save room and simply follow these tips.
"Don't bother taking toiletries – buy them at your destination and leave them there!" Jenna
"Buy your toiletries in the airport. Then you don't get stuck with the liquid restrictions" Kim
If you are travelling with babies or toddlers (or messy partners!) then this might be of use. I know Boots has this service. Although, make sure you order with enough notice for it to be ready for your departure.
"Order nappies and wipes to collect at the airport, then you don't have to worry about them taking up space!" Louise
Although again make sure you've done your research before you shop half the airport. Some airlines require that your duty-free shopping fits in your luggage.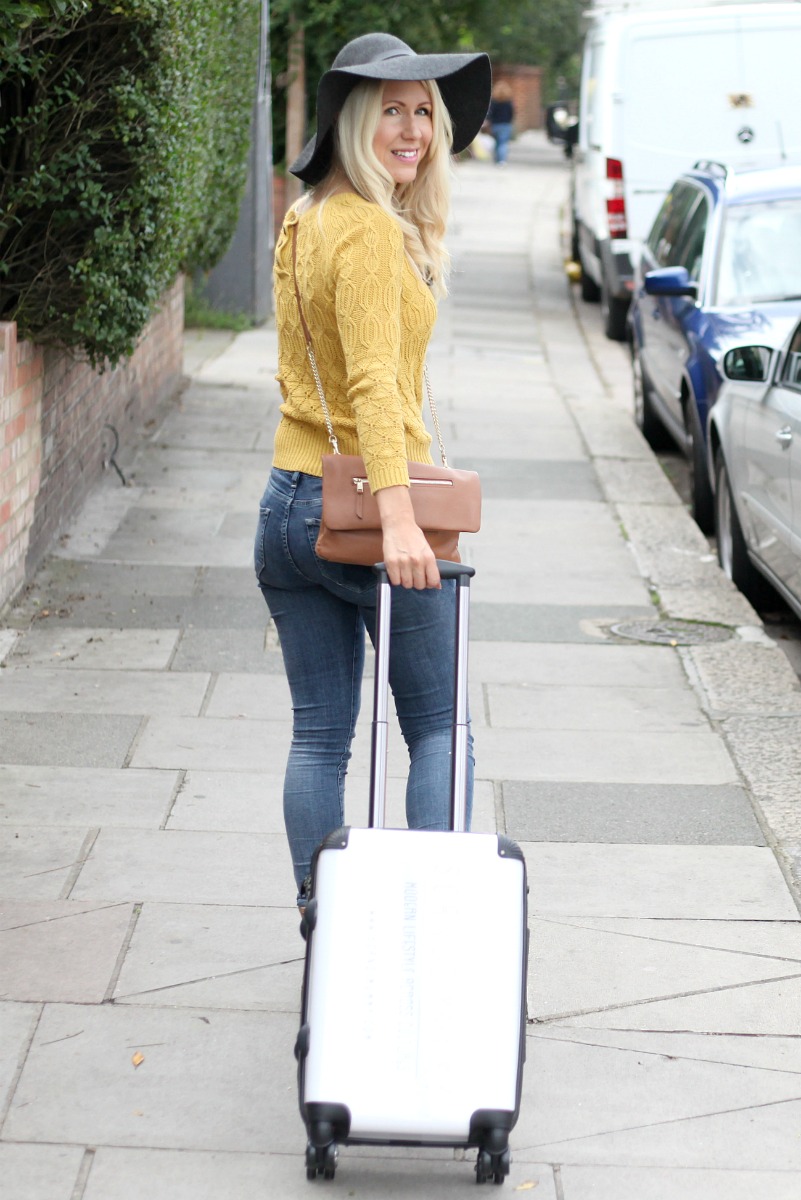 LEAVE ROOM FOR SHOPPING
Lastly, I love this advice from Sophia. You might be visiting somewhere with fantastic shopping like Copenhagen and want to bring back gifts. Or just a little souvenir to remember your trip.
"Fight the urge to take anything unnecessary and leave a little bit of space so you have the option to bring something back with you!" Sophia
What are your top tips for travelling with hand luggage only?