Christmas definitely becomes, even more, fun when you have children. I've always loved this time of year; the decorations, the beautiful lights, the glorious food and the excitement. Then I met Daddy Long Legs and he likes to pretend he's a real Grinch! Although secretly I suspect he actually loves it all as he thoroughly enjoys himself once the house is all festive and the food is served. Now that we have Caspian I want to make it even more special! I want to teach him about kindness, the importance of helping others but I also want to spoil him a little bit.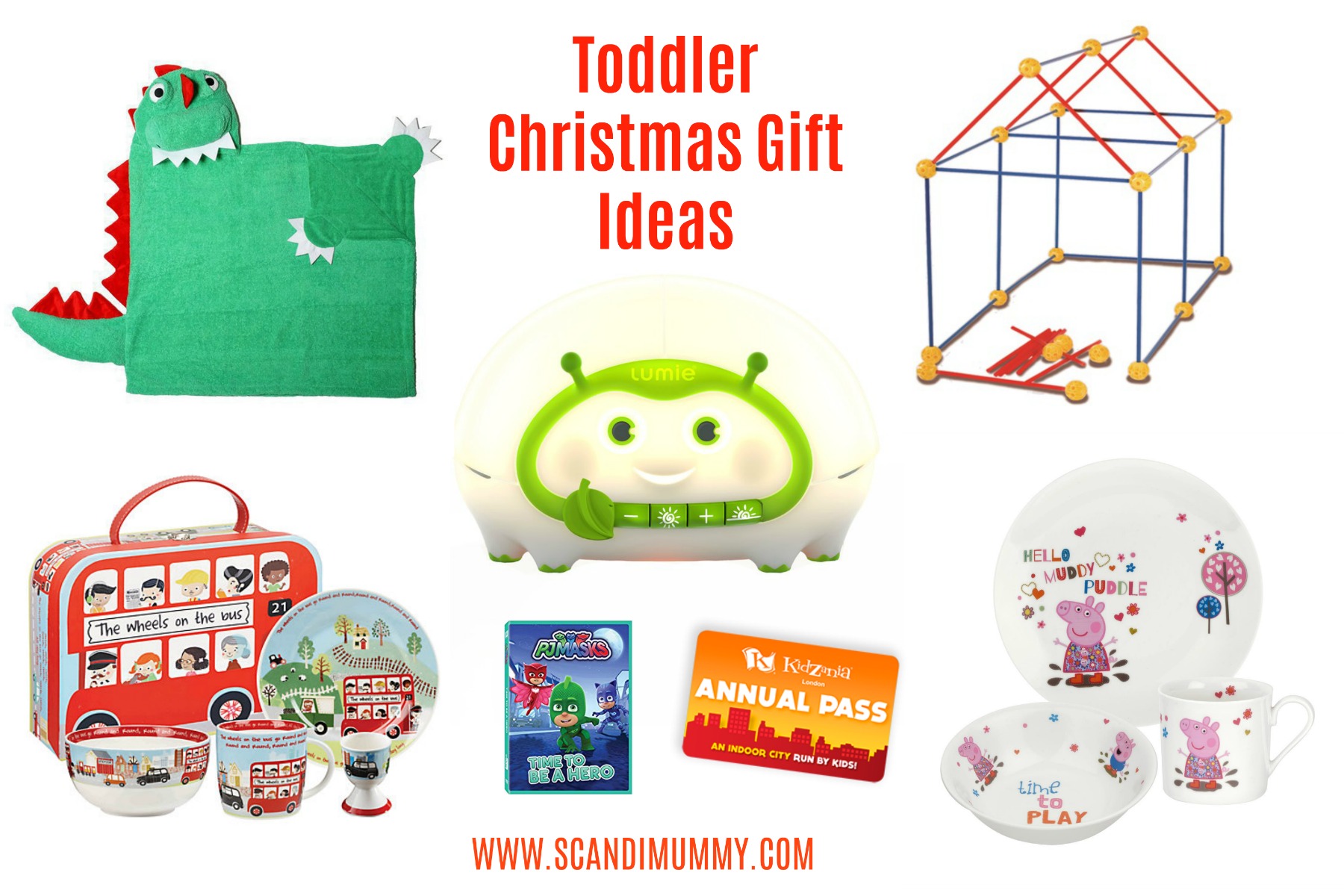 This is the first year where I feel he's starting to understand Christmas. He talks a lot about Father Christmas and has gotten slightly confused over the fact that it's not called a Father Christmas Tree. Thinking about presents for this year I wanted to make sure that they were not only fun but practical or educational, too. Here are my top toddler Christmas gift ideas. Have you started shopping yet?
LUMIE BEDBUG NIGHT LIGHT
We love Lumie products and they are brilliant for anyone suffering with SAD. I was excited to learn that they have created a nightlight especially for little ones. The Lumie Bedbug is super cute and comes with a range of features.
LED technology for sleep-optimised lighting that helps prepare your child for bed and minimises disruption to their natural nighttime rhythms. This means it emits white light and more or less eliminates blue light which can keep them awake unnecessary. It also has a function where you turn on a very dim light, it's silent so you can check on your child without waking them.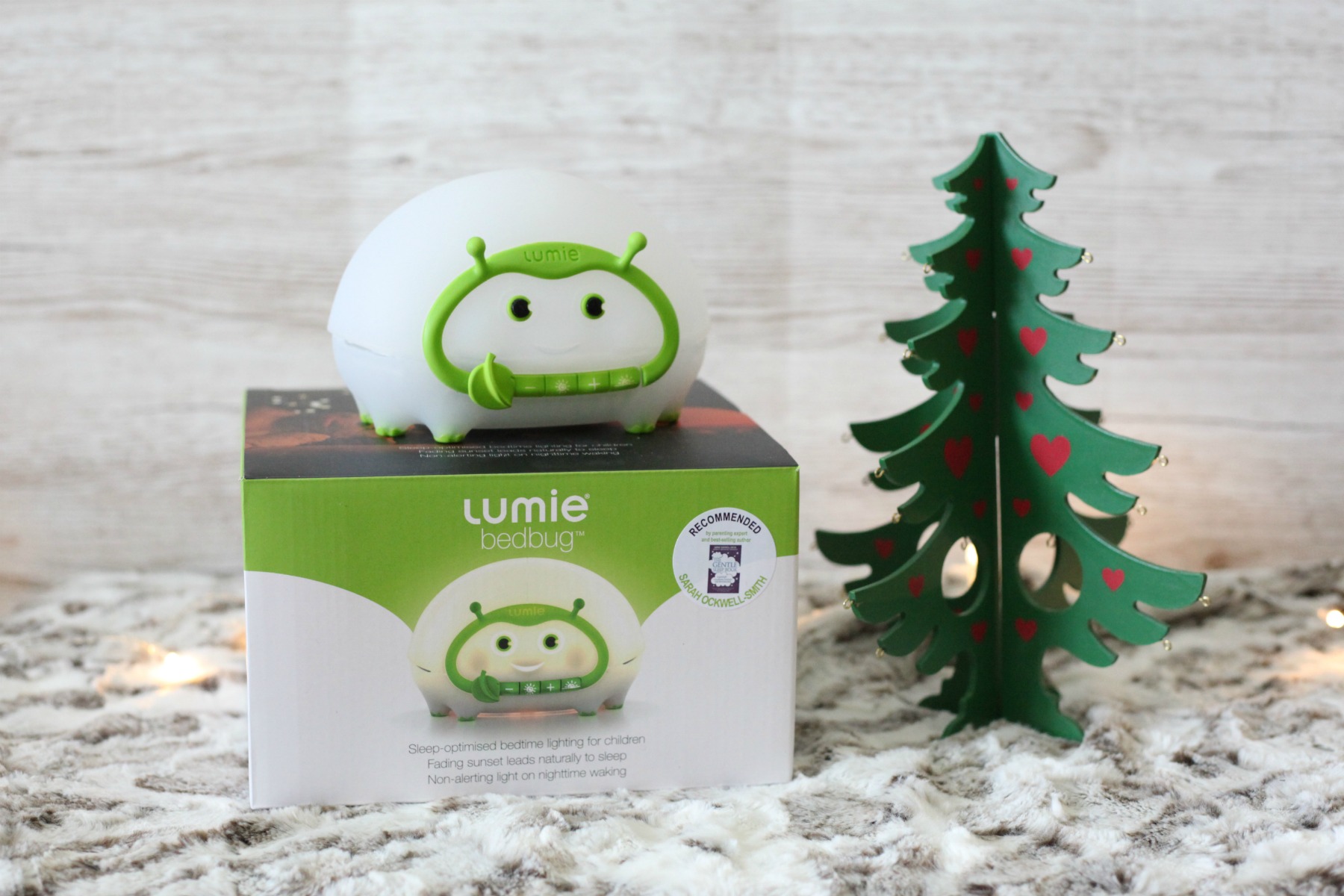 With currently trying to settle Caspian in his own bed and encourage him to sleep through the night this will be such a great help. It's expressed feelings of being scared when the light is turned off but with Lumie Bedbug by his side he can drift off peacefully. It retails at £59.99 from Lumie.
THE WHEELS ON THE BUS BREAKFAST SET
Since before he could talk Caspian has had a fascination with busses. It's still strong so what better than a breakfast set decorated with his favourite nursery rhyme?
There are so many reasons I think this is a brilliant gift. Firstly I really want to make sure Caspian has a healthy breakfast and I think this is the perfect way to lure him to the table in the mornings. He loves being like mummy and daddy and I think at nearly 3 he's ready for his own proper mug. Cereal is still a favourite so the bowl is ideal and who doesn't enjoy egg and soldiers? It comes with a large plate as well. The porcelain is beautifully decorated so there are many vehicles to explore while eating.
The set comes in a beautiful little bus-shaped suitcase, which will be great for taking toys on the go. We are off to Italy between Christmas and New Years so I'll take it on board the flight and stuff it with fun things to keep him entertained.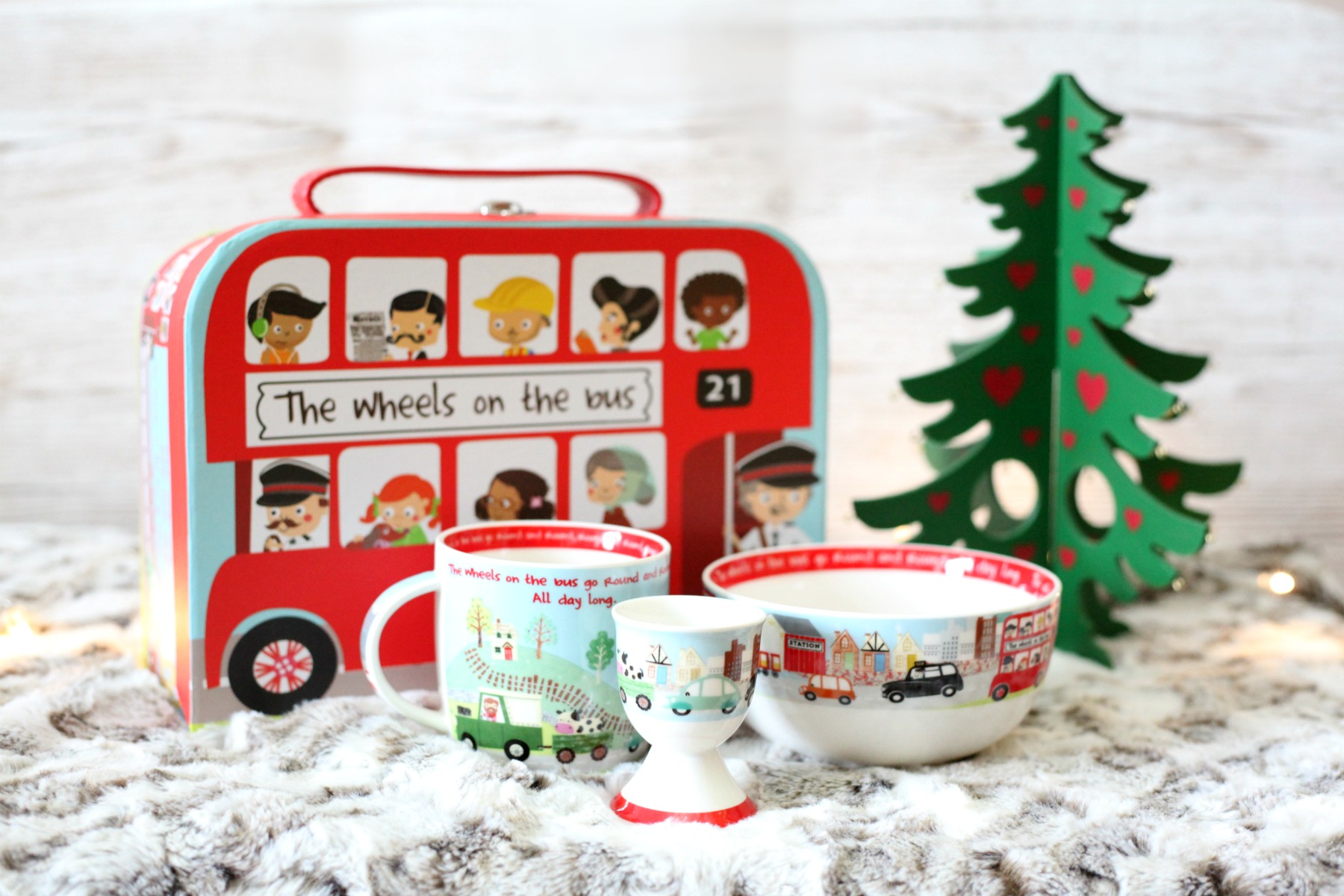 The four-part set retails at £24.99 from online toy shop Born Gifted. They have many other gorgeous presents for kids of all ages.
PORTMEIRION PEPPA PIG 3 PIECE SET
If you're after a lunch or dinner set and have a Peppa Pig fan in your house then this cute design from Portmeirion is simply perfect. It features Peppa on one side and George on the other. A good sized plate, a bowl and a little mug decorated with hearts and muddy puddle splashes. What's not to love?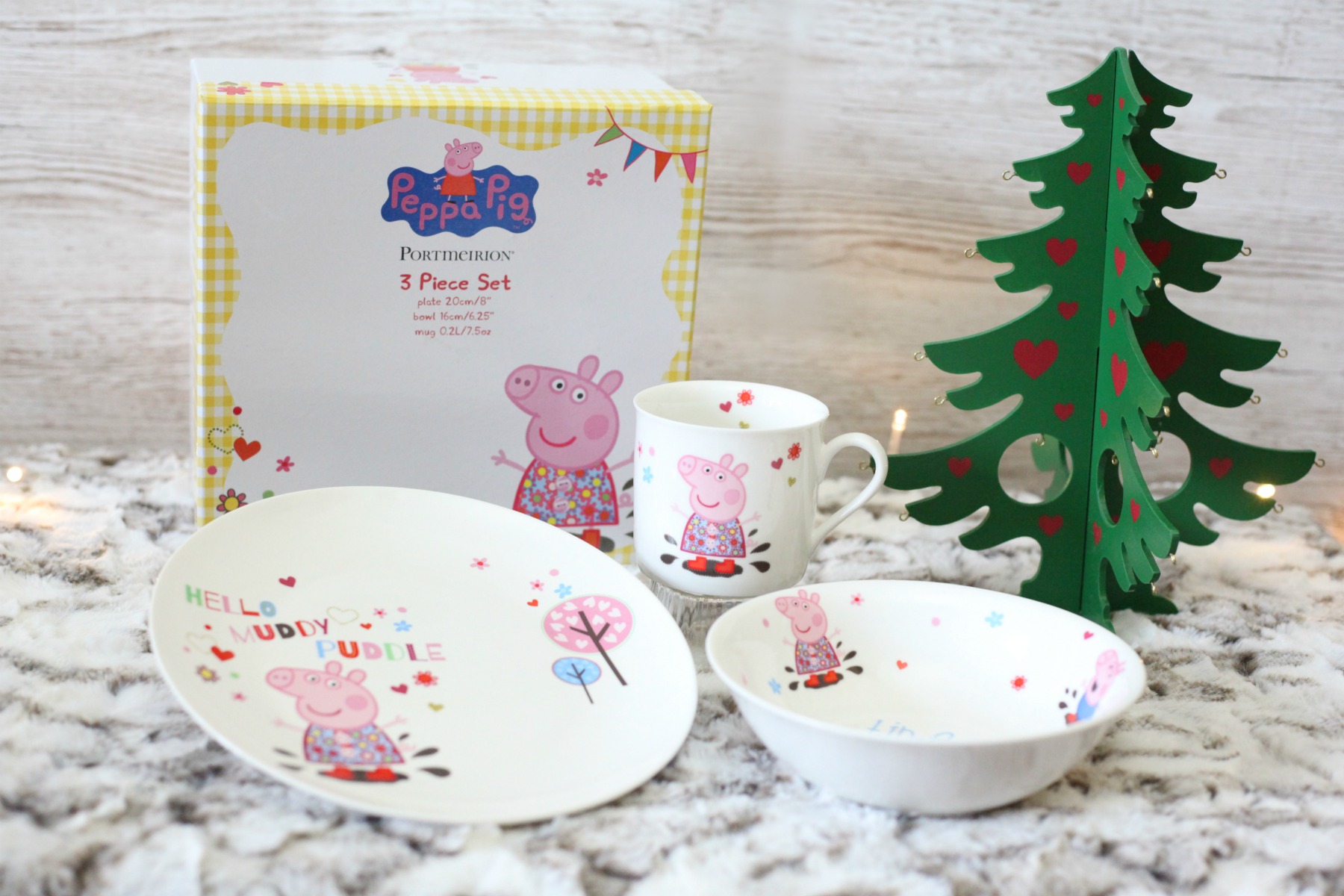 Caspian adores Peppa and even more so since we visited Peppa Pig World this autumn. He will love eating his dinner with Peppa as a companion, although I'm not sure I can get myself to serve him sausages!
The set retails at £23.99 from Portmeirion. They carry a whole range featuring Peppa and her friends plus many beautiful designs if you are looking to update your own tableware.
DINOSAUR HOODED TOWEL
Caspian finds it hilarious to pretend he's a dinosaur. He will let out a scary roar and chase me around the room. So what better gift than a hooded towel shaped like one. I think this will be such a hit and make it much easier to entice him out of the bath as he loves to splash about. It's a great size and very soft.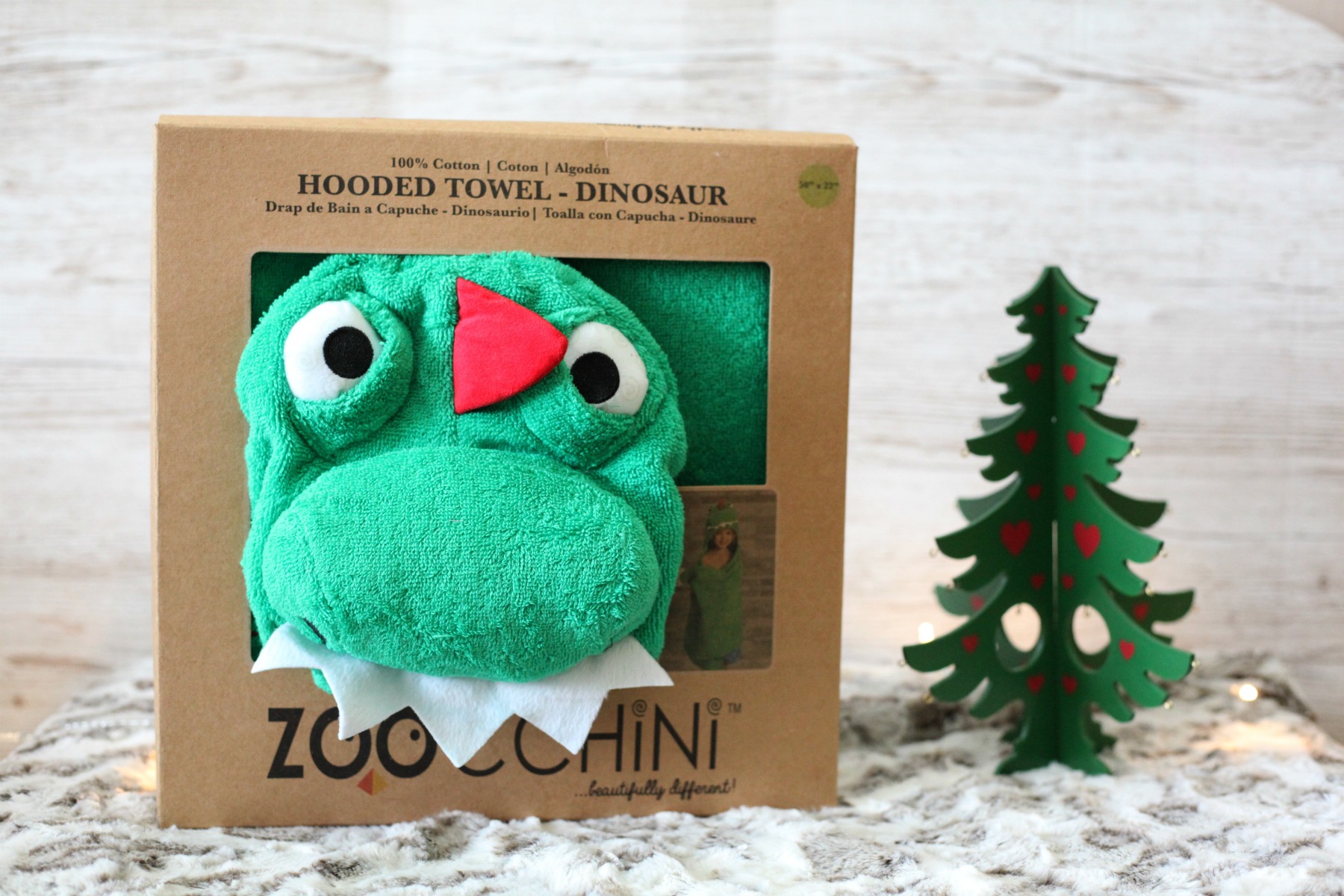 The Dinosaur hooded towel is £19.99 from Find Me a Gift. They have a large selection of inspirational and fun presents for the whole family.
READ WITH ME SCOUT
I'm desperate to read more with Caspian, so I thought this adorable and clever toy from Leap Frog would be a good place to start. Read with me Scout is a brilliant teacher who is programmed to read the five little books included. It's a very interactive toy. Caspian loves numbers and buttons so he'll be fascinated by being able to pick his own story, pet Scout and learn about colours and patterns, too.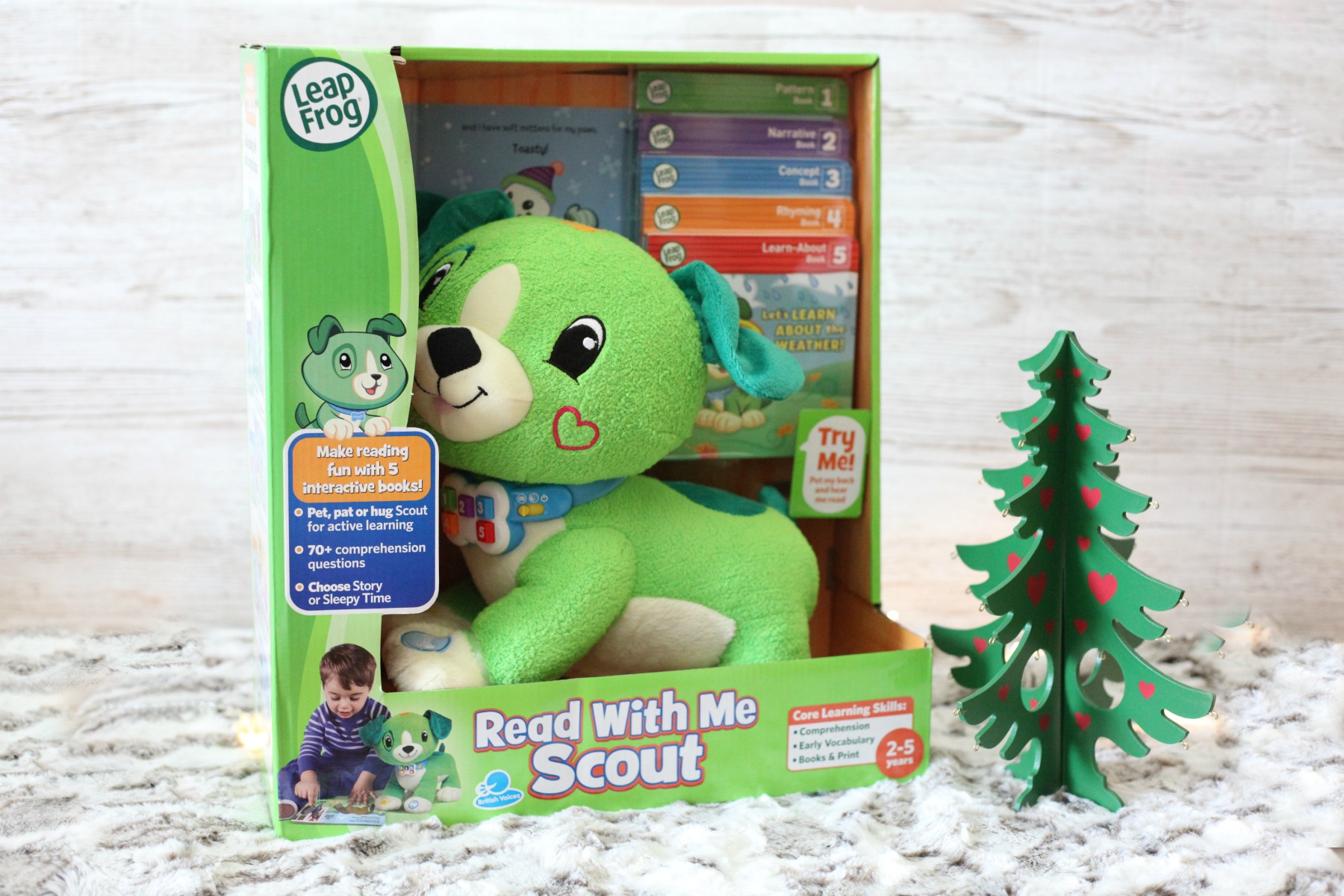 Read With Me Scout comes in green or purple. You can find it on the Leap Frog website with links to where to buy.
EZ-FORT BUILDING SET
Caspian has discovered hide-and-seek. He will always hide in our bed. It's his favourite game. He also loves pretending to be a pirate and has a fabulous imagination. The EZ-Fort is therefore ideal and the sky's the limit when it comes to what you can construct.
We've already played with it and it's a lot fun building castles and forts. I'm sure it will be fun in the garden next year, too.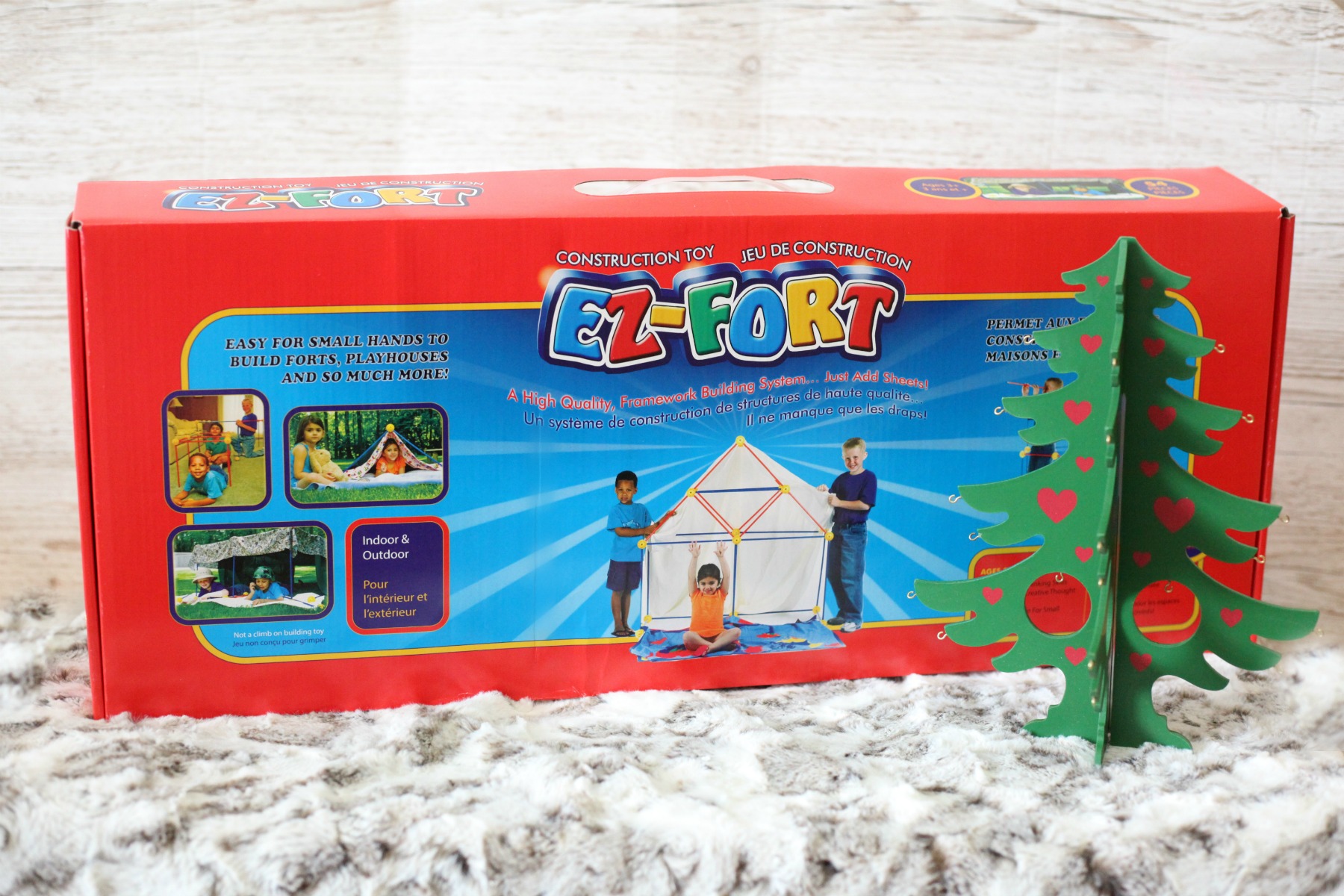 Find the EZ-Fort is £34.99 on one of our favourite sites, Prezzybox. There you can also shop amazing personalised gifts to surprise loved ones this Christmas.
PJ MASKS DVD AND ANNUAL 2018
Is your child crazy about PJ Masks, too? Caspian adores Gekko, Catboy and Owlette and will jump around pretending to go 'into the night to save the day'. The new DVD and the PJ Masks Annual for 2018 is a heroic treat this Christmas. The DVD is £7.00 as an Amazon Prime member but available from several retailers. The hard-cover annual is £3.99.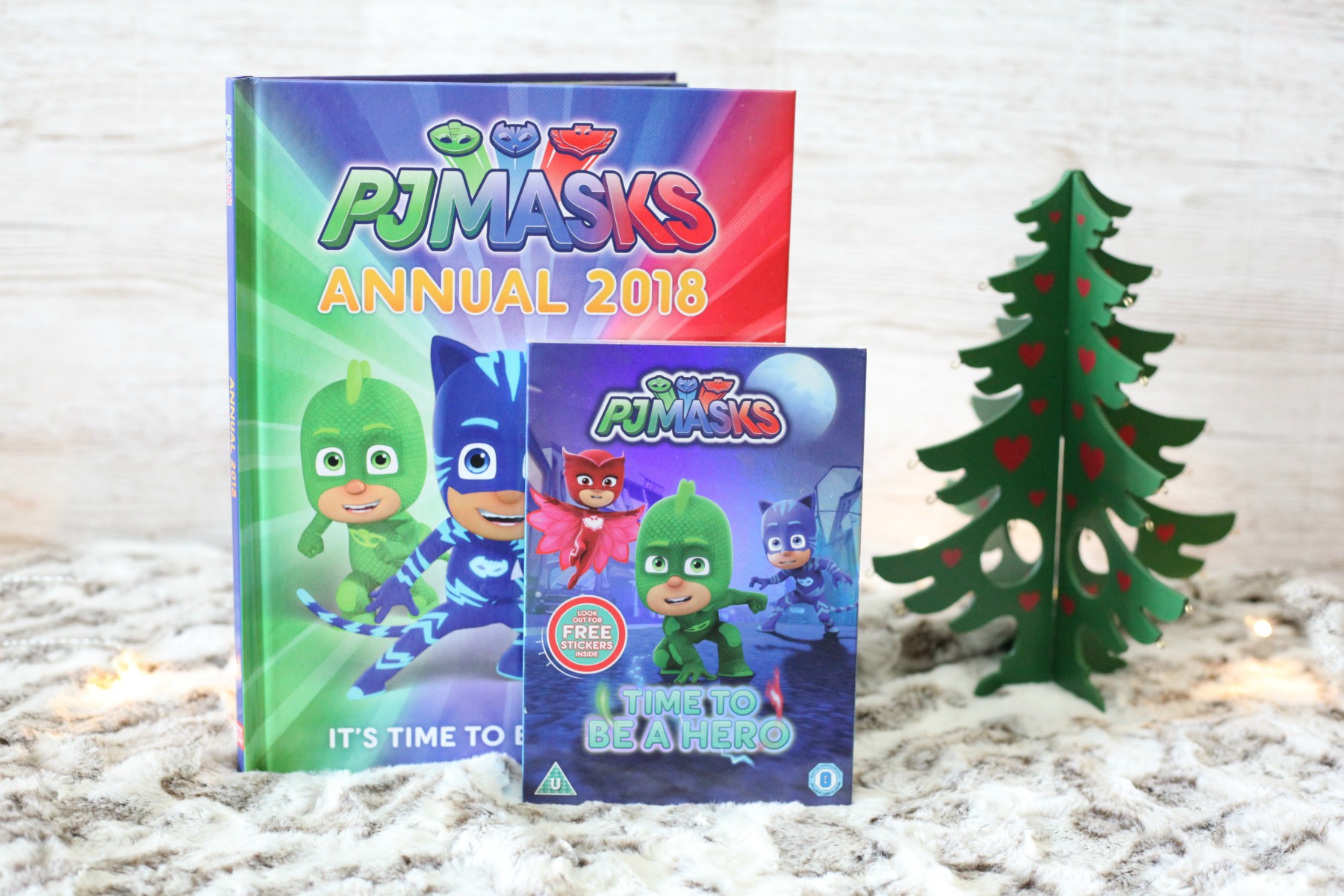 KIDZANIA YEARLY PASS
I think one of the most precious gifts you can give is experiences. We are planning on visiting KidZania in London soon and they do an annual pass for £129 that gives you::
12 months unlimited entry
5 free adult tickets
Fast track entry into the city
5% discount on selected food & beverage outlets
10% discount on birthday parties
15% discount on merchandise
If you are looking for more Christmas Gift inspiration then keep an eye on the blog in the coming weeks where I'll showcase my top choices for men, women and any Scandi-lover big or small in your life!
Please note this guide contains items we have been gifted. All words and opinions are my own.
Please follow and like me: