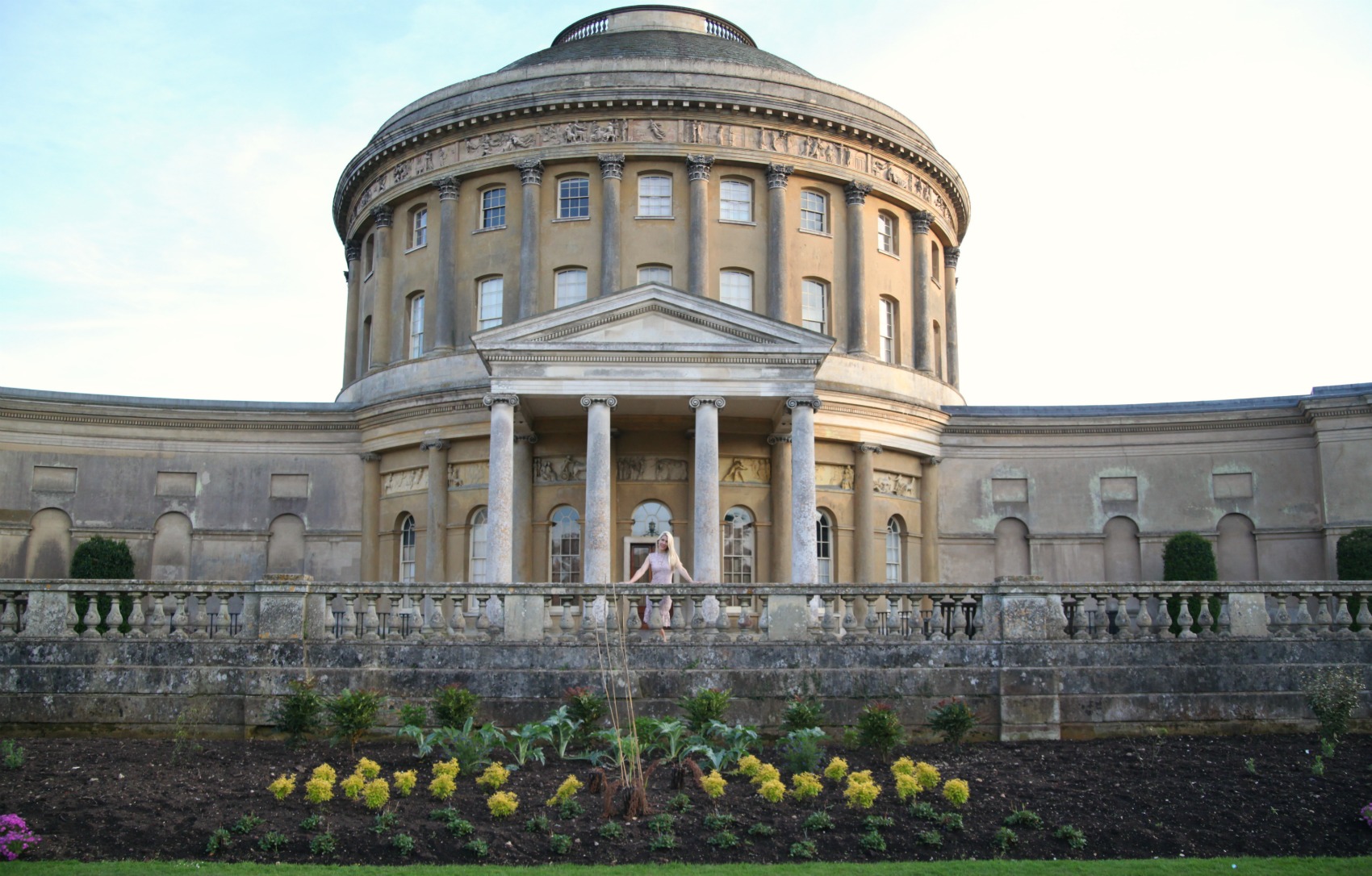 Our winter was busy with travels to first Italy, then Iceland and my press trip to Germany. With a couple of shorter visits to Denmark thrown in for good measure. We had exciting adventures, amazing food but all the travelling also left us a little exhausted. We, therefore, decided to stick closer to home this spring and with the amazing weather we've been blessed with this year, I can safely say that was the right decision.
Juggling family life, a growing business and renovating a house is exciting yet draining. When May rolled around we needed a break. I hadn't heard of Luxury Family Hotels before but realised they are located across the UK in beautiful surroundings and they offer free childcare as part of your stay, I was sold. Now don't get me wrong, I don't go on holiday as a family for someone else to look after my child. I want to spend time with him, make memories and take adventures. Yet, we all need a little break so that you can either squeeze in some "me-time" by indulging in a spa treatment. Or simply enjoy an uninterrupted conversation with your partner over an actual hot cup of coffee.
THE ICKWORTH HOTEL NEAR BUSY ST. EDMUNDS
With seven locations to choose from, we decided on the stunning Ickworth Hotel near Busy St. Edmunds in Suffolk. It's an area of England I haven't visited before yet was eager to explore. Set within now National Trust property part of the aristocratic home houses a museum and the other part the lovely hotel.
It was our plan to venture into Bury St. Edmunds, but the hotel has so much to offer that we never left the grounds. Had we stayed longer we would have gone on a day trip to explore the area and historic city.
SPACIOUS BEDROOMS WITH GORGEOUS VIEWS
When we book rooms our first request is a big bed. Simply as Daddy Long Legs is 6′ 5″ and therefore needs more space than most. Throw in a toddler who enjoys nothing more than acting out the starfish in our bed and preferably in the middle of the night and we definitely need a king size to host us all. Quite a few of the impressive beds at the Ickworth have a footboard which is not ideal for us though. Luckily the Francesca room on the 1st floor with a more mid-century decor had a decent sized queen without and we made it work. Especially as the hotel had set up a single bed for Caspian.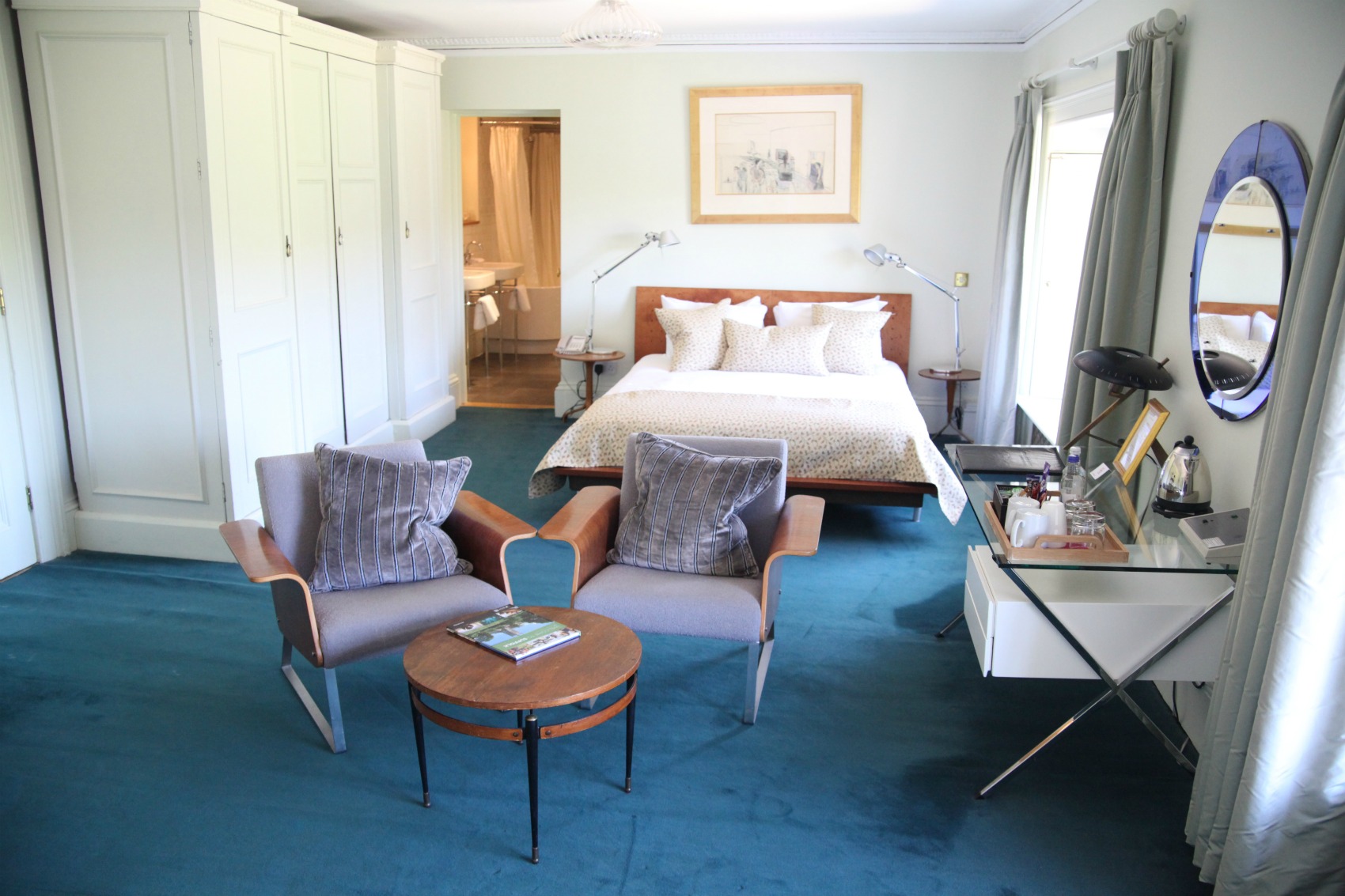 The rooms differ in their decoration and we viewed a couple more and will definitely book the Grand Room next time, as it is as the name suggests very impressive and the views of the garden are stunning. Our room faces the parking area yet is very soundproof and you still overlook beautiful green surroundings.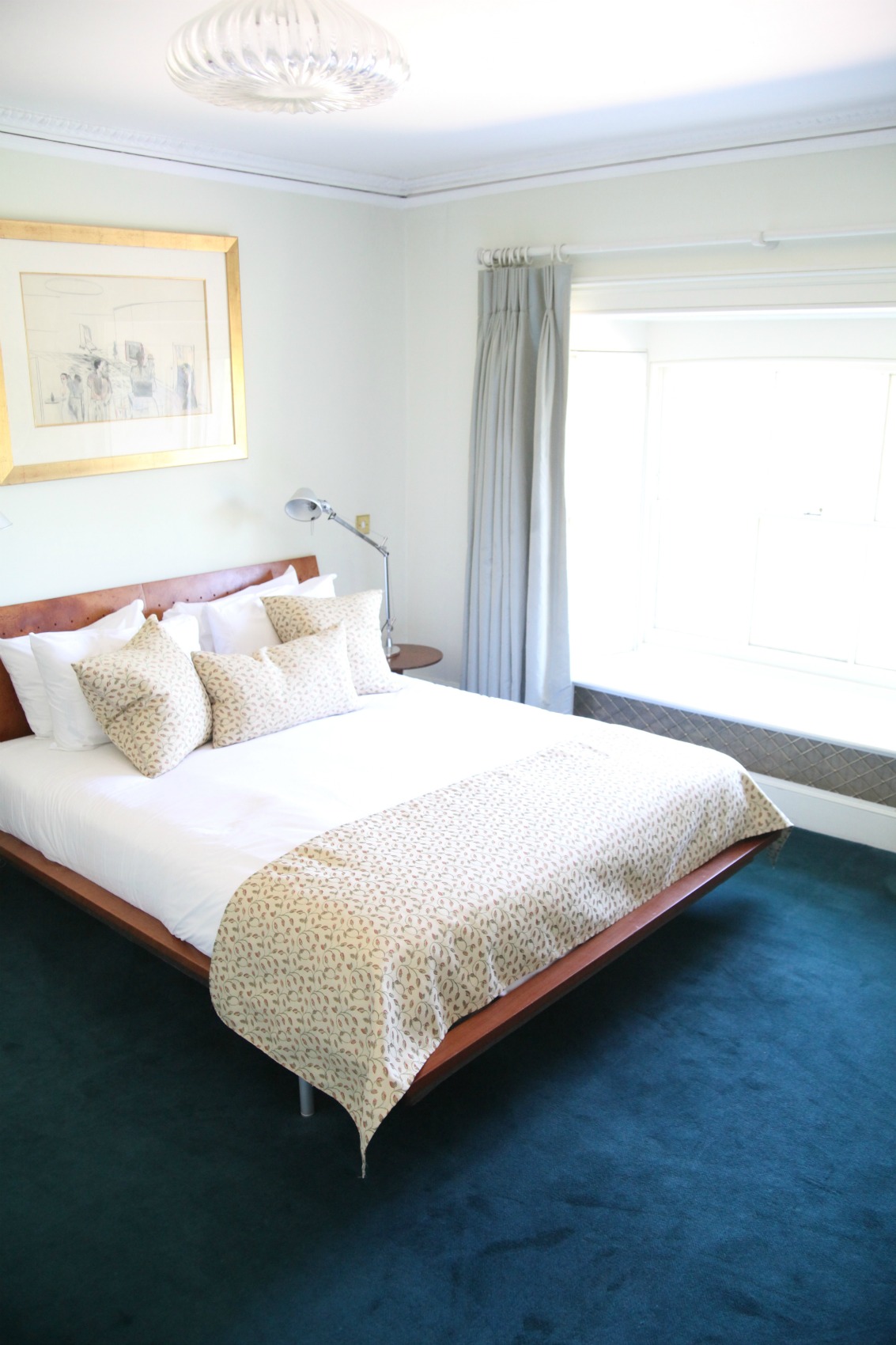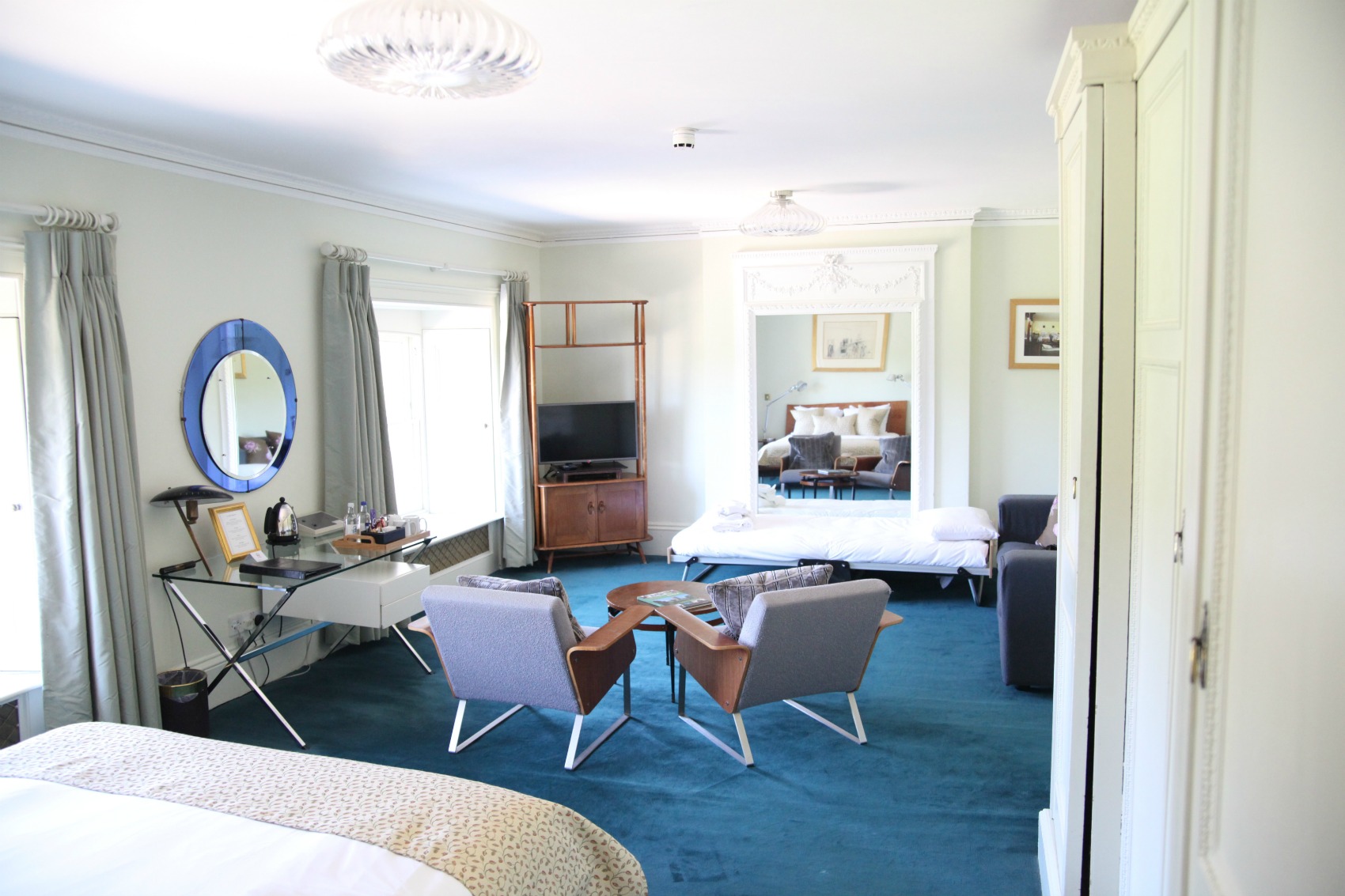 The room comes with tea and coffee making facilities and a little lounge area and TV where you can sit and enjoy your hot drink and complimentary biscuits. As a Scandi-lover I naturally adored the mid-century style where Daddy Long Legs prefers the more traditional decoration of the building's original era. A fascinating yet tragic history haunts this place which is worth reading up on while you are there.
The room also holds a spacious bathroom with a big bath and luxurious products from Elemis. Soft white towels and gorgeous robes, even for the littles guests, ensures you feel properly pampered.
SCRUMPTIOUS MEALS ALL DAY LONG
We found the food at the Ickworth Hotel so delicious I actually dedicated a whole post just to that. It's well worth a read if you are a bit of a foodie or enjoy a proper English afternoon tea. I really liked that there are two restaurants, one for families and an adults only should you be so lucky that your children are taking an early night!
MANY ACTIVITIES TO TRY OUT
Whether you enjoy a swim, a quick game of tennis or prefer a family bike ride through the inviting countryside, the Ickworth has got you covered. Caspian and I loved the heated indoor pool and had a lovely swim on both days we were there. The hotel also has a spa and many different treatments to choose from. All three of us went on a fun bike ride. The hotel has shed full of bikes and many with child seat attached. They also have a range of helmets and Caspian was delighted to discover a full collection of scooters, too.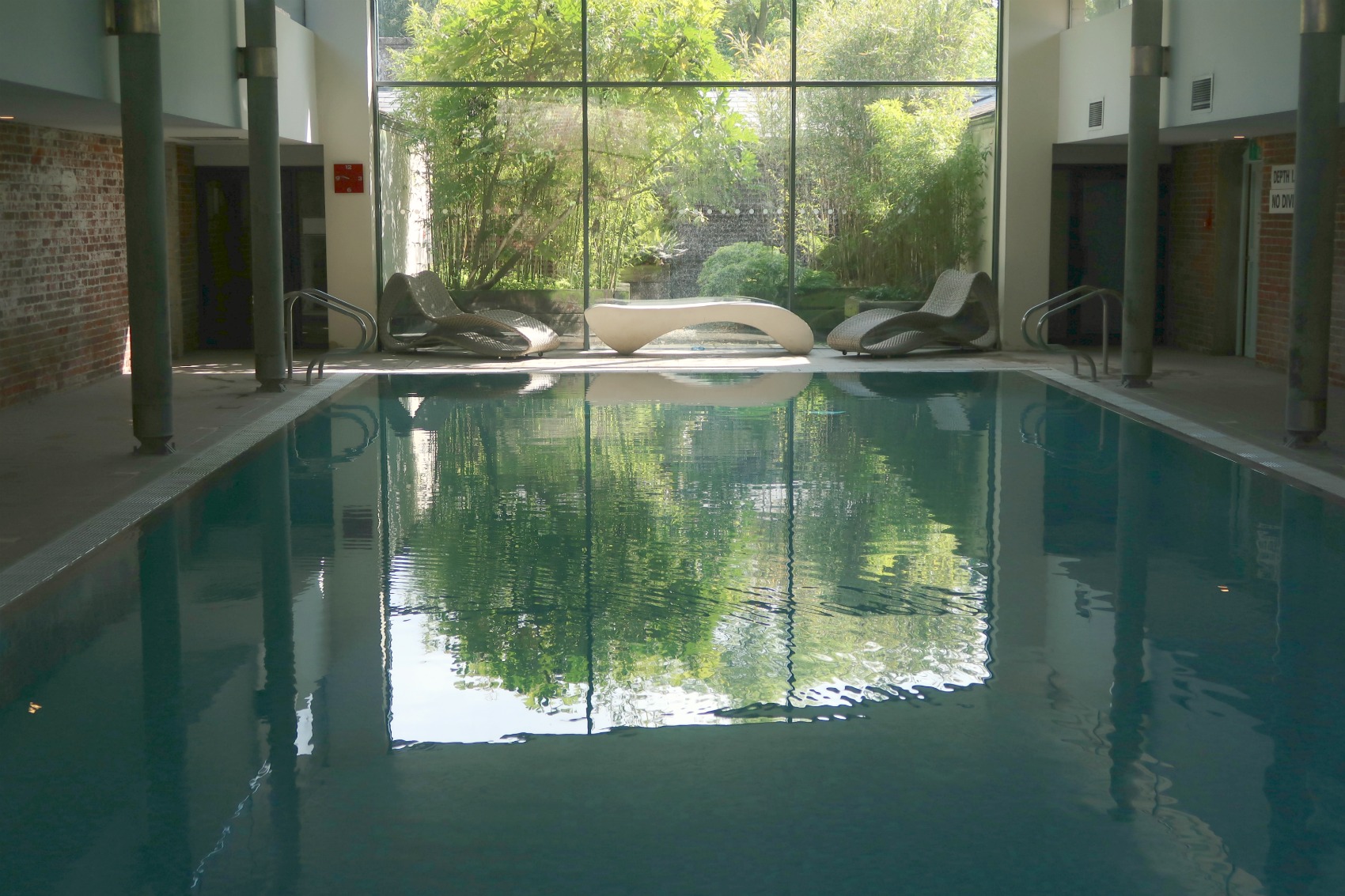 If these activities are not enough to tire out your little ones, then they can amuse themselves on the trampoline behind the tennis court or explore and play in the magical Fairy Garden. The fairies are possibly looking for a bit of a revamp of their surroundings but Caspian still had a fantastic time playing in the enclosed area.  You will also find toy chests on every floor so your little ones can help themselves when  the Four Bears Den is closed.
CRECHE FACILITIES AT THE ICKWORTH HOTEL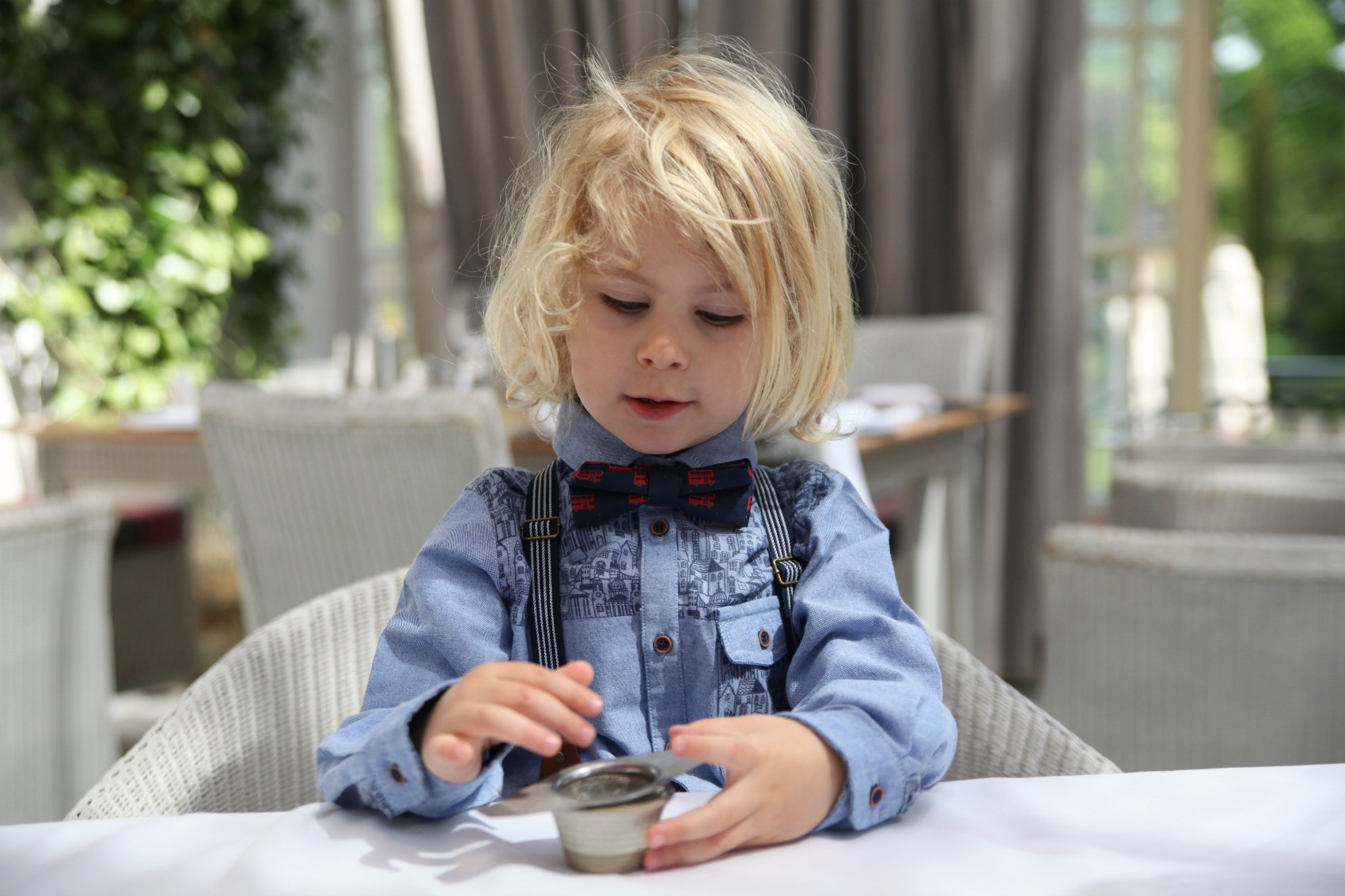 We were very impressed to find that childcare is included in your stay at the Ickworth Hotel. You can either choose two hours in the morning or two hours in the afternoon. As Caspian doesn't start preschool until September I was unsure how he would react as we entered the Four Bears Den nursery in the basement. I needn't have worried as he immediately spotted the huge trucks in the corner of the very well-equipped space and was hooked. Along with the kind and attentive care from the ladies working there he was deifnitely in good hands. They ensured that he kept up with his potty training, they did nature walks and decorated cakes. He couldn't have been happier. It allowed Daddy Long Legs and I to enjoy a coffee in the spring sunshine and stroll of the gardens.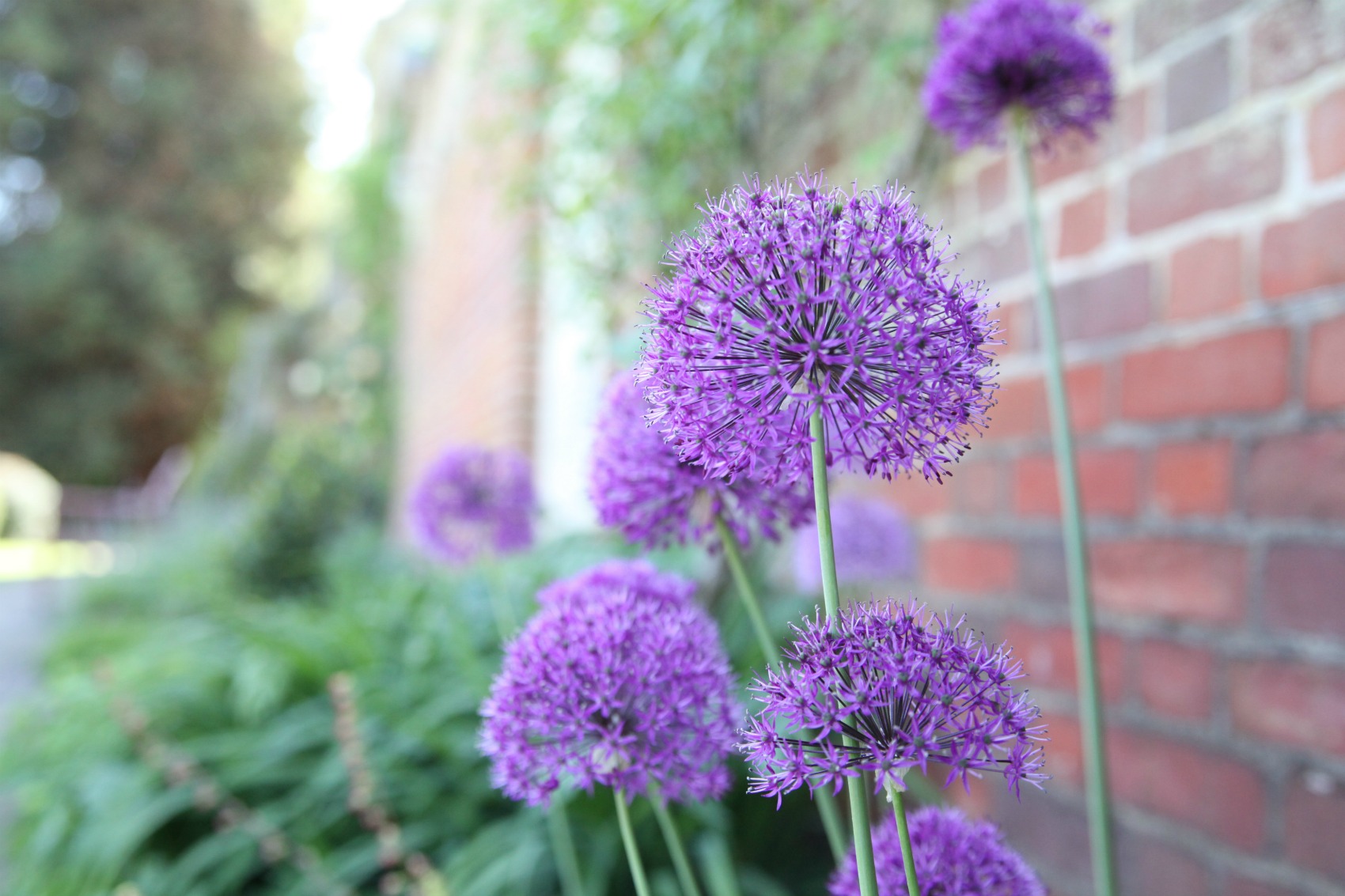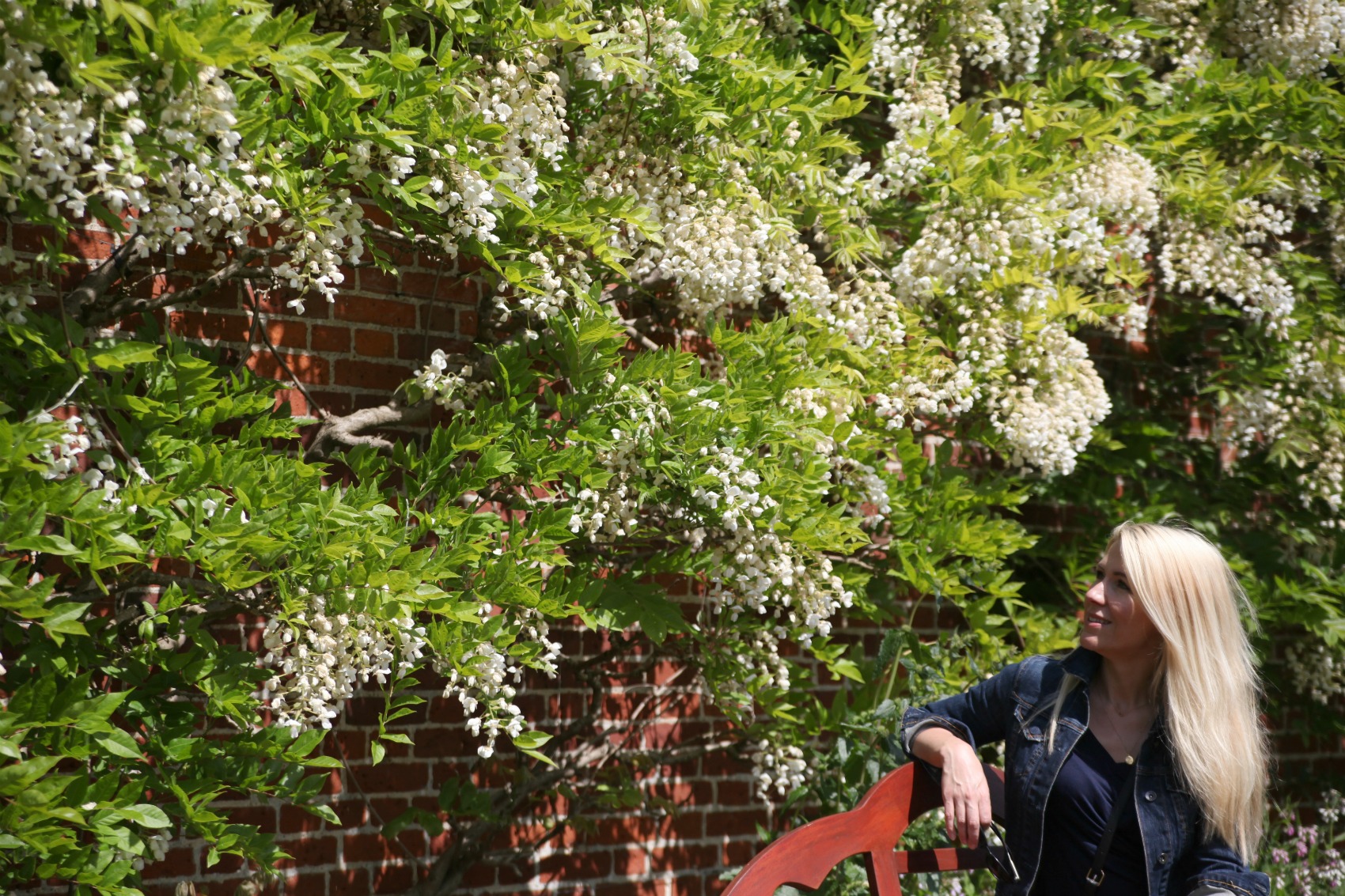 The hotel has a film showing every night at 6 pm. While we were there it was Boss Baby and Moana in the hotel's own cinema. We didn't go as Caspian was simply too tired after his adventures but a great thing to offer before or after dinner. On the first evening we used the hotel's 'listening in' service. This basically means that you turn on a microphone in the room which allows reception to keep an ear on your sleeping children while you enjoy dinner in the hotel's restaurant. It's free and worked a treat for us. If you feel more comfortable having a babysitter in the room, then you can hire one for £10 an hour.
THE ICKWORTH HOTEL AND NATIONAL TRUST GROUNDS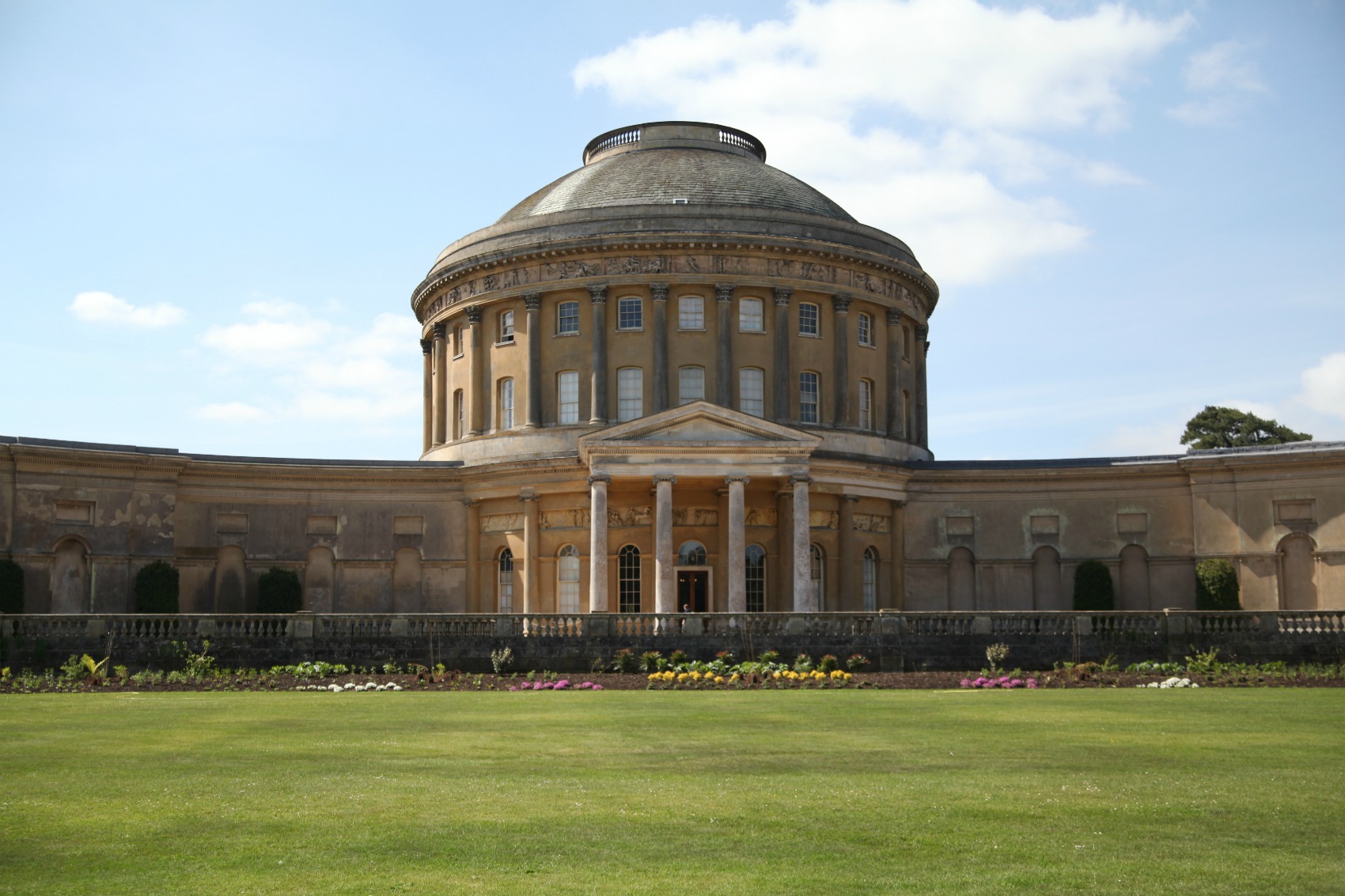 We were blessed with glorious weather both days and naturally this makes everything even more appealing. Yet these grounds are so impressive that I suspect it would be quite a sight even on a cloudy day and should the rain start falling there is, as you can see, plenty to do inside as well.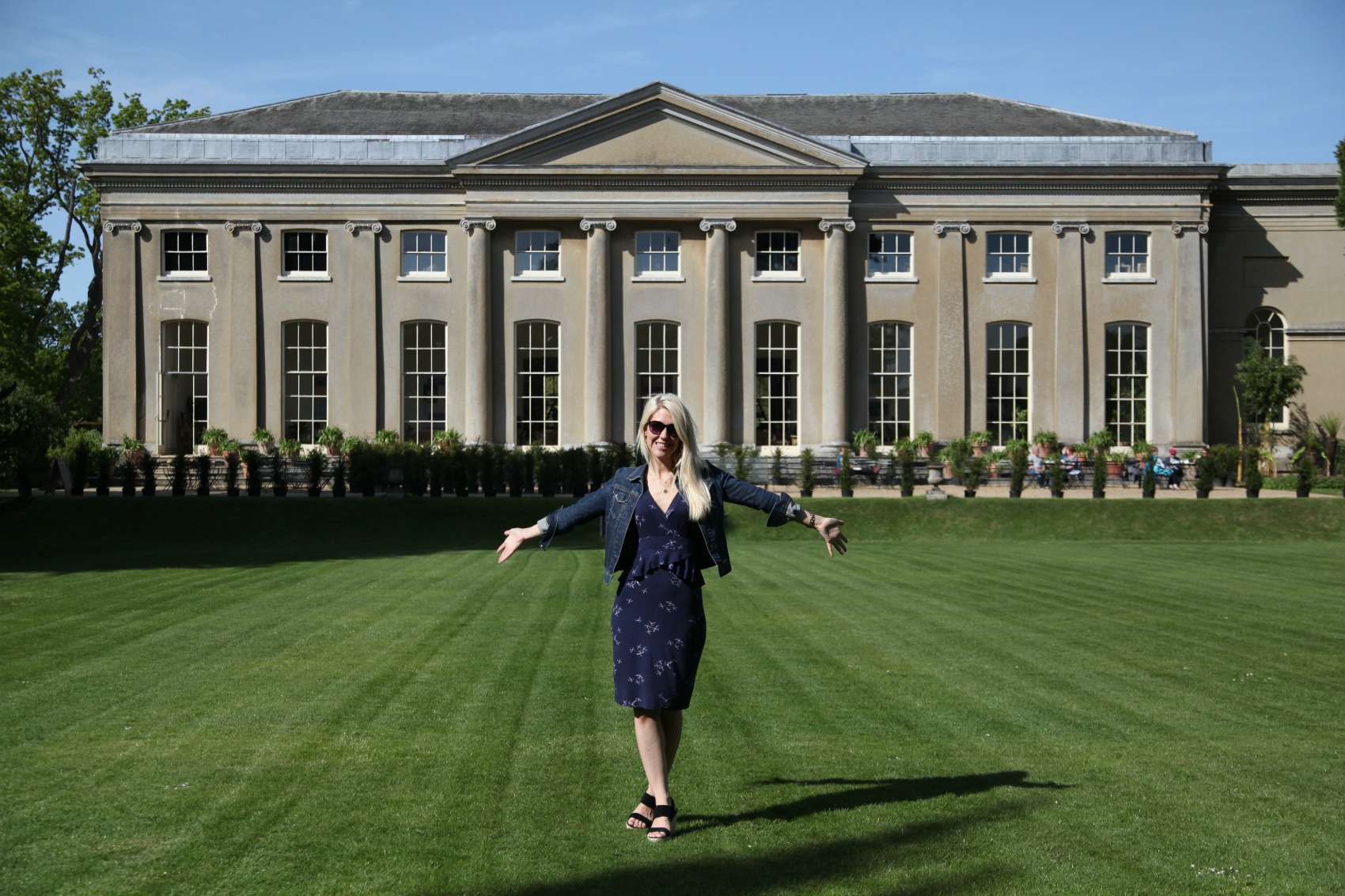 WOULD WE STAY AGAIN?
Most definitely! It really was a wonderful break that truly recharged us as a family. The staff were very helpful and there is a great understanding there that travelling with children has its challenges and no-one bats an eyelid if one is running wild or a tantrum is thrown which automatically makes you and your little ones relax. We are keen to explore the other locations that Luxury Family Hotels have to offer throughout the country. Have to been to any of them?