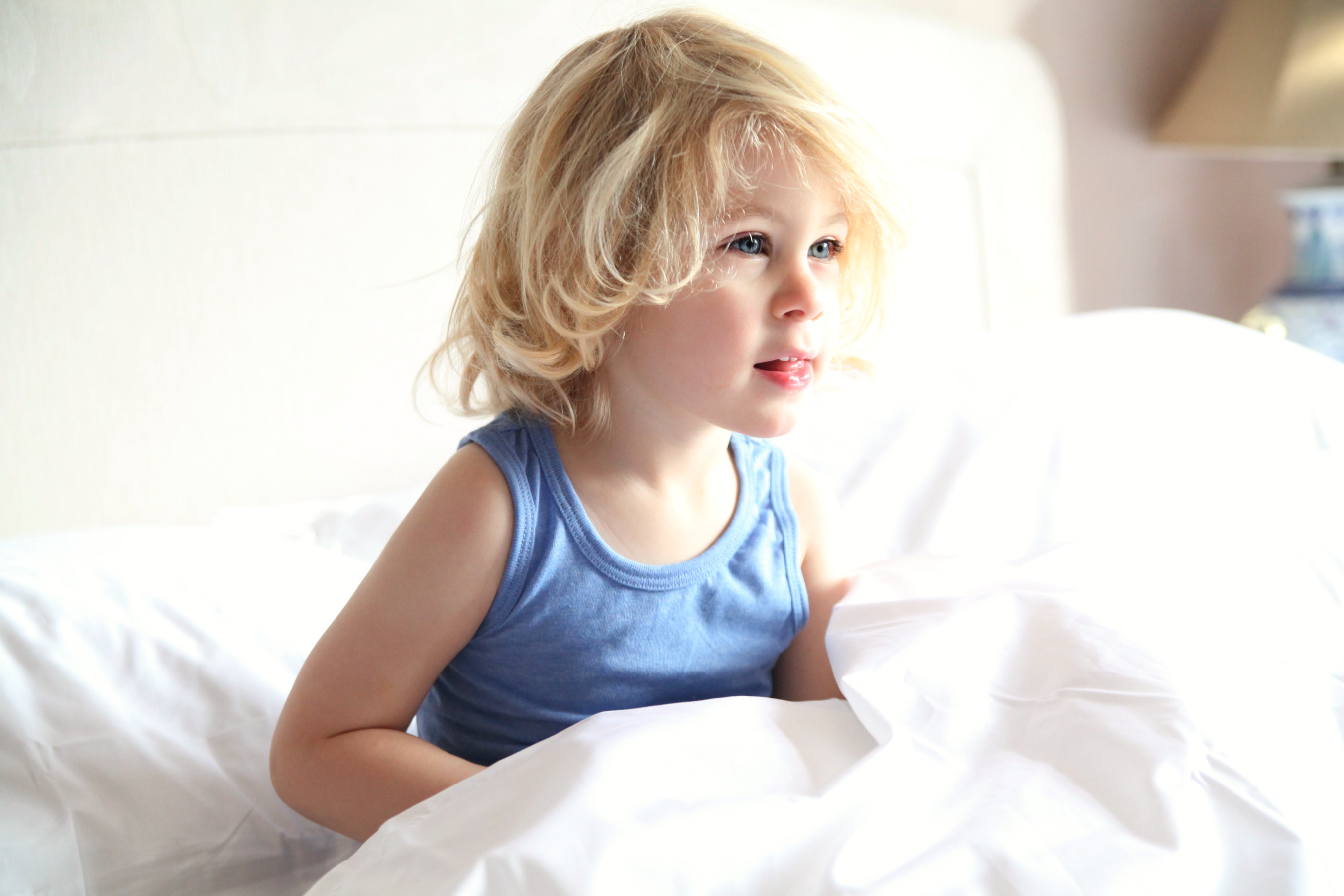 This is a collaborative post
As a family, we love to travel. We also enjoy a taste of the good life. Where my siblings venture on backpacking trips around the world I've always preferred a nice comfy bed in a stylish boutique hotel and a city tour. As I'm getting older comfort becomes even more important and since having Caspian a good night's sleep is considered a luxury in my book. Our gorgeous boy has never been the best sleeper and where we co-slept for a long time as for us it obviously worked better than having him in a crib, he's now starting to settle in his big boy bed. Although, he still loves nothing more than coming into Mummy and Daddy's bed for a cuddle. Especially recently and I can understand why!
Have you ever stayed in a hotel where the sheets were so soft and duvet so light and fluffy that you felt like sleeping on a cloud? Have you ever wished you could experience this at home? Along with a full night's sleep, this is what I dream of. When I came across Tielle Love Luxury I knew I had found something very special.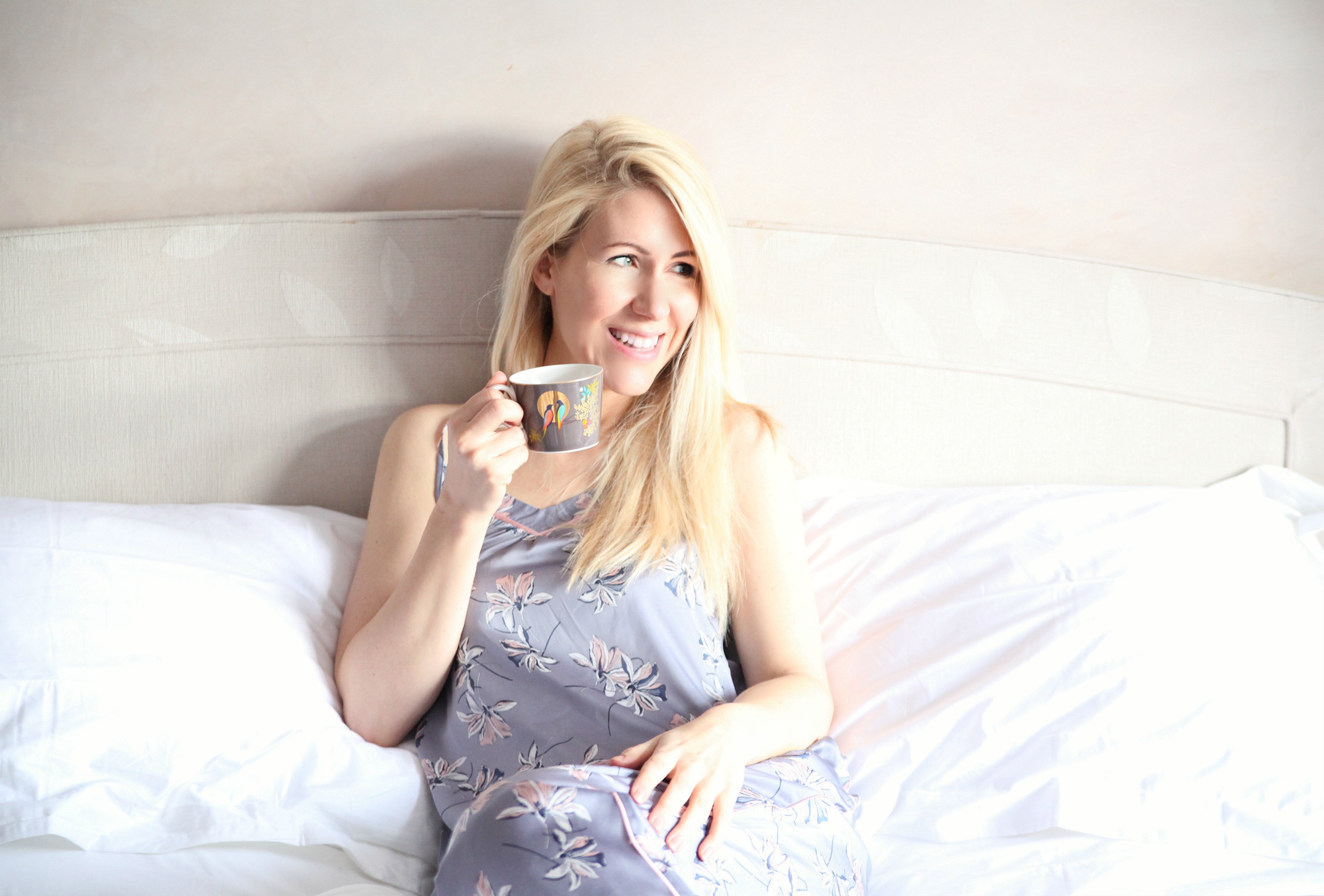 For years I've been wanting to update our tired (pun intended) pillows and duvets. It's been one of those things that were on my to-do-list yet I never got around to researching what exactly we wanted or needed. We personally love a down duvet yet there are so many to choose from. These days you can't open a magazine or newspaper without being bombarded with offers of hotel style cotton and the tread-count numbers can make your head spin.
Tielle Love Luxury was established a couple of years ago and is the online retail branch of parent company, Tradelinens. They have been the market leaders for over 30 years providing the best quality duvets, pillows and linen to some of the worlds most sort after hotels. Realising that the public wanted the same high quality at home they launched Tielle Love Luxury. On the site, you'll find not only bedlinen, duvets and pillows but robes, like the one I featured in my birthday wish list post and super soft towels, too.
PILLOW FIGHTS WITH DADDY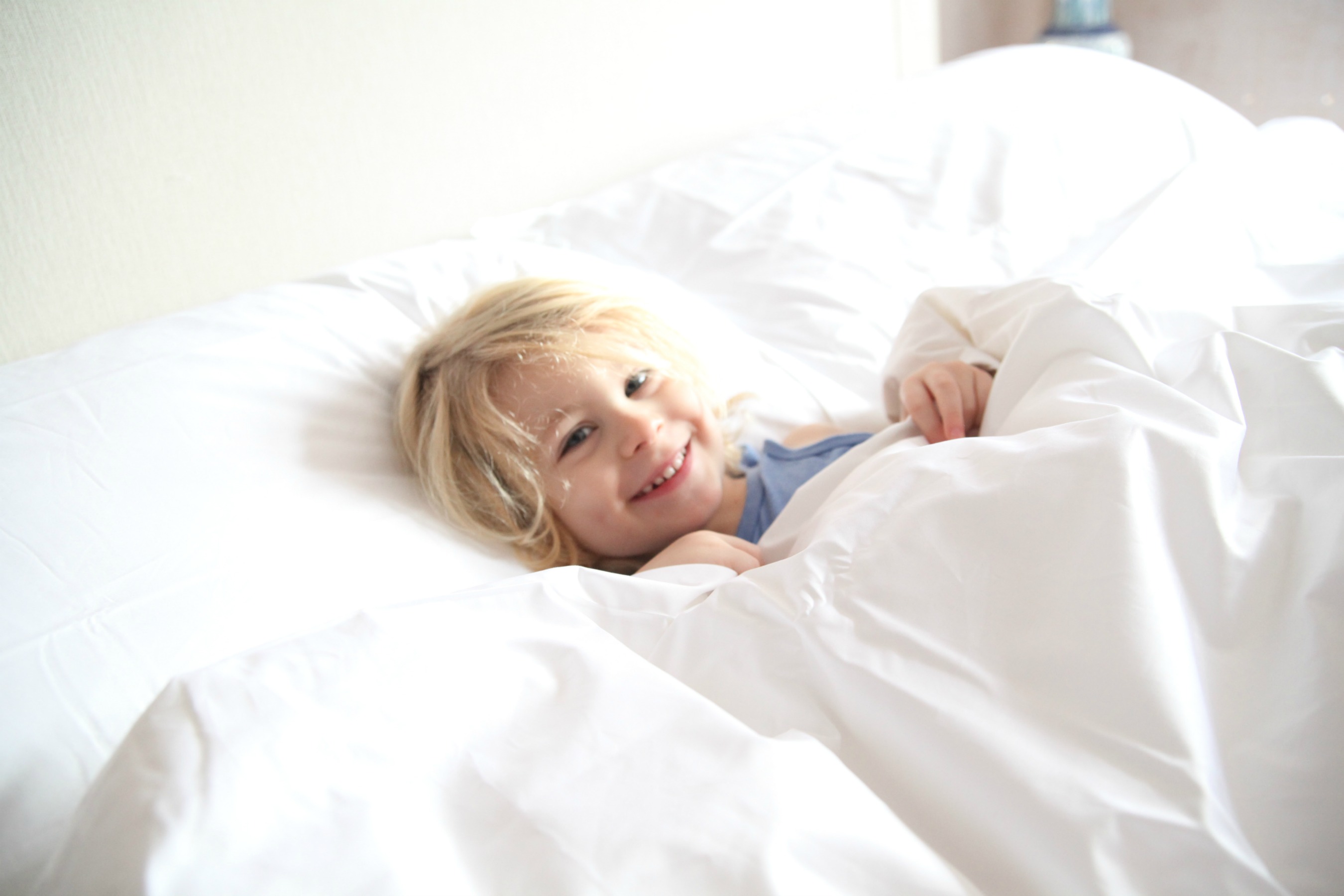 Caspian loves a pillow-fight! Taking on Daddy Long Legs will make him squeal with delight. Tielle Love Luxury produce three different pillows; square which is the style in Scandinavia, standard pillows and kingsize. We went for the latter and they make the perfect weapon!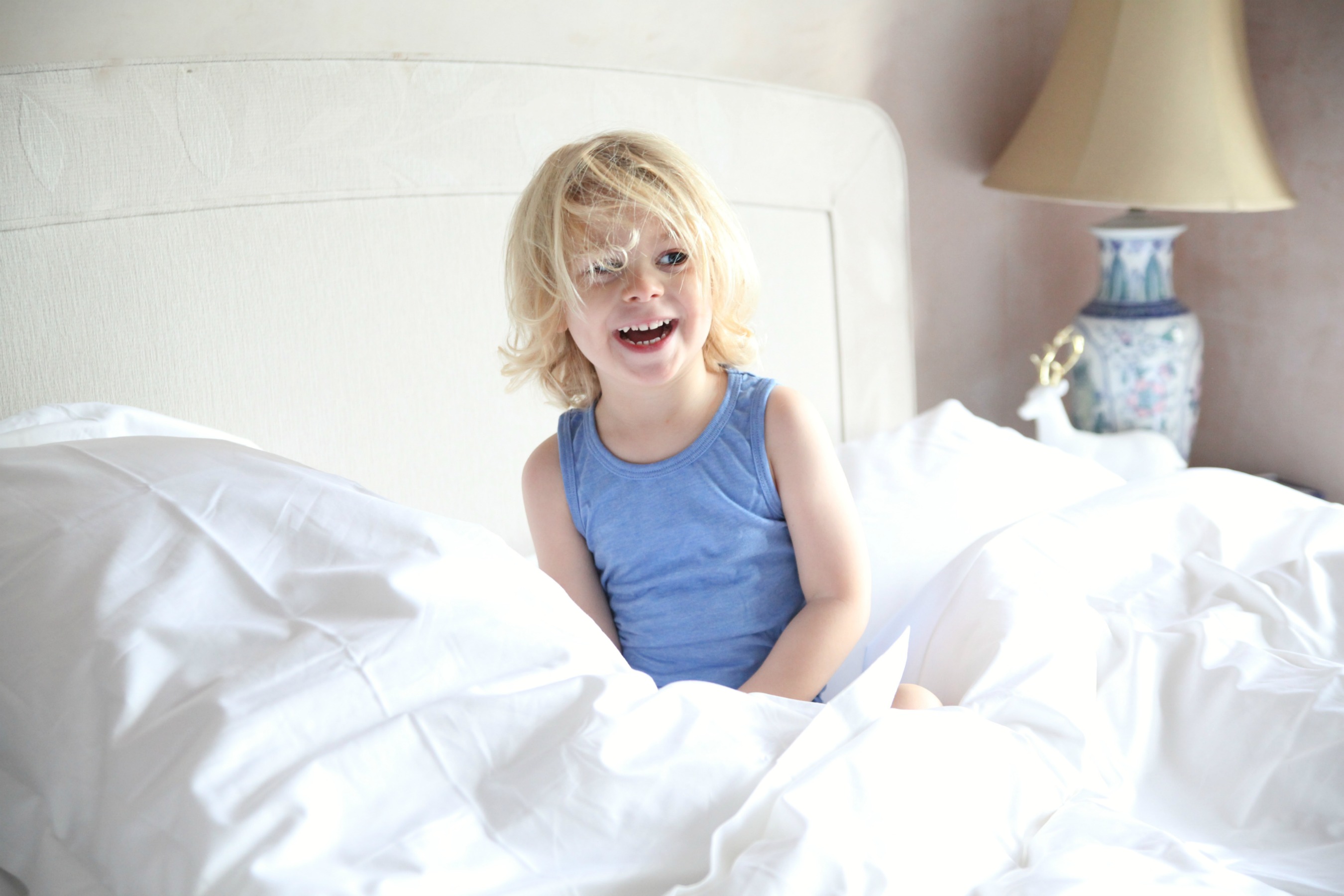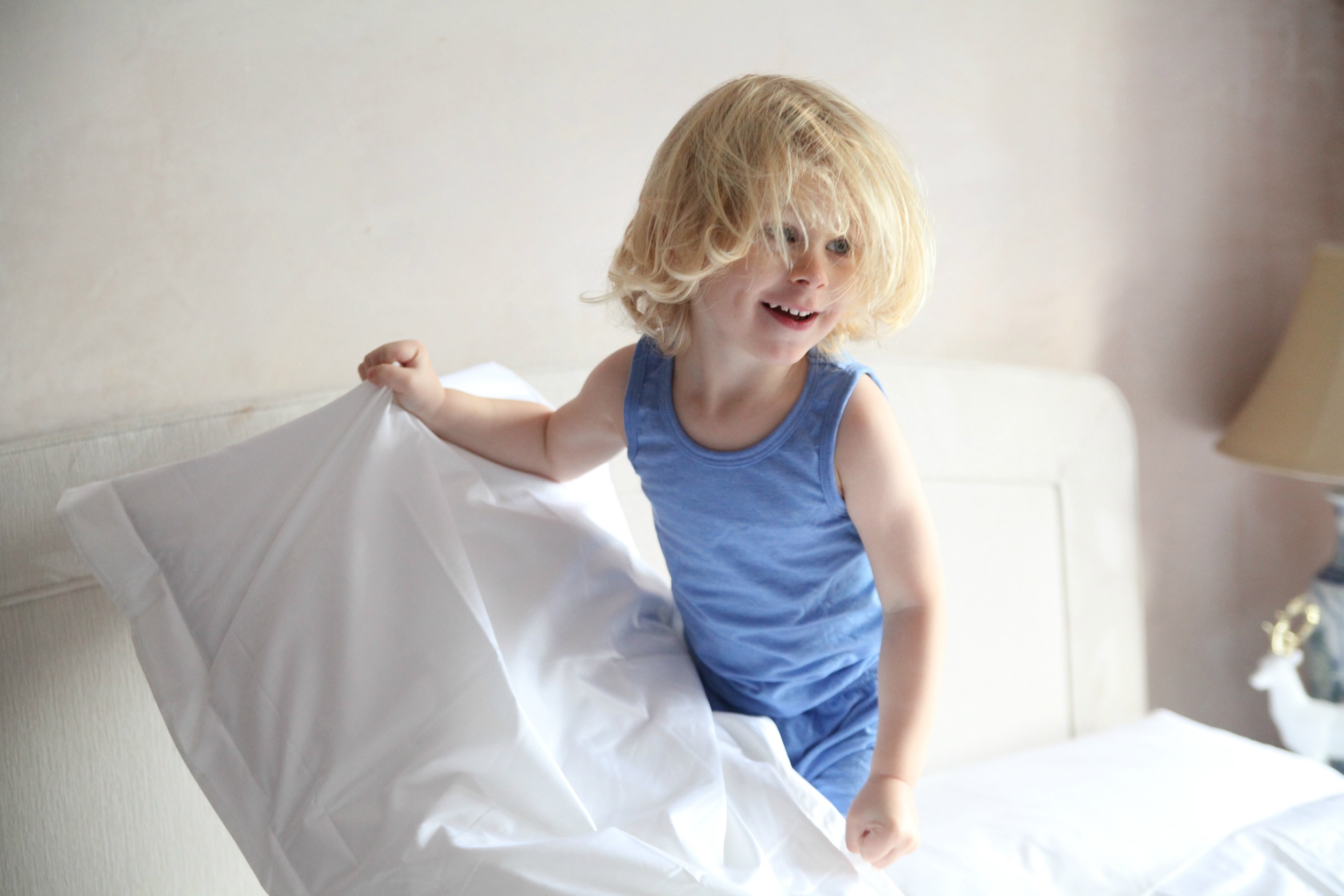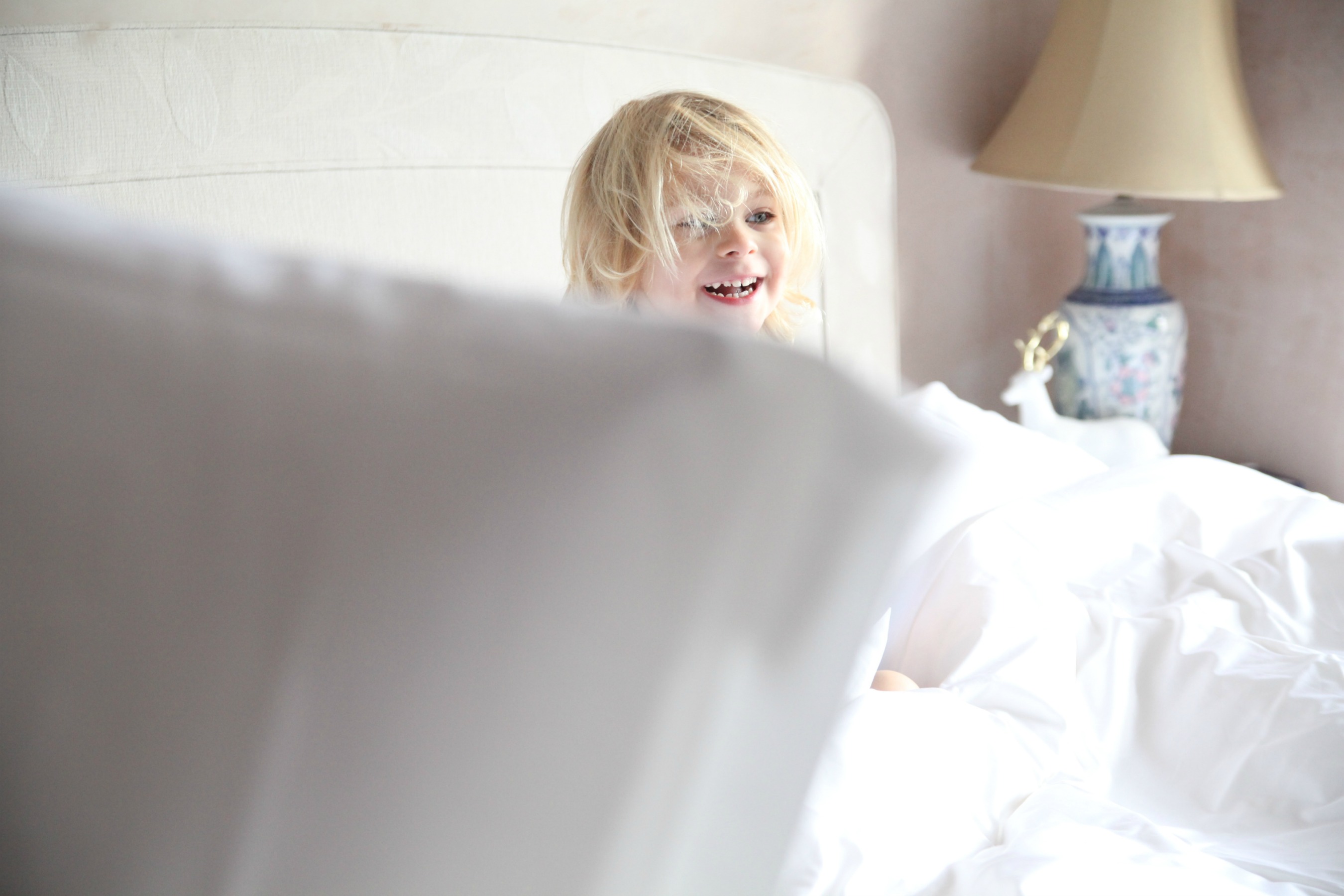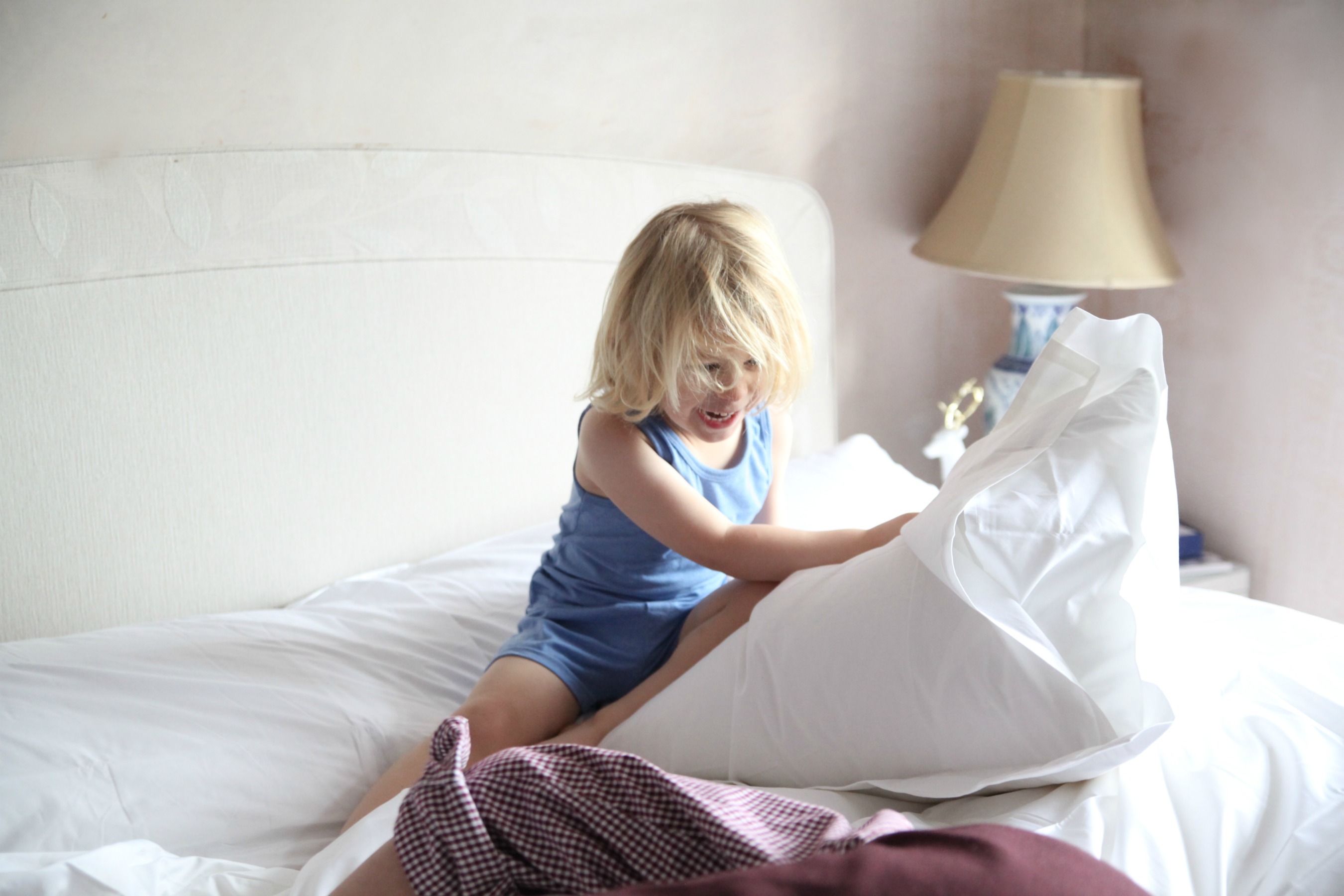 We have two pillows each. The bottom is the Rosewood which is 70% feather and 30% down and on top is the Savoy which is 70% down and 30% feather. I have never slept better. Choosing the larger for our super king size bed also meant that there are no gaps.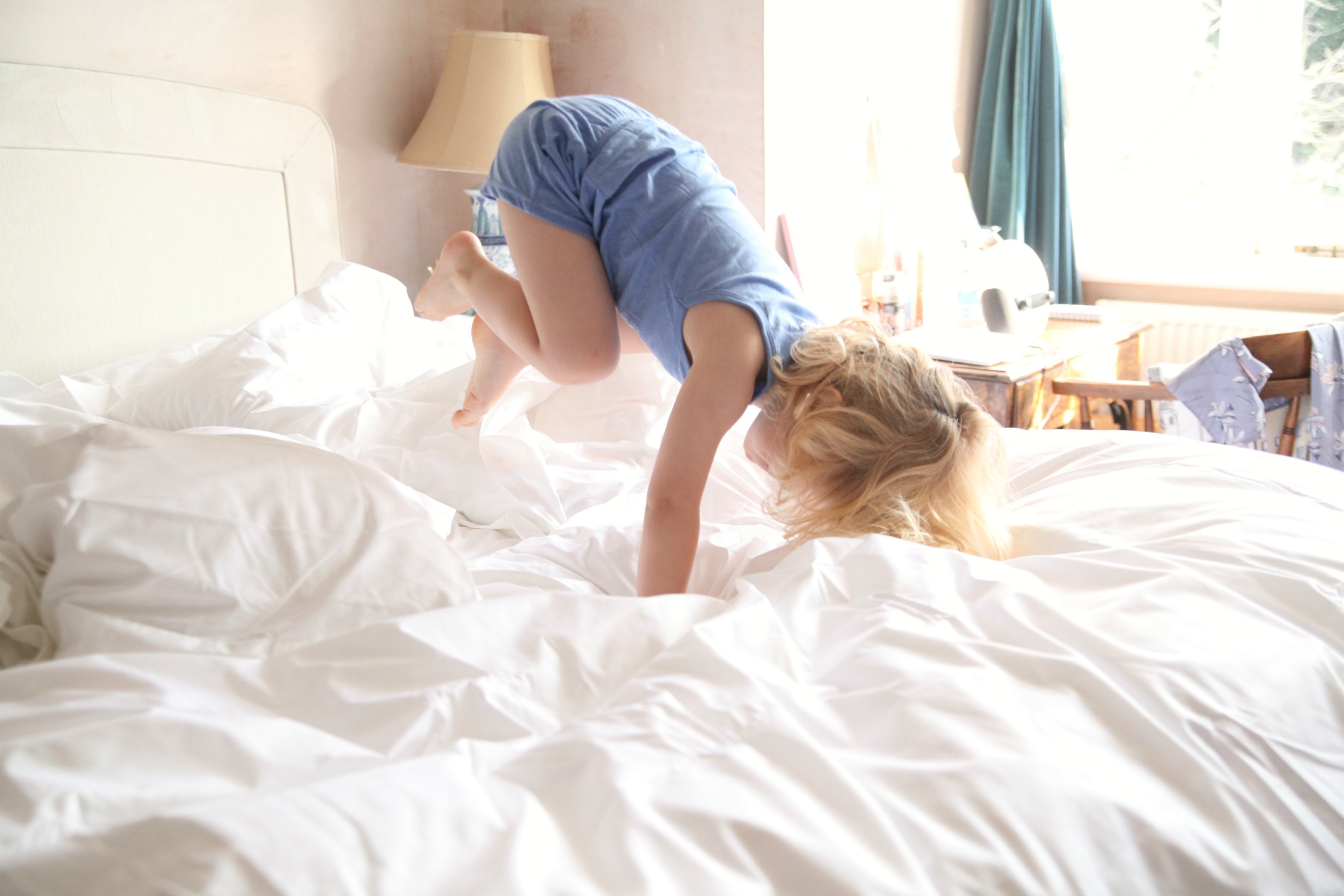 STORY TIME BRINGS YOUR DREAMS TO LIFE
Recently I've seen a change in Caspian. He's taken much more of an interest in books, which is such a joy. As an actress, I love nothing more than acting out all the different characters so this has definitely added to our quality time together. We pick out a book and get comfortable in bed. The large king size pillows mean we can both sit up and follow the pages.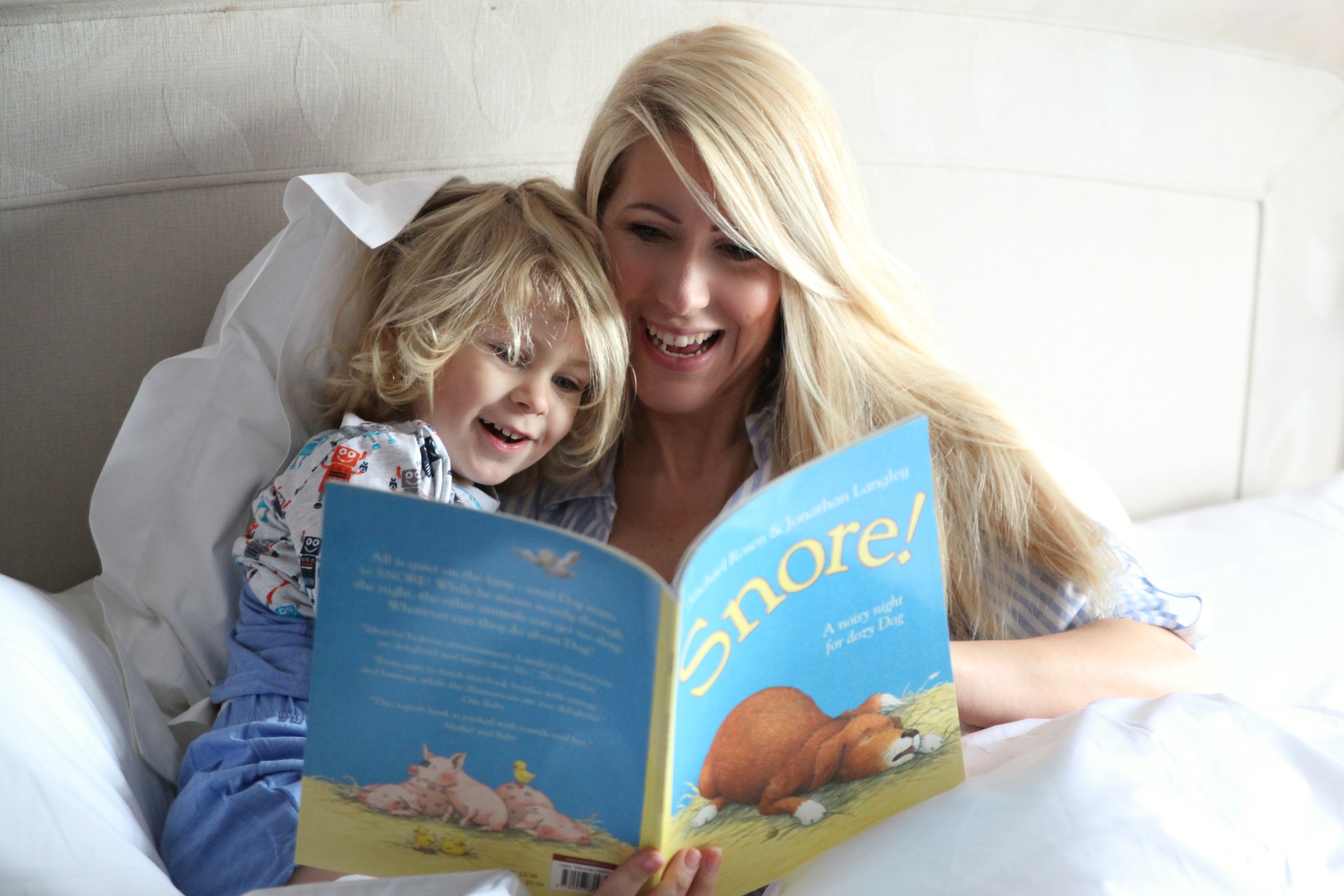 I, too, enjoy reading in bed. Time is limited but this year is all about enjoying the little things in life more. 'Lykke' means happiness in Danish and I'm striving to find mine. Between running a house, a business and being a parent time is limited so I cherish the few quiet moments as much as the highlights. Our new bed linen is the 300-count 100% cotton white sheets and cases.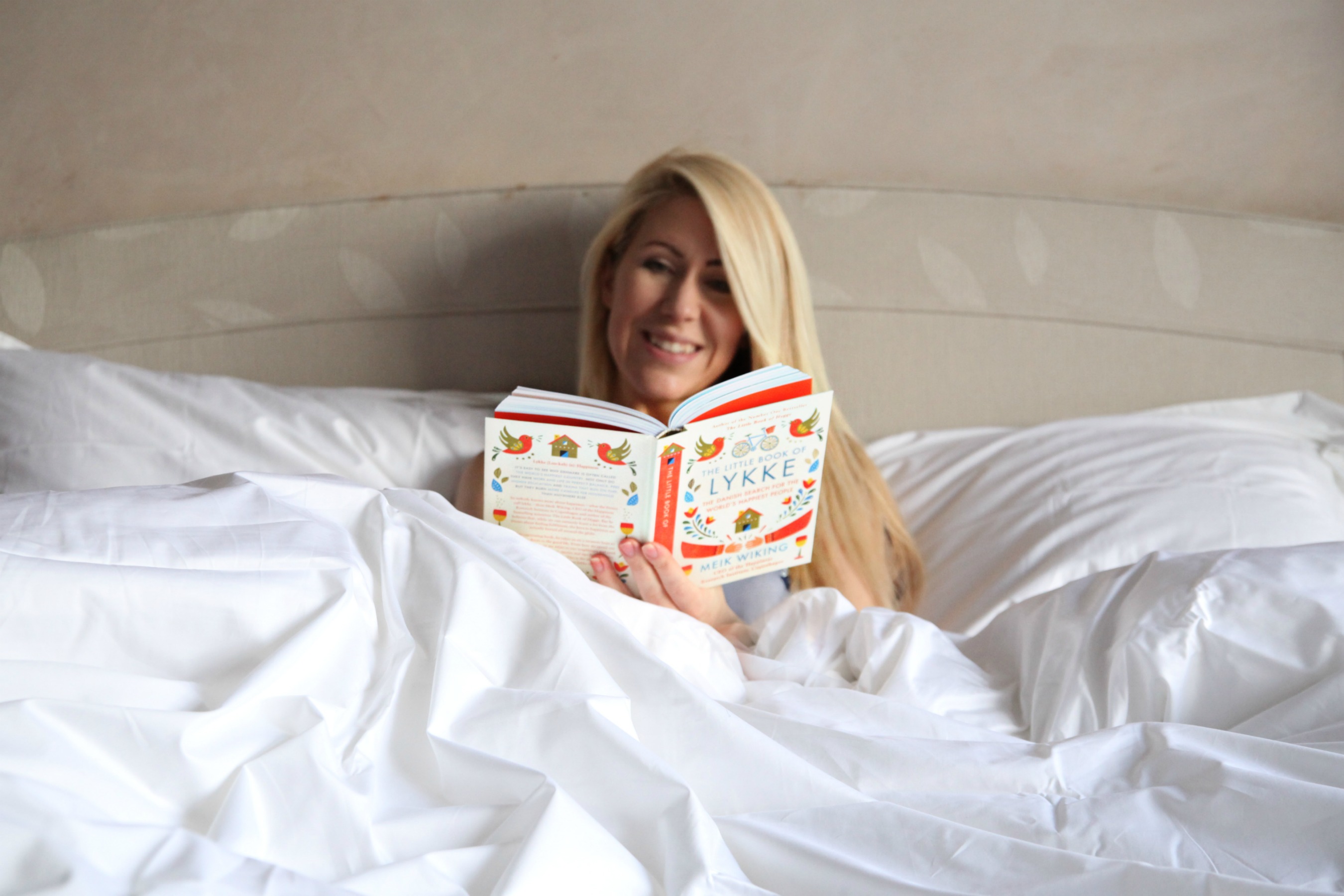 CREATING THAT HOTEL FEEL AT HOME WITH TIELLE LOVE LUXURY AND BEUTIFY FROM DOMU
For years I've been waiting. The work on the house is taking time and it's meant I was holding back on decorating and investing in beautiful furniture. This year is dedicated to doing rather than dreaming, except for when we are snuggled up in our new comfy duvets, of course.
I got these beautiful white mirrored bedside tables from Beautify. I love introducing mirror effects around a room as the many reflections help to keep it light. The bedside table also comes in a stylish black and gold version! I love the cutout in the middle and the drawer is a great size. It's heavy so can't be knocked over by a tumbling toddler and comes with plugs to attach it to the wall should you need to. Along with our new bed linen, it has helped me create that stylish hotel feel.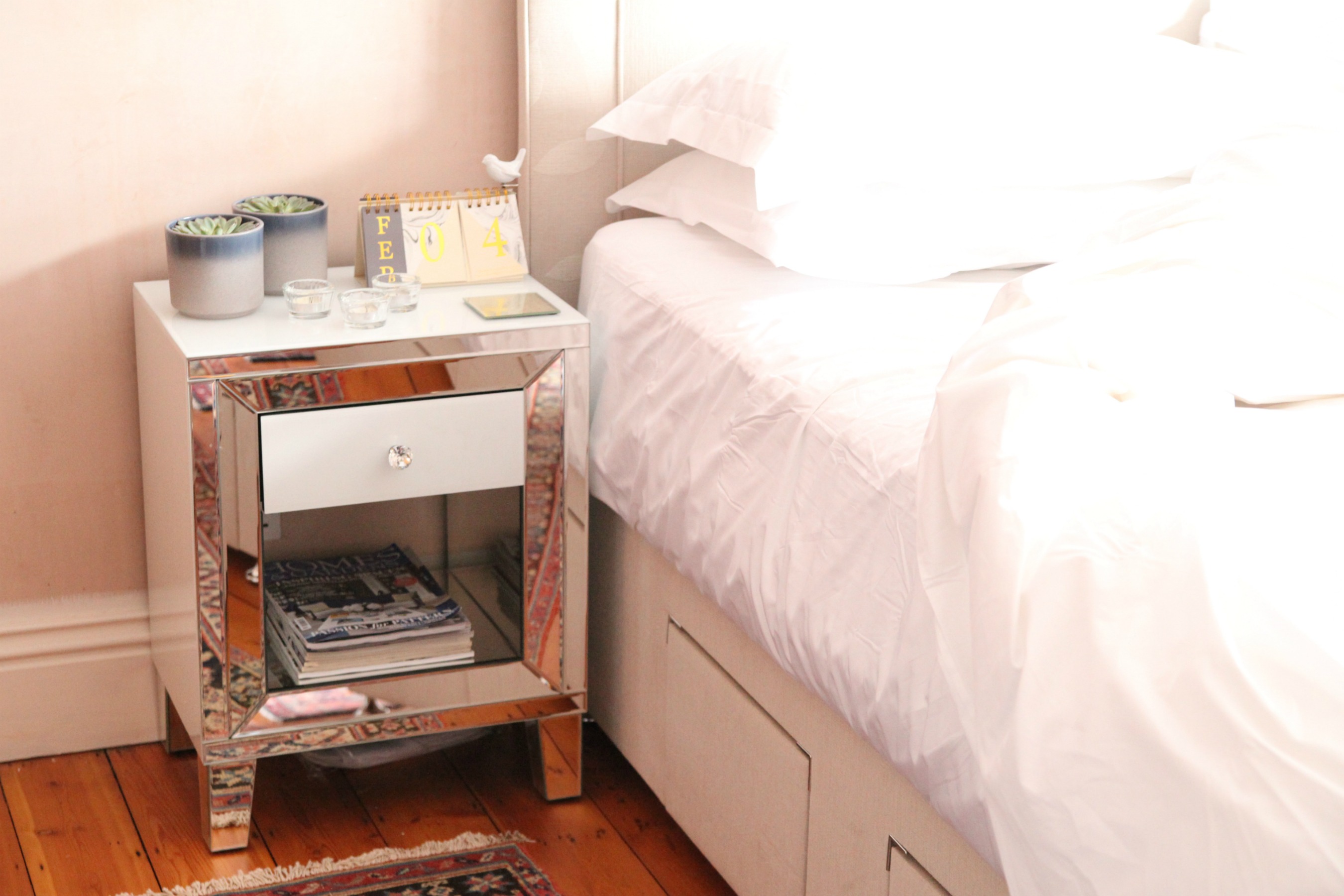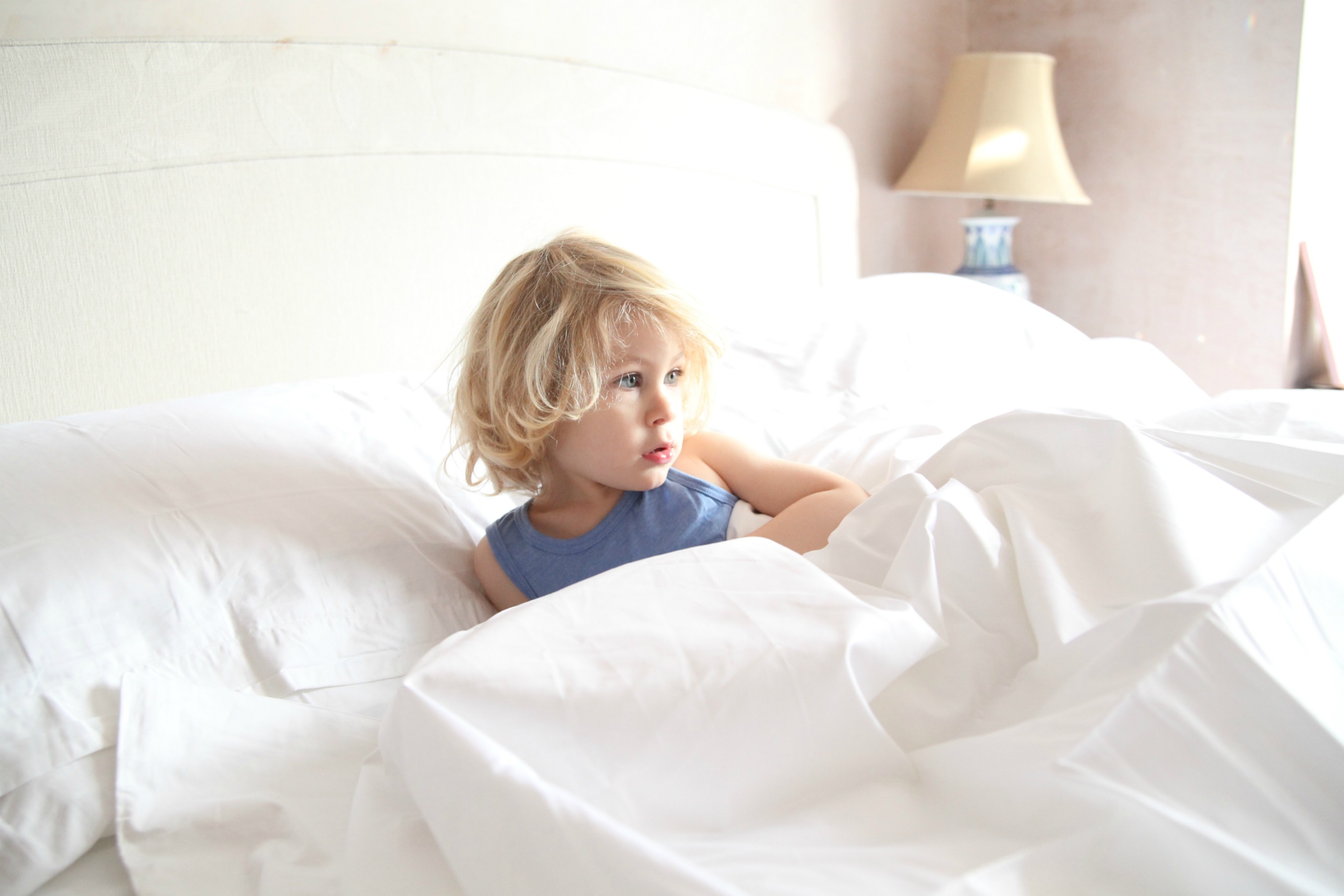 Have you heard of Tielle Love Luxury? What's your best tip for a peaceful night's sleep?